I have fallen in love with many places throughout our travels, but without hesitation, Rome is my favorite city I've ever been to. This was a total shock to me since I really didn't enjoy Paris (sorry!!) and I thought it would be similarly over-stimulating … but it wasn't. Not at all. Our Rome itinerary was the perfect combination of everything Buddy and I love – amazing architecture, rich history, great views, kind people, and delicious food.
Plus, Rome just had this romantic, relaxing vibe we couldn't get enough of. I think of that amazing first trip to Rome and I still swoon a little bit. Ahh Rome …
It is impossible to see even a portion of what this stunning city has to offer on one short trip, but I think we did a pretty good job packing in a mix of touristy, relaxing, and inspiring places along with all the best things to do.
11 Must-See Rome Top Activities
Much of our time was spent just wandering the narrow, gorgeous streets of this historic city, which led to stumbling across places like the Spanish Steps without even meaning to. We heard public transport is great, but we loved walking everywhere! It really is the best way to see Rome (considered the "Eternal City" by the Ancient Romans who believed it would always be there).
However, we did have a list of our must-sees that we made sure to plan for. But since it was the off season, we were able to book tickets a few days in advance and make it work. (This wasn't our intention, but for some reason, our credit card would not work on many Italian websites, like the Vatican, etc.) This likely would be impossible in high season, so definitely try to book ahead!
It is recommended to book on the official website of an attraction much further in advance for these popular attractions, and although many are free – it is a good idea to get there extra early to beat the crowds.
Here are some of our favorite planned and unplanned stops and activities during our three days in Rome!
1. Pantheon
Our first day in Rome happened to be my birthday, so we started with an amazing Italian food guided tour which met at the Pantheon. Although there was a long line for this popular place to open after Sunday morning mass, we were able to walk right in later in the day. This free-entry stop is definitely not one to miss.
The Pantheon is said to be the best-preserved building from ancient Rome. This 2,000+-year-old structure is most well-known for its dome with a hole at the top (oculus) that opens to the sky.
While it was originally created as a temple to Roman gods, it is now a Christian church and offers a weekly mass. On Pentecost Sunday, rose petals are showered over everyone after mass from the dome's oculus – as a reminder of how Jesus shed his blood for his people.
As magical as a rose petal shower sounds, it is still an amazing place to visit even without any special event going on. Just be prepared to be bumped into as people wander around with their eyes wandering up toward the hole in the ceiling. While its functional purpose was to provide light, it is also meant to make those inside think of the heavens above – which it clearly is still doing.
And don't forget to take a look at the fountain under the obelisk in front of the Pantheon. The unique carvings and detail is just amazing and even humorous to look at.
2. Piazza Navona
Around the corner from the Pantheon is the gorgeous Piazza Navona. This is a very bustling area with street performers and lots of great people watching. We laughed as we watched kids play in giant bubbles while a small band played a relaxing tune.
Plus, the fountains in this area – and really, all over the city – are very impressive. We loved finding interesting new details every time we passed by during our many hours of explorations.
3. Spanish Steps
As noted before, we kind of just stumbled upon the iconic Spanish Steps. We knew we were somewhere important when we found a huge crowd, so we Googled it and joined in the hordes of people taking photos!
4. Roman Colosseum
The Roman Colosseum was the big one for us. This was the place we wanted to see most. And while our previously mentioned credit card issues prevented us from locking in the underground tour we wanted, it was still an amazing place to explore.
This amazing structure – used for gladiator combats and other shows – was opened in 80 A.D. It is always so hard for us to comprehend something could still be around that is so old and filled with so much history – which is why we are drawn to these places.
It is even crazier to have this huge reminder of ancient history amid a bustling urban city, with cars driving by and shopping malls around the corner. Such a strange and wonderful mix!
5. Roman Forum & Palatine Hill
While standing in the Colosseum was definitely one of those awe-struck travel moments, the Roman Forum and Palatine Hill area were actually much more enjoyable to walk around and was included with the Colosseum admission.
We spent hours wandering around this gorgeous area, admiring all the history it had to offer at every turn. Within the Roman Forum are dozens of different ruins – from temples to arches to statues. The greenery surrounding, or even covering, these iconic places made what was left of the gorgeous stone architecture stand out even more.
Once we made our way up the hill, the views out over the ruins offered yet another stunning look at this amazing place. And we couldn't have had better weather. What a special treat on a February day in Rome!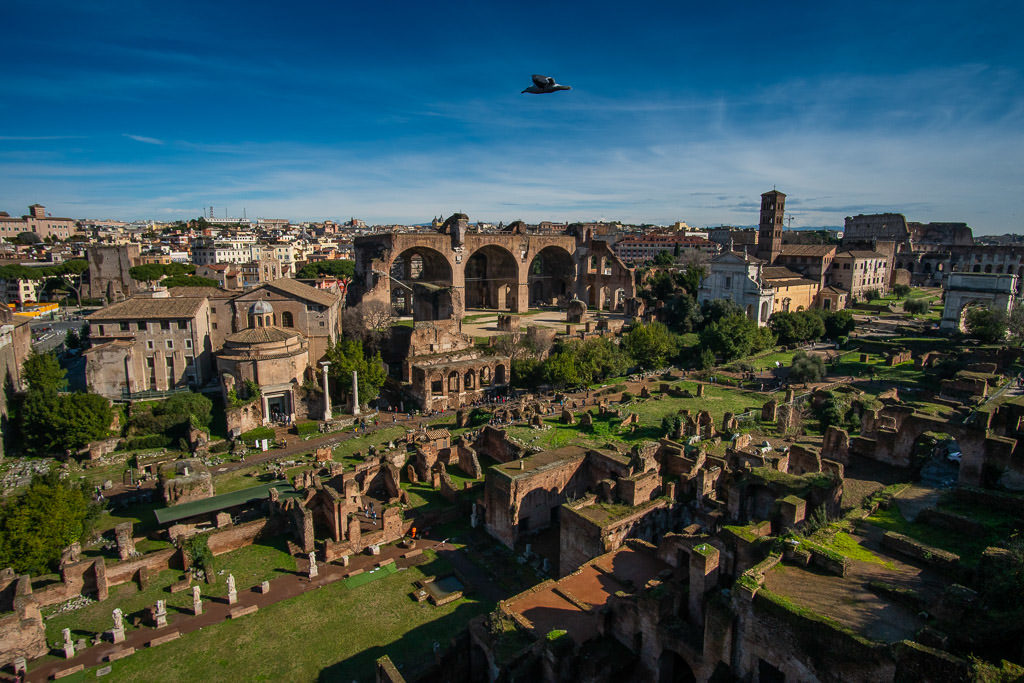 6. Trevi Fountain (Fontana di Trevi)
The iconic Roman landmark is in the popular Centro Storico area near the Tiber River. We knew going to the iconic Trevi Fountain mid-day would be crazy, but it was off-season, so we were curious how bad it would really be. Well, I'm not sure how crazy this area gets in the summer, but we definitely weren't going to be enjoying a peaceful look at the fountain.
So, we decided to go back realllly early in the morning the next day to get the photos and experience we craved. And it was so worth waking up before the sun to be alone in front of the stunning fountain. Early morning is the best time, we think!
Eventually, we did have another tourist come by and since she was kind enough to try to stay out of our shots as she took her selfies, I offered to take some for her. After taking some epic shots of this spunky little Asian woman doing her favorite poses, she offered to take some of us – and gave us examples of poses we should do. Ha!
While the fountain was amazing, it was that hilarious 5a.m. mini photo shoot that I'll always remember!
Vatican City Explorations
On the last morning of our trip, we ventured over to Vatican City to take in the main sites. We had wandered around what we thought was the main area of the city (near the Basilica) on our first night. But, little did we know,
Vatican City is much bigger and the museum is about 10 minutes away, when walking as fast as possible. Let's just say, realizing this with about nine minutes to get there was fun.
While we would highly recommend giving at least a full day to this area, if not two, we made it work in about five hours. And we had the sore feet and exhausted, sweaty faces to prove it.
7. St. Peter's Basilica (Including Dome Viewpoint)
While entry to St Peter's Basilica is free, there is a must-do add-on for about €10 that allows you access to the inside of the top of the dome of the stunning church and the best views outside of the surrounding Roman countryside and cityscape. This was the favorite stop of our trip. We loved looking down on famous landmarks, archeological sites, and beautiful buildings.
Exploring St. Peter's Basilica Dome & Views of Rome
It is slightly less to take the stairs all the way up, but we opted for the elevator to save time. However, there is no getting out of stair climbing. To see the inside of St. Peter's Basilica dome and the views on the outside means going up (and back down) 300+ steps.
As we went around and around, our curiosity increased. Then we finally got to the entry to the dome and were blown away. We had gone straight to the elevator to the dome, so we hadn't really seen much of the church below. But, we did remember thinking all the wall art was painted on.
However, as we stood right in front of this exquisite artwork, we realized it was all mosaic. Everything. Needless to say, this made us appreciate the Basilica so much more when we ventured back down.
But the most stunning part of this experience was a few more flights up at the outdoor viewing area. We were in awe of how far we could see all around us on the perfect blue-sky, winter day in Rome. It was breathtaking to look around and take in this amazing city we had the pleasure of exploring for a few unforgettable days.
We made our way back down to the inside of the Basilica with full hearts and wide-open eyes. The perfect state of being to enter such a famous spiritual place.
Inside St. Peter's Basilica
Unfortunately, we were slightly rushed during our visit since we were trying to make it to the Vatican Museum in time for our pre-booked tickets. But, even a short walk through was enough to understand why people flock here.
The ornate art and architecture all around us left us in awe. And just the size of this place was enough to make you take pause and appreciate the grandeur. It really is worth dedicating 3-4 hours to in order to take in all the many details. Next time!
8. The Vatican Museums & Sistine Chapel
As we noted, we were confused as to how close the Basilica was to the Vatican Museum entrance, so we pretty much ran to get there in time. Of course, all that rushing was to stand in the long line of other people shuffling through to see everything.
We had to be back at our hotel in two hours to check out, so we rushed by all the tour groups straight to the Sistine Chapel. Then we just sat there in silence with a couple of hundred other people and took it all in.
I won't lie, it isn't the most gorgeous, awe-inspiring art we've ever seen. But there was something powerful about it – just knowing how long it had survived and how much it meant to so many others who came from all over the world to see it.
It was well worth all the rushing just to sit in that room and take it in. However, the rest of the museum was fascinating as well. We loved the hallway of maps, the many interesting sculptures, and the Egyptian exhibit that was on display during our visit.
Yes, it was a lot of money to spend for such a rushed visit. However, with how many people we were having to share our personal space with, I'm not sure we would have lasted very long, even if we had plenty of time. If we were to do this again, we'd definitely splurge on the early entry tickets!
Eating ALL the Italian Food: Priority One on Our Three-Day Rome Itinerary
While a trip to Rome is definitely all about the history and architecture, it is impossible to walk through this divine city without taking in some of the food scene.
Since this trip was also to celebrate my birthday and the end of our five-month adventure in Europe, we really went all out. Regardless of what the scale said afterward, there were no regrets other than not buying some more supplì and cannoli for our long plane trip back to the U.S.
9. Food Tour of Rome with a Local Guide
We tend to be a little picky, but Italian food is one of the exceptions to that. So, we couldn't resist planning a day of eating all of our favorite foods – and some new-to-us dishes – in the place that invented those recipes.
You can read more about this amazing part of our trip here. But, a few highlights of the tour were the espresso, supplì (seasoned and fried risotto balls with cheese in the middle), fresh cannoli, and ending the tour enjoying the best gelato we've ever tasted with all our new friends.
Everything was easily walking distance from the next stop and it was a great way to spend a good chunk of our first visit to Rome! We learned almost as much as we ate!
10. Pasta-Making Class
For my birthday dinner, I wanted to find something truly memorable. So, when I found a pasta-making class for that night, I was ecstatic. At about $100 each, it was definitely a splurge. But, I just knew it would be worth it. And, after hours of laughing and cooking and eating with some amazing people, it was without a doubt the best birthday celebration I've ever had.
Not only were we well fed as we were taught the different pasta-making techniques, we had plenty of wine as well! This was in Italy, after all. But the best part was how hands-on our lesson was.
Our instructor showed us how to do everything, then let us do the work ourselves to make two of the most popular pasta dishes – Ravioli and Amatriciana (made with cheese, pork cheek and tomato sauce).
The best part of the night was rolling out the dough then rolling it onto the instrument-looking device that cut it into fettuccine-shaped pasta for the Amatriciana. It was wonderfully romantic to get to try out this new skill as a couple and there will definitely be more homemade pasta making in our future!
Of course, at the end, we all sat down to eat our pasta – after our fabulous instructor showed us how to make the sauce and how long to boil the pasta. It was just SO fresh and delicious, we almost licked our plates clean.
As we looked around at the end of dinner, our fun little group of amateur chefs was all full and smiling, with no leftovers to be found. What a night!
11. Pizza & Gelato-Making Class
And because we just don't have any self control in beautiful, delicious places … we also took a class on how to properly make (and eat) pizza and gelato. You can read more about that here. But, long story short, making these classics is way easier than we expected, and eating our freshly made meals in a gorgeous Roman apartment was unforgettable!
If you have enough time, I'd highly recommend taking a few recipe classes or food tours 0 it's seriously the best time!
Other Best Places to Add to Your Rome Itinerary:
Additional Stops to Make on Your Rome Trip:
Victor Emmanuel II Monument (Altare della Patria)
Circus Maximus – where chariot races once took place
Baths of Caracalla – second largest Roman public baths
Day Trip to Ostia Antica – ancient Roman city outside Rome
Domus Aurea – palace constructed by Emperor Nero
Galleries & Museums:
Villa Borghese & Borghese Gallery (Galleria Borghese)
Doria Pamphill Gallery (in privately owned palace)
Villa Farnesina (Renaissance suburban villa)
National Roman Museum for Roman History
Maxxi National Museum of Art
Castel Sant'Angelo (originally built as Emperor Hadrian's mausoleum)
Capitoline Hill & Capitoline Museums (next to the Colosseum)
Other Popular Piazzas (town squares/gathering places):
Piazza Venezia
Piazza del Popolo
Piazza della Madonna dei Monti
Piazza del Campidoglio
Piazza di Spagna (base of the Spanish Steps)
Piazza della Rotonda
Campo de' Fiori (home to popular outdoor market)
Read more about these and more Roman piazzas in this great blog post!
Where We Stayed in Rome
We usually go pretty cheap on trips like this where we know we will be out exploring more than relaxing in our room. But, since it was a special occasion, we decided to stay somewhere a little fancier. After sharing my dreams of a romantic roof-top view, Buddy went on a mission to find the perfect place. And his choice did not disappoint.
Located a short walk from Vatican City and about 20 minutes from the Trevi Fountain, Hotel Isa was a gorgeous, comfortable option. And yes, they had a fantastic little roof-top terrace with a great view where they served breakfast in the morning and drinks at night.
We loved getting to watch the sun rise over the surrounding buildings as we ate the phenomenal breakfast every morning. And the staff was extremely kind and helpful. They even brought me to tears on my birthday when they surprised us with a bottle of prosecco and chocolates in our room. Seriously, the sweetest – such a great place!
Getting Around Rome
Depending on how you first arrive in Rome, you will likely either get to the city by train or plane. But once there, your feet will likely get you anywhere else you may want to see. However, there is also a tram for longer treks.
If time allows, we highly recommend opting to walk just because you will see so much more of this gorgeous city. We ended up averaging about ten miles per day, and it was totally worth the sore feet. Just make sure you have access to Google maps or a good physical map of the city.
One big note is to make sure you have a plan for getting to and from the airport, if traveling by plane. For us first-timers, it can be a surprise that the airport is more than 30 minutes away! There is a train route from city center to the airport – just plan ahead for extra time.
Our 2 Best Tips for a Trip to Rome
Have a plan.
This was our biggest mistake when we visited Paris, so we made sure to redeem ourselves in Rome. Decide what you want to see most, do some research on best times to go, book tickets if needed, and then leave plenty of time to wander and eat. In no way would we say to plan out every hour of your trip. That will definitely ruin the magic of Rome. But, if you don't plan some of the biggies, you'll likely miss out.
Plus, with some research, you may discover things like the weekly market is on Sundays. Or that every first Sunday of the month has free entry to museums and other attractions (but you still need to reserve a spot for some). Use that Google, people!
For amazing photos, plan for the right time of day.
If you are serious about getting THE photo at places like the Colosseum or St. Peter's Basilica, do some more of that all-important research to find out when the best lighting will be. Of course, to avoid having other people in your photos, that may take a little more effort – like waking up ridiculously early or staying out late.
But no matter what, we hope you just take some time to let Rome work its magic on you. It is just so so good.
Read more about our Europe travels here. And to learn how we traveled in Europe for five months on a budget by house sitting, read this guide.