Often listed as one of the best roads to drive in the world, the Transfagarasan Highway in Romania is filled with scenic views, interesting stops, and even possible wildlife viewing. On our 130+-km journey, we were blessed with perfect weather, an amazing spontaneous mountain-top stay on Lake Balea, and even a bear spotting!
It was definitely great to be able to split this into two days and spend plenty of time taking it in. However, it's worth noting that this is a summer or fall activity, since the road closes once the snow begins.
About the Transfagarasan Highway
While we began at Curtea de Arges, the entire highway technically runs from Pitesti to the main A1 highway for a total of almost 150-km (93 miles). This twisty, turny paved road goes through the Fagaras Mountains (aka the 'Transylvanian Alps').
It was actually constructed in the 70s by order of the communist leader at the time, Nicolae Ceausescu, to allow a quick military route across the mountains. However, the soldiers building it were not skilled with dynamite and many lives were lost.
The more touristy area at Lake Balea was added to help offset some of the financial costs to create the road. And, according to an Uber driver we met, the chalet atop the road was where Ceausescu would helicopter to for vacation time. However, its feature on the Top Gear show has really put it on the radar of travelers.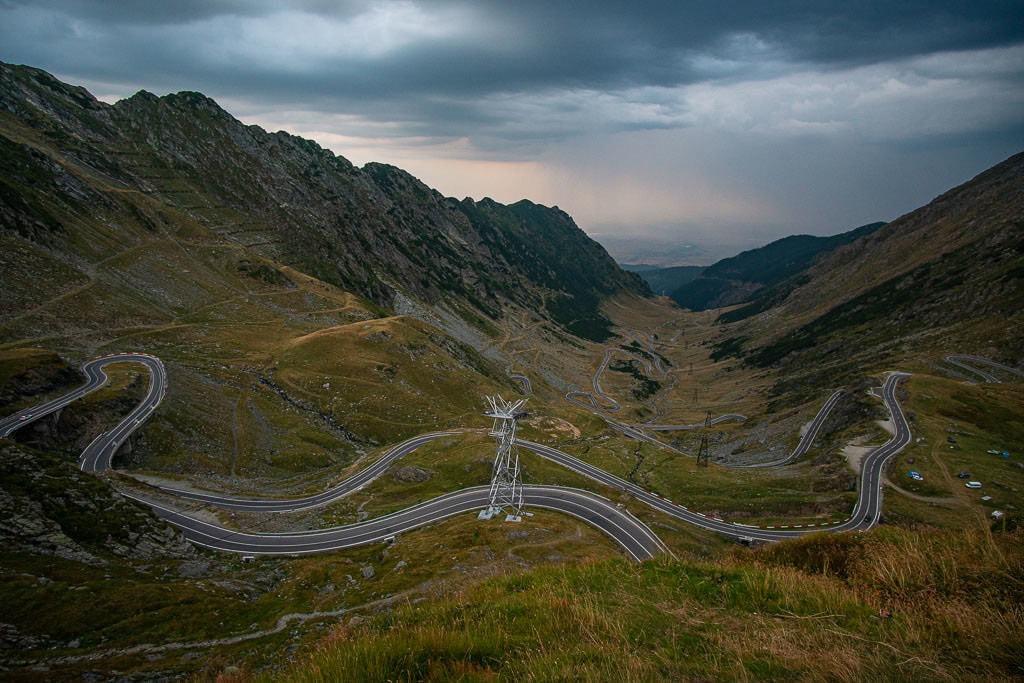 Top Stops on the Transfagarasan Highway Drive
In total, there are five tunnels, multiple viaducts, and many hairpin turns on the Transfagarasan drive. But, there also plenty of places to stop for a nice wander as well as some road-side shops for food and souvenirs.
In the southern portion, there's Poenari Castle. However, you need a guide to hike with you to see it because it is a very popular area for bears! So, unfortunately, we didn't get to check it out. But we did see a lot!
1. Vidraru Lake & Dam
While finding parking can be a challenge, this area is a must-stop along the route, especially if the sun is shining like it was for us! We loved wandering around and taking in the views. But there are also plenty of little snack and souvenir stands as well as affordable boat tours around the lake.
While a bit creepy, we had fun strolling through the tunnel leading to another much more 4×4-style road. And the views on the other side weren't bad either. Plus, it was much less busy on that side!
2. Wildlife Viewing
This was probably the moment we talked about the most on our trip up to Lake Balea. We saw a bear – a really big bear, just chilling. While we made sure to give him or her plenty of space (unlike other cars), we couldn't resist slowing down to snap a photo.
We found out later, wolves are also out there (lucky for Buddy I didn't know this when he went out to take night photos later, or I may have had some reservations ha!)
3. Mountainside Waterfalls
Our drive through the Fagarasan Mountains was in autumn, so the waterfalls weren't rushing. But, they were still so beautiful! I can only imagine what the view is like in spring.
4. Balea Lake
Since we started at Curtea de Arges, it was about three hours of driving and exploring before we reached Balea Lake. Not surprisingly, it was much chillier up there at such a high altitude – more than 2k meters – and later in the day. But stunning! A reminder that our true love will always be mountains.
Eating & Staying at Balea Lake Chalet and Cabana Atop the Transfagarasan
We couldn't find online booking options for the Balea Lake accommodations, but we knew they existed. So, we just crossed our fingers it would work out (and made some mental notes of other lodging options we passed). Luckily, after inquiring at the chalet, they set us up with a room in the neighboring cabana. It was very basic, but all we needed with great views! And there was even parking nearby.
The food wasn't too bad either, but had we thought of it – we would have gotten something from one of the stalls before they closed. Oh well, we were too distracted with the views.
Get this – in winter, they also have an Ice Hotel! But it books up fast, so plan ahead if you want to check this out.
5. Transfagarasan Highway Views
Of course, the entire drive is pretty stunning. But, as you get higher up, the views get better and better.
Near the lake is THE iconic viewing spot of the Transfagarasan Highway. And for good reason. Looking down on the twists and turns we'd get to enjoy the next day from up above was breathtaking.
While the drive is amazing, there is also a cable car if the weather isn't cooperating or you just aren't a fan of mountain driving.
6. Night Explorations
Of course, my star-obsessed hubby couldn't resist some night photography since we were able to stay in such a perfect mountain landscape.
While I snuggled up warm inside, he ventured out to see the stars (through the clouds) and other sights.
7. Heading Back Down the Highway
Before we left, Buddy went out for just a few more photos (he loves mountains even more than I do)! On his walk, he made a furry friend – per usual. This fluffy sheepdog followed him around for about an hour, all while keeping an eye on his flock. I mean, is there a cuter mountain dog?
After we had gotten our fill of breakfast, took lots of photos, and said goodbye to our new friend, we made our way down the windy road ahead of us and into the clouds.
While visibility wasn't great, it was still a beautiful drive down and wasn't long before we were on our way to our next destination.
Want more Transylvanian magic? Check out other tips from our 9-day Romania trip!