Originally our road trip through Romania was going to be focused between Brasov and Sibiu. Then I saw a photo of Salina Turda and couldn't resist the urge to see it in person. So, we decided to pick up and drop off our car in Cluj-Napoca instead, so that we could visit Romania's underground amusement park in a salt mine.
It was so wonderfully apocalyptic looking and exceeded our expectations!
But Why an Amusement Park HERE?
The Turda Salt Mine was once an extremely profitable venture (salt was once worth more than Transylvanian gold!) – with the walls being carved by just hammers, chisels, and picks to create a masterpiece showcasing the workers' skill.
However, the salt mine was closed in 1932 and forgotten for 60 years. Except for when it was used as a shelter during WWII bombings. Then a group decided to bring it back as a tourist destination and place of respite for those suffering from respiratory issues (the unique atmosphere releases respiratory passages).
The complex now has a strange mix of modern and ancient features – the unique colorings of the walls with steel structures and wooden walkways. It is like another world down there – something out of a Sci-Fi novel. And it holds the title of the most successful tourism project in Romania.
I mean, they grabbed our interest …
What to Do at Salina Turda
If you see visions of Disneyland when you think amusement park, please know this term is used pretty loosely here. There are some rides and games at the bottom of the salt mine which draw in visitors – because it is so dang unique!
However, it's not necessarily going to be a blast for your kids (more of a relaxing vibe than a fair), but it will be the strangest place to ride a ride, for sure. And we think it is a can't-miss attraction in Transylvania.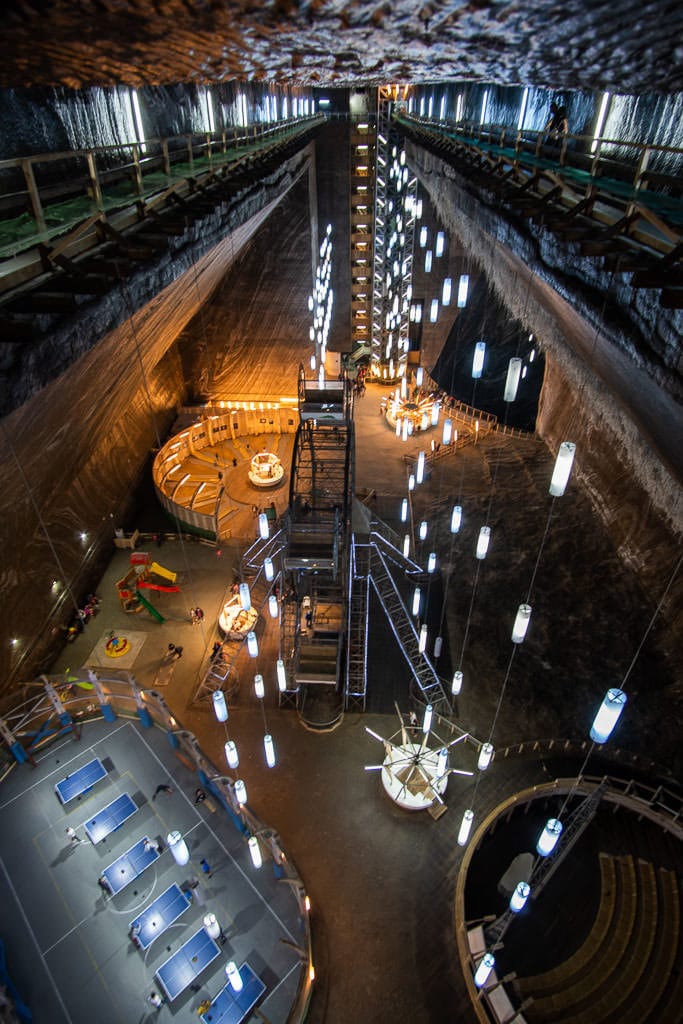 Hi Ho Hi Ho … It's Off to Rides We Go …
Entry for Salina Turda is 40 lei per adult (about US$10), plus 5 lei for parking. Then each activity is more as well. But, we thought it was reasonable – especially with the exchange rate to USD during our visit!
Here are some highlights:
Mining Museum – free with entry
Echo Chamber – free with entry
Ferris Wheel (one loop) – 5 lei per person
Mini-Golf – 10 lei per person
Bowling – 15 lei per person
Table Tennis – 10 lei per person
Boat Ride – 20 lei per boat (up to 3 people)
Since we were enjoying just wandering around, admiring the different rooms, and trying out the echo chamber, we only paid extra for the Ferris Wheel. We felt this was a must and was certainly wonderfully strange.
The entire experience will definitely stand out in our travels. We spent about two hours exploring and enjoying the cool air in the mine. We then took the elevator up because the line was short and it looked so high-tech.
After taking the elevator up from the depths of the salt mine, we took a detour down a mesmerizing tunnel to an alternate exit (a mile or more from where we entered).
It felt like we were visiting a community that had been hiding underground for years and this was just normal life there now. How strange it was to re-enter the daylight after our time below ground!
We did notice that we felt refreshed from the salty, chilly air as well. For more benefits, you can also soak in the nearby lakes or attached swimming pool boasting mild temps.
Where We Stayed in Turda, Romania
It should be clear by now that we have almost no self-control when it comes to unique places to visit, stay or eat (okay, mainly just me). So, when I saw the "Hunter Prince Castle & Dracula Hotel" on Booking, I didn't care to look any further. When in Transylvania, amiright?
I actually messaged one of my besties whose daughter loves the cartoon Hotel Transylvania to pass on the message that her cool aunt was basically staying the night there. Ha!
The rooms here were pretty basic, but the castle and decor made it fun. Plus, having an on-site restaurant and breakfast included was great. Of course, I tried the "Dracula" cocktail which was a strange mix including banana liquor, but surprisingly tasty!
The food wasn't bad either. We were also only about 10 minutes from Salina Turda and had a place to park the rental. Worked great for us.
Bonus Stop: Turda Gorge
If time allows, don't miss a visit to the stunning Turda Gorge before or after a visit to Salina Turda. There's a parking area near some market stalls next to the trailhead. And it's a small fee at a kiosk you'll find toward the beginning of the couple-hour hike to the scenic bridge and back. (If you want to go further, check out this helpful blog).
It's a beautiful, fun hike – a narrow, gorge-side trail, bridges to cross, and towering mountains all around. We loved how rugged it was – with ropes to hold onto on mountainsides and a bridge in disrepair that warned it was only suitable for one person at a time!
We really enjoyed spending our afternoon here and made it back to the hotel before dark. Just be careful not to take the gravel road there or back (marked with a 'G' on the map), especially if in a rental!
Clearly, spending a day or two in the Turda area is well worth it! Have you been to Romania, where were your favorite places? Here are all our top Romania blog posts!