Have you ever traveled to a new city and had absolutely no idea about its history? Well, that is us much more often than we should probably admit. However, during our travels, we have found that many cities offer free historical guided walking tours – which is usually a fun and budget-friendly activity (even if you paid attention during history class).
Luckily, this was the case during our recent trip to the Estonian capital of Tallinn. And the costumed, theatrical free walking tour of Tallinn put on by Tales of Reval was an especially enjoyable way to learn about this medieval city.
While looking for things to do during our five-day stay in Tallinn, we came across Tales of Reval and couldn't pass it up. This company offers free 90-minute walking tours of Tallinn daily. The tours start at the Visitor Information Center in Old Town Tallinn each day at 10:30 a.m. and 1:00 p.m. (with more times added in summer).
These free tours by a costumed actor, take you on a 1.2-km journey along Tallinn's cobblestone streets and explain some of the interesting history of the city. The walk is relatively flat and there are only a few stairs involved, so it is something almost everyone can do.
What We Learned on the Free Walking Tour of Tallinn
Since we really had done limited research before our trip to Tallinn – other than to see how stunning it was, we had a lot to learn!
Quick Intro to the Founding of Tallinn
Estonia and neighboring Latvia were the last countries in Europe to convert to Christianity after the Pope put out a call to bring the religion to this area. Tallinn, originally named Reval, was settled by the Danish (800 years ago as of 2019) who sailed to the Baltics in reply to the Pope's request.
A few years later, German merchants arrived and offered to contribute to settling another area of what is now Tallinn, since the Danes had taken residence on the more ideal hill-top. The German merchants are to thank for the creation of the vast majority of the city – including the iconic walls and multiple churches.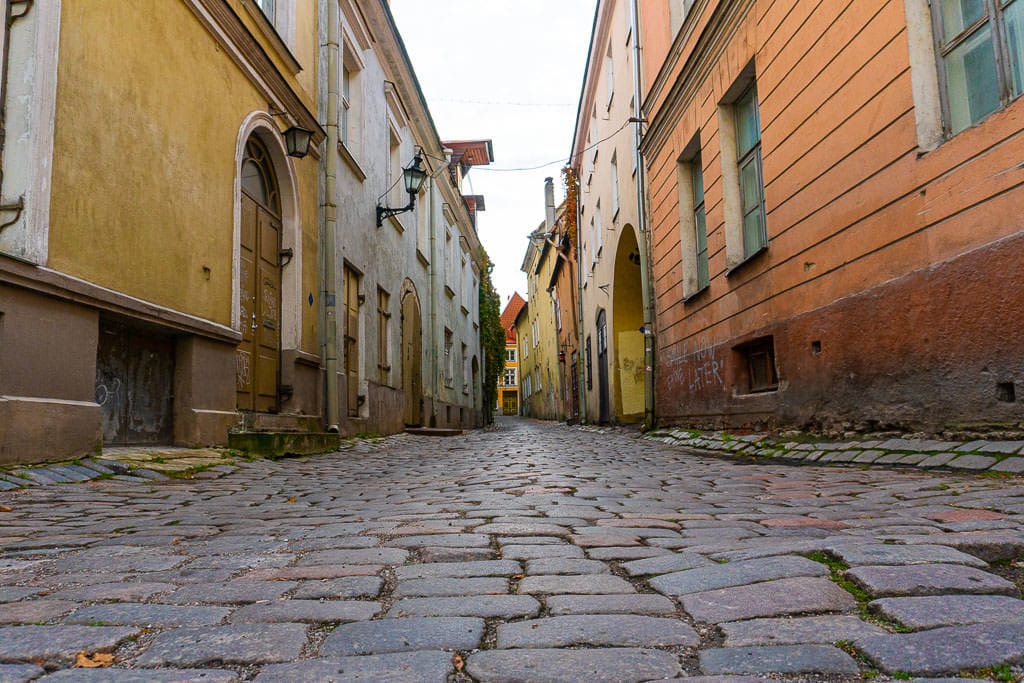 As mentioned, Tallinn wasn't the city's original name, but instead Reval – hence the name of the tour company. This name comes from the story of King Valdemar II (of the Danish nobility) hunting in the nearby forest where he came across a beautiful deer. As he hunted the creature, it ended up jumping off of a high cliff and falling to its death in order to avoid being shot by the King's arrow.
Being very impressed by the defiance of the deer, the king decided to name the city based on its actions. Reval is derived from 'reh-fall', which translates to 'fall of a deer'. Reval was the official name until 1918, when the town was renamed Tallinn after gaining independence.
Beer History in Reval
One of the things I found most interesting during the tour was how they came about drinking beer in the city. Due to not being able to preserve water the way we can nowadays, most cities relied on wells to provide water to the city.
However, when a well was dug in the city, the water was not good. Upon asking the local monks how to resolve the issue, thinking an evil spirit was living inside the well. The monks' solution was animal sacrifices, which generally led to cats being thrown into the well. As you would imagine, the sacrifices did not purify the water, and instead just made things worse.
So, they asked another group of monks how to preserve the water, and they suggested brewing beer with it. Beer was also served in the local churches during Communion, since grapes for wine do not grow in this region. The beer was drawing all sorts of non-Christians into the churches which was always the goal.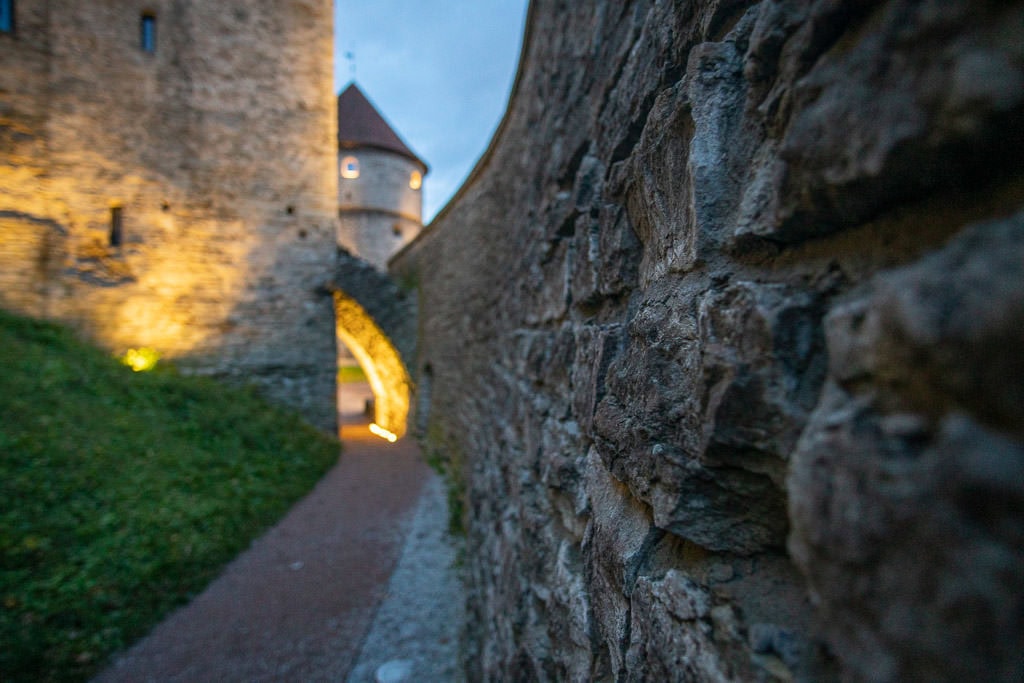 However, as the Pope got word of the beer, he banned it from being served in the churches. This led to a batch of the finest beer being brewed and placed in their finest keg and sent off to the Pope for him to try. The plan was that the Pope would like the beer so much he would understand and approve of it being served.
The exact opposite ended up happening. The Pope despised the drink as it had gone bad during transit to him. He actually disliked it so much, that he approved it to be served to the people, because he decided their suffering from drinking it would bring them closer to God.
More Recent History of Tallinn
Tallinn is considered the best-preserved medieval city in Northern Europe, and just walking down the original cobblestone streets you can see why. There's beautiful architecture, medieval churches, merchant houses, and guild halls all dating back to the Middle Ages. (And, of course, some great modern-day markets as well!)
During WWII, the city only lost about 10% of it's original structure, meaning that 90% of the city was spared during the war – an uncommon occurrence in Europe. For this reason, in 1997, the old town of Tallinn was dedicated as a UNESCO World Heritage Site. (Compare this with Germany's famous medieval city of Rothenburg, which had to almost entirely be rebuilt).
Another unique fact about Tallinn is that World Cleanup Day was actually started in Tallinn in 2008, and was originally called "Let's do it 2008." What Estonia was doing to clean-up their land led to the creation of the international organization "Let's Do It! World" in 2012.
This then spurred the idea of World Cleanup Day, with the inaugural event being held in 2018. The U.S. also joined in on "Let's Do It! World" and held their first National Cleanup Day. As you walk around Tallinn, you will see that its residents still take responsibility for the cleanliness of their gorgeous city.
However, this was just a taste of the things we learned during our tour. For example, Tallinn is also known for creating the first decorated and lighted Christmas tree! But, you'll have to take the tour to hear the whole story.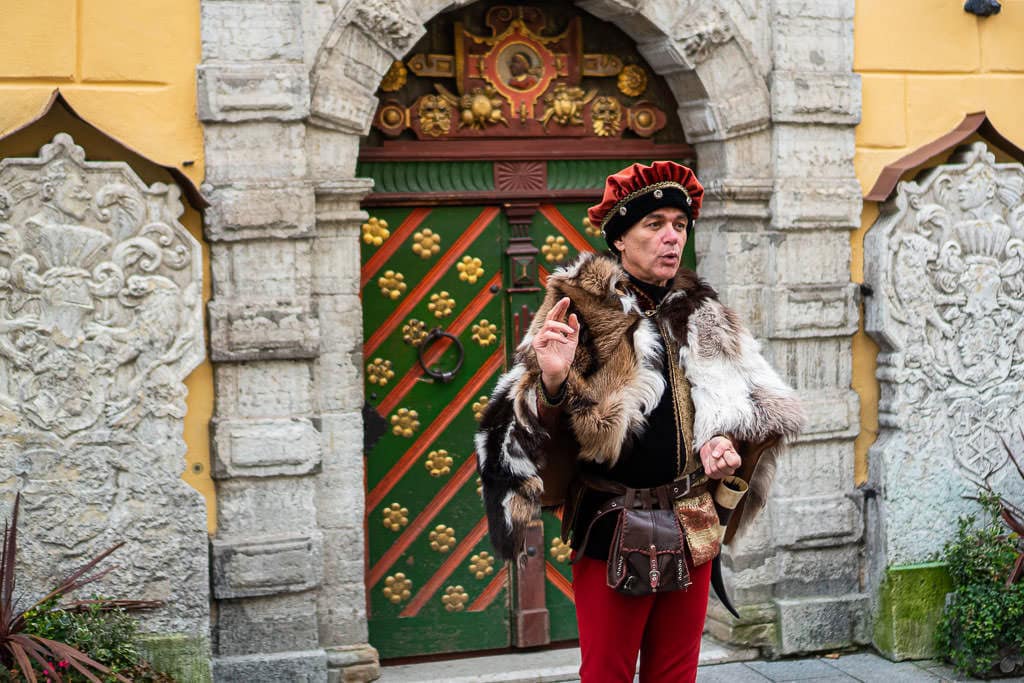 Nothing beats being in a city and learning the local history from someone who knows it best. Not to mention the wonderful acting out of these tales by a costumed performer and the $0 fee – although tips are accepted and well deserved! Our tour actually ended up being about 115 minutes because a few guests were lagging behind and he didn't want them to miss out. Very kind!
Overall Review of Tales of Reval Walking Tour of Tallinn
This free 90-minute walking tour of Tallinn was not only informative, it was also extremely interactive. While we have been on many city tours where the guide is wearing a ball cap, backpack, and has trainers on, that was not the case with our Tales of Reval guide. Sebastian (as his merchant character was called) was actually dressed the part. He played his role very well and made sure that his audience was engaged and having a good time.
During many of his stories, he would pull in someone from the group to help him visually tell the story, which of course meant very awkward situations of random people acting out parts of the stories. This would be from digging the well, to hunting the deer, being a merchant, to just being a performer that ends up falling to her death.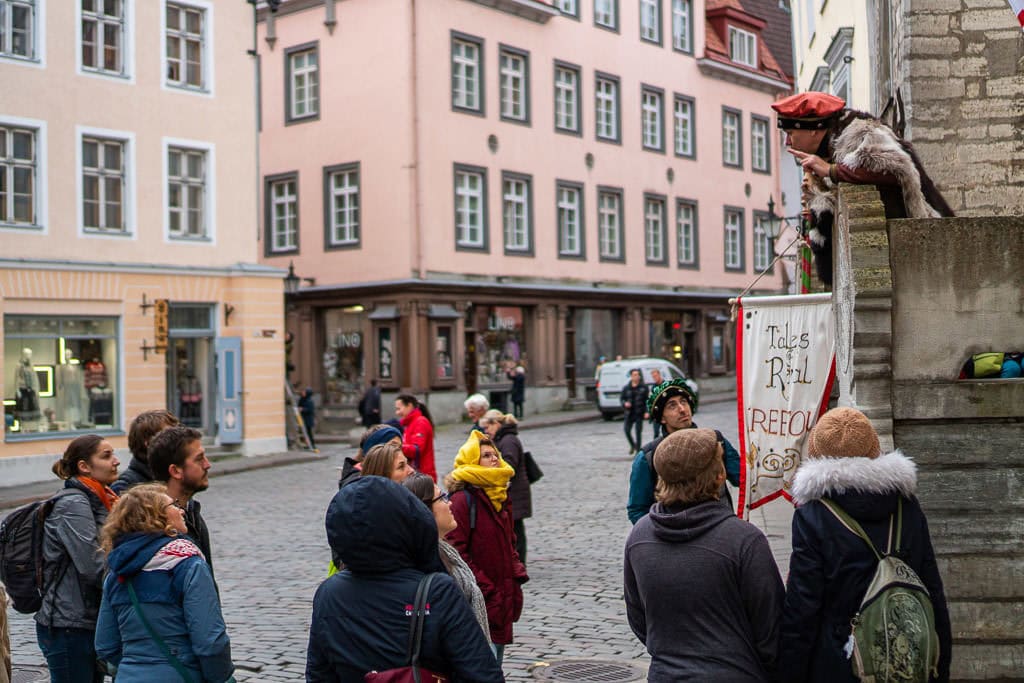 Of course, you could opt to not play a part, but most everyone in our group was a good sport about it. Sebastian just had a great way of making sure everyone was involved, which really separates this free city walking tour from any other we have been on and helps us remember the stories so much better.
Other Budget Tips for Staying in Tallinn
Food was much more expensive than we anticipated. Luckily for us, we had already booked a room that did include a kitchen, which meant we were able to save quite a bit by cooking and eating at home for most meals.
However, if you are looking for inexpensive meal options, this blog post has some gems. We tried Kaja Pizza Köök and III Draakon, with rave reviews for both!
Staying at Romeo Family Uus Apartments in Old Town during our entire five-day stay really worked out well for more reasons than just the kitchen. This was a perfect location, as it was central to everything, and even close enough to the ferry terminal for our day trip over to Helsinki. We ended up paying $40/night, through Booking, which was a great value. Plus, we were staying above the Gelato Ladies shop!
Just walking around the city, taking in the overlooks (don't miss Patkuli viewing platform), going to the unique Balti Jaama Market, and exploring the churches is a wonderful way to spend a trip – and will save you a ton of money. The tourism website has some fantastic recommendations.
While there are plenty of taxis and buses in Tallinn, we opted to use UBER during our trip. We arrived at the bus station from Riga, and our UBER cost about $7 to get to the hotel. Our trip from Old Town to the airport to catch our flight to Copenhagen was only about $8.
While this isn't a cheap option, taking a day to head over to Helsinki is a much more budget-friendly way to see the city than staying overnight in this notoriously expensive country. There are numerous ferry options to get over to Helsinki from Tallinn, but we took our trip with Tallink, as they had the best prices and the most time options available.
Overall, we loved Tallinn – especially in the less-busy autumn season – and would definitely return to this gorgeous area of the world.
Have you ever done a city walking tour when arriving to a new city? What is the best free city walking tour you have ever been on?