Taking our first steps into what is arguably the most picturesque, fairy-tale city in Germany was like stepping back in time to the middle ages. There are so many things to do in Rothenburg ob der Tauber!
This medieval destination felt much more magical than any manufactured Disney experience we've had. Learning about the centuries of fascinating history was made all the more interesting by feeling like we could truly place ourselves in those moments – since the walled city has barely changed in its 500 years.
A Quick Intro to Rothenburg ob der Tauber, Germany
If you are a fan of Instagram, you are probably familiar with those iconic brightly-colored, half-timbered houses in Germany. But you may not know that Rothenburg ob der Tauber is where the vast majority of those photos were likely taken.
Just a short trip from Munich or Frankfurt, and a highlight of the popular Romantic Road in Germany, it is no wonder visitors end up there. And once there, falling in love with the stone streets and adorably uneven houses is not a difficult task.
However, Instagrammers aren't to thank for making this place popular with tourists. That happened long ago when painters stumbled upon the old, walled city in the 19th century and 'rediscovered' it. As their paintings of this idyllic place were shared across the world, it drew people there – the original Instagram effect!
And if you look at those paintings after visiting for yourself, you may be surprised to see that the medieval gem of a place has barely changed at all.
An Unexpected Twist of Fate
Interestingly enough, one of those paintings actually played a part in saving Rothenburg ob der Tauber during World War II. The city had already been attacked and the American troops were set to fully destroy Rothenburg because Nazi soldiers were stationed there. But, an American general heard this news and remembered the gorgeous painting of the city that hung in his childhood home.
Not wanting this historic city to be wiped out, he asked for the town to be spared and the Nazis were given the option to surrender in order to save the city. And with a strange twist of fate, they accepted – keeping the city from complete destruction. The general was even made an honorary citizen.
A Look Further Back in History
But, of course, Rothenburg's history goes back much further than this unique event. The community first came into existence in 1142 after the Imperial Castle was erected. But while the castle was soon abandoned, the city grew as a commercial center. It was actually very important and wealthy in the Medieval Ages – hence the wall to keep the city well-fortified in case of attack.
However, during the Peasant's War in 1525 the city's decline began. It was also occupied several times during the 30 Year's War. But was luckily spared in 1631 due to an interesting turn of events the city still reenacts today.
The Master Draught
In 1631, Mayor Nusch downed more than three liters of wine to save the town. After losing a battle to defend their home, the invading general that overtook Rothenburg decided that if anyone could drink the large glass beaker of wine the city would not be plundered and pillaged.
Needless to say, Nusch succeeded and is lauded all over the city for his achievement! Each year on Whitsun, the entire day is reenacted all over the city by about 700 performers. The story is called the Master Draught.
We've never considered ourselves history buffs. But Rothenburg ob der Tauber made us want to soak up every story we could. It was all just so fascinating! It was like stepping into the history book – something we wish every student could have a chance to do.
8 Things to do in Rothenburg ob der Tauber Germany
1. Walking the Rothenburg City Walls
One of the first things we suggest doing – and a favorite free activity of ours – is walking the town walls that go around the city. Not only is an amazingly unique thing to be able to do, it provides great views of the city and the surrounding areas. If you have enough time, definitely walk the entire thing!
Plus, the city has created a fantastic 'Rothenburg Tower Trail.' It is a great place for you to learn more of those interesting facts about Rothenburg as you wander along and read the 22 informational displays.
You'll pass by 40+ towers, fortifications, gates, bridges, moats, and gardens along the 2.5-mile (4 kilometers) walk. So, plan about two hours to see it all.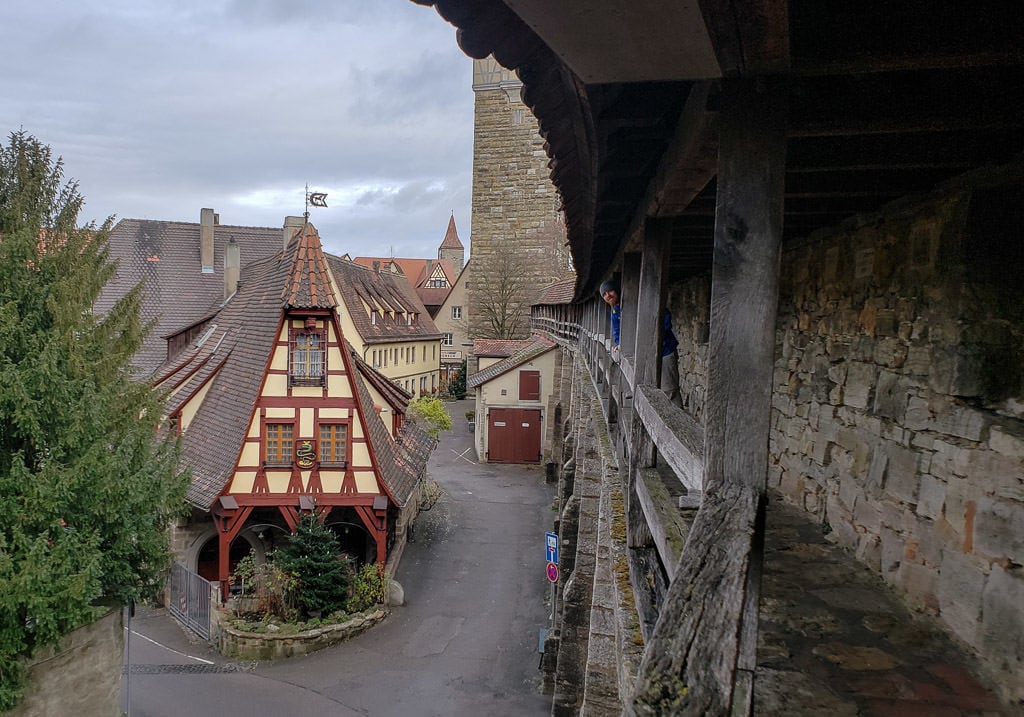 While walking along, it is impossible to miss all the names along the Rothenburg Wall. When the city was partially destroyed during World War II (about 40%), they reached out to the world for help. Since it had become a beloved place for many during all of its years as a tourist destination, they received enough donations to rebuild.
As a thank you, they added the names of the donors to the wall. And you can still have your name added today, with a donation to help preserve the city.
Luckily for all of us, they decided to rebuild in that same medieval style everyone enjoys so much.
2. Into (and out of) Rothenburg ob der Tauber
Down in the streets of Rothenburg ob der Tauber, you can enjoy some of the places you admired from the wall up close and personal. We got lost wandering the streets for hours and loved every minute of it.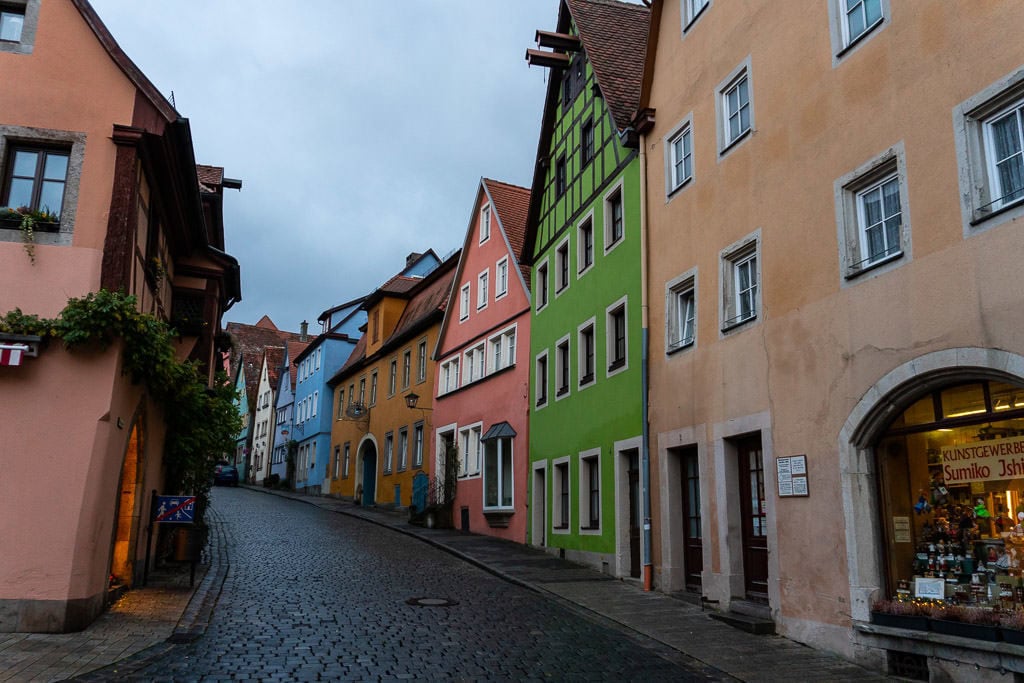 Probably the most famous place is Plönlein and is located where two streets meet, near Siever's Tower. You'll know it when you see it. The view is quite striking and was even used in the Disney cartoon Pinocchio.
You also won't want to miss a short stroll and a great vantage point of the city at the Rothenburg Castle Gardens. This landscape is known as the "Rothenburg Riviera" by locals. Take a second to imagine what this place may have looked like back in the 19th century. It's really not that big of a stretch!
While the city still looks quite similar, the way of life has changed tremendously over the years. While it may be tempting to idealize the olden days, the medieval times were not an enjoyable time to be alive. They had lots of disease, a constant worry of death by fire or attack, and some very different traditions and laws than we are accustomed to.
3. Rothenburg Museum
To learn more about how life has changed in Rothenburg through the centuries, there is a handful of fantastic museums that give you an idea of what it may have been like and all the history packed into the city's 500 years. We really enjoyed the Rothenburg Museum (aka the Imperial City Museum). It is housed in an old convent and only €6 per adult to visit (€3 extra to take photos).
Not only did we learn more about the history of Rothenburg ob der Tauber, we also enjoyed many gorgeous pieces of art including the Rothenburg Passion painted in 1494 and an interesting misinterpretation of Moses who is depicted with horns in a stone statue due to a mistake in translation.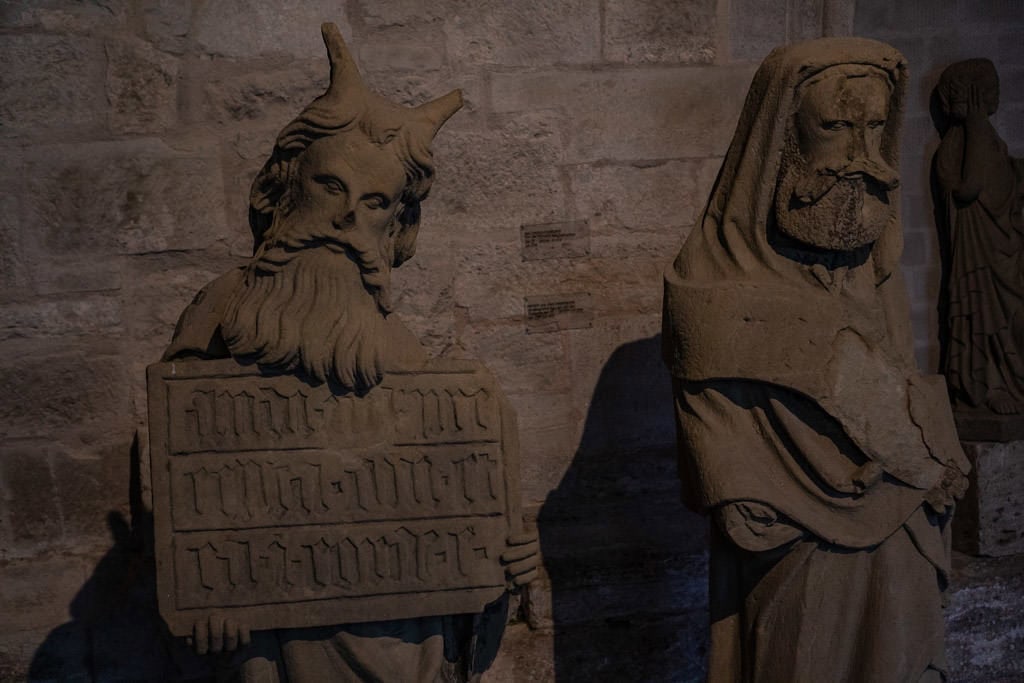 It was especially nice to admire the paintings created centuries ago, that looked eerily identical to some of the photos we had taken. We just couldn't get over the similarities, and it really put it into perspective how well the charm of this place has been preserved.
4. Medieval Crime Museum
The Medieval Crime and Justice Museum is another great stop. Known as 'Germany's most important collection of legal history,' it houses torture instruments and other types of barbaric punishment from the medieval ages, when things like witch hunts were still common!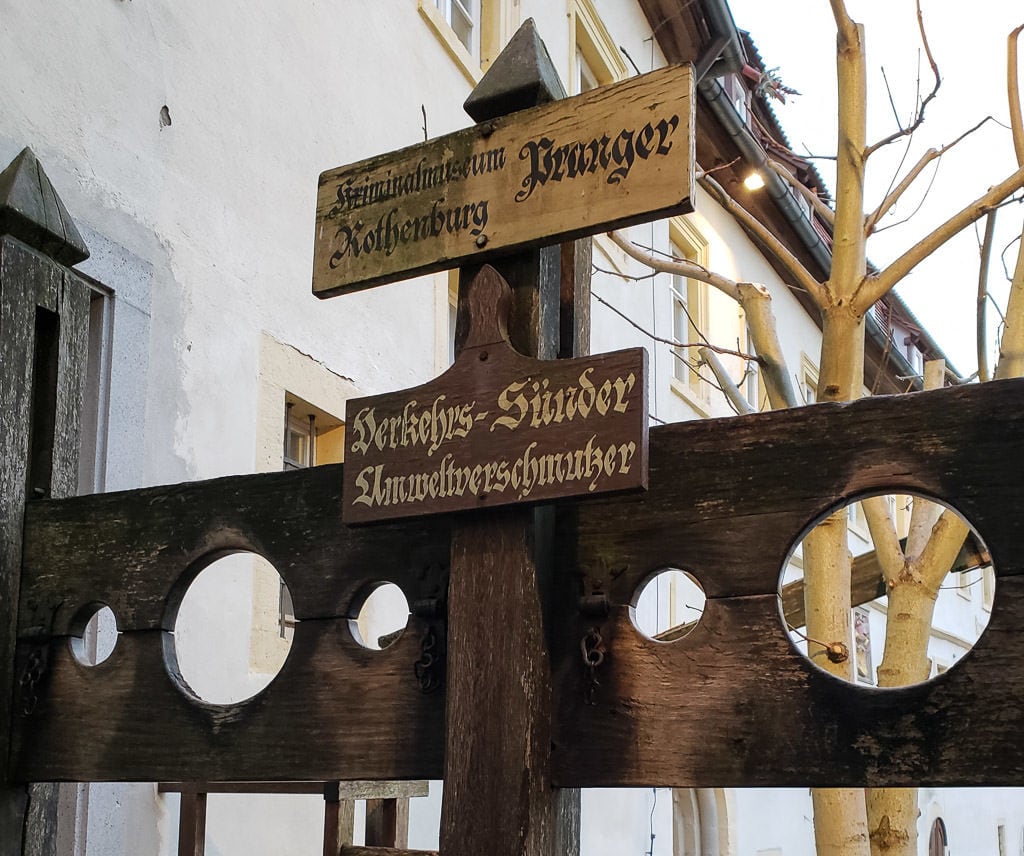 And for fans of the classic film Chitty Chitty Bang Bang, you can see the child catcher cart right outside the front door! (A portion of the movie was filmed in Rothenburg – a fun fact we learned just prior to our trip). It is certainly one of the more unique museums you can visit. But, note that last admission is 45 minutes before the closing time (admission is €7 per adult).
There are also historical vaults under the Rothenburg Town Hall where one of the mayors died and the history of the 30 Years War is currently shown. And if you need a more light-hearted activity after all that history, the city has some great little shops that we really enjoyed.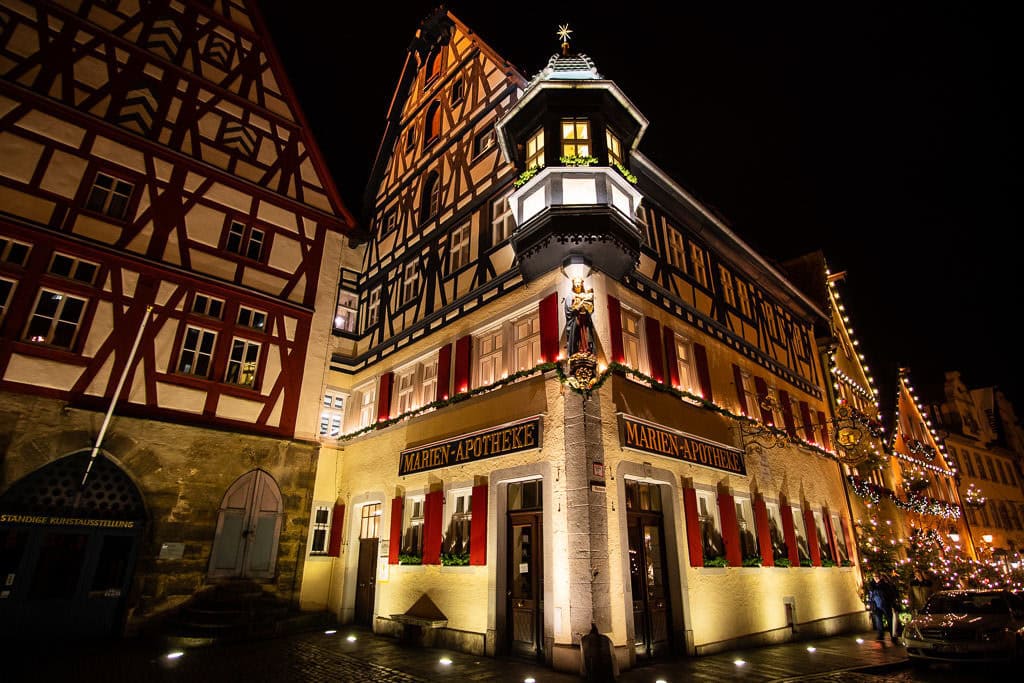 5. Shopping in Rothenburg ob der Tauber
Okay, if you know us at all, you know we are die-hard minimalists who don't buy much at all. But, there were so many cute, unique stores in Rothenburg o.d.T. that we couldn't resist at least doing a wander through a few. A favorite was Zur Waffenkammer where you can purchase an entire suit of armour or medieval outfit of your choosing!
Another was Käthe Wohlfahrt's Christmas Store which also houses a Christmas Museum (€4 per adult admission). While we visited during the Christmas Markets and had no problem getting our festive fill, I imagine this place being a mini-escape back to this magical time during the rest of the year.
It is massive and is like its only little world. Definitely worth wandering through, even if you aren't a shopper – this store really rivals anything I've ever seen.
Apparently, you can also make your own chocolate figurine in Allegra Schokolade. That's one of the things to do in Rothenburg we'll definitely take advantage of next time!
6. Christmas in Rothenburg ob der Tauber
Speaking of Christmas, we were so excited to see this already-gorgeous city all decked out for the holidays. It is probably better that it didn't end up snowing, because my heart may have exploded. Visiting this city is a great way to get in the Christmas spirit.
Going to Christmas in Rothenburg is one of the best things you can do on this planet, we'd go annually if we could! But if you don't make it during this time of year, the German Christmas Museum is a good back up option.
Want to see MORE German Christmas Market stops to plan for? Read our list of 30+!
Wandering around at night already felt like I was shrunk down to live in one of those magical Christmas villages my mom would set up every year. I honestly never thought such an idyllic, winter wonderland could exist in real life until we set foot in Rothenburg.
The market is exactly what I had been craving. It just had this hometown feel that gave me all the mushy emotions.
There were kids singing carols, a giant advent calendar on the Town Hall building that would show a new festive scene on a window each night, and Santa. Let me tell you about Santa…
As we were strolling along, we noticed a man all in red pushing a cart. So, logically, we followed him. Eventually, he stopped in front of on of the Christmas trees in the historic old town and started turning a crank to play music out of his magical little cart.
Then he handed out candy to the kids that came to say hi. And he smiled the whole time. His joy for his very important job at this market just spread over the entire place. I almost hugged him.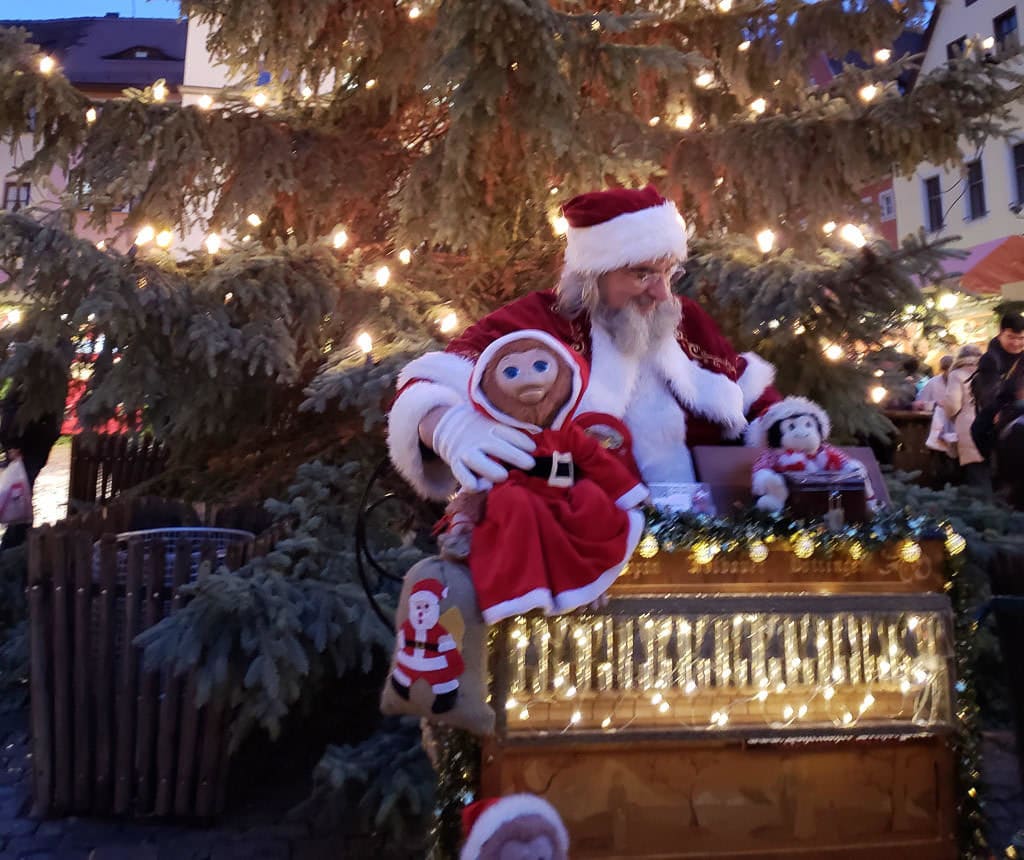 Rothenburg Christmas Market Traditions
This fairy tale wonderland follows along closely to the city's 500 years of tradition. The Rothenburg Horseman ("reiterle" which the market is named after) even make an appearance during the seasonal event. And it is always a highlight, we've heard.
According to legend, the horseman was a descendant of another world who glided through the skies in the winter months with the souls of the dead. But eventually, the figure went from feared to loved. Now he is a symbol of this fantastic market!
Not only were our hearts filled to the brim at this market, so were our bellies. There is so much delicious food. From the German go-to's like bratwurst and käsespätzle to the special treats like schneeball and lebkuchen. They had it all.
Plus, of course, some of the best glühwein! We highly recommend seeking out Glocke. This local winemaker had some of the best white glühwein I've tried. And we've really been getting around when it comes to these Christmas Markets (see proof here). But, really this should have been no surprise. The Tauber Valley, where the city lies, is a famous white wine region.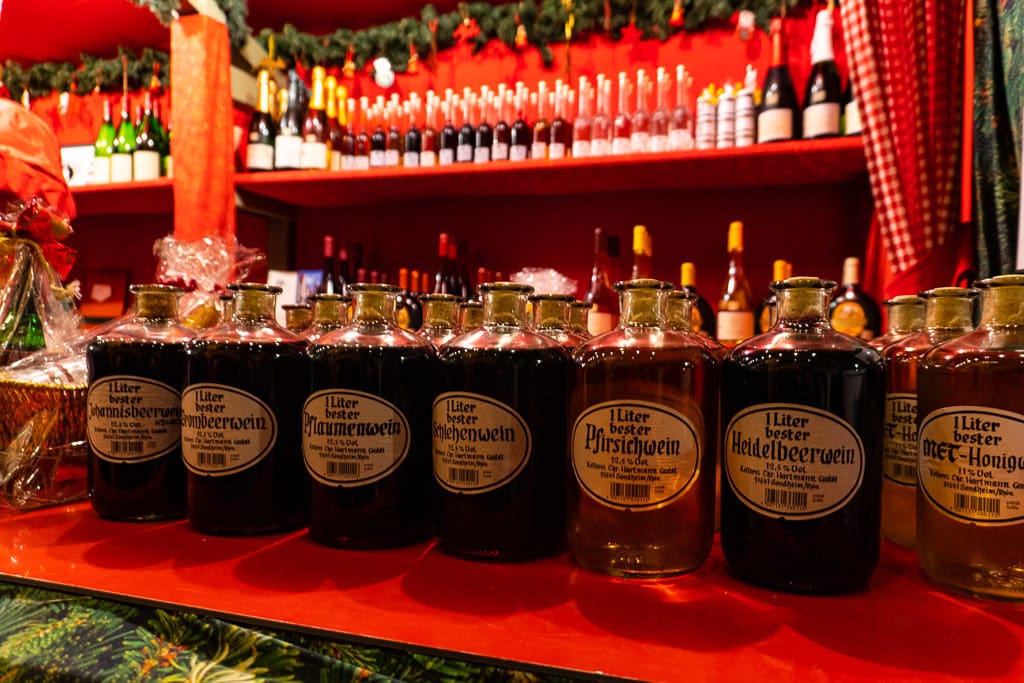 7. Get a Bird's-Eye View of Rothenburg
A short, but memorable moment of our trip was deciding to climb the Rothenburg Town Hall Tower after the sun had long set. We huffed up the 220 steps to the top of the 52-meter tall tower. Just before the last set of stairs, we were welcomed by a sweet woman before the viewing area.
Relieved to be finished with the climb, we were in awe of the magical scene awaiting us. Just below were the markets, with their unmistakable twinkling lights. A choir of children sang Christmas songs (in English even – since a visiting school was the entertainment for the night).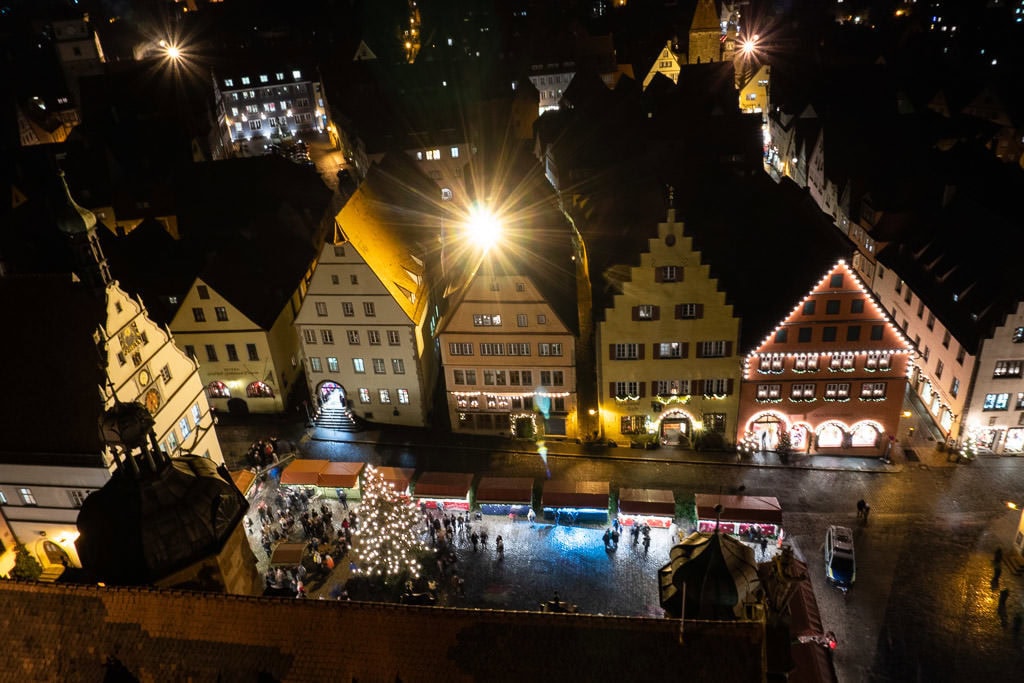 We were gleeful as we looked down on the gorgeous scene, outlined with half-timbered houses and people wandering from shop-to-shop. It was the perfect place and moment to appreciate just how lucky we were to be exactly there at that hour, taking in such an amazing event.
8. Go on the Can't-Miss Night Watchman Tour
We've been on some pretty boring, lack-luster tours. I may even go so far as to say we aren't easily entertained. So, when I say the Night Watchman Tour is a can't miss, I really mean it. The Night Watchman is funny, knowledgeable and a fantastic guide.
Shortly after the Christmas Markets had closed, we met him in front of Town Hall for our tour. Knowing we all couldn't wait to capture a photo of his unique attire, he invited us to go ahead and hop in next to him if we'd like. He had this serious, but silly tone at all times that I loved.
Even when sharing some very somber moments of history, the Night Watchman somehow was able to tell a fitting joke that had everyone laughing out loud. And he truly had a fantastic way of making the moments of Rothenburg's past come alive.
What We Learned
As we walked down the dark streets, he shared how the Night Watchmen were responsible for guarding the city. There were usually six who would patrol the streets and gates to the city. Plus, they would also make sure every resident had locked their door. While important, this was actually a lowly job that people shunned because the night scared them.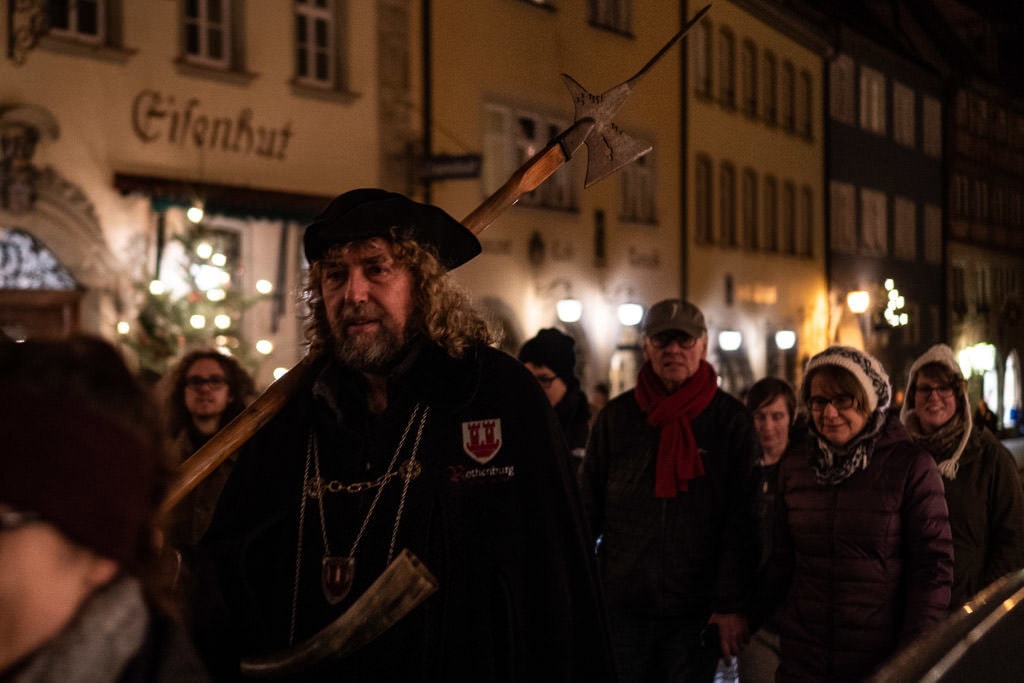 He walked us to and out of the 'the eye of the needle' – a door-within-a-door in the inner gate that was usually the only way to enter the city at night. With the majestic city as a backdrop, we spent most of our time here learning about life in the olden days and why we shouldn't want to go back and live there.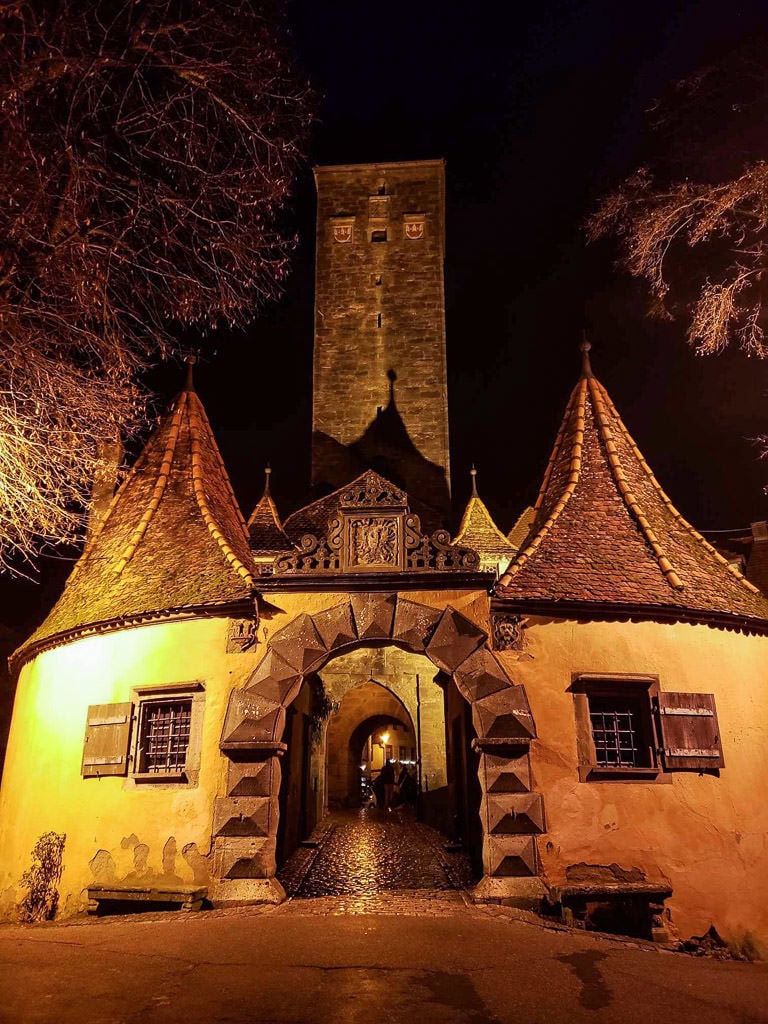 We came away with so much knowledge and an even more heightened interest in Rothenburg o.d.T. And for €8, this tour really is a steal. Plus, it is great for people of all ages who are able to walk along with this iconic resident of the city.
Where We Stayed in Rothenburg
There are plenty of cute, old hotels in this historic city – even one that sits on the actual wall (Burg Hotel). However, if you are visiting with a car, we would suggest parking it outside the walls since navigating those narrow, busy streets can get complicated. Or you can choose one of the lovely options just outside the walls.
We stayed at Hotel Gasthof Rödertor. It was a cute, inexpensive option with breakfast included and on-site parking. They even put a little Christmas tree in our room, which earned them a ton of bonus points in my book.
For our second night, everything in town was booked because it was a Friday and we added on this second night last minute (book ahead!!!). But, we lucked out with the fantastic Gasthof zum Falken about 15-minutes away in a quaint little town we loved.
This family-owned place has been around since 1870, and has all the charm you would expect of an older building. I loved that the floors creaked when we walked and their on-site restaurant was amazing.
We enjoyed both dinner and breakfast in their cozy dining space serving traditional Franconian cuisine. Even with our meals, our total for a Friday night came out to less than US$150! A steal, for sure!
Our Best Tips for Visiting Rothenburg ob der Tauber
Of course, there isn't anything wrong with taking a spontaneous detour to visit this gorgeous city on Southern Germany's Romantic Road. It truly is one of the best-preserved medieval towns and it is definitely worth a stop even for a few hours.
But, if you are planning out your visit ahead of time, these are our tips for making the very best of it.
Book ahead. If you want to snag one of the top hotels, it is a good idea to book far in advance as some get reserved quickly. This goes for popular restaurants and tours as well!
Brush up on your history. You will learn so much during your visit. But having a general idea of why this place is important historically may help guide your activities. Brush up on the medieval period and World War II before you get there.
Plan around a fun event. We visited during the gorgeous Christmas Market, but the city also has great events in warmer weather. Like the August wine event, or Imperial City Festival in fall.
Use up all your hours. This isn't the medieval ages anymore, walking around at night is safe and very enjoyable. The city really takes on a new kind of magic once the sun goes down.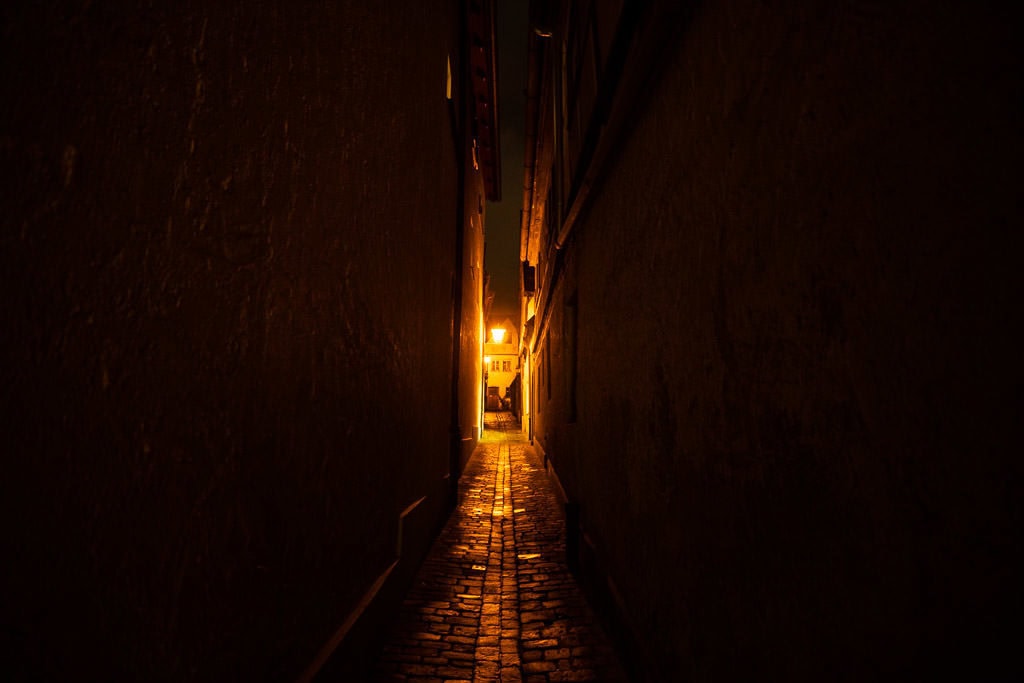 Wear your walking shoes. Heels aren't recommended with the uneven stone streets! And not only will you walk for miles exploring the city, but you will also probably want to get out into the surrounding nature to enjoy the gorgeous views. You will definitely earn a schneeball or two!
But no matter what, don't get too caught up with your schedule or picture-taking to really take some time to admire how stunning and interesting Rothenburg ob der Tauber is. It really is one of those places that sticks with you, so let it work its magic!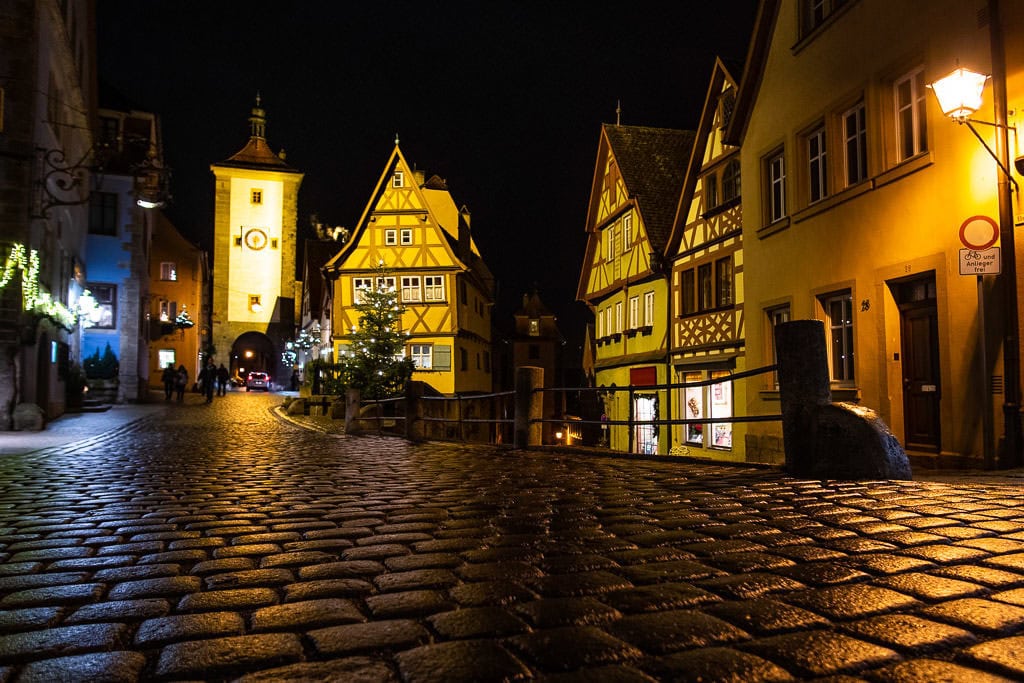 Special thanks to Rothenburg Tourismus Service for providing us with assistance on this trip. However, as always, all opinions are our own. We really did enjoy every single thing about this gorgeous city!
Read more about our Europe travels here. And to learn how we traveled in Europe for five months on a budget by house sitting, read this guide.