For our multi-week German Christmas market extravaganza, we planned out our route based on which markets looked the most scenic or unique. When we caught a glimpse of Christmas in Heidelberg and realized we could also tour the epic castle ruins above the market, we were hooked.
Does it get any more magical than touring a castle and Christmas markets on the same day? Oh Germany, how we love you!
Heidelberg Castle
As soon as we got into town, we dropped off our bags and headed straight to Heidelberg Castle – 300 feet above the city. This castle was built in the 1300s and partially destroyed by lightning in 1764.
Although it was cold and rainy and getting dark, we really enjoyed wandering around and admiring the Heidelberg Castle. The natural destruction of this large palace really left a beautiful scene.
Plus, the views of Heidelberg below were stunning. And after dark, the lights of the Christmas Markets could easily be seen – beckoning us down.
While the Heidelberg Castle ruins and views are gorgeous, the palace is also home to 'The World's Largest Wine Barrel' (next to a great little tasting room) and an interesting Apothecary Museum. Both are definitely worth a visit, and should be included in your ticket price.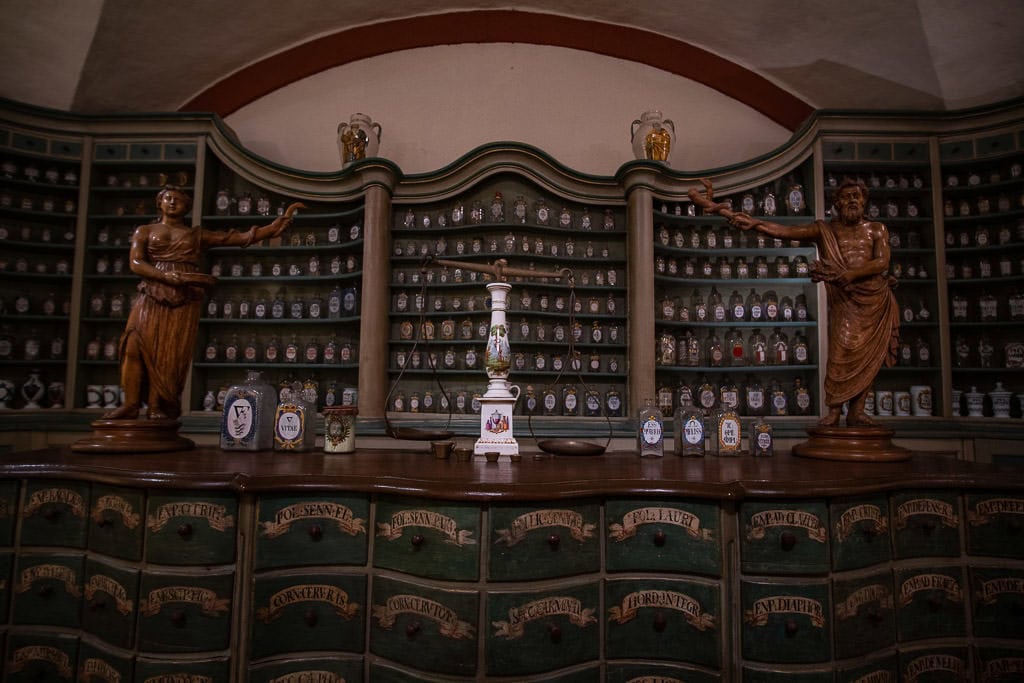 If you opt for the Heidelberg Card, you will have access to all of it – including the round trip funicular ride. Guided tours of the castle are also available for an additional fee, if you want to learn more about this beautiful place and get access to places not open to the general public.
However, it's worth noting that part of the fun of visiting the castle is getting there! We took a short ride on the funicular railway, but there is also a great walking trail if weather cooperates. There is a large garden to wander around, too. Since it had stopped raining before we left, we walked down the short trail in the dark and out to the Heidelberg Christmas markets.
Bonus Views from Königstuhl & More Funicular Fun
If time allows, we definitely suggest continuing your journey on the funicular all the way up to Königstuhl – the highest peak in the Lower Odenwald forest. Way up there, you can have even better views of Heidelberg below and the Neckar Valley.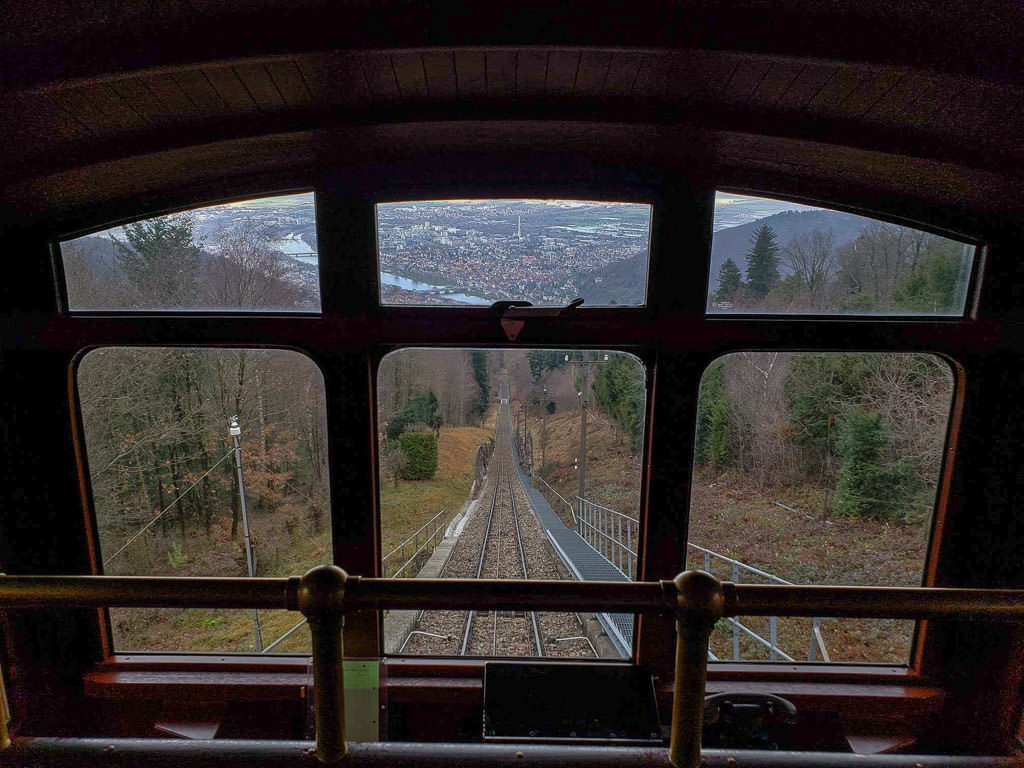 On a clear day, you can see all the way out to Alsace from the top of Königstuhl. Once there, you can go on one of the various trails. Or just sit at the cafe for a bit before heading back down.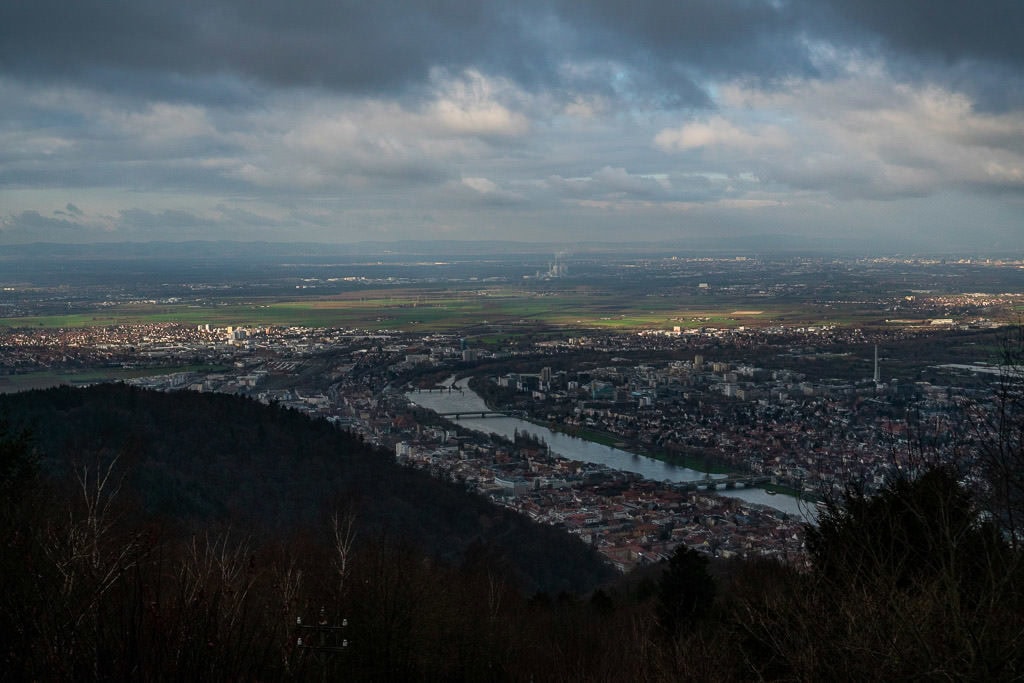 Don't miss the little room below the station that shows you the inner-workings of the Heidelberg Funicular. It is crazy to see just how simple this process looks for pulling the heavy, metal cart all the way up Königstuhl!
Night Wanderings Through Heidelberg Christmas Markets
After spending a few hours wandering around Heidelberg Castle, dinner time was approaching and we couldn't wait to get down to the markets for some hot wine and food. There were five to choose from, so we had plenty of options!
Just below the castle, the market at Karlsplatz is the largest and features a huge skating rink and some great views of the majestic castle above. This was our favorite!
Once we had some food in our bellies and warm glühwein to sip on, we wandered across the river to take in the views from the other side.
The city is so beautiful at night, with the glowing Heidelberg Castle above the city on the hill and twinkling lights from the markets. We really loved having time to just sit and admire it.
Staying, Eating & Drinking at Heidelberger Kulturbrauerei
We've been wanting to stay in a pub for a while. So when we read that we could check that off our list while staying in Heidelberg, we didn't hesitate to book a room at Heidelberger Kulturbrauerei.
After our wanderings, we stopped in for some of the best beers we've had on our trip. Buddy opted for their lighter wheat option, but I went for the festive blend which rivaled my beloved glühwein in deliciousness. And the gorgeous atmosphere of Heidelberger Kulturbrauerei Brewery really added to the magic. It was the perfect way to end the night!
Not only did we have delicious food and beer right next to us, but we were also central to all of the main activities in Heidelberg – including our beloved markets. Staying at the Heidelberger Kulturbrauerei really made our trip. Plus, our room was really cozy and the staff was great to work with. We'd highly recommend it!
While we only spent less than 24 hours in the city, its beauty has really stayed with us and we look forward to making a return trip.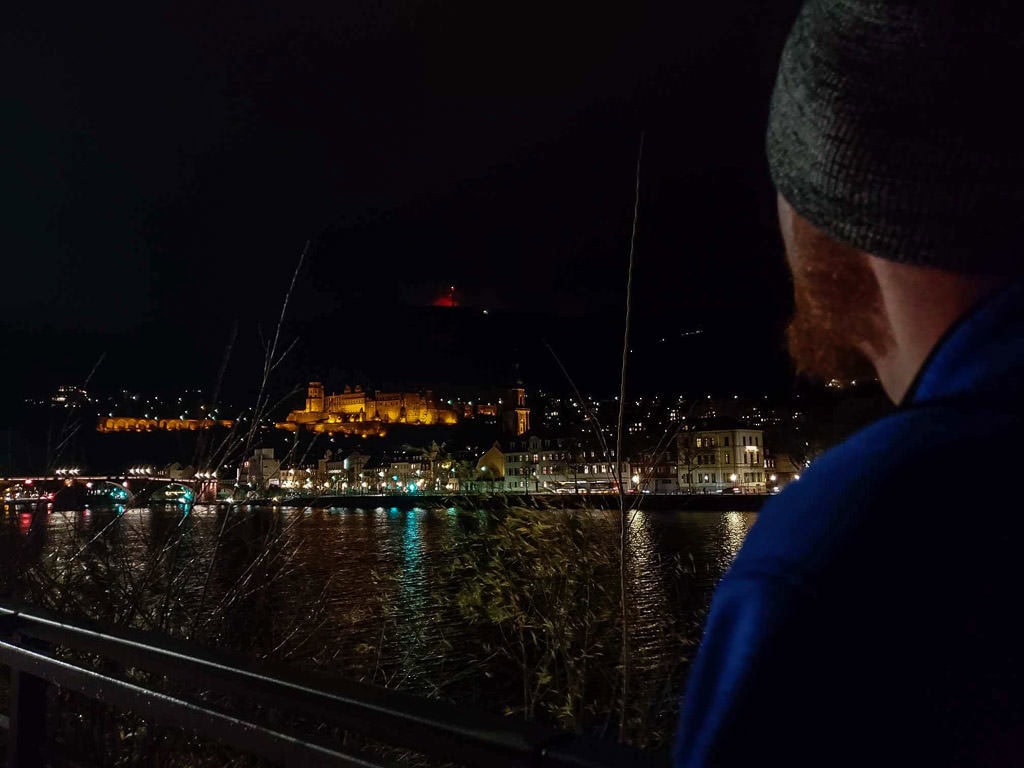 Special thanks to Heidelberg Marketing for providing us with assistance on this trip – including the Heidelberg Card. As always, all opinions are our own.
Read more about our Europe travels here. And to learn how we traveled in Europe for five months on a budget by house sitting, read this guide.