When Buddy suggested we go see the Christmas markets in Strasbourg, France – known around the world as the 'Capital of Christmas' – I initially said no. I just didn't think it could possibly live up to the expectations I had in my head. And I didn't want to go out of our way to be disappointed.
But, he made a good point that our epic Europe Christmas market trip just wouldn't be complete if we passed up what is supposed to be the most over-the-top market in the world – even if it was all talk. So, we added it to our route and I prepared to be let down.
As we got closer, my excitement and curiosity began to build – I just couldn't help it. We were headed to the oldest market in France and most of Europe. Plus, one of the most popular in the world – they have even started to put on markets in other countries because they are so sought after.
First Impressions of Christmas in Strasbourg
As we neared the city, I quickly realized that the Christmas markets in Strasbourg didn't just create this title for themselves, they earned it. Wow, can this city do Christmas!
In the other cities we visited, the market was the main attraction for Christmas decorations and activities. The streets would have a tree or a star here and there, but that's about it. Not the case in Strasbourg. Every inch of the city center seemed to be fully decked out.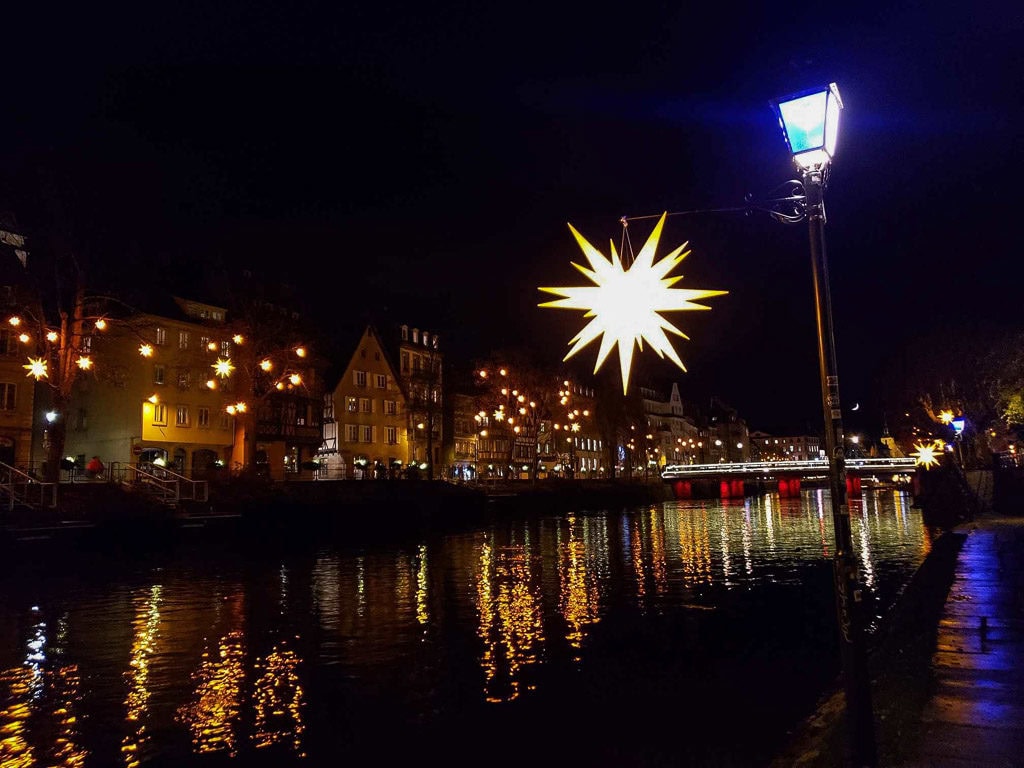 Magical Christmas stars hung from the lamp posts, reflecting their joyful light onto the canal below. The old, timber-framed houses had decorations on each window. And rooftops all over town had intricate scenes that must have taken days to put together. The city just dripped holiday cheer.
The Best Christmas Markets in Strasbourg
Having put on a market since 1570, Strasbourg has clearly had time to hit pro level with this Christmas market thing. For 2018, they had 12 markets (if our count was correct)! And you can walk to them all from city center, if you'd like. Impressive, for such a small area.
Plus, with the unique mix of French and German cultures, there is a large variety of offerings here from food and drinks to gifts. And you can often hear both languages spoken as you wander around. Since foie gras was invented here, expect to see many stalls offering it (not for us, but interesting none-the-less).
They also sway from the typical mugs and pour drinks into tall plastic cups. Not quite as souvenir-worthy, but you get way more to drink, so no complaints here!
The three main markets had distinct, well-thought-out themes to welcome visitors with all different tastes. Known as the magic, secret and alternative Christmases, these three areas had their own trees as well. However, the other smaller markets scattered between those had their own unique crafts and offerings.
But, just walking between them will fill your heart with the Christmas spirit. Pretty much every street and store had some kind of festive décor. You can really just get lost for five or six hours wandering these streets. However, we suggest getting a brochure first thing or check the Strasbourg Christmas market site to make sure you don't miss out on any activities or concerts going on during your visit. Plus, it will give you a helpful market map!
Place de la Cathédral
This is probably the most photographed market, with its prime location under the cathedral. This was our first stop for hot wine and we loved wandering around in this gorgeous area. But, this was just the beginning…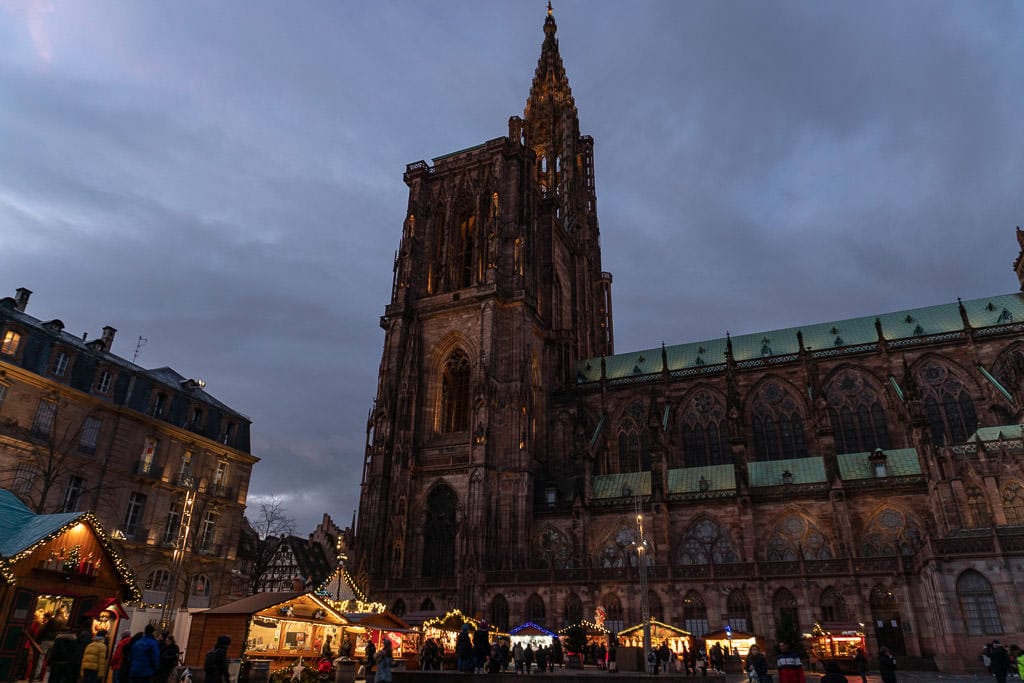 Water-Side Markets
Around the corner from the cathedral market, are two small markets. They have unique crafts, more delicious hot wine offerings and gorgeous views of the water. We suggest sitting here for a few moments to take in the beauty of the city.
Place Kléber
Home to the Great Christmas Tree, this large market is hard to miss since all roads lead here. It is a perfect mid-way point if you are planning to tour multiple markets in one night. It is also home to The Village of Sharing which invites visitors to talk with various charity organizations and learn about their efforts.
Place Grimmeissen
Known as the "OFF Market" this one was made to stand out from the rest. With a giant igloo-type tent with heat and a great little bar, this is the millennial hang out for sure. After starting our night over at the cathedral, this was a great chill place to end it, with awesome food and drink options.
Safety Concerns for Christmas Events
Since this is such a big market, you will notice a heavy police presence, checks at some of the main areas, and an updated bus schedule which will avoid city center. The night after our visit, there was an attack at the market and that police presence was responsible for minimizing the harm that hateful individual was able to inflict.
While it is not ideal to be reminded of unhappy things like random acts of violence during your Christmas adventures, be thankful places try to put forth measures to keep you safe and also be aware of your surroundings. But most importantly, don't let the fear of 'what if' stop you from visiting amazing places.
Strasbourg fulfilled all of my childhood dreams of visiting a real-life Christmas wonderland. And I would recommend it to anyone wishing to experience that same kind of magic.
Seeing More with the Strasbourg Pass
While rightfully known for its markets, there is so much more to the historic city of Strasbourg and many other activities to enjoy if you are visiting for a longer stay. Markets are best seen at night, so why not fill those daylight hours with explorations?
Picking up an audio-guided tour from the visitor center is a good way to acquaint yourself with the history, buildings and other interesting facts. We loved walking around in the daylight hours and seeing all the gorgeous places while learning detailed information about them.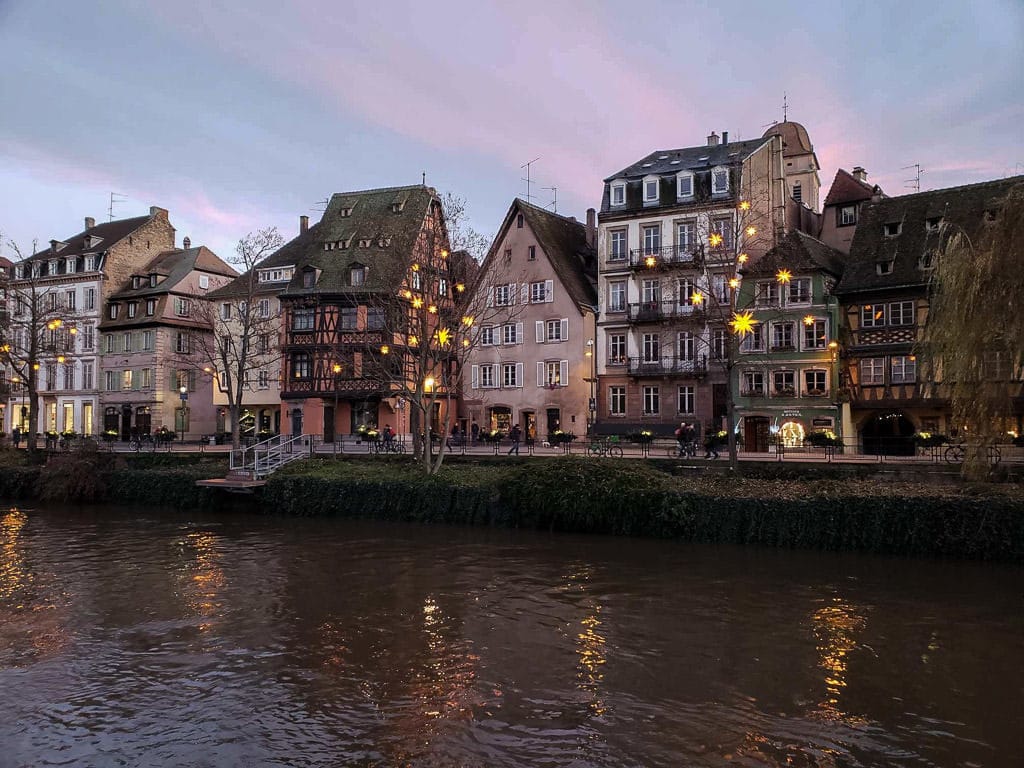 Although our time was limited, we did make sure to pop in the cathedral as well as the Alsatian Museum which we read great reviews for.
The cathedral is so tall, it is almost hard to even take it all in. With its tallest spire reaching 466 feet, it was actually the tallest in Europe until the 19th century.
While there is a stunning market just outside its doors, the inside is worth a peak as well. Don't miss the stained-glass windows and interesting astronomical clock.
Since our Strasbourg Pass included admission to one museum, we were excited for the opportunity to wander through the Alsatian Museum. We enjoyed wandering around and learning more about life in this region while admiring the former home where all the pieces are held.
Trip Logistics for Visiting the Strasbourg Christmas Markets
Since we were driving from Heidelberg, Germany, we had no interest in looking for parking during such a busy event. So, we opted to stay in nearby Kehl – across the border. Our hotel was perfectly positioned right next to the bus into town, so getting to the markets was an easy – albeit packed – experience.
Our inexpensive bus ticket was totally worth it to avoid the hassle of driving. However, if we had more time to explore, staying in the beautiful little city of Strasbourg would have been ideal.
While only a quick stop on our busy Christmas-market road trip, The Christmas Markets in Strasbourg will always stand out as a highlight for us. By the end of the season, we'll have seen more than twenty markets and this city is yet to be beat for most decorated. If you are Christmas crazy like me, add it to your list.
Read more about our Europe travels here. And to learn how we traveled in Europe for five months on a budget by house sitting, read this guide.
Special thanks to Strasbourg Tourisme for providing us with assistance for this trip. As always, all opinions are our own.