From strolling through coastal cities to taking an inland road trip to scenic landmarks, a trip to Croatia in fall is well worth it! In addition to being a great time of year for outdoor activities, there are multiple cultural events happening as well – like the Good Food Festival in Dubrovnik!
Early fall to early winter is a great time to go because it is the shoulder season in Croatia. By avoiding peak season, you can see Croatia's National Parks and other best places to visit in this beautiful Central Europe country without the crowds!
12 Best Reasons to Visit Croatia in Fall
We went to Croatia in October and absolutely loved every moment of it. Getting to go without as many other tourists and hiking in cooler weather made for a great time!
1. Avoiding Tourist Season Means Lower Prices for Your Hotel Room & Flights!
The autumn months are a wonderful time to stay in some of the iconic Croatian cities and visit top attractions at lower prices. Summer is high season, so planning a trip closer to low season allows for your budget to go further.
We stayed for a week at Studio Apartments Magnolia in Dubrovnik and it was lovely. See other options around Dubrovnik here!
Browse accommodations in Split, see the options in Zagreb, and stay along the Adriatic Coast.
Fall season also means lower flight prices as an additional way to save! If you don't have a preference of where to start your Croatia explorations, use a site like Kiwi.com to see what city is cheapest to fly to.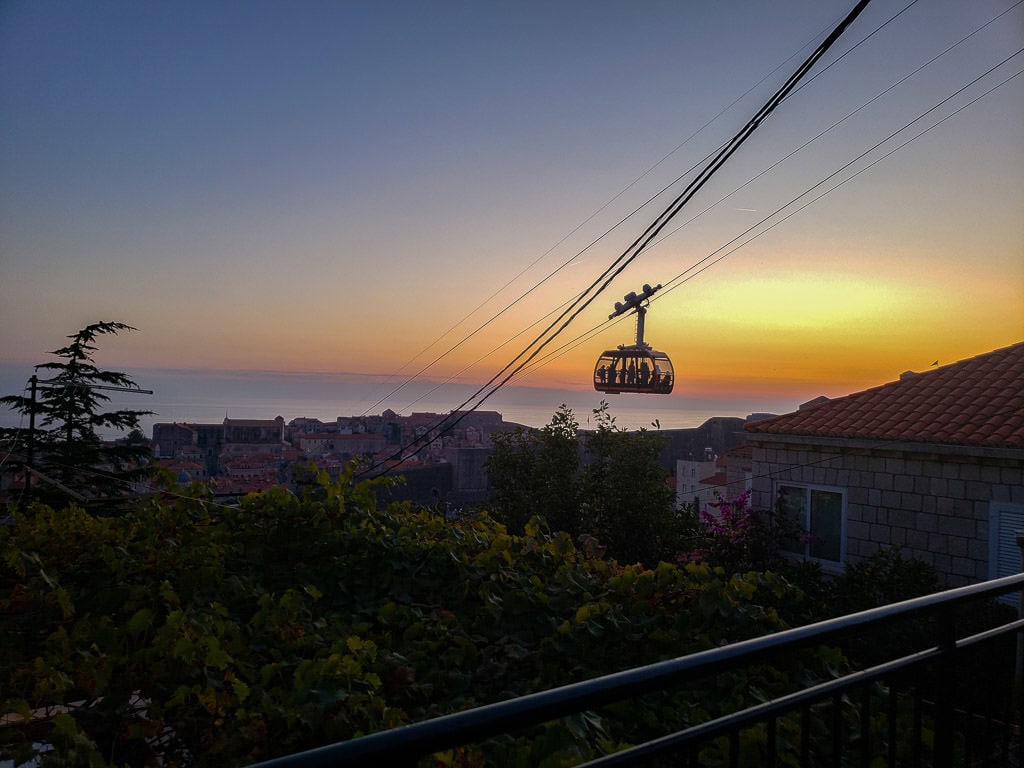 2. Daily Average Temperatures in Croatia are Still Really Comfortable!
During the busy summer months, it can actually feel too hot for many visitors, especially if you are trying to do a lot of outdoor activities. Fall in Croatia can still offer plenty of sunny days and warm days with some cloud cover. It's still a great time to enjoy a boat ride on the Dalmatian Coast or tan along the beaches of the Adriatic Coast.
Since Croatia has a Mediterranean Climate, even the winter months are very mild with moderate temperatures and may just be a bit wetter. Average temperatures in fall season average highs of 70-60F (25-17C) and lows of 65-50F (18-10C).
3. You Can Enjoy Autumn Colors in Croatia
If you visit Croatia around late October, many places will have the iconic oranges and yellows of fall to make it even more beautiful. Plitvice Lakes is probably the most popular place to see foliage change in fall.
4. Fall is the PERFECT Time to Hike in Croatia
Although wandering through the cities can definitely add up to miles of walking, Croatia also has some beautiful opportunities to get out into nature and take a hike to amazing views.
Here are some of the top hikes in Croatia: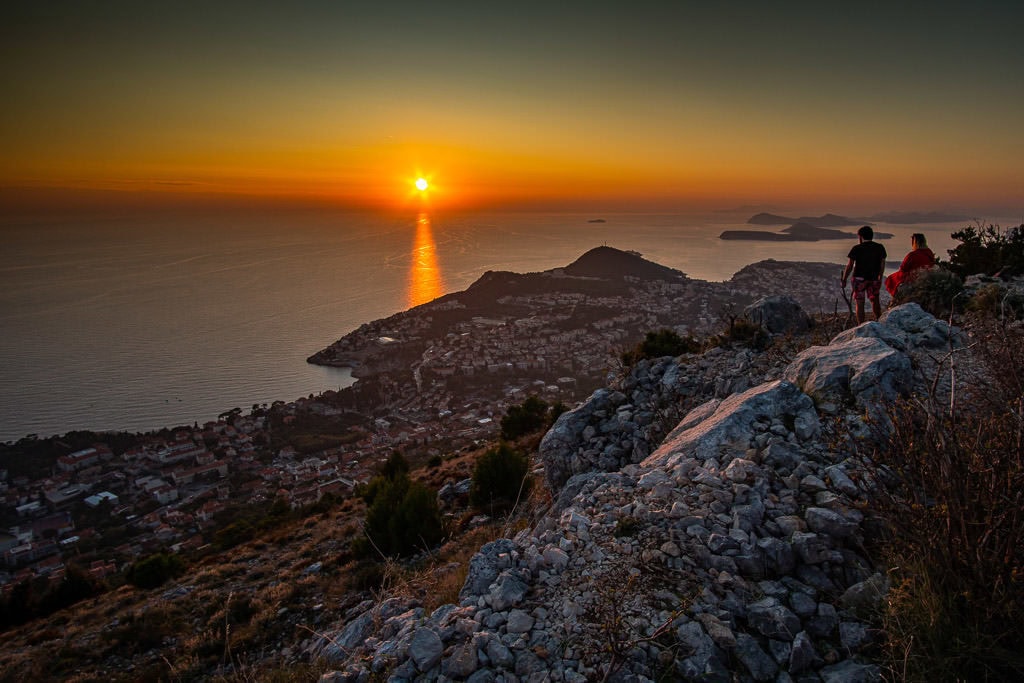 Bicycling, kayaking, and other outdoor activities are also great to enjoy in Croatia's autumn.
5. It's Less Expensive & Easier to Travel Throughout Croatia & Beyond Outside of Peak Season
Whether you want to get a rental car, hop on a ferry, take a tour, or use public transportation, getting around Croatia will be less expensive in the less-busy fall season. There will also be less traffic so you can get to your destinations easier. A popular option is to go to the picturesque city of Mostar in Bosnia and Herzegovina!
It is important to check ahead for bus and ferry schedules; however, the schedules may be adjusted as the busy summer season winds down.
6. It's (Probably) Still Warm Enough to Swim in Croatia in Fall
Depending on how cold is too cold for you, swimming in Croatia in the fall can be really enjoyable. Although Croatia sea temperature is highest in August, they remain in the 70s F (20s C) through October. After that, the Adriatic Sea can be a good place for a refreshing cold dip in Croatia's turquoise waters on a sunny day!
We visited Croatia in late October and although the sea was chilly, we still enjoyed taking a dip after warming up on the sand. It was definitely still lovely weather to lounge in the sun and was a popular activity of locals and visitors at every seaside location we stopped by.
Some of the most popular Croatia beaches and tanning spots include:
Kamenjak National Park near Pula
Bay Dubovica in Hvar
Divna Beach in Dalmatia
Punta Rata Beach in Brela (an hour from Split)
Crikvenica Beach
Novi Vinodolski Beach
Jadranovo Beach
Kaštelet Beach
Bačvice Beach
Trstenik Beach
Beaches on Croatia's Islands:
Mlini Beach on Otok Marinkovac Island
Zlatni Rat on the Island of Brač
Oprna Bay on the Island of Krk
Prirovo Beach on Vis Island
Sakarun Beach on Dugi Otok Island
Sveti Ivan Beach or Mali Bok Beach on the Island of Cres
Lokrum Main Beach on Lokrum Island
Betina Cave Beach (only accessible by boat)
Danče Beach
Sulić Beach
Banje Beach (pictured below)
Top Croatia snorkeling destinations are:
Krk Island (very clear!)
Vis Island (around Blue Cave & Green Cave)
Buza Beach in Dubrovnik
Dugi Otok (near Telascica Nature Park and Kornati National Park)
7. Scuba Diving in Croatia is Popular Through November!
Croatia is also a popular place scuba diving and it remains popular through November.
Want to go scuba diving in Croatia? Check out these spots:
Baron Gautsch, Rovinj (wreck dive)
Taranto, Dubrovnik (submerged wreck)
Premuda, Pag (includes an underwater cathedral!)
Pakleni Otoci, Hvar (colorful reeef)
Bisevo Grotto, Vis Island (means "Blue Grotto")
Read this article from PADI for more information on each!
8. Croatia's Autumn Harvest Includes Some DELICIOUS Produce
Do you consider yourself a foodie or just love fresh, local options? The Autumn Harvest is a time for celebrating the country's abundance. It is a great time to get some seasonal fresh produce at markets and in restaurants.
Truffles, olives (and olive oil!), chestnuts, mushrooms, pumpkins, and grapes are all great to enjoy this time of year. You could even join a tour to go truffle hunting in Istria in Northern Croatia! White truffle season lasts from September until January.
There is also a Chestnut (Marunada) Festival in Lovran, Pumpkin Day in Ivanic-Grad, Truffle Days in Istria, and the Good Food Festival in Dubrovnik!
9. You Can Visit Croatia's Most Popular Destinations with Fewer Crowds
Croatia has become a go-to destination in Europe and that means it can get BUSY during peak travel times. In addition to beautiful beaches and historic small villages, it is home to the iconic Plitvice Lakes National Park near Split which has gorgeous waterfalls.
I've read Plitvice National Park gets so crowded in the summer, visitors have to shuffle along carefully on the boardwalk viewing trails to slowly make their way around. No thanks! I'll take the off-season every time!
Beautiful Dubrovnik is another go-to destination in Croatia that can get very busy. During our visit, we actually found ourselves alone wandering through the city walls early and late in the day! The Old City is actually a UNESCO World Heritage Site.
Other popular Croatia destinations that are more enjoyable outside peak season:
Krka National Park (another popular waterfall-lovers destination!)
Gorski Kotar mountain region (offers a quiet retreat from the cities)
Visiting the Pakleni Islands from Hvar Town
Capital City of Zagreb (including St. Mark's Church and the Cathedral of Zagreb)
Ancient Diocletian Palace in Split
Istrian Peninsula for the best of coastal Croatia (also includes parts of Italy and Slovenia)
Beech Forests of the Carpathians
Historic City of Trogir
Episcopal Complex of the Euphrasian Basilica in Historic Centre of Porec
10. You Can Enjoy Grape Harvest Season for Wine Tasting!
If you enjoy wine tasting, it's a great time to visit Croatia in the fall because grape harvest season taks place between late August and October. You can expect red wine in Dalmatia and the southern coast, while white wine is the main focus in Istria and the coastal north. They even have an entire holiday dedicated to their love of wine – St. Martin's Day in November.
This article gives a great overview of wine tasting in Croatia.
11. Join in on Some of the Autumn Festivals in Croatia
Getting to participate in local holidays, festivals, and events is a great way to get a realistic feel for a country's culture. Check out these wonderful fall festivals in Croatia …
September Festivals in Croatia:
Zadar Craft Beer Festival (may start in late August)
Visualia Festival in Pula showcases magical lighting installations.
International Puppet Festival in Zagreb
Croatian Walking Festival in and around Gopsic
Zadar Street Food Festival
Ston Wall Marathon (takes place on the town's walls!)
October Festivals in Croatia:
Truffle Days in Istria
Croatia's Independence Day is celebrated on October 8
Chestnut (Marunada) Festival in Lovran
Dubrovnik Film Festival
Good Food Festival in Dubrovnik (includes workshops, tastings, and more!)
Bucijada (Pumpkin Day) in Ivanic-Grad
Biograd Boat Show in North Dalmatia
November Festivals in Croatia:
St. Martin's Day (The Feast of Saint Martin) is on November 11 and is the celebration of wine being ready to drink after having been christened two months prior. It is a cherished tradition.
Zagreb Film Festival
Theatre Night across Croatia (free or cheap performances)
12. Croatia Sailing Season Lasts Through October!
Getting out on the water and cruising to the various islands while in Croatia is a go-to activity for many visitors and is still lovely into fall.
Croatia has over 1,200 islands including popular Kornati Islands, Island of Kaprije, and Primosten.
From Dubrovnik, sailing tours go to or around Lokrum Island, Mljet National Park, and Elafiti Islands. Vis Island and Solta Island are off the coast of Split. Korcula, Hvar, Lastovo, and Brac are other popular islands off Croatia's coast.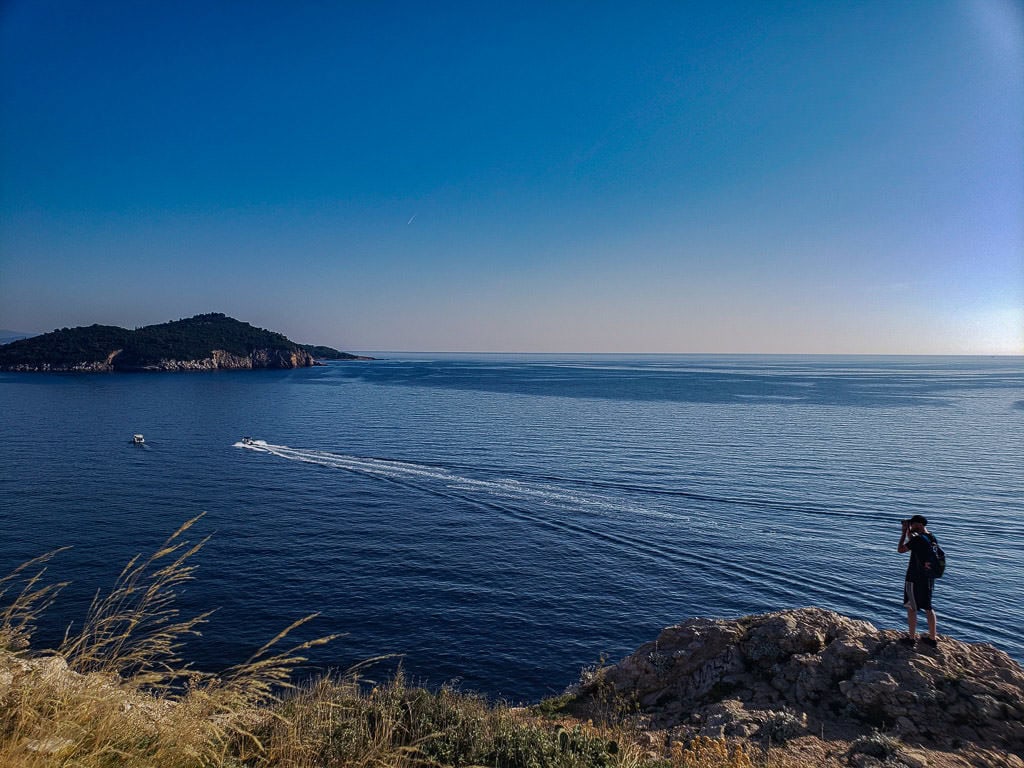 Croatia is a great place to enjoy autumn in Europe with beautiful places both inland and along coastal areas that still enjoy warm weather. It has such a rich history and wonderful culture. We hope you consider it for your next trip!