Exploring some of the Hawaii Volcanoes National Park hikes is a must when visiting the Hawaiian Islands. Even if the Kīlauea volcano is not actively erupting, you can see where the lava flow has gone in past eruptions and look into volcanic craters. It is just astounding.
Although we live on Oahu, this is a place we try to take our visitors to as a day trip and constantly find ourselves pulled back for our own visits – especially if there is lava to see!
Wondering what hike to do at Hawaii Volcanoes National Park? There are SO MANY great options and you can even do many of the best hikes all in one day! Our favorite Hawaii Volcanoes National Park hikes are: the Sulphur Banks Trail, Kilauea Crater Overlook, Thurston Lava Tube, Kīlauea Iki, and the Hōlei Sea Arch. All of these together would take about 8-10 hours (with driving time) and give a fantastic feel for what makes this park so special.
However, we'll outline all the options in this article – including some rugged backcountry hiking trails!
About Visiting Hawaii Volcanoes National Park
For more than 35 years, a trip to Volcanoes National Park meant a chance to see bubbling, flowing, molten lava. Then, after a destructive and intense grand finale, Kilauea became dormant for multiple years. Now, it seems to be having regular spurts of activity – just nothing quite as intense as the epic volcanic show it was once known for.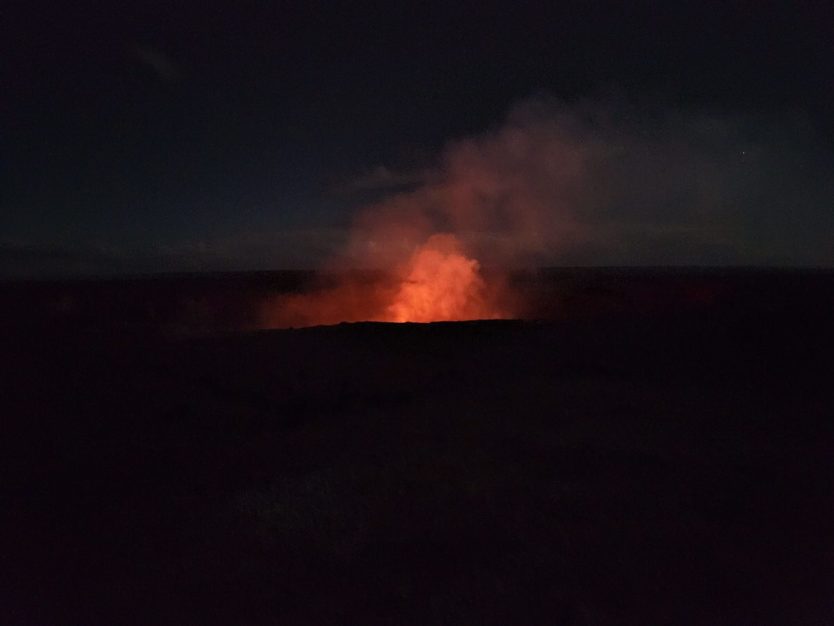 However, a visit to this well-known park is still very worth it even without an active volcano eruption. There are multiple unique hikes, gorgeous views, and still plenty of opportunities to feel the power of Pele.
The cost to enter Hawaii Volcanoes National Park is $30 per vehicle for seven days (only credit or debit card are accepted at the gate). The Hawaii Tri-Park Annual Pass is $55, and the National Parks Pass for all units is $80.
Hawaii Volcanoes National Park is open 24 hours a day every day, unless volcanic activity, weather, or other issues lead to closure. Always check the park site before visiting.
Going to Hawaii Volcanoes National Park to See the Volcanic Eruptions
Mauna Loa is technically part of the park as well, although it isn't as easy to get to, making Hawaii Volcanoes National Park home to two of the most active volcanoes on Earth.
If you are hoping to view volcanic eruptions, it is going to take some good timing and luck. There is no guarantee that either volcano will be erupting but it is an amazing thing to see in person! The best way to keep track of any eruptions or signals of an upcoming eruption is on this page.
Just be sure to take caution if viewing an active eruption and be sure to stay in the designated viewing areas. There is no way to remove all risk, but going where you aren't allowed is a quick way to be in a potentially fatal situation. The park website and park rangers will have the best information on viewing.
Here is our latest adventure to see Kīlauea erupting, and here is our epic overnight to see Mauna Loa erupting. It was so unreal my brain still can't fully grasp it.
Guide to Hawaii Volcanoes National Park Hikes
Here is a complete guide to all of the hikes in the park and our notes on each, so you can pick out your top choices for your next visit to Hawaii Volcanoes NP!
CAUTIONARY NOTE: Many of these hikes include cliffs, cracks in the earth/trail, dangerous steam vents, and other hazards even when there is not actively flowing lava. Of course, lava poses an extremely life-threatening risk when present. Pay attention when hiking and don't go off the marked trails. Air quality may also be an issue at certain times and in specific areas, check with rangers prior to hiking if this is a concern.
Hikes Leaving from Kilauea Visitor Center & Volcano House Area
Regardless of which hikes are on your list, we recommend you stop at the Kilauea Visitor Center to ask the park rangers questions and use the restroom before your hike. There is a large parking lot out front so you shouldn't have any issue stopping here. You can also get to multiple hikes from here.
Bonus: Stop by the Volcano Art Center Gallery next to the Visitor Center for a special viewing of local art.
1. Sulphur Banks Trail (aka Ha'akulamanu)
Distance: 1.2 miles (2 km) round-trip
This is one of our top hikes to recommend to first-time visitors to the park. It's just so unique and offers insights into the volcanic activity going on underground. The Sulphur Banks trail is a short and easy walk from the Kilauea Visitor Center. Be sure to look for the crystals created by the sulfur dioxide gas on the rocks!
Note: due to the volcanic gases, the park recommends that: "visitors with heart or respiratory conditions (such as asthma), pregnant women, infants, or young children should avoid this walk."
2. Steam Vents Trail
Distance: 0.1 miles (0.16 km) round-trip
This Steam Vents Trail is just a short connector trail between the Crater Rim Trail located across the street from the Sulphur Banks Trail. It is a great addition when doing the Sulphur Banks Trail that offers an up-close view to some large steam vents!
3. Halema'uma'u Crater Trail
Distance: 1.6 miles (2.6 km) round-trip from Crater Rim Trail
The Halema'uma'u Trail begins at the Volcano House off the Crater Rim Trail and descends into a rainforest and to a view of the floor of the Kilauea caldera.
4. Kilauea Caldera Overlook
Distance: 0.1 miles (0.16 km) round-trip
The Kilauea Caldera Overlook is just behind the Volcano House where you can dine during your visit while looking out over the crater. There are also accommodations here.
Hikes Along Crater Rim Drive
There are also plenty of parking areas along the way on Crater Rim Drive, if you just want to hop out and take a very short walk over to look in the crater!
1. Crater Rim Trail
Distance: about 11 miles (17.7 km) round-trip to do the entire loop around the crater rim, just 1-mile (1.6 km) round-trip to Waldron Ledge.
On this easy, mostly flat hike you can choose how long you'd like to stroll along the rim of the iconic volcanic crater. The trail goes from the Uēkahuna viewing area, past the Volcano House, and just beyond the Keanakākoʻi Overlook. Be sure to read the signs to learn about the interesting history of this area – which was dramatically changed after a magnitude 6.7 earthquake in 1983!
The Kūpinaʻi Pali (Waldron Ledge) portion leads to a panoramic view of Kilauea Caldera and Halema'uma'u crater; it can be accessed from the Volcano House.
2. Thurston Lava Tube (Nahuku)
Distance: 1.5 miles (2.4 km) round-trip
If you can get a parking spot at the Kilauea Iki Overlook, that is the closest to the Thurston Lava Tube Hike. However, parking is very limited during peak hours, so you may have to start a little further out.
After walking through a lush rain forest of ferns and a variety of plant life, you will find a large tunnel to walk through. It is just a short walk, but on the way there and back there are some areas where you will have to go down a hill and back up some stairs.
The trail through the lava tube is lighted from 8 a.m. to 8 p.m. daily, otherwise it Is pitch black. Watch your head and step inside!
Note: You will pass cautionary signs noting the risk of falling rocks, tripping hazards, etc. as you enter the tunnel. So, enter at your own risk.
3. Devastation Trail
Distance: 1-mile (1.6 km) round-trip
This easy, paved hiking trail leaves from either the Devastation Trail parking lot or Pu'upua'i parking lot, off of Crater Rim Drive. It showcases a volcanic landscape that has plant life returning! (Note: do not climb the Pu'upua'i cinder cone!)
4. Keanakākoʻi Crater
Distance: 2 miles (3.2 km) round-trip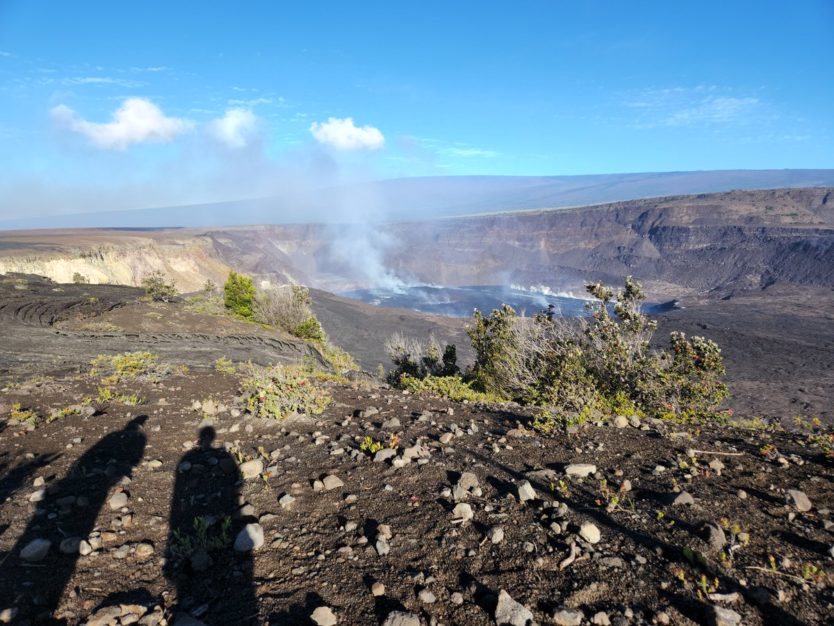 The Keanakākoʻi Crater hike is an easy stroll along a section of Old Crater Rim Drive that was closed due to recent destruction from the 2018 Kilauea eruption. Park at the Devastation Trailhead parking lot then take the trail to see into the deep crater.
This was the go-to spot to see one of the recent Kilauea volcanic eruptions! (Read about our visit here.)
5. Kilauea Iki Trail
Distance: 3.3 miles (5.3 km) round-trip loop
This is our favorite area to hike in Volcanoes National Park! We've actually never done the full loop and usually just go down the hill from the Kilauea Iki Crater Overlook through the dense rainforest and onto the crater floor. We then walk down to the bigger formations and cracks before turning around.
Honestly, I didn't know this looped until researching it for this guide, so we'll do the loop next time and report back! Haha There are also connections to the trail from Kilauea Visitor Center and Devastation Trailhead, but those will take longer.
Hikes Off of Chain of Craters Road
Cain of Craters Road is 18.8 miles (30.3 km) and descends 3,700ft (1,128 m) to the coast. It used to continue on but now ends at a lava-covered road. Plan a few hours for the drive alone, more if lots of traffic. Note that there is no place to get gas or food along the way.
1. Mauna Ulu Eruption Trail & Pu'uhuluhulu Cone
Distance: 2.5 Miles (4km) Round-trip
This trail begins close to the Maunaulu parking lot with stacked rocks (ahu) marking the trail which goes across a lava field made from flows in the 1969-1974 Maunaulu rift zone eruption. Most of the trail is easy and flat except for the ¼-mile trek up the steep Pu'uhuluhulu Cone. Learn more.
2. Pu'uloa Petroglyphs Trail
Distance: 1.4 miles (2.25 km) round-trip
This baordwalk trail near the coast takes you to the sacred Pu'uloa petroglyphs (etchings in stone) that were used to document the life of Native Hawaiian people. Park at the Pu'uloa parking area and remain on the boardwalk to protect this delicate and important rea.
3. Hōlei Sea Arch
Distance: About 1,000 feet (300 meters) after the gate
At the very end of Chain of Craters road, you'll reach a gate. If you park here, you can walk a short distance over to the coast to view the Hōlei Sea Arch. This is a great place to take in the current edge of the island, which is regularly increased by lava flows. The arch sits atop 60-ft sea cliffs and was created by wave erosion.
It will eventually collapse, so it's worth the trip – especially because Chain of Craters road is an amazing drive anyway! Be sure to stop along the way to take in the epic ocean views where the sea meets the sky. Kealakomo Overlook is a favorite of ours, and it is a great place to watch the sunset.
Backcountry Hikes
If going on any backcountry hikes in Hawaii Volcanoes National Park, be sure to register. Many of these areas also offer camping options. Note that most have other trail options, the shortest is listed here.
1. Mauna Loa Lookout
Distance: Varies Depending on Route, 13-30 miles
Can you hike active volcanoes in Hawaii? Yes! If you want a unique challenge, hiking to the 13,678 foot (4,170 m) summit of Mauna Loa is an epic adventure. You won't be able to hike this active volcano if it is erupting, but otherwise, this is an awesome adventure for anyone interested in exploring deeper into the volcanic landscape. Learn more about hiking Mauna Loa.
2. Kīpukapuaulu Trail (not backcountry – on the way to Mauna Loa)
Distance: 1.2 miles (1.9 km) round-trip loop
Off of Mauna Loa Road, start at Kīpukapuaulu parking area and take this easy loop trail to enjoy some of the rare plant life in this area of Hawai'i. The older vegetation is surrounded by a recent lava flow from Mauna Loa. It does include some gentle declines and inclines.
3. Pepeiao
Distance: 4.8 miles (accessed via Hilina Pali Road)
Pepeiao is in the southwestern area of Hawaiʻi Volcanoes National Park backcountry.
4. Ka'aha Trail
Distance: 3.6 miles (5.8 km) from Hilina Pali Overlook Trailhead via Hilina Pali Trail and Ka'aha Trail.
This coastal hike has a steep downhill section with 24 switchbacks. Learn more.
5. ʻĀpua Point
Distance: 6.6 miles from the Puna Coast trailhead at Pu'uloa Petroglyphs
ʻĀpua Point begins about 140 ft above sea level and goes down to the ocean.
6. Keauhou
Distance: 7.6 miles (accessed via Chain of Craters Road, Mau Loa o Maunaulu via the Keauhou Trail)
Along the southern seacoast, Keauhou is described as a grueling trail.
7. Halapē
Distance: 8.0 miles (accessed via Hilina Pali Road).
Halapē is another of the Hawaii Volcanoes National Park hikes along the southern seacoast. Hikers can pitch tents here under the trees.
8. Napau Trail
Distance: 5.2 miles (8.4 km) from Nāulu Trailhead and 6.2 miles (10 km) from Maunaulu parking area.
The Napau Trail in the East Rift Zone goes through a variety of landscapes, including fern rain forests, lava flows, and pit craters.
Hikes at the Kahuku Unit on the Slopes of Mauna Loa
As mentioned, Hawaii Volcanoes National Park includes both Kilauea and Mauna Loa. The Kahuku Ranch area was once one of the biggest cattle ranches in Hawaii, but the volcanic activity from the world's largest volcano transformed the land.
The Kahuku Unit part of the park has limited hours, check here before visiting. Ranger programs are also available. You must also decontaminate your shoes in this area to avoid spreading disease to native plants.
Hawaii Volcanoes National Park hikes in the Kahuku Unit (many include elevation gain):
Pu'u o Lokuana Cinder Cone Hike – 0.4 mile (0.35 km) loop
Kamakapa'a Trail – 1/2 mile (0.8 km) loop easy hike to the top of a cinder cone.
Pu'u o Lokuana Trail – 2 miles (3.2 km) loop through ranch roads.
Pali o Ka'eo Trail – 2.1 miles (3.4 km) 410 feet (125 m) to walk through the meadows then walk a portion of the Pit Crater Trail to make it a loop.
Pit Crater Trail – 2.4 miles (3.9 km) from the trailhead to the Forested Pit Crater. This challenging hike includes 1,165 feet (335 m) of elevation gain.
Palm Trail Hike – 2.6 miles (4.2 km) loop for panoramic views of Kahuku.
The Glover Trail – 3.2 miles (5 km) round-trip to the edge of a huge pit crater with a rainforest inside.
The Kona Trail – 7 mile (11.1 km) round-trip to see pasture land and the 1887 lava flow. A shorter option of 4.6 miles (7.3 km) is available from Lower Glover Trailhead.
Helpful Tips for Visiting Hawaii Volcanoes National Park
Whether you are planning for multiple Hawaii Volcanoes National Park hikes, or you just want to pop out to see the overlooks, preparation is key for this park. We've compiled our best tips for a great visit!
Plan for Unexpected Weather: This area of the Big Island can be much cooler and rainier than over in Kailua-Kona and even Hilo. You may also want a poncho or rain jacket in case it is rainy during your visit.
Don't Skip the Visitor Center: The Kileaua Visitor Center is wonderful and has a great video to watch also!
Wear Closed-Toe Shoes: Lava is very sharp and can cut up your feet easily!
Bring Water & Snacks: There are limited food and drink options in the park, so bring what you need for the day.
Go Early or Late to Avoid Crowds: This place gets PACKED. If you visit during non-peak time you will enjoy your visit more.
Plan for a FREE National Park Day to Save: On certain days of the year, all U.S. National Park Service Units are free! If you are on a budget, this is a great way to save. However, the park does tend o be a lot busier on these days.
Take a Ranger-Led Tour: These are a great way to learn even more about the park during your visit! Check at the visitor center to see what tours are available.
Consider Staying in the Park or Nearby: This is a great way to really take in this amazing environment, and it gets you closer to the trails to beat the crowds!
Hawaii Volcanoes National Park Hikes FAQ
How much time do you need in Hawaii Volcanoes National Park? You can see a lot in one full day, but two to three days is best if you plan to do a lot of the Hawaii Volcanoes National Park hikes. Making sure you take in at least one sunset and plan some time for stargazing is also ideal!
Do you need a rental car to explore Hawaii Volcanoes National Park? Unless you plan to go with a tour company, renting a car is the best way to get to and around the park.
Which airport is best to fly into to go to Hawaii Volcanoes National Park? The Hilo International Airport is much closer to the main entrance of Hawaii Volcanoes National Park at about 45 minutes. The Kona International Airport is about two hours away.
Pro Tip: When putting the park in your GPS, be sure to put in the Kilauea Visitor Center to go to the main part of the park, since it also includes some more remote areas!
Places to Camp & Stay In Hawaii Volcanoes National Park (or Nearby!)
Can you stay in Hawaii Volcanoes National Park? Yes, there are multiple accommodation options inside the park:
Volcano House is the most popular option inside the park. The lodge has 33 historic guestrooms and an on-site restaurant overlooking Kileaua Crater!
Nāmakanipaio Campground offers a unique camping opportunity inside the park, with campsites and ten cabins.
There are also plenty of accommodation options in the town of Volcano, a short drive from the park:
Note: Koki frogs are common on the Big Island and you will likely hear them croaking all night when out in these beautiful rainforest areas.
You can also find accommodations in nearby Pahoa and near the closest airport in Hilo. On a recent visit, we stayed at the Grand Nailoa Hilton hotel in Hilo and really enjoyed it. If you are planning to visit the botanic gardens or waterfalls north of Hilo in addition to the volcanoes park, Hilo makes a great base.
Places to Eat Near Hawaii Volcanoes National Park
Many restaurants in this area close early or have limited hours and days that they are open. Be sure to call ahead to check before planning your day around eating at one of these options.
Volcano House and Uncle George's Lounge (which is inside the same building) are the only in-park restaurant in Hawaii Volcanoes National Park. If you plan to eat dinner at the Volcano House, a reservation is recommended.
TukTuk Thai: This is our go-to every time we are at the park. It is just a little food truck off the highway, but it is SOOO good. Just be sure to go mild with the spice or none at all if you aren't a spice lover. We like spice, and a level 3 still had us sweating!
Eagle's Lighthouse Cafe: Flavorful and simple options at affordable prices. This is a great little breakfast stop!
Ohelo Cafe, Volcano's Lava Rock Cafe, Cafe Ono, Rico's Taco Shop, and Thai Thai Bistro all have great reviews on Google as well, but we haven't personally been there.
Volcano Winery is another stop to add to the list once you've had your fill of food. They make their wines from ingredients sourced locally.
If you are headed to or from Hilo, a stop at Koana in Mountain View for their amazing slow coffee experience is a must! There are some bakeries nearby as well.
We hope this guide to the amazing Hawaii Volcanoes National Park hikes and area is a huge help to you! We love this part of Hawaii so much and will continue to add more tips as we inevitably return again and again.
See our other Hawaii travel recommendations and tips here!