The Hill of Crosses in Lithuania is unlike anything we have ever experienced. It is truly a spectacular place, not just because it is such a unique sight, but because it's message is one of hope, faith, and love.
While we've been in many awe-inspiring churches and other religious sites that were created as the result of much funding and planning – with the blessing of the government, this was different. It began as an act of defiance against religious persecution and has turned into a beautiful reminder of the strength found through faith.
History of the Hill of Crosses
This unique collection of what is estimated at around 100,000 crosses is described as "an expression of a spontaneous religiousness." It began in the 1800s and, although it was destroyed multiple times by the Soviet government, continued to grow and thrive.
It is believed to have begun as a way to properly honor the dead – something that wasn't allowed by the tsarist government at the time. Later, it was used as a way to anonymously resist the Soviet regime's rules against religion.
Even though the government destroyed it, tried to make it impossible to enter the area, and even bulldozed the hill itself, new crosses would still be placed there and the numbers would grow. (Read more about the history of the Hill of Crosses here).
While it has been a pilgrimage site for many years, it became increasingly popular after the Pope visited in 1993. As you explore, you can see the large variety of crosses – ranging in size and with different languages from all over the world written on them.
Visiting the Hill of Crosses
Freedom of religion is something I've had the luxury of experiencing for my entire life. It is difficult to imagine not being able to openly discuss or practice my religious beliefs. But, it is even more unfathomable to imagine the courage it would take to go against a violent government to prove they could not control my faith.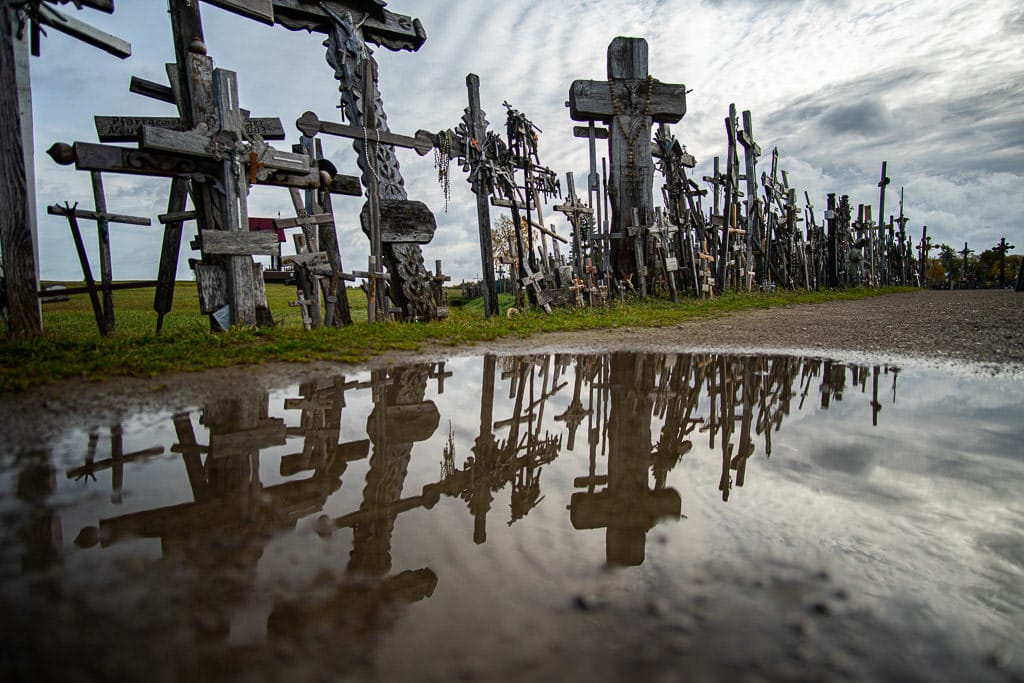 Visiting this place just sent a wave of appreciation over me – for the blessings of my own freedom and the bravery of those who came here before me. While somber, it is not a sad place – it is filled with so much love and goodness. It is really just heartwarming, even if you aren't a fellow Christian. Walking through all those crosses, piles of them in places, it is very moving and strange and wonderful.
I can't quite explain it. But I can say without a doubt that it is worth seeing and experiencing for yourself.
Getting There
Visiting the Hill of Crosses is actually one of the main reasons we rented a car for our time in Riga, Latvia. After seeing a photo of it, we were really intrigued to experience it in person and realized it was just under two hours away by car (2.5 if visiting from Vilnius – Lithuania's capital).
While there are tour options, they were expensive and we liked the flexibility of having our own ride. Plus, it gave us a reason to do some more exploring of the area.
It was very easy to drive there (just outside of Šiauliai), with nice roads and no process for border crossing whatsoever when we visited in October 2019. While there was a paid parking area, we followed suit with everyone parking on the side of the road. Getting there early on a weekday also helped for an easy trip – as this is a popular destination.
If you would like to place a cross there, just be sure it is made of wood (per their rules) and you can also purchase one in the visitor center.
Have you visited the Baltic countries? Would you plan to go out of your way to see a unique place like the Hill of Crosses?