It's strange how our perception of a place can change with time. Upon arrival, New Zealand felt like a check in the box – a place we wanted to see before moving on to the next destination. Now, looking back at our time there, it feels like another home. It's a place we both hold dear, filled with hundreds of cherished memories of exploring scenic landscapes, beautiful interactions with kind people, and many lessons we never knew we needed to learn.
Initially, we thought three months was more than enough to see what we wanted to in this unique country. But after we extended our trip due to the pandemic to more than ten months in New Zealand, we found ourselves leaving with a longer list of things we wanted to experience than when we arrived. And, now that we have settled down in Hawaii, we are itching to get back once travel opens up.
(Interested in more travel stories and insights? Check out Brooke's book:, Home Flexible: Stories from Life as a Nomadic Traveling House Sitter. Available in print and ebook.)
Even though we have most of the whole world to see, and we've already seen so much of NZ, it's still pretty high on our trip list! We just freaking love it. But, not for the obvious reasons …
Why We Fell in Love with New Zealand
Is it beautiful? Yes! But, that's not why we love it. This country has a soul. That's the best way I can explain it. If you spend enough time there, you will start to feel it pulsating through everything – this deep goodness, this unexplainable magnetism. It's a place unlike anywhere you will go, but you can completely miss what makes it special if you don't stop long enough to really soak it in.
We weren't immune to the chaos and grief of 2020, trust me. But being in New Zealand for the vast majority of the pandemic was such a blessing and it allowed us to gain a deeper appreciation and see more of this outstanding country than most other travelers ever will. And we are so grateful for that. If we had a do-over, we'd choose to extend our stay in NZ every single time. We were so thankful they allowed us to and adjusted restrictions to accommodate us travelers (we actually have other American friends who are STILL there with their third – possibly fourth – Visa extension! ha!). So, we aren't alone in loving it.
I've had a lot of 'sad it's over, glad it happened' feelings to unpack before I was ready to give this recap. But, I'm (finally!) so excited to share a glimpse of the magic we experienced during our ten months in New Zealand (or 323 days, to be exact). Here is a very high-level recap of everywhere we went and some top experiences, organized by area since our trip wasn't planned and we just winged 90% of it!
We are listing it allll here. But because not many people can visit for as long as we did, I will add an asterisk (*) before our most favorite places to help narrow it down. And also know we have more complete guides for many NZ areas. Enjoy …
Highlights of New Zealand's North Island
*Cape Reinga & Far North
After a winter in Iceland, when we got to New Zealand to celebrate my February birthday, I just wanted beaches and warmth. The far north provides that. We headed straight up after catching our bearings. And we stopped by Waipoua Kauri Forest and Omapere beach area on the way. Cape Reinga is a sight to behold as are the giant sand dunes that you can slide down. We loved this area!
KeriKeri
After the pandemic lockdown, we went up north once everything opened back up to avoid the harsher south island winter. We spent a month in KeriKeri in a tiny house on a cute little farm. We fed the pigs our veg scraps daily, went on walks with the farm dog, and went into town for donuts and exploration. They also have the cutest second-hand bookstore (Village Books), as well as the iconic Stone Store and Rainbow Falls. This was just a quick stop on our initial visit, so it was so nice to have the unique chance to 'live' there for a while to really soak it all in when we returned.
*Paihia & Russell
After our initial visit to Paihia for my birthday overnight boat trip to the nearby Bay of Islands in February, we went back in winter for an extended stay. Having a month here was great and one of the reasons we decided we wanted to be walking distance to the ocean and shops when we moved to Hawaii in early 2021.
Don't miss the Thirty30 bar for happy hour, and if you have the money to spare (on our return we did not, unfortunately), the Waitangi Treaty grounds are a must for a look into NZ's past. There is a big waterfall in this area as well that is worth a stop.
If time allows, we also highly recommend a trip over to Russell and up Flagstaff Hill. You can drive over to this area from Paihia, but it's a rough road. Highly suggest the car or passenger ferry! The coastal area further up is gorgeous, too.
Whangarei
While not our favorite city (too congested and not very scenic), we did stay in one of our favorite places when in Whangarei – The Cell Block hostel. We also house sat right outside of town at an avocado farm – a unique, peaceful experience.
If only making a quick stop, Whangarei Falls is worth a visit.
*Mangawhai Heads
This is another area we were fortunate to housesit in and absolutely loved it. There was a great weekend farmer's market and the Mangawhai Heads cliff-side walk is a must-do for anyone visiting New Zealand. The beach is lovely as well.
Matakana & Warkworth
The little town of Matakana is such a hidden gem! We housesat nearby for about two months total and loved coming over for the weekend farmer's market and to check out the breweries. The best kombucha I've ever had is sold at the market and made locally (Daily Organics), try it if you can!
We loved just going on walks with the pups we watched in Warkworth, but when in the area, we highly recommend visiting the Brick Bay Sculpture Trail. It's about an hour's walk and such a nice way to enjoy nature and art simultaneously. Very well done!
Nearby Snells Beach is also nice for a stroll. We even had our one and only overnight in our van there and it was extremely peaceful.
Not something everyone can do, but one of our other favorite New Zealand memories was getting to walk donkeys on the beach. We had connected with their owner and spent some time on her farm, helping out with the animals, and were invited to this special event. It was so very magical and we are forever grateful for that opportunity.
This same friend also introduced us to the amazing Eutopia Cafe, definitely worth the detour for the Gaudi-esque feel of this place and the phenomenal food.
Waiheke Island
One of our other once-in-a-lifetime New Zealand experiences was getting to do a farm stay at a beautiful home on Waiheke Island. The owner's garden was going to be showcased in an upcoming festival, so we helped out the week leading up to it.
As beautiful as Waiheke is, our time at that stunning home in the garden each morning was our favorite part. But, I mean, also don't miss out on the great wine when on the island! And the ferry over is a fun experience in itself!
Coromandel
The Coromandel Peninsula was just a quick stop for us, but the walk out to Cathedral Cove was worth the trip. More challenging in the heat than we had thought, but worth the effort! And hot water beach was interesting as well, but the weather was still a little too warm for soaking in a natural hot tub.
*Tauranga & Matamata (Hobbiton)
As soon as the lockdown restrictions lifted enough to get back to the warmth of the north island, we went for it. Luckily, we connected with a wonderful family near Tauranga that needed help on their farm (our first stay of this kind!). They treated us to the most lovely week with campfires and even a beach picnic after work.
Having dinners with that sweet family and their other guests each night was such a welcome change from months alone in an apartment. It filled our hearts all the way up.
While there, we also made a day trip to Hobbiton in Matamata on the first week it reopened. It was nothing short of magical – especially with an unusually small group. Completely worth the drive and the cost!
Raglan & Bridal Veil Falls
We didn't do much in Raglan, but it was one of our favorite hostel experiences. Such a fun group! For the most part, we just relaxed at Raglan Backpackers and enjoyed the much-needed socialization. The town was also super walkable and had great surf beaches nearby, if that's your thing.
On our way out of town, we stopped at Bridal Veil Falls. It was one of the most stunning, impressive ones we saw the entire time we were in NZ. Worth the short hike in the lush forest.
*Rotorua Area: Rafting & Glow Worms
This area wasn't top of our list since many of the attractions required tickets and we were trying not to climb into a debt hole we couldn't get out of. BUT we did splurge on a whitewater rafting trip over the tallest commercially raftable waterfall in the world.
It had been on our must-do list for years and we were finally there! So scary and amazing and crazy. The entire story is worth a read – or at least check out all the photos of our epic FLIP over the falls.
Another reason we didn't stay in this more touristy area was because we found an amazing, unique option a little further away that offered private glow worm tours. Although I'm sure Rotorua deserves more of our time, we have no regrets with that decision!
*Tongariro National Park
When we planned our trip to this iconic national park, we initially wanted to do the grueling hike to Mount Doom. But after a pulled muscle and travel exhaustion, we decided to take it easy. There are still some great smaller hikes, beautiful waterfalls, and viewing areas in this NP worth a stop if driving through this way. However, three days was a little too much time – especially because the hostel was almost empty.
*New Plymouth & Mount Taranaki
Our goal for visiting New Plymouth was just to use it as a base to go see the gorgeous 'Goblin Forest' area on Mount Taranaki. However, when the weather on the mountain didn't cooperate we found ourselves really enjoying the other activities in this area! The New Plymouth coastal trail is absolutely stunning and offers such a variety of views.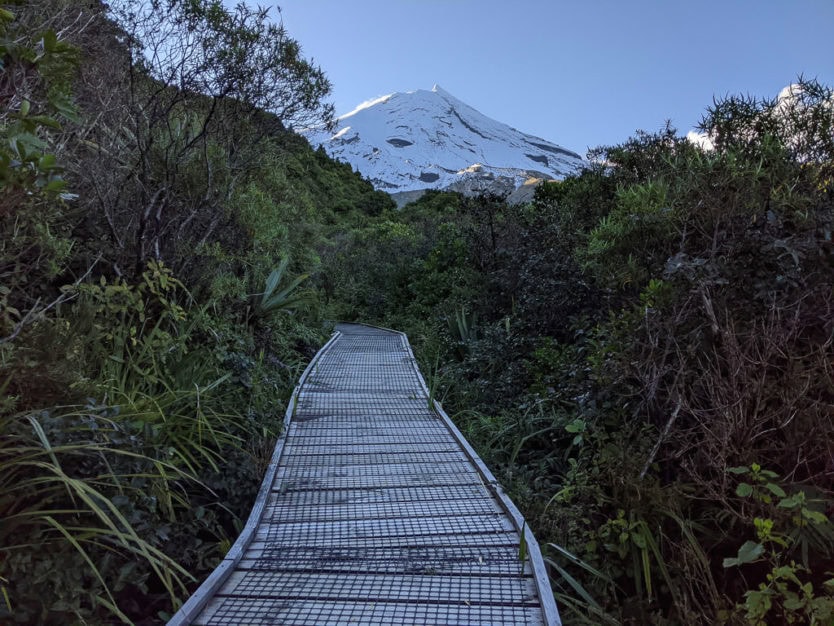 There is also a gorgeous free garden that is tucked away on one side of Mt. Taranaki, called Pukeiti. It is a great place for a stroll and somewhere we wished we had planned more time for.
And, luckily, we did get decent weather one afternoon and were able to do the hike we had come for – Wilkies Pools. It was a favorite from our trip and led to so many laughs due to our ill-preparedness. We didn't consider that all the rain meant the trail would be muddy and overflowing in parts or that we'd have to cross a small river as darkness was falling. But, it made it all the more memorable.
*Wellington
Granted, we never gave Auckland a chance (too many other fun things nearby!), but Wellington is a fantastic city. There is so much culture and foodie goodness and great museums. It's a vibrant place with a lot to offer. We really enjoyed the Te Papa Museum to learn about New Zealand's history (for free!) and our trip to Zealandia was also nice, although still bummed we didn't see a Tuatara.
However, if you are in the city, you can't miss a walk through the gardens and up to the cable car drop off. It is such a stunning view! Of course, LOTR lovers will also want to go over to the Weta Cave for a behind-the-scenes look. While visiting, we had the unique opportunity to stay on a farm where we got to learn so much about gardening and how dang badass farmers are!
Highlights of New Zealand's South Island
Picton
We did the mail boat cruise, which was cool but definitely wayyyyy too long – it got a bit boring in parts. And if you took the ferry, the views aren't all that different until you go up the little coves to drop off mail. Which is fun! But not for hours upon hours.
We ended up going back and forth a bit during our time in New Zealand and decided to take the ferry on our second trip to the south island. Honestly, we both preferred the quick flight to all that driving and waiting!
*Abel Tasman
This is another area we really wish we had planned more time for. There is a 'New Zealand Great Hike' here that takes a few days that we have high on our to-do list for when we return. But, seeing the Abel Tasman National Park by kayak (on a blustery day, nonetheless) was extremely memorable and fun. We love getting out on the water and this area is made for that kind of exploration.
Marlborough Wine Tasting
The Marlborough region of New Zealand is world-renowned for its wine. And, like most wine regions, it is a gorgeous area to explore. We didn't go to too many tastings, but we did go to one particularly stunning winery (Yealands Estate) that also included a visit to a small farm and a scenic drive.
Nelson Lakes & Window Cat
On our way down to Christchurch, we went through the Nelson Lakes area to stop by the national area and get the iconic lake shot.
We didn't want to be rushed, so we decided to stay in the area at a little hotel we found. There wasn't an A/C, so we just left the window open. I joked with Buddy that a raccoon or something was going to crawl in since there wasn't a screen. Fast forward to 3 a.m. and something is in our room, Buddy gets his phone flashlight to look around, and then it jumps up on the bed next to me: A KITTEN!
We spent the next five hours cuddling with this little cutie that just wanted some love. When it was time to leave, we had to put it outside the window again and it was the saddest thing ever. But, we're sure there was more love waiting for it in another window.
*Kaikoura
We went to Kaikoura on three separate occasions – and would have gone again if given the opportunity. There isn't much to do in this little area of New Zealand if you aren't into wildlife, but if you love nature it is a haven. You can get an up-close look at seals playing and local birds flying around. We just loved it so much.
It's a stunning area that is a lovely place to wander around. The locals are really chill and there's a great beach-town vibe. Two of our favorite places to eat also happen to be in Kaikoura – the Seafood BBQ truck on the way to the seal colony and The Jailhouse (Buddy's favorite burger in all NZ).
We've stayed in both the Dusky Lodge and the Kaikoura Seaside Lodge. The seaside lodge is our favorite for views, a great kitchen area, and their gorgeous sheep-lookalike kitty!
Arthur's Pass
When we were looking into this beautiful mountain pass, we decided it needed to be a stop on our trip, not just a drive-through place. And we're so glad that we stayed longer to enjoy all that Arthur's Pass has to offer – waterfalls, scenic mountain views, and cheeky Kea Parrots.
Highly recommend taking the short hike to Devil's Punchbowl Falls as well as enjoying the stunning views from the Otira Viaduct Lookout. The Mountain House YHA served as a great base for our short visit!
Christchurch Wanderings
Our time in Christchurch was mainly for a pet sit, but we got out and about a few times and really enjoyed it. We loved the botanic gardens and the Bridle Path hike.
*Akaroa for Little Blues
One of the things we splurged on during our unexpected extended stay was a tour to visit the Little Blue Penguin colony in Akaroa. The experience was fantastic and allowed us to view these cuties without bothering them. We stayed overnight at a local campground and really enjoyed our brief look at the French-inspired town of Akaroa also.
Hokitika Beach & Gorge
On our way down to New Zealand's famous glaciers and sounds, we stopped at this unique beach filled with driftwood, then went nearby to take a quick stroll to the iconic Hokitika Gorge – which was supposed to have bright turquoise water but had gray due to excessive rain! Oops! It's still a pretty area though.
*Franz Josef Glacier & Hot Springs
Franz Josef in general is just a great little town to hang out in. We loved that there was also a glacier to walk to (although, sadly, it has melted a lot in recent years, so we weren't able to get up close to the ice). There are some other lovely hikes as well.
In addition to all the great places to grab a bite and some drinks, the hot springs in town are the perfect way to end a day and we loved spending a romantic evening there soaking our tired bodies after so much driving.
*Lake Tekapo & Aoraki/Mount Cook
We loved this area. Mount Cook is stunning and the Hooker Valley Track is the prettiest trail we've ever been on. When we go back, we look forward to spending a week or so here just hiking and taking in the stunning views.
While Mount Cook is fantastic, there isn't much to the town. Lake Tekapo does have more to offer by way of restaurants and lodging options, and it is gorgeous also! Plus, this area is insane for stargazing.
Lake Wanaka
Oh Wanaka … we love you so much. We ended up staying at Wanaka Bakpaka for a week and fell in love with this area. It is so relaxed and the group at the hostel was lovely. However, you can easily make this a day trip from Queenstown also.
*Queenstown
If it wasn't so busy and expensive to stay in Queenstown, we could have stayed for a month. It is just vibrant and fun, with so many fun things to do and great places to eat. Plus, it is stunning every single place you look!
We hiked, explored, had drinks with new friends, and had a blast going out dancing all night. A short trip up to Coronet Peak and a road trip over to Glenorchy were a few of our favorite things we did there, but there was so much we loved!
We also ended up going back unexpectedly to pet sit outside Queenstown for a few weeks, so got to enjoy this area even more – and in beautiful spring weather!
*Te Anau & Doubtful Sound
Wow. Just wow. This area of New Zealand is so stunning. We intended to go to Milford Sound also, but there were bad mudslides just before we planned to visit, so we chose to go for an overnight tour of Doubtful Sound since we had more time. And it was phenomenal. A few days after, New Zealand ended up going into lockdown very quickly due to the pandemic, so we are extra thankful for going on that amazing cruise before things got so stressful for a bit!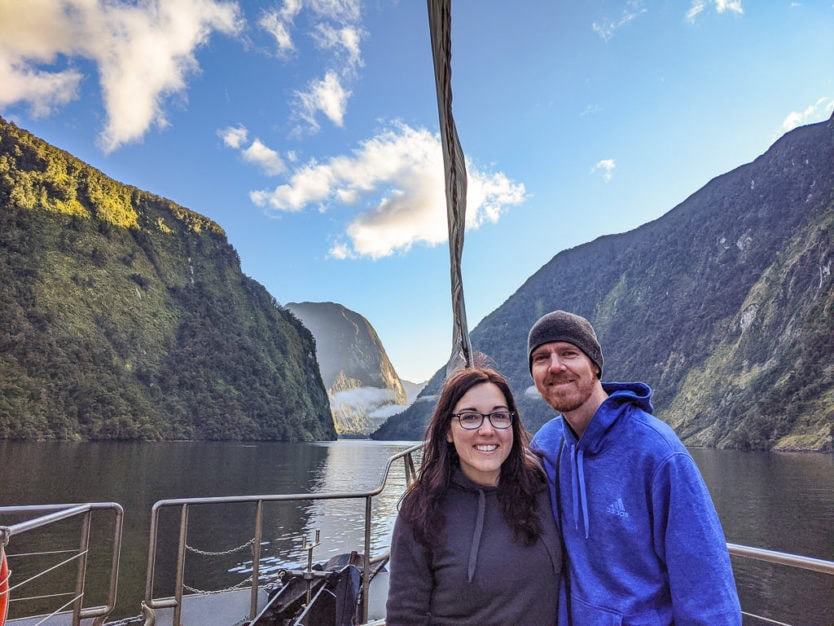 *Surprising Fun in Oamaru
We almost didn't go to Oamaru, but we are so glad we did! When we found out we had more time in New Zealand, going to see the rescued wallabies in Waimate was high on the list. Since Oamaru was nearby, we looked into staying and were excited to find out it is the Steampunk capital of New Zealand. Plus, we could see yellow penguins, too! It was a highlight of our time in NZ.
Dunedin & Otago Peninsula
About a month prior to the pandemic, we went through Dunedin briefly to stay at the Larnach Castle grounds and tour them the next day. Compared to the rest of the country, we found much more to do elsewhere, so just planned the short trip.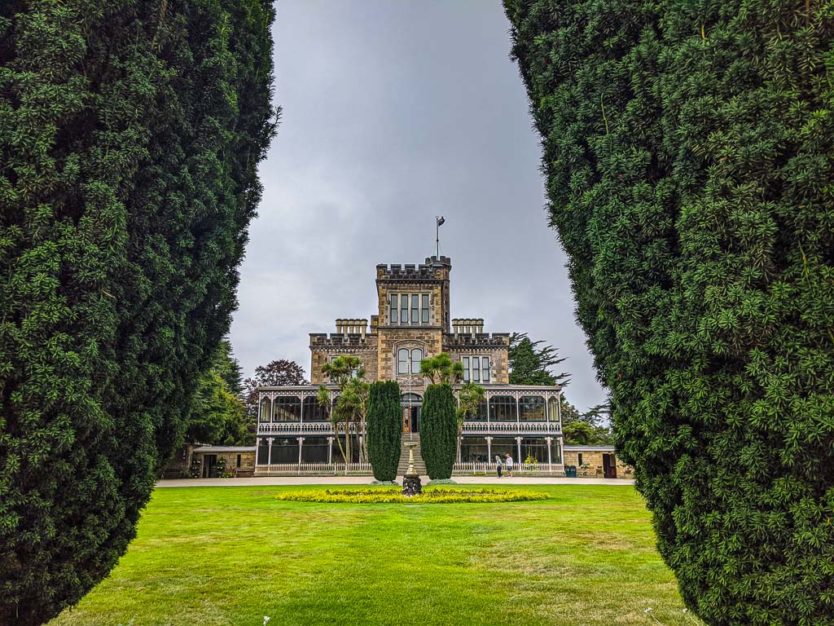 Then, in the funny way things happen, we ended up locking down there for months during the pandemic, so we (happily!) saw a lot more of it than originally planned once restrictions eased. There are tons of great hikes, beaches, beautiful architecture, and abundant wildlife.
What Our Time in New Zealand Looked Like:
For anyone interested, I will include a quick look at the order we did things (just not recommended for trip planning! haha). Do keep in mind that the seasons are flip-flopped from what we are used to on the Northern Hemisphere.
Note: We moved around based on weather and where we had house sit or farm stay opportunities – so we went back and forth more than is practical for most. (The ferry is expensive, so keep that in mind and minimize the trips). We also spent multiple months in Dunedin for New Zealand's lockdown as well because we were offered a great accommodation option there.
Our Ten Months in New Zealand (in 2020):
Feb: Northland for one week > Rotorua Rafting > Coromandel > fly to Christchurch > Kaikoura > Picton > Abel Tasman > Nelson Lakes > Christchurch house sit > Arthur's Pass
March: Franz Josef > Wanaka Lake > Queenstown > Doubtful Sound > Larnach Castle in Dunedin > Mount Cook/Aoroki
April: Dunedin for lockdown – baked a lot and went on short walks
May: Dunedin for lockdown – exploring some! > Wellingon > Tauranga farm stay
June: Farm stay in Tauranga > Day trip to Hobbiton > Warkworth house sit (3 weeks) > Matamata farm stay with donkeys
July: A month in KeriKeri to ride out winter
Aug: Whangarei house sit for two weeks > Pahia for three weeks
Sept: Repeat hosue sit in Warkworth all month
Oct: Mangawhai house sit > Waiheke Island Farm Stay for one week
Nov: Raglan > Tongariro NP > New Plymouth > Wellington farm stay > Kaikoura > Akaroa > Oamaru
Dec: Spent our last couple of weeks outside Queenstown at a house sit awaiting summer
Places We're Itching to See Upon Our Return:
Auckland – we never made it into the city! ha!
Gisborne & Napier – great wine tasting area with beautiful vistas.
Fox Glacier – another glacier to visit, similar to Franz Josef and nearby.
Milford Sound – we were so bummed we never made it here, but loved our time in Doubtful.
Catlins – a beautiful area way down south with waterfalls, hikes, and coastal wildlife.
Stewart Island – one of the best places to see Kiwi birds and southern lights.
Plus, ALLLL of the 'Great Hikes'! That's definitely on our list for next time when we can better prepare.
A Farewell to New Zealand
We ended up needing to leave NZ abruptly a few months earlier than planned. I had intended to have a long, nostalgic goodbye – I even looked into getting my first tattoo! But instead, we left as quickly as we arrived and with the same last-minute planning we have gotten so strangely good at.
However, I couldn't go without a little nostalgia. So we wrote ourselves letters in the airport and mailed them out just before our flight. I received them almost two months later (the pandemic slowed down mail quite a bit!) right in time for my birthday – yes, I shed all the happy tears at this tiny miracle of timing.
Buddy's letter listed all of our favorite memories, most of which I've shared here. But, not surprisingly, mine got a little mushier. I think this excerpt is the perfect way to end this recap.
"My Dearest NZ: I don't know what the world will look like when we meet again, but I know we are better from all we learned here."
I hope you are able to visit New Zealand one day. And when you do, pause from time to time and just pay attention to what this amazing land is trying to teach you. It has a lot to say for such a small country. Make sure you listen …