What's that famous Lord of the Rings quote about going out your front door? 'Dangerous business,' indeed. Pandemic or not, sometimes travel plans just fall apart. Whatever you had expected turns into a crumpled heap of disappointments and you just have to make the best of it. Other times, it all comes together in a way that can only be described as magical.
While our trip to Hobbiton almost very well wasn't, we did eventually find our way there at a time and in a way that we could have never imagined. We visited this other-worldly place in a far-from-normal situation when New Zealand felt completely removed from the rest of existence. It was as though we had entered some inception-esque dream within a dream scenario. And we couldn't be more excited about the experience.
A Post-Lockdown Journey to Hobbiton
But first, let's back up to March. At the time, we were hunkering down to ride out the pandemic in New Zealand, and we had written off getting to see Hobbiton entirely. Although bummed to miss a much-anticipated and iconic NZ destination, we considered ourselves very fortunate to have seen as much as we did of this beautiful country before having to make an unexpected home in Dunedin during lockdown – which at the time, was for an undetermined amount of time.
However, after weeks of watching daily news updates, washing our hands when we even thought of leaving the house, and praying … things were looking positive and we started to become optimistic that we'd indeed be allowed to move about New Zealand again. With winter coming, we were ready to head north to warmer weather as soon as possible.
Once it was announced when Level 2 would begin, we had our inter-island ferry tickets booked immediately and a plan to get to the warmer north ASAP. I also casually looked up whether Hobbiton would be re-opening since so many other companies were. Sure enough, it was and at very limited capacity. Not the 40+ groups others have to shuffle through the tour in. Yes, please!
Visiting Hobbiton in the New Normal
Once we knew when we'd be near Matamata – where Hobbiton is located – we checked the weather and booked our tickets. At NZ$89 each, we were a little in shock after barely spending that in a week during lockdown and had high hopes that it would be worth the money! We chose the first tour of the day to try to ensure the smallest group possible and better photos. Oh my, did that work out …
Ten. Ten people. Including the guide. We visited Hobbiton on a beautiful cool June morning and had it almost all to ourselves.
After a short socially distanced bus ride through idyllic countryside dotted with sheep and glistening with fog, we arrived at this amazingly strange little village. Our guide exuded a joyous yet very confused vibe as he introduced himself. He wasn't quite used to the new normal either and it was obvious being back struck him as an odd, magical experience as well.
Strolling into Hobbiton, a silence took over our group as we first spotted the iconic Hobbit holes in this stunning landscape. The level of detail was amazing. We were transported. And none of us were very upset about that with the state of the real world.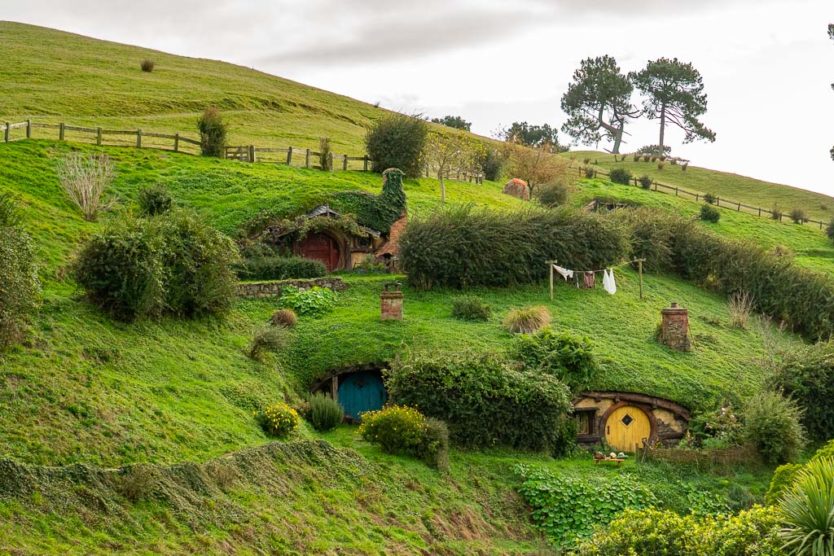 Hobbiton Highlights
Mr. Pickles
After a few minutes of open-mouthed admiration, the silence was broken by soft giggles as one by one we noticed a cheeky little cat bouncing its way up the path to us.
If you are very lucky (and visit early enough), Mr. Pickles will greet you, pose next to the iconic little homes, and maybe even allow you to get a few pats in.
Silly Photo Opps
Throughout our tour, the mainly adult group took turns posing in front of iconic buildings and props. With 44 Hobbit holes in total, there is no shortage of photos to take and it makes for quite the escape from reality to be surrounded by such scenery. Not to mention, it's pretty cool to know it was used in the filming of the Lord of the Rings and The Hobbit trilogies. There's something wonderful to know such a unique fantasy world actually exists out there.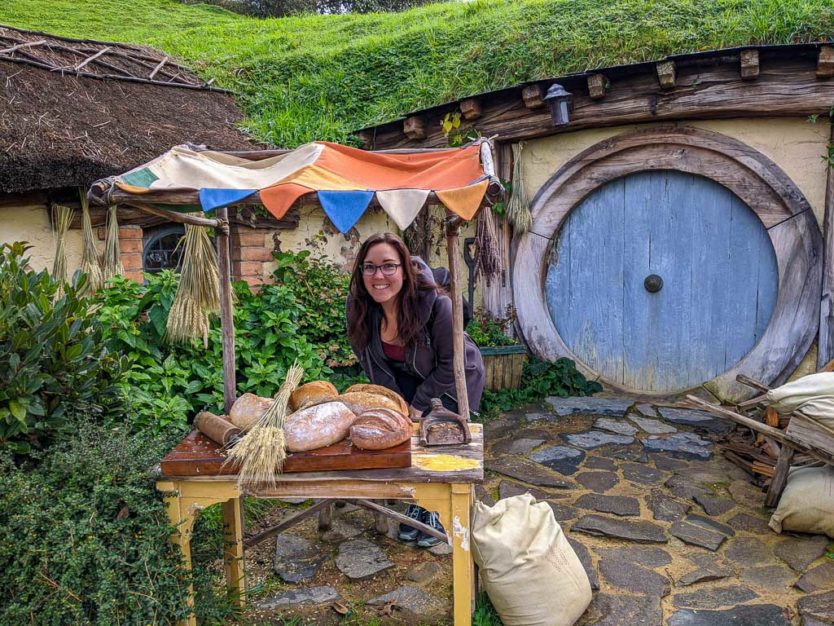 We all laughed as our inner children came out and the LOTR fan girls definitely stood out like a sore thumb. While not that level of fans, Buddy does love the movies and I love anything fairy-tale-esque – so, we were definitely keen. Also, our ticket came with a beer, so there's that.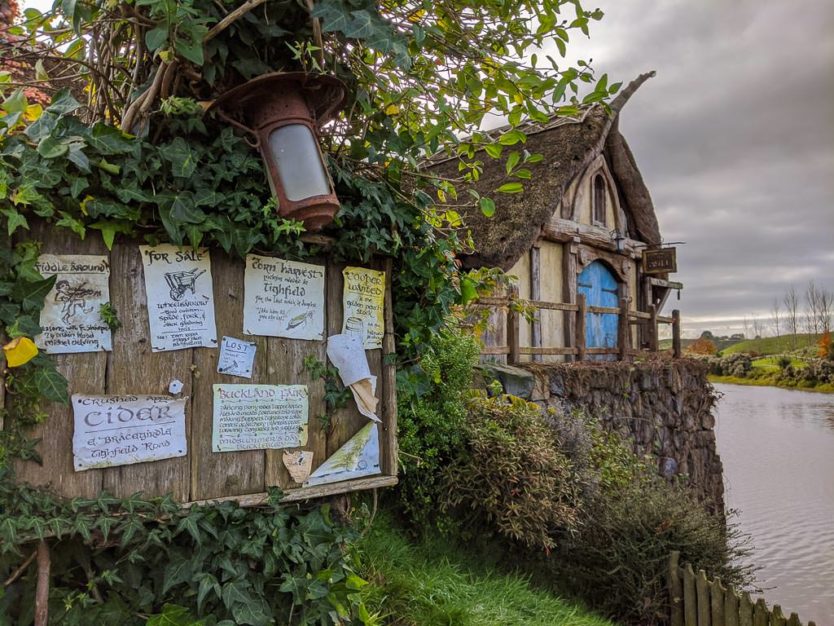 Beer at the Green Dragon Inn
The only bad thing about our experience at the Green Dragon Inn was that we can only get the delicious beer there! The stout I tried was one of the best I've had. (And for those not into morning drinking, the ginger beer was yummy also!)
Maybe it was the delightful scenery or because it was only about 10 a.m. and my taste buds were confused, but I swear the beer was amazing! They even had some yummy treats (and even more at the Shire Cafe next to the entry store).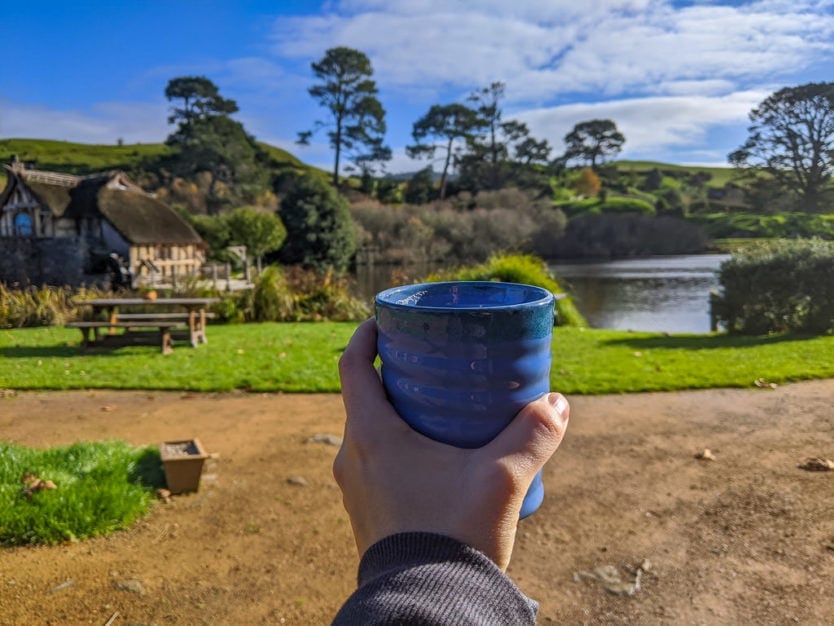 Now if I could just get us invited to a wedding at the Green Dragon, so I can have a few more of those beers and dance on the Great Lawn till the early hours … But, I think we may have gotten our fill of luck this year, eh?
However, had we planned for it, we probably could have joined the International Hobbit Day celebration for Bilbo & Frodo's birthday on 22 September! It definitely seems like an ideal place for a party and even the dinner banquet option looks amazing (not available when we visited).
While you can't stay at the inn, you can stay at a Hobbit hole at this hotel near Waitomo Caves – for a hefty price, of course!
Meeting the Owner
After sipping our beers, we slowly trudged back to board our transport back to reality. "That's the guy from the video," I whispered to Buddy as we got on the bus.
As I quickly spotted, our driver was actually the farm owner who worked with the filming team to create Hobbiton. We were introduced to him in the video that played on our drive over. Since the company had to unfortunately let a bunch of people go – permanently or temporarily – due to the pandemic, a lot of upper management were jumping in to fill positions once they were allowed to re-open. Since that was the first week back in business, it was a bit of a scramble! A strange, strange time.
Final Thoughts on Hobbiton
I can't tell you how it is to visit Hobbiton in normal times, with a packed bus, busy trails, and rushed photo stops, but our experience was nothing short of wonderful.
When director Sir Peter Jackson spotted this gorgeous, green, rolling landscape on his aerial tour of New Zealand, he knew the 1,250-acre sheep farm was the perfect location for The Shire. What he could have never expected was that years later, a couple of weary travelers would find solace there, even for just a few hours, amidst the chaos of a global pandemic.
I know this place that gave us so much joy is just another profit-making endeavor, but I could have sworn it was made just for us on that special autumn day as a way to give us hope that the 'new normal' may not be that bad after all. And I'll always hold a soft spot for it in my heart for that.