When we arrived in the Aoraki/Mount Cook National Park area in mid-March, we weren't in the best headspace. The weather was bad, we were exhausted, and outside New Zealand the world as we knew it was shutting down due to the pandemic … and NZ wasn't far behind (lockdown was announced less than a week later). We spent our entire first night listening to other travelers make frantic changes to their travel plans as we wondered, 'what should we do?'
We came dangerously close to skipping exploring this stunning area entirely to try to make that decision. But, what I now see as a direct answer to my prayers, the sky unexpectedly cleared up and the mountains called to us. As we've experienced time and again, we knew nature could provide the clarity we needed. So, although it was late afternoon and we'd be pushing our luck to get back before dark, we set off on the 10-kilometer Hooker Valley Track.
Sunset Walk on the Hooker Valley Track to Mueller Glacier
Armed with flashlights, snacks, jackets, and water, we headed out to get as close as possible to the towering Mount Cook above us and soak up all the wisdom the mountains had to offer. For the four hours we were out on that trail, we did our best not to worry about decisions that needed to be made. Instead, we just enjoyed the magnificent scenery.
Across bridges, over hills, next to alpine streams, and past a handful of people headed back to their cars, we walked in the crisp mountain air as daylight slowly diminished. After the first few kilometres, we were practically all alone. And an overwhelming sense of peace filled us up as we made our way to the end of the trail at Mueller Glacier.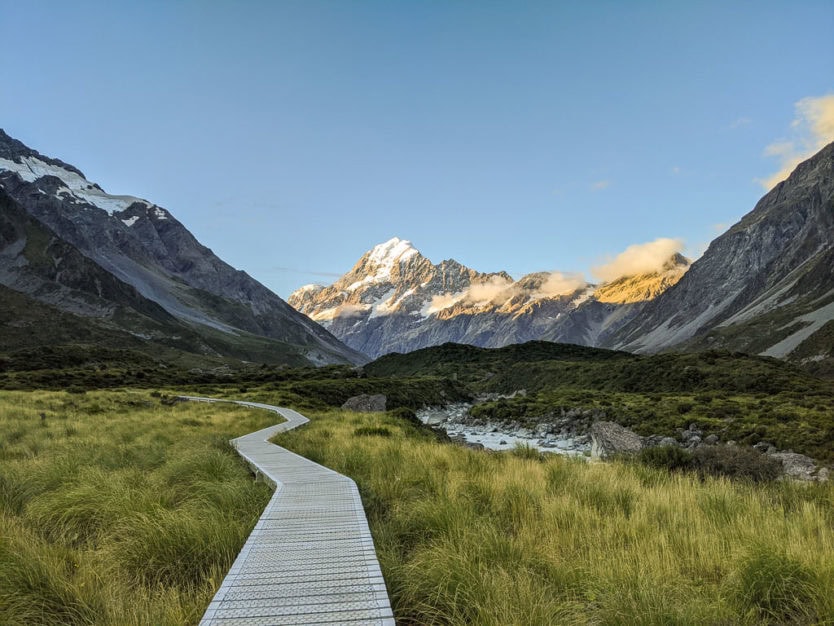 At twilight, we found ourselves standing at the base of the valley, in total silence, just admiring the miracles of nature and the beauty of feeling so small.
Suddenly, we heard a large crash that echoed all around us. The water in the lake began to ripple and create small waves a meter or so from where we stood. My initial thought was earthquake or avalanche, but either way I thought we should get a bit higher and away from the water.
As we looked back, we realized a large chunk of ice had fallen off the glacier and we weren't in any immediate danger. Just another reminder that there are so many bigger forces at work around us. Yet, still absolutely surreal.
We sat and watched the water slowly go back to its state of rest, then we reluctantly dragged ourselves back to the trail – knowing we didn't have much time left until we were walking in complete darkness.
With a quickened pace and the magic ability of human eyes to adjust to low light naturally, we didn't have to use our flashlights until we were about 30 minutes from the car park. Before heading back to the YHA, we stood in total darkness admiring the starry expanse above us. In a time in history when being a human on this earth felt so heavy, we were uplifted in the most amazing way. Hopeful.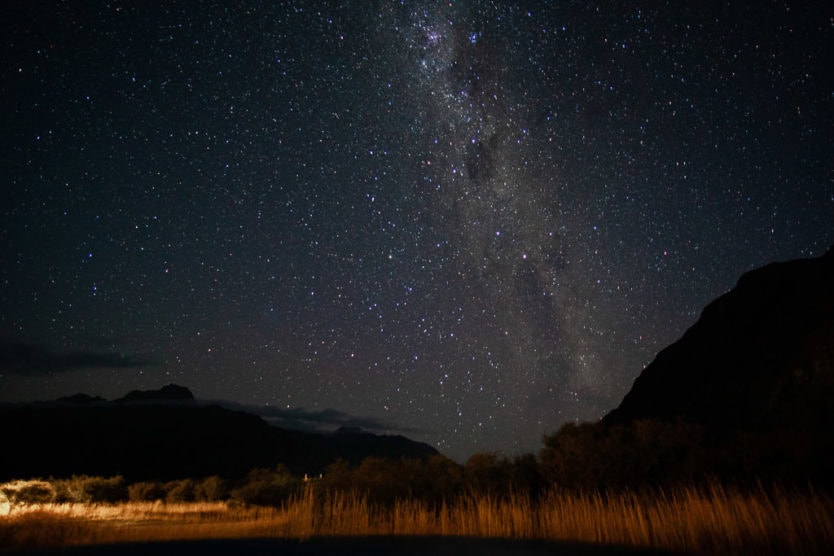 Finding Clarity at Mount Cook
What we learned on that spectacular night is that peace can still exist amid absolute chaos, this amazing world – universe! – is so much bigger than us and our momentary problems, and that sometimes (most times!) surrendering control and just holding onto faith is the only logical choice.
As I spoke to the immigration officer the next day to discuss our options to stay in New Zealand past our initial visa expiration date, I looked up to see a sign just above me. Give Way. And that's exactly what we did. Stepped aside and trusted that God would push us down the right path.
More than half a year later, we're still in New Zealand, the world is still struggling through this pandemic, but we're also still practicing surrender. It's worked out amazingly well so far – highly recommend it!
Also, definitely do this hike if you get the chance. I can't promise you'll get the same clarity on the Hooker Valley Track as we did, but I can guarantee the views will be worth your time either way … it is by far one of the most stunning places we've ever experienced.