Now that we are allowed to move about in New Zealand again, us tourists turned temporary residents all ask each other the same question: "Where did you end up during lockdown?" While some were at hostels sharing rooms and meals with other backpackers, we had the luxury of having our own self-contained apartment in Dunedin on New Zealand's South Island.
If you had told us a few months (hell, even a few weeks!) prior that we'd be spending two months hunkered down at an apartment in Dunedin, NZ, we'd have never believed it. While we ended up falling in love with Dunedin during our extended visit, it certainly wasn't on our must-visit list for our New Zealand road trip. But now, we highly recommend a trip!
Our NZ Lockdown Experience
As the pandemic began to become a threat on this side of the world and we stressed about how we were going to majorly pivot our plans, a safe haven in Dunedin became available and we jumped on the opportunity for a solid place to land. Getting that message from a fellow housesitter that she had an open apartment available to rent was a God-send.
So, after an emotional decision to stay in New Zealand during the pandemic – for however long that would be, we set out on a rainy day to make the almost five-hour drive from Christchurch to Dunedin.
We had only spent a day in Dunedin prior (and really it was just to visit the nearby Larnach Castle and Otago Peninsula), but knew in our hearts that it was meant to be our temporary home during the upcoming lockdown. It just felt meant to be. While the views from the apartment and surrounding areas were lovely, our appreciation was really solidified as the lockdown was eventually eased and we were able to explore!
During the five weeks of strict level four lockdown, we really just took short walks a few minutes away in the hilly area of Roslyn we were staying in for fresh air, I read on the front porch, chatted at a distance with our new friends/landlords, and watched ALOT of Netflix.
However, during level three, we were allowed to go on longer walks (even taking their pup for a few!) and could even drive to other places in our region. Needless to say, we did EVERYTHING we could in the area and feel that we have an intimate relationship with the natural places of Dunedin. Of course, museums, restaurants (aside from takeaway), and more public areas were still out. But, we did get to fit in a visit to the Beverly-Begg Observatory at Robin Hood Park one night during level two before we headed on our way, which was lovely.
Where We Stayed in Dunedin
Of course, most of our Dunedin memories took place in our little apartment. Our make-shift home was complete with a full kitchen, comfy bed with heated mattress pad, washer and dryer, great little reading spot for sunny days, and wonderful views. It was the first time in three years we had spent that long in one place, and since we didn't have an option to move, we were extremely thankful it was so lovely.
We'd highly recommend staying at Roslyn Apartments if you are planning to visit Dunedin. It is a fantastic place to base your explorations in this area – walking distance to the city center, but far enough away from what can be a busy and loud university area. It's so peaceful there, with great views of the famed Otago Peninsula and gorgeous scenic walks.
When we were there, it was autumn and the days were shorter and cooler. However, we've been told it is beautiful any time of year. A short drive away from the apartments are multiple great beach walks as well as some bush walks. Just up the road is also a park that leads down into the city through a tree-lined path.
While Roslyn is a more quiet area of Dunedin, they still have some great restaurants in town as well as a small grocery store and pharmacy. When level three began and we were able to have takeaway, we got Mamma Mia Pizza two nights in a row. It was delicious!
This area ended up being a wonderful fit for us and we really loved it! Plus, if you stay at Roslyn Apartments, you may have the pleasure of meeting the owners – Jay, John, and their adorable pup Charlie! If you do, be sure to tell them Brooke & Buddy say 'Hi!' They became great friends during the lockdown and are lovely people with wonderful travel stories.
What to Do in Dunedin
From hilly nature walks and rocky beaches to spotting little blue penguins and other wildlife, the Dunedin area has a lot to offer – even more so when you aren't limited to what's open due to a pandemic!
Walking Trails
Just going for a stroll in Dunedin, especially the surrounding hilly areas like Roslyn is a great way to spend a sunny afternoon.
Ross Creek and the Pineapple Track are popular scenic options. And there are others listed here as well.
See the Sights Downtown
With gorgeous Edwardian architecture, the steepest street in the world (Baldwin St.), and the classic Dunedin Railway, there are plenty of places to stop on a walking tour of Dunedin. There are also museums, street art, breweries, and plenty of great dining experiences.
Dunedin Botanic Gardens
While in downtown Dunedin, don't miss the lush botanic gardens (just across from the New World Supermarket). This is a wonderful place to wander in any season, but especially the warmer ones. They even have an area with local birds to get an up-close look.
St. Clair Beach
We walked along St. Clair Beach multiple times a week once we got out of level four lockdown. It was the perfect place to get some fresh air and exercise while still social distancing.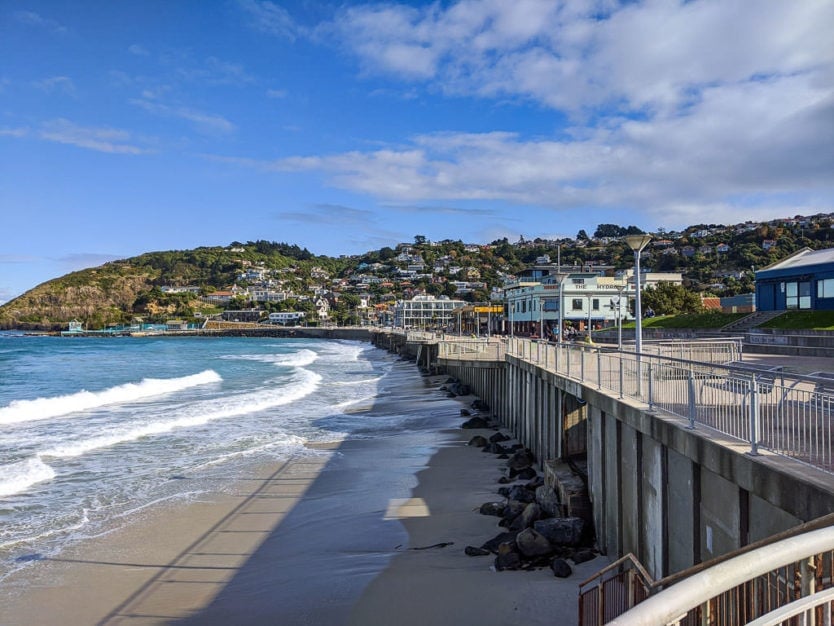 St. Clair is a long sweeping beach popular for swimming and surfing when the weather cooperates. It's ideal to walk at low tide, but if the tides are higher, there is a walking area above the beach near to all the cute little shops, cafes, and restaurants.
Aramoana Peninsula for Wildlife
After a recommendation from our friends at Roslyn Apartments, we headed out to wander around the Aramoana Peninsula and it was a highlight of our time in Dunedin. It was the perfect way to check out from the real world for a few hours and celebrate our wedding anniversary.
We were so mesmerized by the beautiful views and distracted by getting whipped around by the wind, we didn't realize all the seals lounging about until we were right next to them. These are my favorite animal and I could watch them roll around all day. We also are 80% sure we saw a little blue penguin swimming by, as well as plenty of other birds.
This area also has a stunning rocky, shell-covered beach that is perfect for a stroll if the tides aren't too high. It's probably one of the most beautiful beaches we've been to in New Zealand! And, it probably isn't always like this, but on that autumn day, we had it all to ourselves. Only the birds were there to cross our path.
We actually loved this Aramoana Peninsula area so much that we returned for sunset where we watched seals make their way on the beach to rest. It was an excellent decision and a very romantic way to end our anniversary. The perfect place to take part in our tradition of re-reading our vows to each other.
Tunnel Beach Hike
We didn't know what to expect when we took the short drive to Tunnel Beach from Roslyn, but when we were told you access the beach through a tunnel (hence the name) we were pretty excited. And it did not disappoint.
The steep trail down to Tunnel Beach has amazing ocean views and the rocky cliffs were so beautiful that we completely forgot about the beach initially as we explored them. The tunnel is almost hidden in an area with a lot of vegetation.
It's a bit eerie to walk down the rock tunnel as you try not to slip on the wet steps and the waves shake the tunnel ever so slightly. Then, on the other side, you arrive at a fantastic rocky beach with boulders and immense cliffs above you. It made me feel unnervingly small, but in a great way.
Otago Peninsula & Larnach Castle
Of course, a visit to Dunedin just isn't complete without a day spent on the famed Otago Peninsula. This is where you go for your chance to see Yellow-Eyed and Little Blue Penguins. While you have a chance at dusk on any beach in this area, there is a tour at the Royal Albatross Centre to a location they manage that has a regular colony who visits. Be sure to go during the day as well to make sure you get a glimpse of the majestic Royal Albatross.
Visiting the other Otago Peninsula beaches during the day is a great idea also. They are stunning and well worth a stroll.
If your budget allows, visiting (or even staying a night) at Larnach Castle is a must for many people exploring the Dunedin area. As I mentioned earlier, it was what initial drew us to this region of New Zealand – the only castle in the country! Read more about our visit and stay here.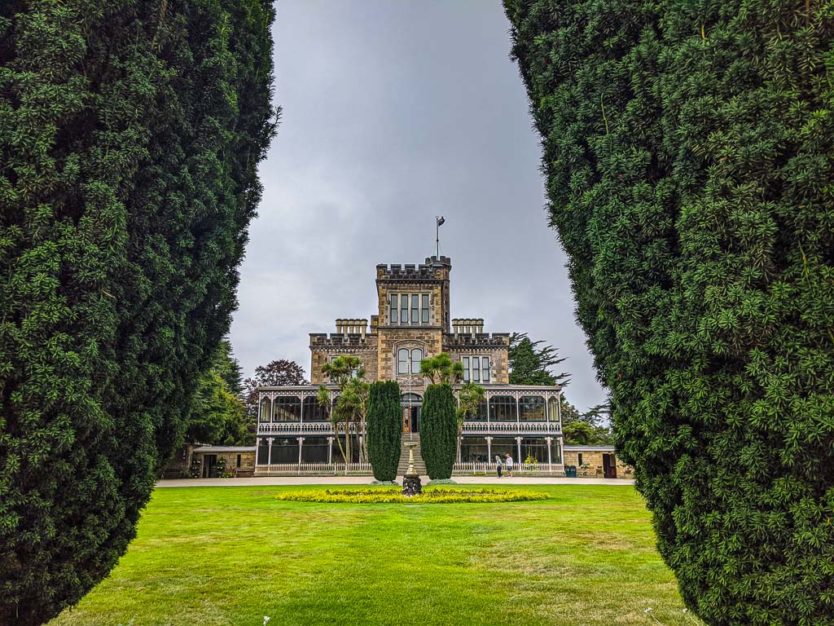 Moeraki Boulder Beach
When headed north out of Dunedin, make sure to stop at Moeraki Boulder Beach for yet another unique beach experience.
For a small fee of NZ$2 each (bring coins), you can access this beautiful beach with circular shaped boulders strewn about it. Some look like massive dinosaur eggs while another looked strangely like a sculpture of the Death Star to us!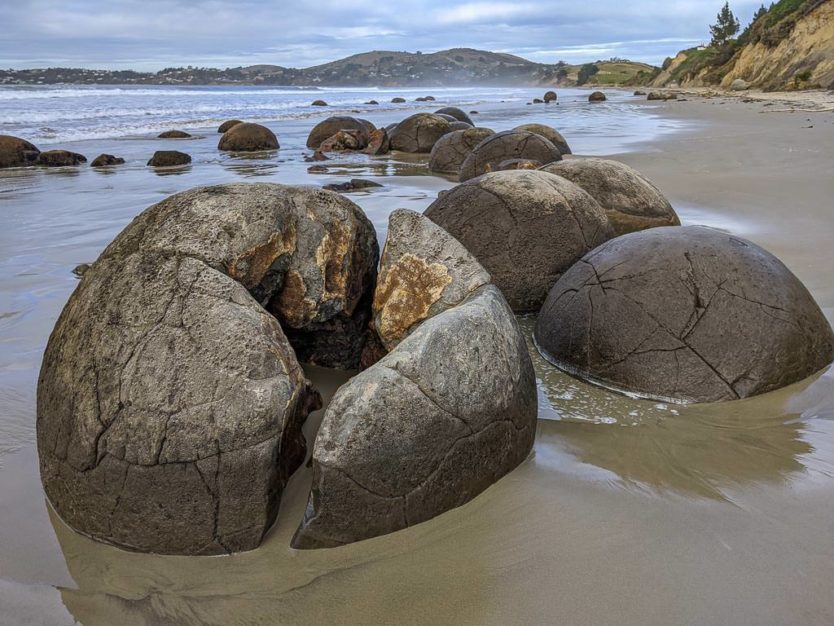 Final Thoughts on our Dunedin Lockdown Experience
It's funny really. What began as a very intense, scary experience wondering what lockdown life would be like in a foreign country, turned into a time we really cherished. For the first time in three years, we had to slow down and that wasn't a bad thing.
During the height of lockdown, we had to get creative to not go stir-crazy, so we had two-person dance parties, played cards way too much, tried out new recipes, and walked the same trails over and over. And it wasn't how we wanted or expected to spend our time, but it was actually really nice to settle in after the initial shock wore off.
It was a much-needed breather from a life of go-go-go travel. It allowed us to gain perspective, check-in with each other, and really learn to make peace with being still. And now, to be honest, we kind of crave that.
For now, we're back out traveling since New Zealand is one of the only countries where that is even possible to do safely right now. Plus, winter was coming and we wanted to head north to avoid snow (didn't plan for needing that gear)! But we are staying places a lot longer (two to four weeks) and definitely appreciating both the ability to move as well as being able to decide to stay still.
Overall, Dunedin had so much more to offer us than we ever expected and we will always have a special place in our hearts for that city – our short-term home. And we hope that if you get a chance to visit, that you can see why it is special as well.