As we traveled around New Zealand, all the other backpackers warned about how busy Queenstown is. And our research came up with similar results. We actually almost cut our trip there short! But with so much to do in the area, we decided to base almost a week of our New Zealand trip there and are so glad we did. We learned long ago to always make our own decisions on places!
There is a reason Queenstown is known as the adventure capital – it is a perfect option to base your New Zealand explorations, even if you don't have your own car. And there are tons of amazing day trips from Queenstown to plan!
Note: We visited Queenstown in early March 2020. With the current lockdown in New Zealand due to Coronavirus, traveling is not an option at the moment – including most activities listed here. But, definitely keep these in mind for planning a future trip!
Benefits of Basing in Queenstown
First of all, for such a touristy area, we found the city to be extremely enjoyable. Sure, things got a little rowdy on weekend nights and the shops, bars, and restaurants on the main strip were usually packed, but it didn't take much effort to get away from the crowds. Plus, with all the great day trips from Queenstown, there is plenty to see within a few hours' drive!
Local Walks & Hikes
Just a short stroll toward the Queenstown Gardens or St. Omer Park provided plenty of personal space. The gardens even have a disc golf area with rental available at multiple places around town.
Just out of the city is Bob's Cove – a beautiful area for a short walk. Make sure to stroll along the rocky beach as well as on the wooded trail.
The Queenstown Hill is about a 5-km (3.1-mile) hike for great views and a wonderful spot for sunrise or sunset. And, of course, you can also take the gondola up to Skyline Queenstown or, to save some money, trek up there via the Tiki Trail for a steep 1.3-mile one-way journey! Other great Queenstown hikes are listed here. Of course, just relaxing and taking in the views is a great way to spend an afternoon as well!
Queenstown Dining & Bars
Queenstown also had a ton of great dining options, happy hour deals, and nightlife options – not something we were used to in the smaller towns we had visited.
We loved 1876 for cheap beer and food. They also had an awesome falafel flatbread – my favorite vegetarian option in the city. Of course, there is the famous Fergburger as well – which Buddy confirmed is excellent. Although it always had a wait, going at an odd time minimized that (they are open until the early morning hours, so you pick!) We also enjoyed Taco Medic and Caribe Latin for our Mexican fix.
There are a ton of unique bars as well – with the Below Zero Ice Bar being one of the most memorable! It is no wonder many of the bar crawls end here. We had the pleasure of being their guests during our visit and loved getting to bundle up and drink cocktails out of ice cups.
It is such a fun place for a drink – and the perfect place to 'chill' that won't be quite as packed as the other bars. Expect to spend about 20 minutes there as you'll get cold quickly! And don't forget to try out the little selfie station for some silly shots with your group.
Just be sure to book ahead as well because this can fill up fast. For optimal fun, ask when you sign up how many other people are set to go and adjust as necessary. While being alone in your own little igloo bar may sound awesome, we think the more people, the more fun this little ice party is!
5 Great Day Trips from Queenstown
1. Coronet Peak – 20 minutes
For a romantic and unforgettable date, pick up a picnic basket with lunch to go to enjoy together at the top of Coronet Peak! Just a short 20-minute drive from downtown, this area offers magnificent 360-degree views after a fun gondola ride.
The option to grab a picnic lunch (including tea and dessert) just makes it even more special. And if you aren't visiting in summer, there are plenty of winter activities as well. Read more here.
If time allows, the Onsen Hot Pools looks like a fantastic end to a date day!
2. Glenorchy – 45 minutes
Whether you are a Lord of the Rings fan or not, this area of New Zealand is a must-see. It is no wonder why it was picked for these epic movies. Just the 45-minute drive there from Queenstown alone is worth it with jaw-dropping views at every turn.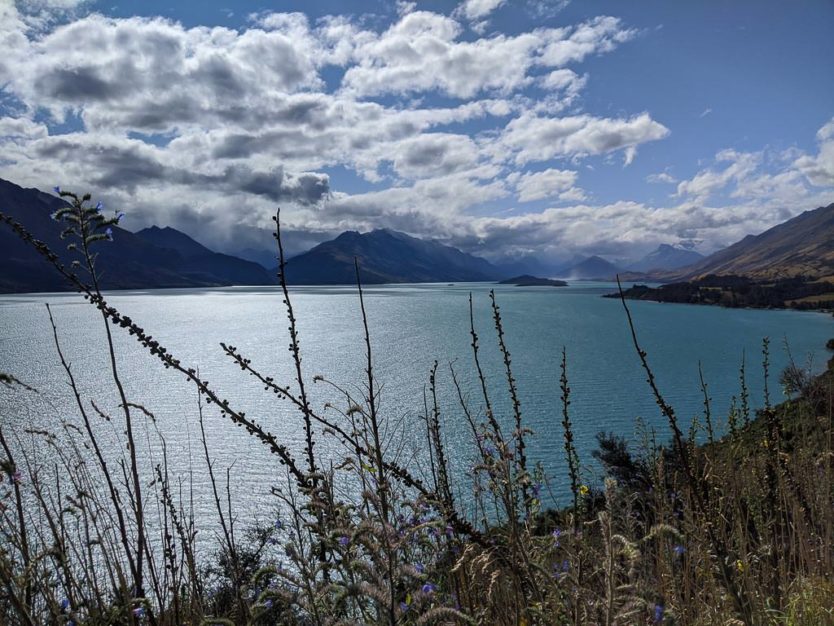 Once in Glenorchy, make sure to stop where the lake turns into the river at the Glenorchy Wharf. With the big red barn, it is such a scenic spot.
Driving into Mount Aspiring National Park is another must if exploring the area. When available, the multi-day Routeburn Track hike is one of the best in New Zealand and begins in this area. However, it was closed due to flooding during our visit.
If you don't have your own car, there are tours from Queenstown that take you to the Lord of the Rings locations in this area and even allow dress up. A friend also highly recommends the Dart River LOTR tour on horseback, but we weren't able to fit this in.
3. Kawarau Gorge – 45 minutes
Watch Bungy jumpers at the Kawarau Gorge Suspension Bridge about 45 minutes outside Queenstown. Or take a leap yourself, if that's your thing (and you have about NZ$200 to spend on it!). We aren't THAT adventurous, but watching people take the plunge was super entertaining. Plus, this area is stunning!
There are also some wine tasting options out this way worth checking out. If planning on going to multiple locations, consider the Hop-On-Hop-Off Wine Tours so you stay safe! There are breweries in this area as well.
4. Wanaka Lake – 60 minutes
Since we had plenty of time, we dedicated a couple of days of our trip to this relaxed area. However, it is only about an hour's drive from Queenstown and offers some great scenery, hikes, and lake activities.
A few top hikes for 360-degree views are Roy's Peak and Isthmus Peak. Just be sure to plan ahead as these are supposed to be super steep, very busy, and take multiple hours! We usually are all up for hiking, but ended up just loving the chill vibe and spent our time there soaking that up.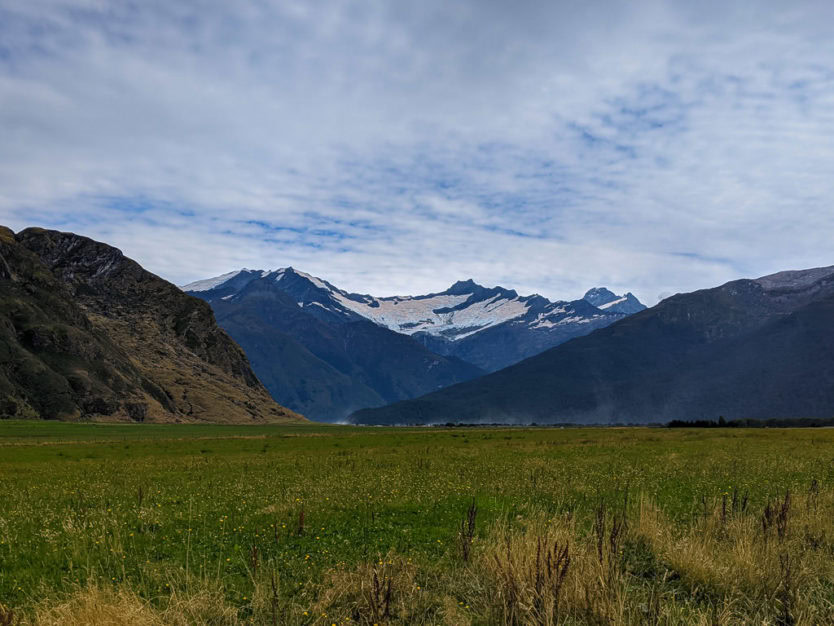 If you don't mind a long drive on dirt roads, going into Mount Aspiring National Park makes for some stunning vistas.
We also highly recommend a stop at Rippon Vineyard for a free tasting and amazing views of the lake. You just have to book ahead of time since this is a private, gated vineyard. Having to put in the code to enter made us feel very swanky!
If planning multiple days here as well, Wanaka Bakpaka is a fantastic, friendly hostel option outside the busy part of town, but still close to everything.
5. Fiordlands National Park – Full Day
While not as easy of a day trip as the others, it is doable to go to Milford Sound or Doubtful Sound in a day from Queenstown, especially if you plan it with a local tour operator. If you don't have your own car, going on a day tour from Queenstown is probably your best bet. Although, at 12+ hours each, it makes for a long day!
However, if more time allows, we highly recommend getting to at least Te Anau to shorten the time on en route. Or even better – take the Doubtful Sound Overnight Cruise like we did for a spectacular, intimate look at the Fiordlands.
Where to Stay in Queenstown
There are dozens of options for every budget for where to stay in Queenstown. We chose to stay at the Jucy Snooze in Queenstown because it was close to all of the local dining and bars, an affordable option, and we loved the Christchurch location. The pod setup is really ideal for how we travel! They also have great indoor and outdoor viewing areas from the rooftop hang out area and Miss Lucy's restaurant.
The pods are great for those wanting a little more privacy than a typical dorm-style hostel. Each one has a privacy shade and its own electrical outlets, lights, and a fan, as well as a large storage locker. While each Jucy Snooze is a bit different (we did prefer the hang out space in Christchurch), this one has a small kitchenette and rooftop sitting area attached to their restaurant.
While we usually prefer to make our own food, Miss Lucy's was really good and had some great daily deals – like half off pizza with a drink on Tuesdays. Plus, some fantastic views!
A lot of long-term travelers end up living in Queenstown to work in the tourism industry and have a great base for adventures and explorations. We can see why! It definitely has a fun vibe and limitless activities.
Tips for Your Queenstown Visit
Plan for parking your car/van. Luckily, we were able to find a spot in the lot across from Jucy for less than $10 per day. But, with plans to close that area for construction until 2021, options will be more limited for parking.
Check Grabone for discounts on activities, bars, tours, etc. – with many great last-minute deals.
Use FirstTable for early-bird meal deals, including at Miss Lucy's and other popular local restaurants.
Check this article for great cheap meal ideas. We listed a few favorites above.
Book ahead for any tours, popular activities, and dining out you plan to do. This is a really popular area and things get booked quickly!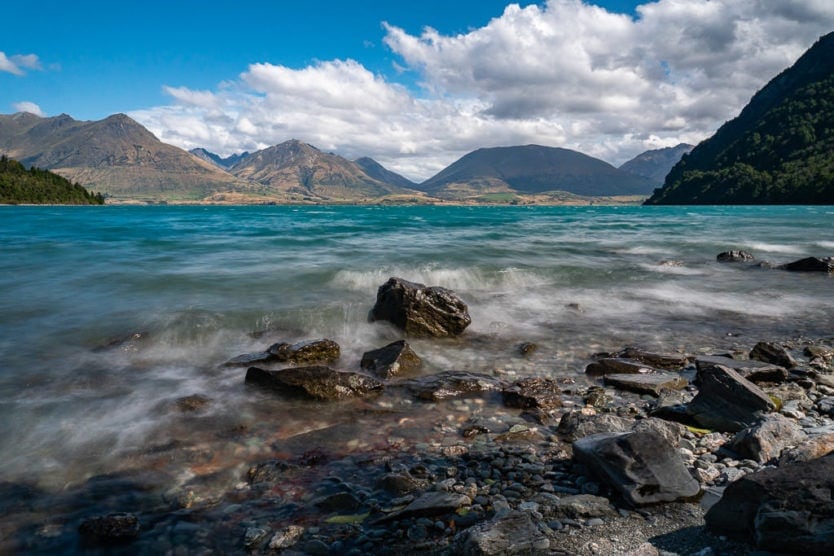 Have you ever visited Queenstown? What are your favorite places in and around this city?
Special thanks to Coronet Peak and Below Zero for hosting us during our time in Queenstown. And to Jucy Snooze for providing us with a media rate for our stay. As always, all opinions are our own.