We originally planned to go to both Milford Sound and Doubtful Sound during out epic New Zealand road trip, but with the intense flooding that happened just before our visit, Milford was no longer an option without a very long bus ride. So, we chose to spend what we would have on two day tours (plus a little) and splurge for a Doubtful Sound overnight cruise! And it was soooo worth it!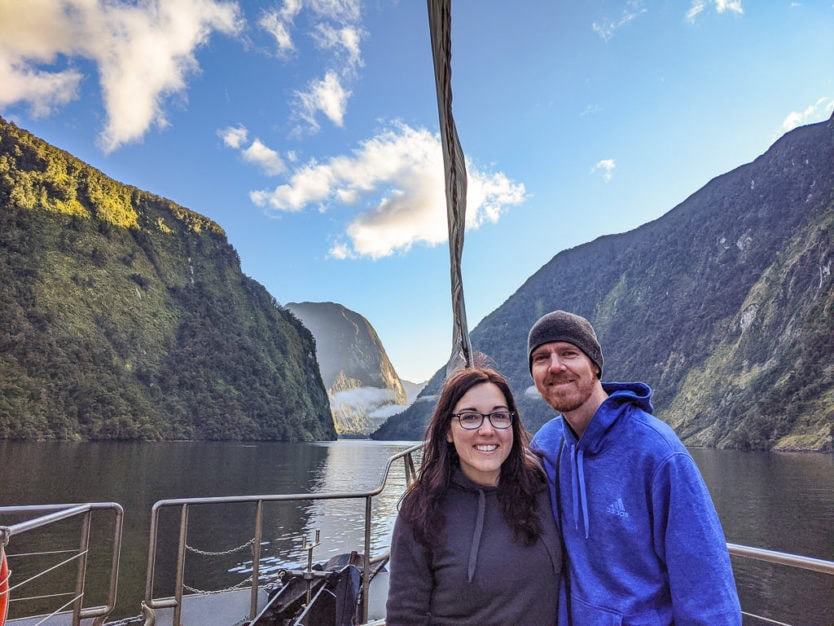 It was around NZ$300 each to book the Real NZ Overnight Doubtful Sound cruise for a quad-share mixed-gender room plus all food and activities. (Note: When we booked, the company was named Real Journeys but Real NZ seems to be the same). The only thing that was extra was alcohol which they do accept credit cards for at the bar. It really is a wonderful experience on a beautiful historic ship with comfortable accommodations. You could also book a private room which have ensuite bathrooms or one of the double cabins.
Plus, you have knowledgeable nature guides on board to help point out wildlife – which can include one of the southernmost populations of bottlenose dolphins, whales, rare penguins, New Zealand fur seals, and many bird species. We felt like two days and one night was plenty of time to enjoy this amazing area of the world, but two-night options are also available.
The Journey to Doubtful Sound
When you arrive for your cruise in Manapouri (about 20 minutes from Te Anau), you won't be boarding your boat for the overnight cruise just yet. It is actually quite the journey to Doubtful Sound and will take multiple hours.
First, you'll take a leisurely and scenic small boat ride for about an hour or so across beautiful Lake Manapouri. Don't worry, there is plenty of parking near the Real NZ office where you will be starting your journey if you need to leave a car.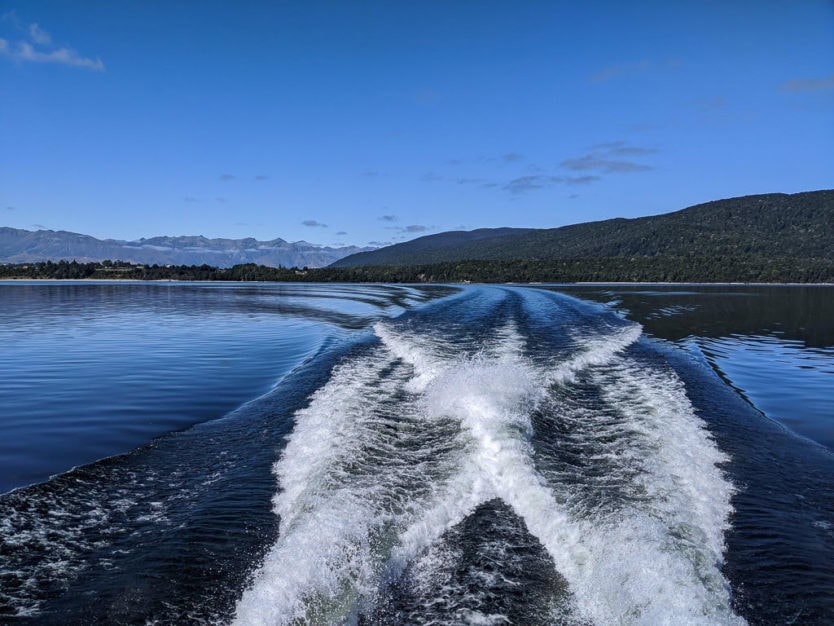 Then, you'll board a bus to go across Wilmot Pass where your driver will stop for you to take in views of Doubtful Sound in the distance as well as beautiful waterfalls. This takes about an hour as well, and your guide offers great commentary along the way.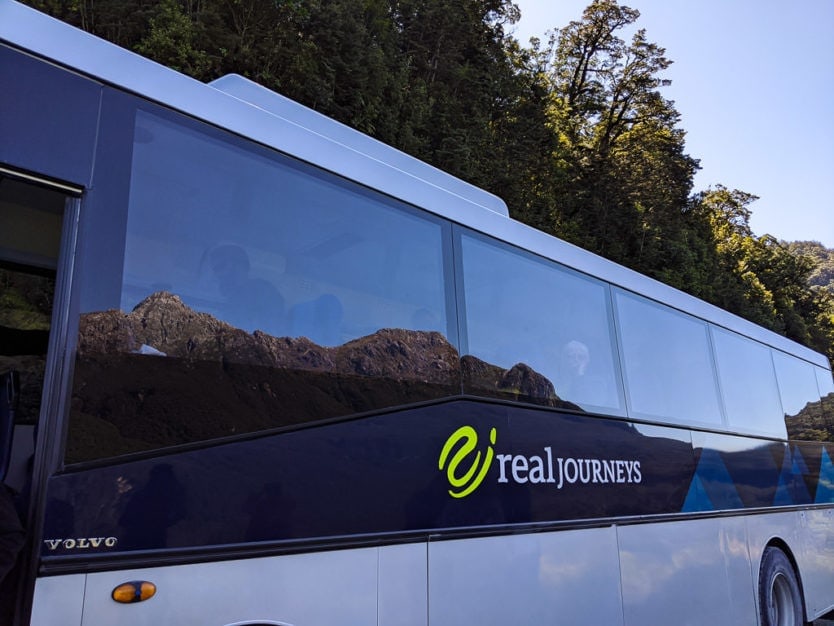 Finally, you'll reach Deep Cove where you will put eyes on the gorgeous Fiordland Navigator for the first time where you will be spending the night and exploring the gorgeous Fiordlands National Park from the water.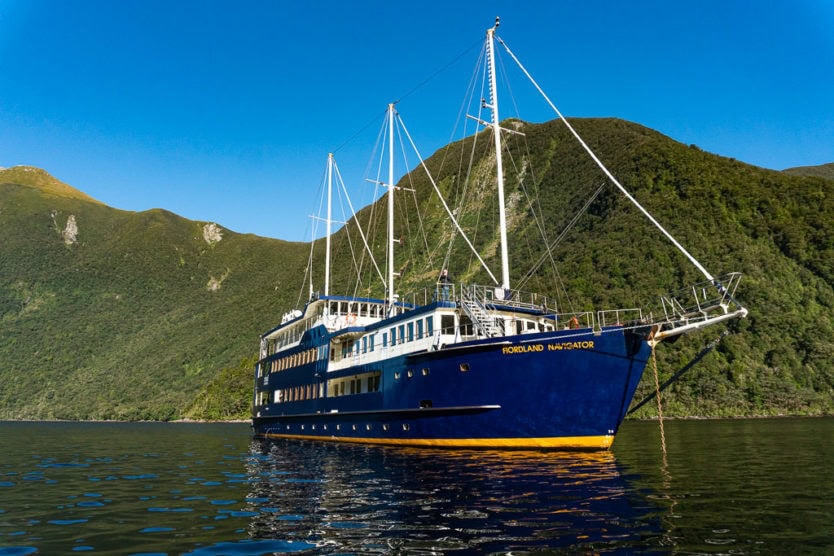 Our Doubtful Sound Overnight Cruise Itinerary on the Fiordland Navigator
Deciding to fully blow our budget to take the Doubtful Sound Overnight Cruise was a decision we waivered on a bit. Luckily, our procrastination allowed us to book last minute for the best weather we had had in weeks!
It took about five minutes to realize that we had definitely made the right decision. And when it was all said and done, we felt that the unique accommodation-food-activity combo was well worth the price. When in New Zealand, right?
Our day started off with gliding through the Fiordland National Park – by coves, next to waterfalls, and with bright blue skies greeting us at every turn! We loved having the option to take in the views from the outdoor spacious viewing decks or observation lounge.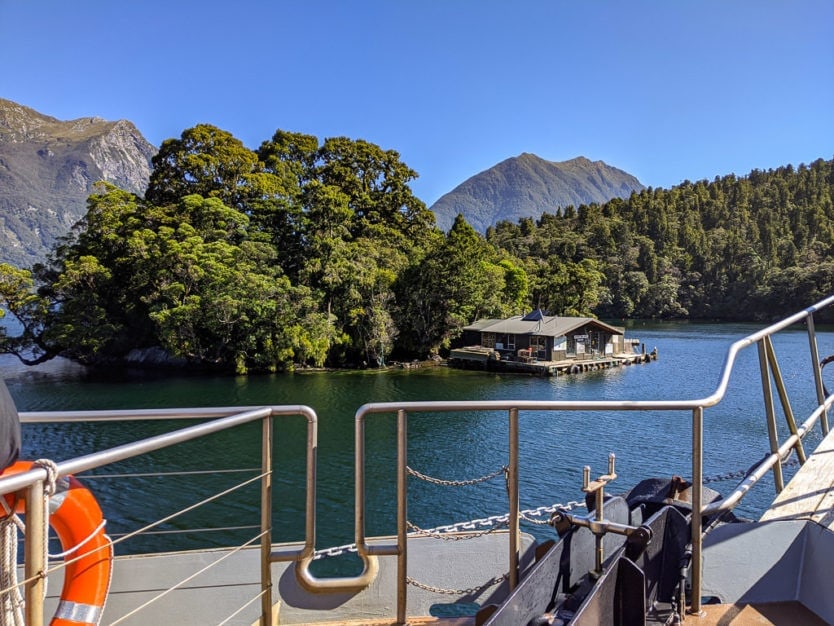 Before making our way to our anchoring spot in a sheltered cove for the night, we got to go out to the Tasman Sea and visit seal colonies. It was extraordinarily windy, but a highlight of our trip!
En route, they served a delicious soup down in the dining saloon to hold us over until dinner. There was also always tea, coffee, and hot chocolate available. While the skies were clear, it certainly wasn't warm out on the water, so this was highly appreciated! We were also given some kind of delicious strawberry muffin as well. I think we both had three.
Once we set anchor for the evening, we had the choice to go out in a kayak or in a tender boat to explore closer to the sides of the fjords. We split into two groups and loved getting to see the boat from the water and were also amazed at how lush the greenery was.
It was so surprising to see that there was water dripping from the plants along the cliffs even though it hadn't rained in days. Just be warned: there WILL be bugs! My ankles got full-on attacked.
After exploring on the water, you have the option to hop in for a swim before cleaning up for dinner. While the views and ambiance of the fjord was magical, we thoroughly enjoyed our amazing buffet dinner. They must have a great onboard chef! It was one of the best meals we've had in recent memory – with plenty of vegetarian options – and we also had some fantastic conversations with fellow travelers. Kind fellow travelers and a friendly crew made it easy to relax and just enjoy it all!
Between dinner and bed, there was stargazing. Ahhh that Southern Sky! It was such a clear night and the cool crisp air paired with the peaceful silence made for a very romantic, memorable night for us nature lovers as we took it all in from the top deck.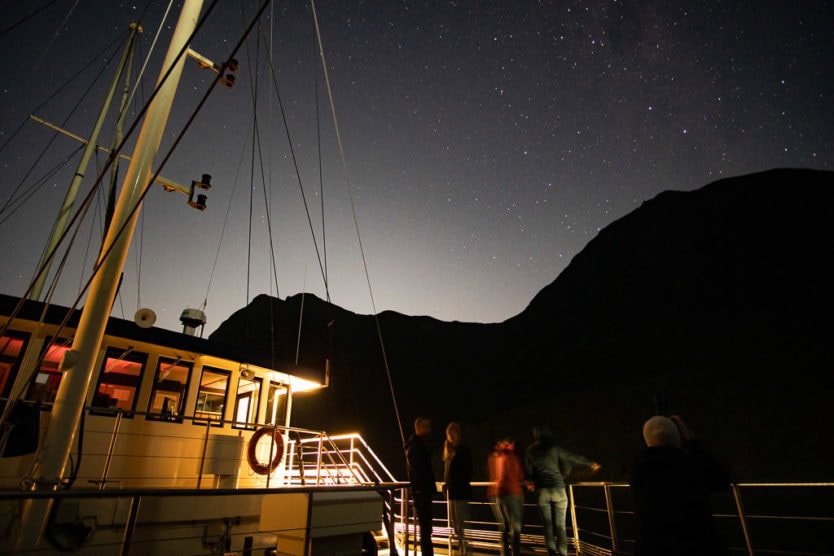 After a surprisingly great sleep in our bunks, we woke early for more exploring and breakfast the next morning. The sunrise was subtle, but spectacular with the clouds rolling over the fjords and mountains in the distance.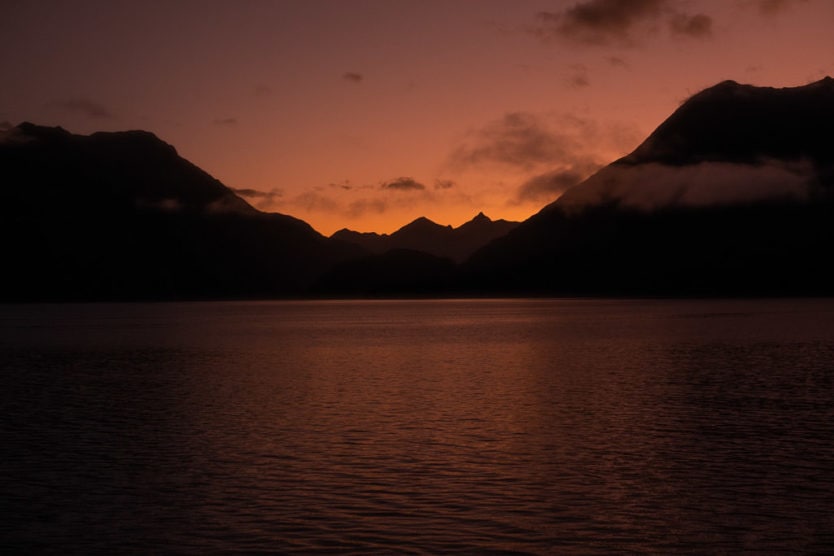 Throughout the tour, there's an on-board nature guide offering insights and pointing out wildlife, waterfalls, and sharing stories.
While our encounters were fleeting, we saw dolphins, seals, penguins, and many different species of birds. We even saw the rare Fiordland Crested Penguin swimming a few yards away! It was truly the trip of a lifetime!
Tips for Planning Your Doubtful Sound Overnight Cruise
The Doubtful Sound Overnight Cruise is available from September to May and prices vary depending on the season.
Consider the season and weather before planning your trip. We planned last minute for a good sunshiney day, but missed out on big waterfalls by not having any rain. Picking the best time for you will depend on what you hope to see.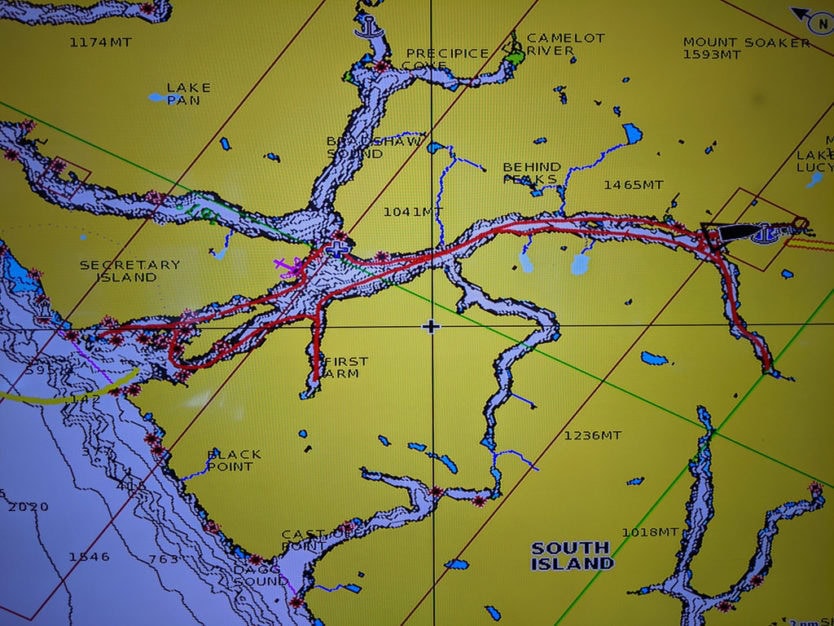 The entire trip takes about 24 hours total and covers much more of Doubtful Sound than the shorter day-trip version
There is free parking in Manapouri next to the Real Journeys office or an overflow option walking distance away.
You will NOT have any phone signal. At all. Seriously.
There are a lot of bugs at dusk, so make sure to bring plenty of spray and cover up as much as possible!
Also, bring a jacket no matter what season – something warm as well as waterproof.
Before or after the trip, we recommend staying in nearby Te Anau – especially if you also plan to go to iconic Milford Sound as well.
Final Thoughts
This was exactly the mini-retreat we were hoping it would be. We were treated to the most magnificent views in the heart of Fiordland National Park, delicious food, peaceful moments, and wonderful company. It was completely worth the cost and we would recommend it to anyone – although, it is not very family oriented since there is a lot of just downtime relaxing. It is more for singles, couples, or friends.
Ironically, when our peaceful cruise ended the next day and our cell phones began to get signal again, we all had notices from our respective home countries calling us back. The pandemic had kicked off around the world and everything was changing. Strange really, to have such a stark contrast.
But we were so grateful we trusted our gut that our Doubtful Sound getaway would be well worth it. We needed that break from reality more than we knew as we were headed into lockdown shortly after!
Top Questions About a Doubtful Sound Overnight Cruise
How do you get to Doubtful Sound?
Unlike Milford Sound, you can't drive to Doubtful Sound. You have to drive about 20 minutes from Te Anau, then take a boat ride for an hour, then an hour-long bus ride before finally getting to the entry of Doubtful Sound.
What is the difference between Doubtful Sound and Milford Sound?
Doubtful Sound and Milford Sound are both located in Fiordland National Park on the South Island of New Zealand. Milford Sound is the most popular of the two and is visited the most often. Doubtful Sound takes longer to get to and is further south so it is less crowded and offers a more peaceful experience.
Is Doubtful Sound better than Milford Sound?
Both Doubtful Sound and Milford Sound are beautiful and have amazing views and special chances to see wildlife. We chose an overnight cruise in Doubtful Sound because it would be more peaceful, but if you have the chance to visit both we'd recommend it! There is also an overnight Milford Sound cruise option that we'd love to try out in the future.
What should I pack for a Doubtful Sound Overnight Cruise?
A small overnight bag is all you will need for an overnight stay on the Real NZ Doubtful Sound Overnight Cruise. You will have all the modern comforts you need, and sheets, pillows, etc. are all provided. Just be sure to bring your essential items plus a bathing suit for kayaking or swimming, a warm sweater or other clothes for if it is windy or chilly, and a camera with plenty of space for photos!!!
Can I see Doubtful Sound on a day trip?
If you don't have the time or budget for an overnight Doubtful Sound Cruise, you can still go just for the day. Real NZ actually has a 7-hour option and there are other tour operators offering day trips to Doubtful Sound, too!