When you find out you'll be near one of the only castles in the country, isn't the logical next step to find out if you can stay there? Yea, I thought so. That's how we ended up staying in an iconic New Zealand castle with amazing views and even more impressive history.
We're total suckers for unique accommodation options and I'm constantly on the lookout for special (and affordable) places we can stay. So, imagine my surprise when I found out the scenic Larnach Castle in Dunedin had room rates similar to other hotels – and included castle entrance as well as breakfast?!! Ummm yes, please!
History of Larnach Castle & Gardens
The history of most castles seems to be pretty similar – royalty owns them throughout generations then eventually opens them to public viewing. But not this time. The history of Larnach Castle is so unique and oddly relatable, we spent hours reading all of the information available about the castle's unique history as we explored the various rooms and halls.
Larnach Castle was built in 1871 by a baron, after whom the castle was named. The placement was chosen due to the impressive 360-degree views of the Otago Peninsula. Unfortunately, after the deaths of two wives and one daughter, Larnarch took his own life in 1898. Many legal battles occurred between the remaining children and the property was eventually sold in 1906.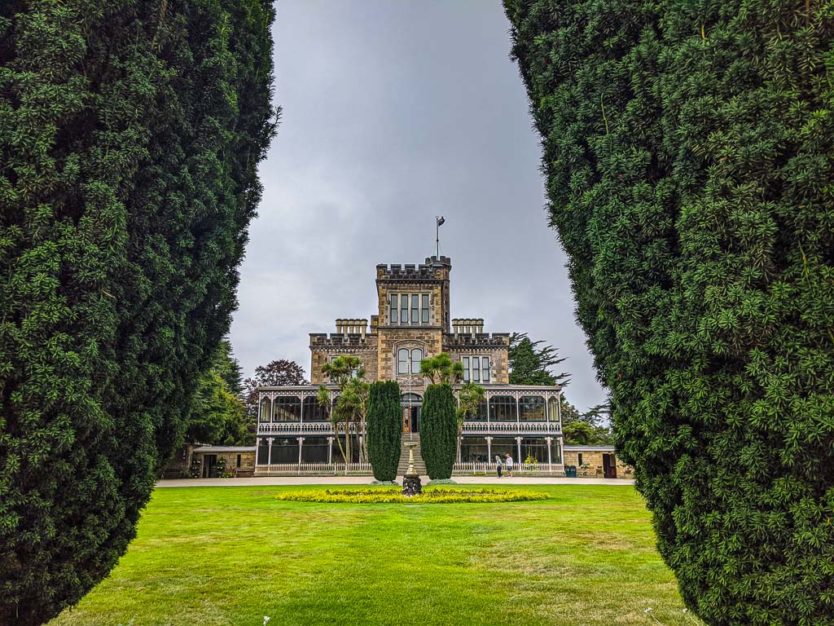 However, this story does not end with sadness – quite the opposite actually! Although the castle was bought and sold many times and used from anything from lunatic asylum to a nun's retreat, it eventually found a new family to love it.
Many decades later, in 1967, the Barker family visited the castle, found out it was for sale and decided to buy it. Since then, they have worked together to restore it to its original glory – even going to the trouble of finding pieces of furniture and decor that had been sold off in the past.
The Barker children grew up playing in the gardens and helping with the family castle projects as adults. It's a lovely, fairy tale kind of story I think most people could imagine putting themselves in. As a fellow big dreamer, I couldn't help but fall in love with this sweet twist in what we expected to learn.
Staying at this Iconic New Zealand Castle
The accommodations at the castle range from upscale to simple. We opted for the lower-cost stable rooms, but they were really comfortable and had plenty of shared bathrooms and shower stalls available. With breakfast and a self-guided tour for two included, we felt it was a great deal at only about US$94 through Booking.com. (Normal entry is about US$23 each).
We loved getting to wander around the castle gardens after it had closed to other visitors and wake up early to take in the sunrise views across the harbour.
We also got to choose the perfect time to take our self-guided tour – with great weather to take in the views from the tower. (It came with a great audio tour as well)!
What to See Nearby
The Otago Peninsula is a beautiful area outside of Dunedin city with tons of wildlife – including albatross and little blue penguins!
While staying at the castle, be sure to check out the multiple local beaches and consider going on a tour to get up close to the wildlife and learn from the experts. The Royal Albatross Centre is a popular option.
A few of our favorite beaches in this area are Boulder Beach, Allans Beach, and Pipikaretu Beach.
There aren't many restaurant options in the area, but Larnach has a great dinner option and the Dunedin area has tons of options. Enjoy!