Sometimes being extra spontaneous on a trip can really come back to bite you. Other times, it leads to unexpected places you would have never discovered had you not been forced to make a detour. That's how we discovered Mount Tutu Eco-Sanctuary outside Rotorua and their amazing private tour of the famous New Zealand glow worms.
Stumbling Upon Mount Tutu's Glow Worm Tour
It was Saturday morning and we had decided to plan our weekend on the fly (really, we just procrastinated because we were loving the Northland so much). The initial plan was to go to the famed New Zealand glow worms tour in Waitomo and stay nearby. There had been plenty of rooms at the hostel up the road the night before, but that morning they were all gone and there seemed to be slim pickings within the general area. The Waitomo glow worm viewing tours had already seemed a bit over-priced and over-rated from what we could tell, so we just took it as a sign it was meant to be skipped.
A little frustrated, I started scouring the internet for other places to see glow worms in New Zealand's North Island. Eventually, I gave up and ended up just looking for accommodations in the Rotorua area since we were headed there anyway. Our main goal of this part of our trip was to go whitewater rafting in Rotorua while the water was still warm. We'd be back in April, but by then it would be off-season for that – and seeing glow worms. So, we ideally wanted to check off both of these New Zealand must-do activities before we headed to the South Island. But at the time, it was looking like we'd miss seeing those spectacular little bugs.
Then like magic, I saw a bed and breakfast while scouring Google Maps called 'Glow Worms & Birds – Mount Tutu Eco-Sanctuary.' WHAT?!?! A moment of travel serendipity, for sure!
About Mount Tutu Eco-Sanctuary
The nightly rate for this special place was higher than we usually budgeted for (comparing to hostels), but it includes a private glow worm tour at night, a farm tour in the morning after a hot breakfast, and an absolutely beautiful remote, eco-santuary setting. Plus, Mount Tutu Eco-Sanctuary was less than an hour's drive to where we'd be rafting Monday morning.
Comparing to what we had planned to pay in the Waitomo area (NZ$66 per night at the hostel, plus NZ$55 each for the basic tour), it was actually quite the deal at NZ$177 per night with tour extras and our very own room and bathroom, even! I emailed immediately, received a wonderful reply, and was booked for two nights just like that. (Here is their link on Booking.com or you can email them directly).
A few hours later, we were driving down a forested gravel road in the gorgeous mountainous region near Tauranga with the peaceful retreat-like Mount Tutu accommodations at the end. We were greeted by the lovely Debbie and given a choice of our room as we were the only people staying that weekend.
The rooms were these lovely, sustainably built jungle hut style accommodations with a private shower, toilet, and sink in each. There were even chocolates on the bed and cookies on our nightstand! It had been so long since we had felt this level of loving hospitality and were happily soaking it up.
Later, after wandering the property and meeting some of the animal inhabitants, we popped into the common area to arrange what time to do our included tours and found fresh-baked muffins waiting for us. There is also a shared kitchen available with a small fridge for storage, as well as a large and inviting sitting area with plenty of games and books. Heaven!
We chatted with Debbie and decided to see the much-anticipated New Zealand glow worms that night just after 9 p.m. and do the farm tour the next morning. With no idea what to expect, we wandered the property and waited anxiously to see what we had signed up for!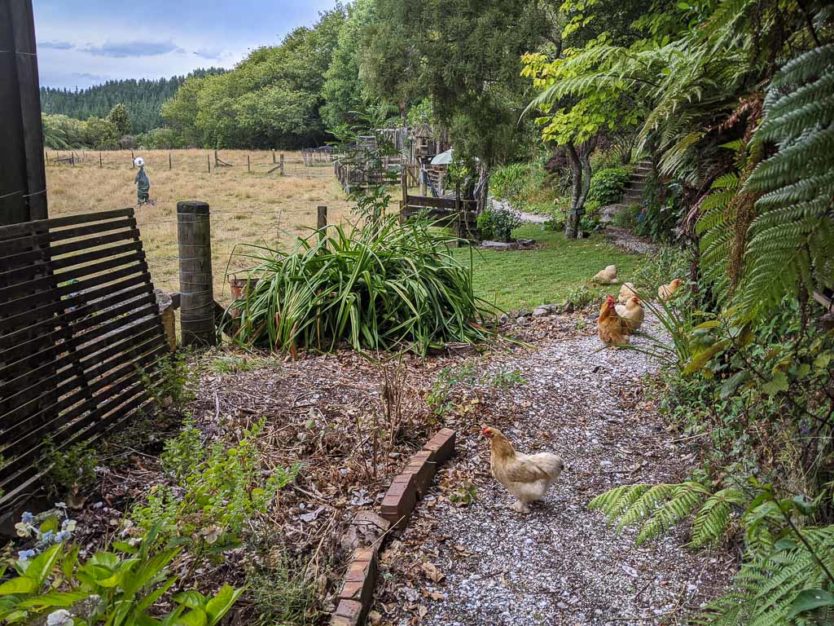 An Intimate Look at New Zealand Glow Worms
To be honest, we had set our expectations really low for the glow worm tour. We half expected it to be a small area behind the main house with a few dozen to look at. Which would have been a bit lack-luster, but hey – at least we could say we saw them! However, this tour turned out to be so extremely special that I still get a little teary thinking of how lucky we were to have stumbled upon it.
After dark, we arrived at the main house to meet Debbie and Tim who provided us with gumboots and headlamps ('torches') for our special night adventure. Then we set off into the dense forest surrounding us and went down a path to an unassuming spot, I'd have never thought to look. As we walked, Tim explained that he actually found the glow worms by accident while working on the property.
In order to protect them and the area indefinitely, they applied for the sanctuary to be under the Queen Elizabeth II National Trust Act. This apparently lowers their property value a great deal if they were ever to sell, but it was important to them to protect this natural area. Can we please all be more like them?!?!
Eventually, it was time to turn off the torches and let our eyes adjust. Little by little, the area we were in turned from forest to something similar to being enveloped by the night sky as tiny blue lights surrounded us. Had we not been so close, they could have easily been mistaken for those little fairy lights people put up in their gardens.
That's what made this tour stand out. We were SO CLOSE and in absolutely no rush down in the grotto. They let us take as many photos as we wanted, shared interesting facts about the glow worms – which are actually carnivorous larvae that feed on insects, and showed us some of the other creatures of their forest (including lots of non-dangerous spiders, a giant grasshopper-like creature called a Weta, and even crayfish).
Earlier that day, we had been debating if paying NZ$55 for ten minutes of seeing the magical glow worms above us at the cave in Waitomo would be worth it – especially with the glow worms being further away and no pictures allowed. And somehow, by divine intervention – I'm sure, we were getting an intimate look at one of the most fascinating natural wonders you can see in New Zealand – or anywhere.
We probably spent an hour just in the presence of the glow worms – which use their natural bioluminescence to attract their prey, before we made our way back through the forest to our cozy private oasis.
Birds, Breakfast & Babies!
The next morning, we awoke to the sounds of birds chirping all around us. I sat on the porch for a while watching for them – spotting a Fantail, Tui, and giant pigeon – 'Kereru.' The eco-sanctuary is also home to a small night owl, Pukeko, and many other bird species. Such a wonderful, happy place for nature lovers like us.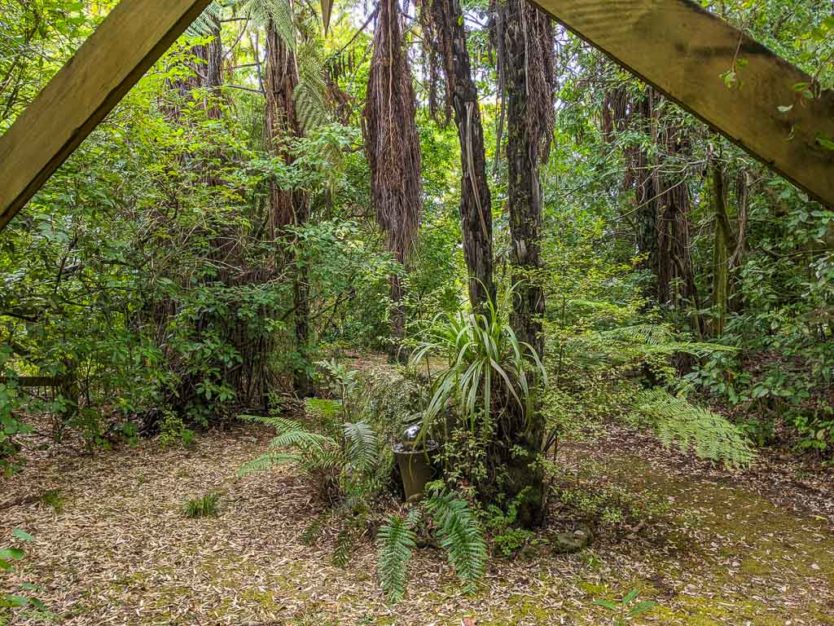 Since we were the only guests, we got to pick what time we'd like our breakfast ready. Around the very agreeable time of 8:30 a.m., we wandered into the main house where there was a spread of fruits, yogurt, and cereals waiting for us. As well as juice and great hot coffee! Shortly after arriving, we were greeted by our hosts who said they'd be bringing out our main course soon. A classic breakfast of fried eggs (fresh from the chickens!), hashbrown, tomato, toast, and meat for Buddy.
With a busy day of farm explorations and whitewater rafting, we were happy to have the opportunity to fill up – and save on food costs since this would work for breakfast and lunch for us!
After our breakfast had settled, we donned the gumboots once more for a more thorough look at the farm and sanctuary – this time in the daylight. We wandered over to feed the goats (who were rescued after being found wandering), sheep, and chickens.
Of course, we love all animals – but baby farm animals may be the cutest thing ever. Getting to admire the adorable antics of the baby sheep and little chicks was a highlight. Hand-feeding the goats and sheep was also hilarious fun. I have dreams of escaping to a small off-grid farm one day in the far future – out in the middle of nowhere with lots of goats, sheep, chickens, and rescue pets.
So, this was an especially heart-warming experience for me and a practice run of what my mornings may look like if we ever settle down. For now, test runs are good enough though – that's a lot of work! Haha
Next on our agenda was a forest walk where Tim explained all about the different trees in this area and how his family has worked to regrow native species and remove invasive ones. We also admired the far-off mountain views from the fields – noting the need to spend sunset there at our day's end.
Overview of our Magical Mount Tutu Stay
We have stayed in some spectacular places, but this may be the most memorable so far – definitely at least in New Zealand. Finding hidden gems like this is probably my favorite thing about traveling. Meeting people who love what they do and want to share it in such a genuine, beautiful way makes me feel like our world really is a wonderful place still filled with amazing adventures to be had for those willing to go off the beaten (aka tourist) track a bit.
On our last night, we watched the sunset in the field with all the goats and sheep around us while we soaked in a little bit more of this wonderful place. If we keep getting this kind of reward for procrastinating, we may never plan ahead!
Do you have a favorite hidden gem accommodation and/or tour? Let us know in the comments!