Whether exploring New Zealand by car, bus, bike, train, or your own two feet, at some point – your body is going to need a break after all that adventuring. And we highly recommend arranging to take that break when staying in Glacier Country so that you can enjoy a few hours of bliss at Franz Josef Glacier Hot Pools.
After a few days of long drives, hikes, and shared showers at hostels as we made our way down New Zealand's west coast – the idea of soaking in a warm bath was too good to pass up. And with an option to have one completely to ourselves, it was all we could do not to speed to Franz Josef for our date with Te Wai Taurima – our Māori-named private pool.
About Franz Josef Glacier Hot Pools
Conveniently located a short walk from the center of town, Franz Josef Glacier Hot Pools is very easy to get to. Although to find it, you will want to look for the Glacier Base building, since that is also where reception for the pools is (with parking around the side). While the warehouse-style front may give a different impression, once you exit the locker rooms, you are greeted with a lush rainforest paradise.
The pools were actually added into a natural jungle setting – with dozens of different plants draping around them in the most romantic way. As you wander around, you can even read about the different types – from ferns to pepper trees.
Not far from the famed Franz Josef Glacier, this New Zealand-owned business has been sure to share some of the Māori culture throughout this tranquil area with each of the pools being given a name in the Māori language. There are six pools in total, three of which are only available for private bookings.
Hours for Franz Josef Glacier Hot Pools
The pools are open year-round (excluding Christmas day), from 11 a.m. to 9 p.m. with the last entry at 8 p.m. They even have overhangs above the pools to allow for a relaxing soak on rainy days or sun cover.
Pricing for Hot Pools & Services
$29 per adult for a main pool single entry pass, or $34 for an all-day pass which allows for multiple entries. Towels, lockers, and swimwear are available at an additional fee.
A private pool for two is $99 for 45 minutes and includes towels as well as main pool entry. Each private pool can have up to four people.
Massages are also available for booking during your visit.
Our Tranquil Retreat at Franz Josef Glacier Hot Pools
As I mentioned, we were most excited for the private pool experience after having our fill of shared spaces with all of our hostel stays. However, we made sure to arrive early to check out the main pools as well and are so glad we did. After a quick rinse off in the separate locker rooms (and both noting that they had the great bathing suit rinsing machines we love to use at spas), we met back at the pools to try out the three main options.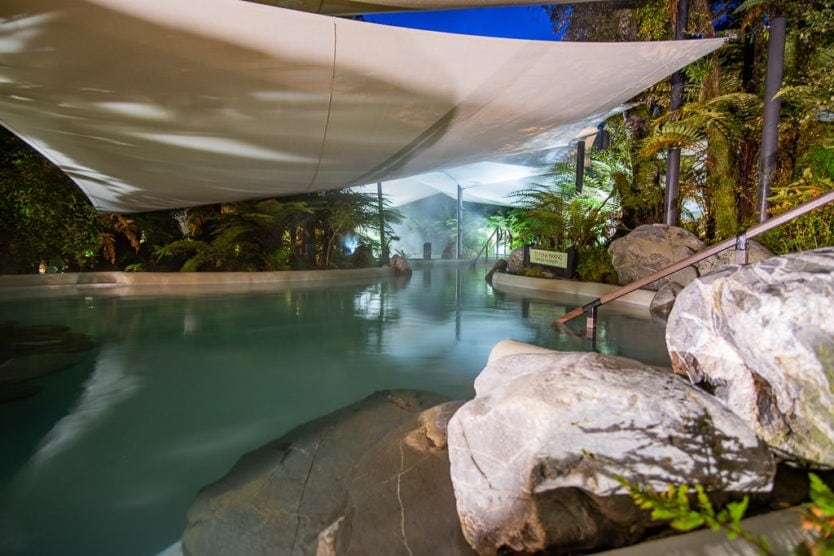 The temperature was different in each pool, ranging from 36 to 40 degrees Celsius. However, they all were similarly sized and fully enveloped in the surrounding nature. Absolutely divine! We also enjoyed the names of the pools which were gifted by the local Māori tribe: Te Puna Mahaki (The pool of calmness), Te Puna Makoha (The pool of tranquillity), and Te Puna Marino (The pool of serenity). And we also appreciated the overhangs since it was drizzling during some of our visit.
We spent our time there admiring the surroundings, breathing in the cool evening air as the warm water soothed our muscles, and quietly chatting. Other guests were reading or closing their eyes. Everyone seemed totally at peace – in that way only a hot soak can do!
A Perfect Date Night at the Private Pool
After about an hour, it was time for us to meet at the gate to be guided to our private pool. We chose to take the last spot at 7:45 p.m. in order to enjoy the magical golden hour lighting during our soak and spend a few minutes in the main pools before they closed down to experience what they were like at night.
Even the walk back to the pools is special with a scenic, private wooden walkway. Once inside our little oasis, we were surprised to notice the hot pool was empty. Our guide explained that this is because they actually drain and filter the water in the private pools between each session. (I can see you rejoicing fellow germaphobes!) As we waited the couple of minutes for the pool to fill, we checked out the private room which had a shower, changing area, and toilet. As well as towels and water for us to use during our stay. If hungry, you can also order a snack platter to enjoy during your soak.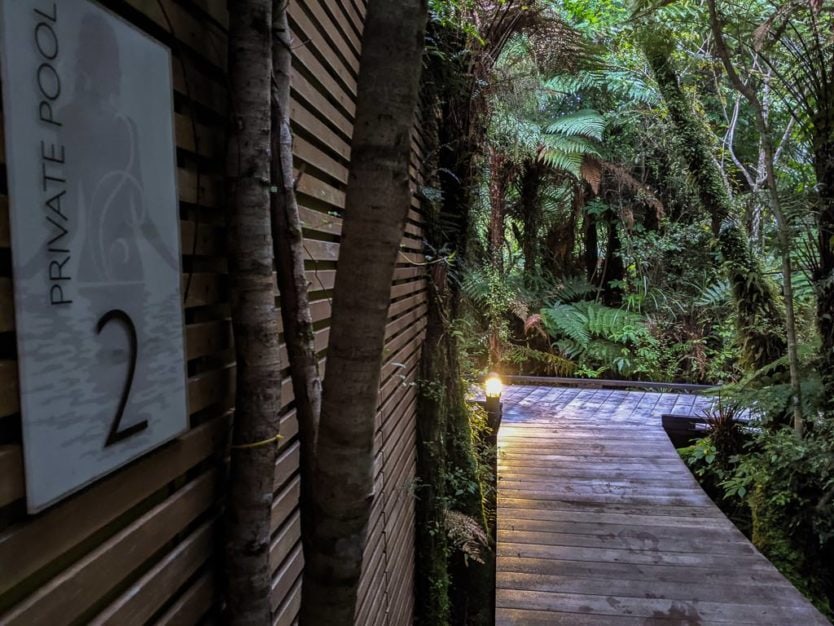 I also appreciated that our 45-minute session didn't start until the hot pool was completely filled. And rather than having someone come retrieve us, the water would simply begin to drain once our time had ended and we could make our way back. It is probably no surprise that our private pool was also framed by the beautiful forest. While we knew the main pools were somewhere behind us, we didn't see or hear any hint of them – making it all too easy to drift off into our own warm bubble of serenity.
By the time the water started receding, the sun had gone down and we were craving a good long sleep. After quick, warm showers in our cute modern bungalow, we headed back to the main pools for one last dip amidst the glow of the lights before heading back to our hostel for bed.
What a way to unwind! It is no surprise that a spa experience in a place like New Zealand would be memorable, but we were extra impressed by how well done Franz Josef Glacier Hot Pools is. And it is surprisingly affordable, even for budget travelers!
Do you love seeking out spa experiences when you travel? Check out some others we've loved.
Special thanks to Franz Josef Glacier Hot Pools for hosting us on this spa date night. As always, all opinions are our own.