After a great time in Arthur's Pass, we were headed to explore the Franz Josef Glacier area for a few days. It was going to be a 3+-hour driving day, so we didn't plan much – as we didn't know what the weather would be like. However, it was a beautiful day, so we were seeing what stops we might pass on the way, without adding too much time!
We stopped into Hokitika for fuel and lunch, as well as a nice long walk on the driftwood-covered beach. The question was, did we want to take the 1-2 hour detour to go see Hokitika Gorge? Well, Brooke couldn't decide, so she put the decision on me. The basis of my decision … the amazing photos of the turquoise water of the Hokitika River under the suspension bridge and through the gorge. I mean, how could we not take a detour to see this amazing place, right?
Getting to Hokitika Gorge
About 30 minutes south of Hokitika, the drive to Hokitika Gorge Scenic Reserve is pretty easy and mostly through farmlands with a beautiful mountainous backdrop. The Hokitika Gorge car park is large and has ample space for plenty of cars and campers as well as public toilets.
The Hokitika Gorge Walk
The walk to see Hokitika Gorge is very easy, short, kid-friendly, and part of it is even wheelchair accessible. The full 1.3-km return Hokitika Gorge Walk will only take roughly 30 minutes. About five minutes from the car park is a viewing platform that looks down the river and towards the suspension bridge. This portion of the trail is wheelchair accessible and where you first get a look at the hopefully-blue water. (Seriously, Google it. This is a magical kind of blue! But I Photoshopped some photos as an example.)
Roughly five minutes of walking through the forest and over the curving boardwalk, you will approach the swinging bridge for great views down the gorge. Shortly after the bridge, you will come to another viewing platform that looks upstream through the gorge and back down towards the swinging bridge. You can also access the shoreline here for a different perspective of this beautiful area.
To our surprise, the blue water we were hoping to see was a cement-colored, milky grey. Womp. Womp.
Is the Water Always This Color?
Short Answer: NO! Sadly, for us, we were not aware that there was a chance that the water would not be a stunning turquoise color. Even most of the locals of the area (according to this TripAdvisor thread) seem to think it is always turquoise. Had we known that it was so far from it, we would probably have found some other detour to take instead of visiting Hokitika Gorge.
Don't get me wrong, the area was still beautiful, however, seeing grey water flow under the bridge was not what we set out for. Since the short hike is really all about the water, it wasn't as spectacular as we had imagined. Brooke was actually more disappointed than I was and completely forgot to even take a photo (and she's probably glad she put the decision on me).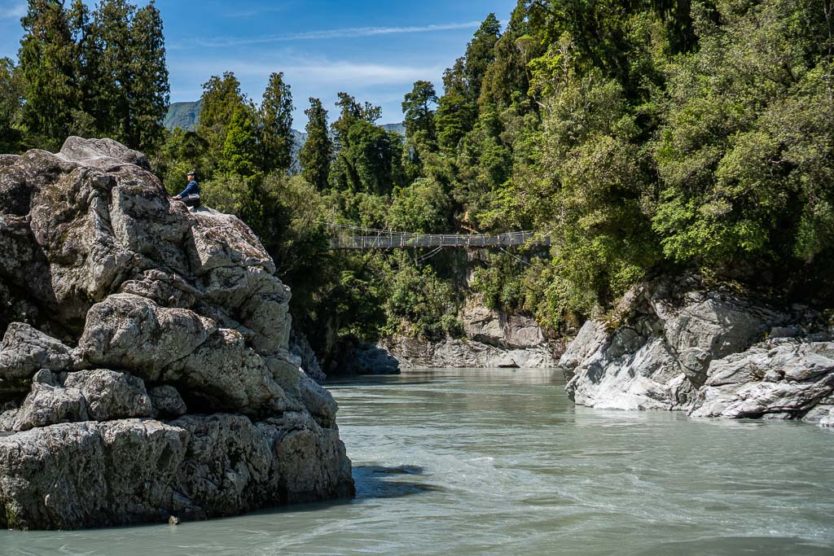 What Causes the Turquoise Water?
The gorgeous turquoise water that you typically see in Hokitika Gorge isn't unique to this area of New Zealand. You can see this iconic blue water in plenty of other places around the south island (Azure Blue Pools, Lake Pukaki & Lake Tekapo to name a few), as well as other places around the world. The color is caused by the 'rock flour' in the water.
But what is 'rock flour'? Rock flour, also known as glacier flour, is created when the heavy glaciers of the Southern Alps grind against the schist and sandstone rocks as they move down the mountain slope. It is then carried through the glacier ice until it moves to a warm enough location and melts into nearby rivers and lakes. Since the 'rock flour' is so fine and light, it never fully settles to the bottom of the water, and instead stays suspended, causing the beautiful turquoise color of the water.
Why Does it Turn Grey?
Of course, you don't want to plan to go visit some amazing turquoise water of New Zealand just to show up to see what appears to be flowing concrete, so what causes the color to vanish? During times of heavy rain, or mass snow-melt, the rock flour tends to dissipate and settle as the water flow in the rivers and streams increases. So, more or less, there will be less rock flour and more water, so it pretty much washes out the color that is caused from the rock flour, returning the body of water to its original color.
So we learned that visiting during heavy rain isn't ideal. And sadly, once these glaciers are gone … so is that amazing turquoise water!
P.S. Near Hokitika? Don't Miss Hokitika Beach!
The saving grace of this driving day was the awesome Hokitika Beach. While we can't say the detour to a grey version of Hokitika Gorge is worth it, a stop at this unique driftwood beach totally is! As I mentioned, we took a long walk here to admire the various driftwood on the beach – some still entire trees, some turned into artwork by locals (like a driftwood Dobie!).
To top it all off, we lucked out by going on a weekend when there were some great little food trucks there as well. We got sandwiches from one and fresh, hot mini donuts from the other. A perfect lunch break win for a New Zealand road trip!
Did you learn anything new from this article? Have you had similar experiences during your travels? Let us know!