No matter how much we love a relaxing beach vacay or fun city stay, the mountains are always ringing us up and begging us to come visit. So, after a short paddle sesh on the north coast and a house sit in Christchurch, we set our sights on the rest of New Zealand's mountain-heavy south island. In order to get to those mountain views as soon as possible, we took the highly recommended Arthur's Pass route to the west coast. With a little time to spare, we decided to spend a night there to have more time to take it all in – and are so glad we did!
Here are some great things to do whether just stopping by, or spending a few days in the gorgeous town of Arthur's Pass (the same name as the iconic route through this area).
Things to Do in Arthur's Pass
While there isn't a whole lot to Arthur's Pass, there is plenty to do to keep you occupied for at least a few hours, unless of course, you want to take on one of the longer tracks in the area. Whatever you do, don't skip this quaint little village. It really has all the mountain town vibes you're craving, with some New Zealand twists.
Devils Punchbowl Waterfall
This is by far the most popular thing to do in Arthur's Pass. And it is easy to see why: a pretty short trail, walkable from town center, and a beautiful waterfall as a reward at the end. With a drop of 131 meters (430 feet), the Devils Punchbowl Waterfall is one of the most stunning waterfalls in New Zealand. And, to us, it looked fairly similar to the much taller Yosemite Falls in California.
The Devils Punchbowl Walking Track is only 2 km round trip from the car park (a bit further from town center). It leads you over two bridges (Bealey River and Devils Punchbowl Creek, both of which have great views of the falls), through a lush green forest with many bird species (including the Kea and Great Spotted Kiwi), and up some steep stairs that lead to the magnificent Devils Punchbowl Falls viewing platform. It will make your legs burn a bit, but not for too long, so be sure not to miss this one!
Avalanche Creek Falls
If you are anywhere in city center of Arthur's Pass, then be sure to stroll on over to Avalanche Creek Falls. This waterfall is off of the 10-minute Millennium Walk, which starts beside the Visitor Center. Don't be fooled, the waterfall you see from the historic bridge over Avalanche Creek is not the waterfall you are seeking. There is also a viewing platform up and right from the historic bridge, which will give you a great view of Avalanche Falls. With how easy this is to access, there is really no reason to skip it, even if you are only in town for 30 minutes.
It is also worth noting that the falls are at the start of the Avalanche Peak Track, which is a 6-8 hour trail that leads to amazing mountain views of the peaks in and around Arthur's Pass National Park. While timing didn't work for us to do this trail, we have been told it is not easy, but well worth it if you do have the time.
Searching for the Kea Parrot
The world's only alpine Parrot, the Kea, is a large olive-green bird with orange under its wings. They are only found in New Zealand's south island, with a large presence in the Arthur's Pass area. You are bound to see signs all over the place on your way to, in, and out of Arthur's Pass about keeping these birds safe. However, the large birds are notorious for causing mischief and stealing people's food whenever possible, which includes tearing their way into tents. Be sure to be on the lookout for the beautiful Kea while in the area, and be sure to keep your food close, so not to have it stolen. You never know where you may see one – for us, it was on the roof of a passing car at a lookout!
Things to Do Nearby Arthur's Pass
Kura Tawhiti / Castle Hill Conservation Area
We actually drove past Castle Hill on our way to the hostel from Christchurch and opted to pass it due to the mass amount of people there. During our drive, we really didn't see too many people until we got to this area. I'm not sure if there is wild camping available there, but most of the parking lot was full with camper vans.
Castle Hill Conservation Area is a 43-minute drive south of Arthur's Pass along SH73. There is plenty of parking and the area itself is pretty large. The Kura Tāwhiti Access Track is an easy 20-minute return hike that takes you through the limestone rock formations that are unique to this area. There is also good climbing and bouldering in specified locations.
Visit Lake Pearson
Between Castle Hill and Arthur's Pass is Lake Pearson. This is a place we just stumbled upon about 15 minutes after passing Castle Hill. We initially passed it, but promptly turned around to relax by this scenic lake for a bit. While there were a few people here, it was much less busy than Castle Hill, and the views were so much better with the lake in it.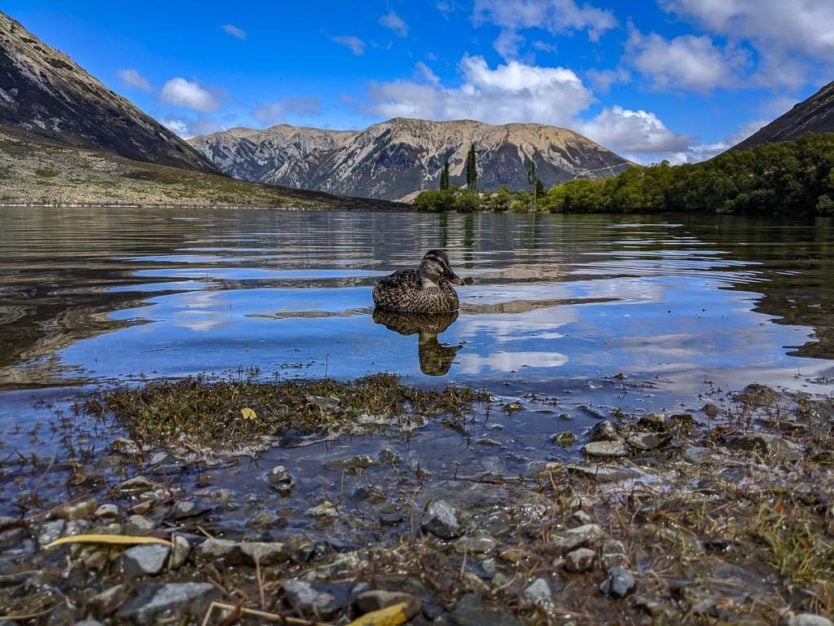 Lake Pearson is 27 minutes south of Arthur's Pass on SH73. Motorhome and tent camping is permitted at Lake Pearson and it is a great location for bird watching. Kayaking and paddling are also allowed on the lake, while motorized boats are prohibited. This is really just a great location for a picnic or break from driving. Just be sure to bring your sandfly repellent – we grabbed a local brand called Okarito that seems to work well so far!
Otira Viaduct Lookout
Just seven minutes north of Arthur's Pass on SH73 is the Otira Viaduct, and they put in a great overlook here as well. The 440-meter viaduct was opened in November 1999 and was built as rockfall hazards around the original road threatened to destroy, or at least damage it beyond repair.
We went to the overlook at sunset and while we weren't lucky to have an amazing sunset that night, it was still worth the short drive. The area is also known to have many Kea there, though not as active at sunset as they are during the morning hours. Be sure to walk around the two viewpoints, and if you are feeling up to it, climb up the rocks nearby for an even better view of the viaduct and the Otira River running below it. If you don't mind driving back to Arthur's Pass at night, stay here until after sunset for some great stargazing.
Where to Eat & Stay in Arthur's Pass
As noted, this is a small mountain town. While dreamy, it does mean the options are limited.
The Mountain House YHA
There are quite a few hostels, motels, lodges, and backpackers in Arthur's Pass, but we went with a private room at The Mountain House YHA, as the price was perfect, and we got a slight discount due to having a YHA membership. The room was perfect and included a portable heater, which we put some use to after our sunset adventures. The kitchen was pretty large and had everything we needed. Not to mention the location was perfect, as we didn't need to drive our car anywhere locally as it was all within walking distance – including dining and the two waterfalls.
Wobbly Kea
There is a severe shortage of good food options in Arthur's Pass, so we opted to cook at the hostel. However, the Wobbly Kea, right across the street from The Mountain House was perfect for an after-hike drink and snack. We grabbed beers here as well as some garlic and cheese bread after our adventure to Devils Punchbowl Falls. And while we didn't see any Kea, as shown in a bazillion photos online, it was still a nice experience with good chats with a Dutch couple. They also have plenty of other food and drink options, just nothing really grabbed our attention, and we are looking to save money, after all.
Arthur's Pass Cafe & Store
If just looking for a snack, sandwich, or treat, the Challenge Arthur's Pass Cafe & Store has a small grocery area, baked goods, ice cream, and sandwich selection – as well as things like bug spray and souvenirs. Brooke had too much fun listening to all the stuffed animal birds with realistic sounds to them!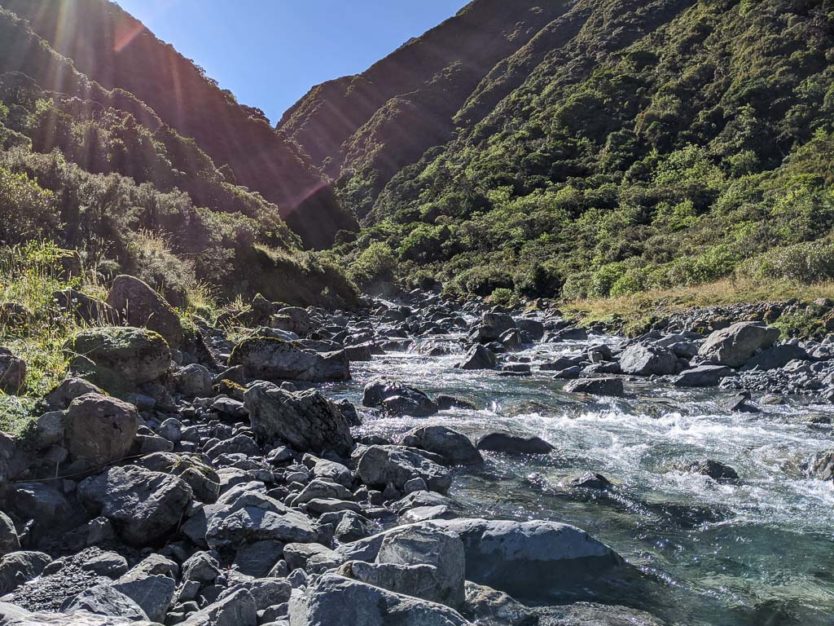 ---
We are so glad we didn't rush through this gorgeous area of the south island. With perfect weather, it ended up being an ideal way to start our three-week loop through some of New Zealand's most iconic mountain scenery. Glaciers, fjords, and turquoise lakes are up next!
Was this article helpful, or do you have additional tips? Let us know!