Some places are just meant to be viewed from the water and Abel Tasman National Park in New Zealand's south island is definitely one of them – especially to enjoy the beauty and wildlife of the Tonga Island Marine Reserve. Since this area is protected, only a few tour operators are authorized for marine mammal viewing from sea kayaks there (aka gushing over baby sea lions). Luckily, Abel Tasman Kayaks has a fantastic all-day Remote Coast tour through the reserve with some pretty fantastic stops along the way. It was a blast – even in not ideal weather!
About Abel Tasman National Park
Abel Tasman National Park was named after the first European explorer to discover New Zealand in 1642 – Abel Tasman. The park opened on December 18, 1942 – that's 300 years after he first anchored at nearby Golden Bay.
The smallest of all New Zealand's national parks, Abel Tasman National Park covers 92 square miles (59,000 acres). The park includes many different species of birds, as well as other animals including sea lions. It is also home to the very popular Abel Tasman Coast Track, which is a 60-km (37-mile) walking trail along the coast of the park with many other off-shoot trails. It is such a remote area that you really have to do some physical work if you want to see a lot of it. While huge fans of walking, this time we chose to paddle and are so glad we did!
Why We Chose Abel Tasman Kayaks
One of the main reasons we chose a day tour on the water over walking was because we didn't have multiple days to dedicate to this park – definitely a huge planning mistake because it is an amazing place! However, after doing our research, we knew that our Remote Coast day trip would be packed with views, fun, and unique experiences.
Of course, it was only logical to go with the very first sea kayaking company in Abel Tasman National Park for our tour. In 1987, Abel Tasman Kayaks was started by Tom and Ingrid Horne using borrowed river kayaks. Since then, they have grown to have more than 150 double and single kayaks, a great base in Marahau, and plenty of well-versed guides having more than 225 combined years expertise in the area.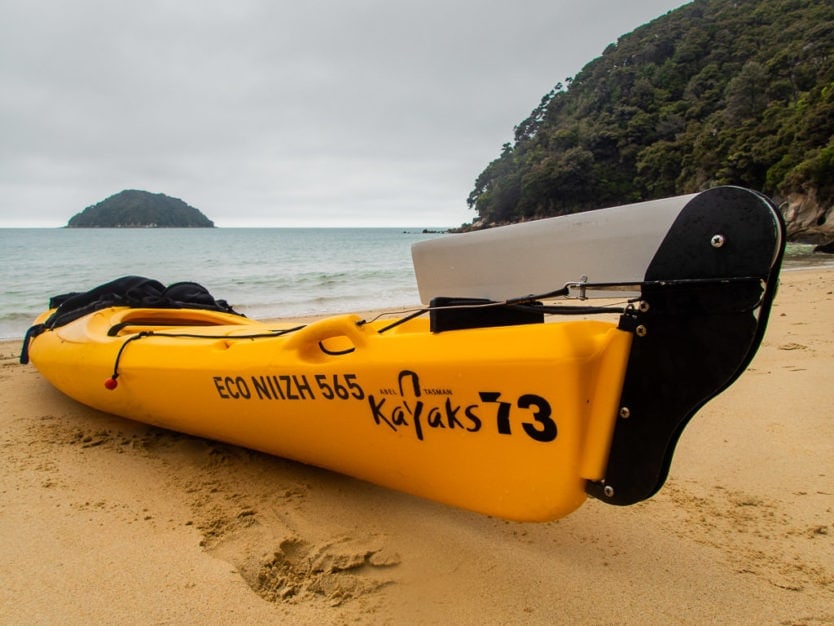 They run a very smooth operation from the booking process on their very informative website to the warm showers available after your tour is over. Abel Tasman Kayaks also has an eight guests per guide rule, which is fantastic because it keeps the groups small – making for a more personable experience. They really are proud of what they do and want to make sure everyone has the best experience possible. This is the reason they are the top-rated kayak tour in Abel Tasman National Park.
Our Epic Full-Day Remote Coast Kayaking Tour in Abel Tasman
While Abel Tasman Kayaks has plenty of tour options available, including combinations of walking, kayaking, and camping, or half-day and multi-day options. We decided to go with their Full-Day Remote Coast Kayak Tour due to our limited schedule. However, their overnight options look great.
The Remote Coast tour would be roughly eight hours, four of which would be kayaking, it also included the water taxi which gets you out closer to the marine reserve area, as well as a delicious lunch, and a guide with lots of interesting facts to share – plus, some awfully cheesy jokes, if you're lucky!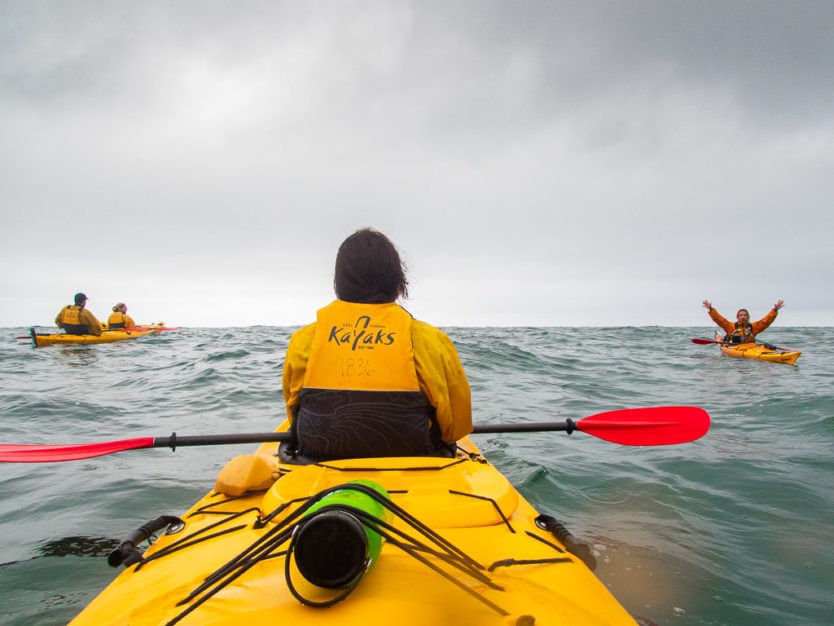 Arriving for our Kayak Tour
Upon arriving to Abel Tasman Kayaks in Marahau for our adventure, we checked in at their office and were instructed to go see Daz, our guide for the day. After just a few minutes of chatting with Daz, we knew we were going to have a good time. Not just because of his immense knowledge of the area, but for his quirky antics and jokes as well. After we were checked in and got our cameras and non-waterproof stuff in the provided drybag, we were able to buy some coffee and snacks from the on-site 'Pie Cart' shop while we waited for the rest of our group to arrive.
Tractoring to the Water
Once the other two couples in our group checked-in (an older couple from Utah and honeymooners from the UK), it was time to head out to our put-in point. To our surprise, getting there was an adventure all on its own.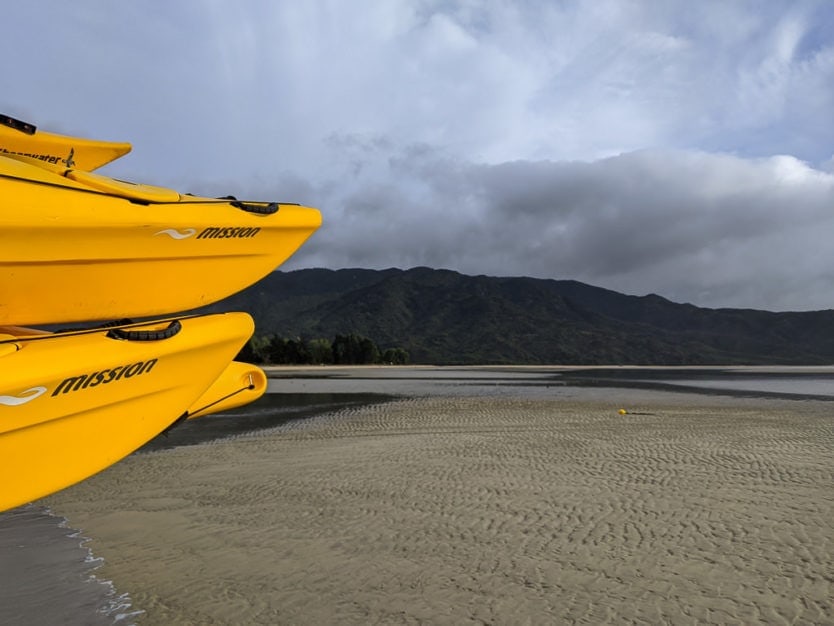 We all loaded up in the back of a boat that was being pulled by … wait for it … a tractor. Due to the drastic difference in high and low tides in this area, the team has to have a way to get to the water when it is low. Definitely not what we expected, but down the road we went. Prior to hitting the beach, we stopped so they could load up all the kayaks needed onto the back of the boat – another impressive detail of this day.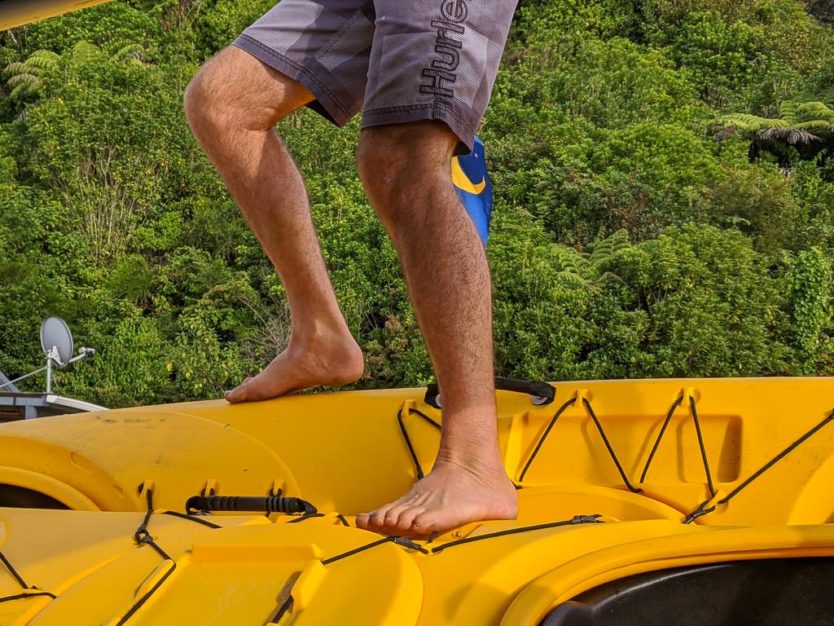 Watching them wedge and stack the kayaks onto the back of the boat with ease was almost mesmerizing – like a backward game of Jenga. Once all the kayaks were loaded, we drove onto the beach and out into the water … such a fun way to start our journey vs. just stepping in a boat that is already in the water.
Bouncy Water Taxi Ride to Awaroa Beach
After being set free from our tractor transport, our Abel Tasman Water Taxi was taking us to Awaroa Beach. Although we had nothing but sunshiney days until then, the sky hard darkened that morning and the wind picked up. The choppy water made for a bumpy – and occasionally wet – boat ride, but it's all part of the adventure!
Before getting to our destination – the last stop, we dropped off another smaller group of kayakers that were doing a half-day tour, as well as some people camping. It definitely got us dreaming of a return trip based in this gorgeous area with much more time to explore.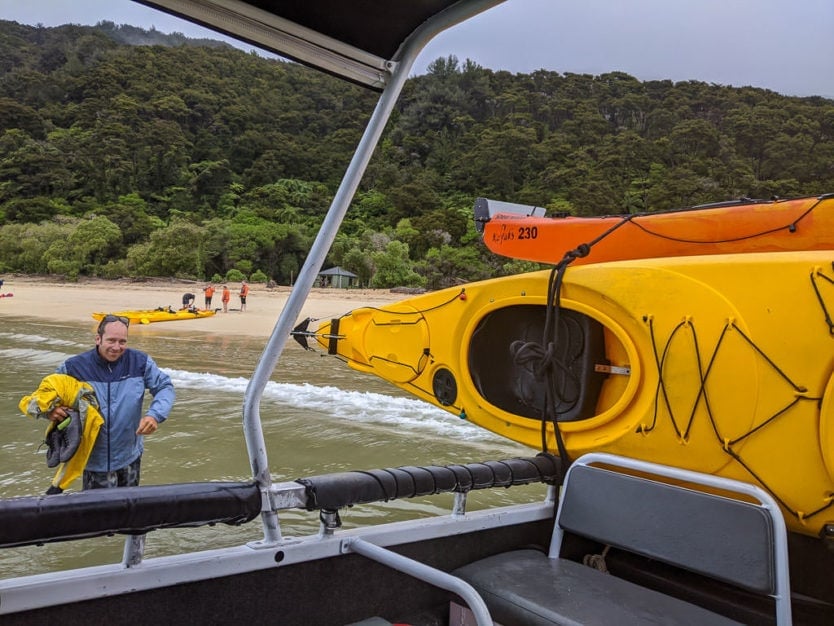 Getting Empowered to Take on the Waves
Once we arrived to Awaroa Beach, the sunless grey sky had started to leak a little on us and the sea somehow seemed extra rough. A few of the girls exchanged concerned glances, but we were all in this – rain or shine! And Daz was there to make sure we all made it back. Just no guarantee our arms would function for the days following after all that hard paddling!
As the Abel Tasman Kayak crew unloaded our gear, we were able to wander around the very secluded beach and take advantage of the surprisingly not-so-bad toilets hidden up on the hill. (They even flushed!) I'm not sure if the beach would be busier on a sunny day, but it was so blissful to have that beach all to ourselves.
Once Daz had all of our kayaks ready to go, he had us get in and adjust the foot pedals (for the person in back to control the rutter with), put the spray skirt on, and explained proper rowing techniques – as well as how to get out IF we flipped. If anyone was feeling confident, the next part knocked us down a peg or two.
It was time to learn how to get in the kayak while in the water … the angry, churning water. This balancing act was a bit trickier due to the conditions, and once we were seated, we had to get to paddling since we were headed straight into the waves. Daz showed us both options for entering the kayaks in the water, and explained that he likes for people to learn how to do it properly vs. getting in on the beach and being pulled in by the guide like children. Regardless of whether this was just a smart way of not having to pull us, we enjoyed the challenge and feel like REAL sea kayakers now!
Kayaking in Abel Tasman National Park
Finally in the water and past the breaking waves, things got a little bit easier and we all took a collective sigh of relief. But, we had an agenda to keep to, so it was time to get paddling!
Awaroa Bay
After making our way off Awaroa Beach and into the open water, our plan was to paddle from Awaroa Bay south to our pickup point of Bark Bay. This section was by far the worst of the trip, as our arms weren't used to the paddling and we were going directly into the waves and wind. If this wasn't in a group setting, Brooke would have called it before it even started. But, luckily we didn't have the option to quit because it ended up being a fantastic day we'll cherish.
Once all three groups were out in the water, we all grouped up and Daz showed us how to 'make a raft' – hold onto each other to all stay in one spot. We would use this method a few times during our four hours of kayaking. He also took this time to tell us we needed to go a bit faster if we wanted to keep to the schedule. Always appreciate a guide that can call you out when you are slacking! Thanks, Daz! If it were on us to keep the schedule, we may still be out there.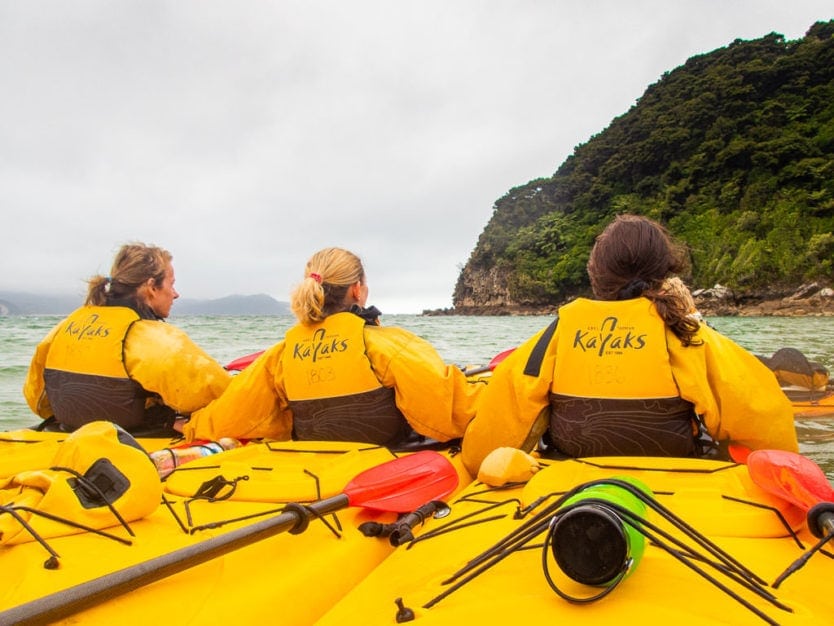 Canoe Bay
Our first major stop along our kayak route was at Canoe Bay, which is also one of the first sections of the Tonga Island Marine Reserve. It was a welcome stop as the waves and wind were a bit calmer here. This also gave us our first real look towards Abel Tasman National Park from the kayaks.
Brereton Cove
We paddled from Canoe Bay down the coast admiring the beautiful, and gloomy, scenery. As we continued down the coastline towards Brereton Cove, Daz took every opportunity he could to explain bits and pieces about local history and the wildlife in the area. Including some really genuine insights from his time on the island and how it has changed.
As we approached Brereton Cove we could see a large rock in the water. Daz let us know that this is, Cottage Loaf Rock, the largest rock in Abel Tasman National Park. The easiest rock we dodged all day!
Shag Harbour
Continuing on, we reached Shag Harbour, which was the first location we started to see the sea lions (which walk on their flippers, as opposed to seals who don't). Daz took this opportunity to tell us more about these adorable creatures and some of their habits – like hiding in the rocks at low tide.
We continued down the coastline of Abel Tasman going into more nooks and seeing more sea lions – even babies(!). They blend in so well to the rocks, so you really have to look, but they are there!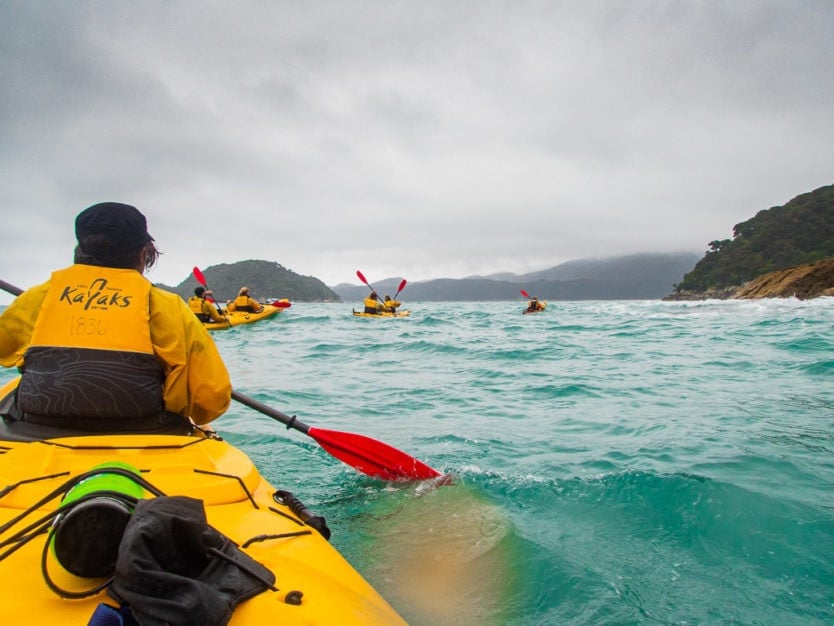 Lunch at Onetahuti Bay
As we turned the corner from Shag Harbour, we saw a large white sand beach. This was Onetahuti Beach, and the beautiful location we would take a break from all the paddling and have our lunch. This area also looked over Tonga Bay towards Tonga Island.
Before the tour, Brooke called to request a vegetarian option, but there was no need since it was all vegetarian! Great big, flavorful veggie sandwiches, fruit, too-good brownies, and even some hot coffee or tea. All in the comfort of the make-shift enclosure Daz made with a tarp, ropes, and paddles.
While our lunch settled, we had about thirty minutes to wander around and go find the waterfall and cave Daz recommended. We felt like island explorers and it was great!
I even found a strange shell that looked like a mini armadillo with a snake-skin outer border. Daz, with all his knowledge of the area, said it was a Snakeskin Chiton and told us a little bit about them. So fascinating to find new-to-us nature like that!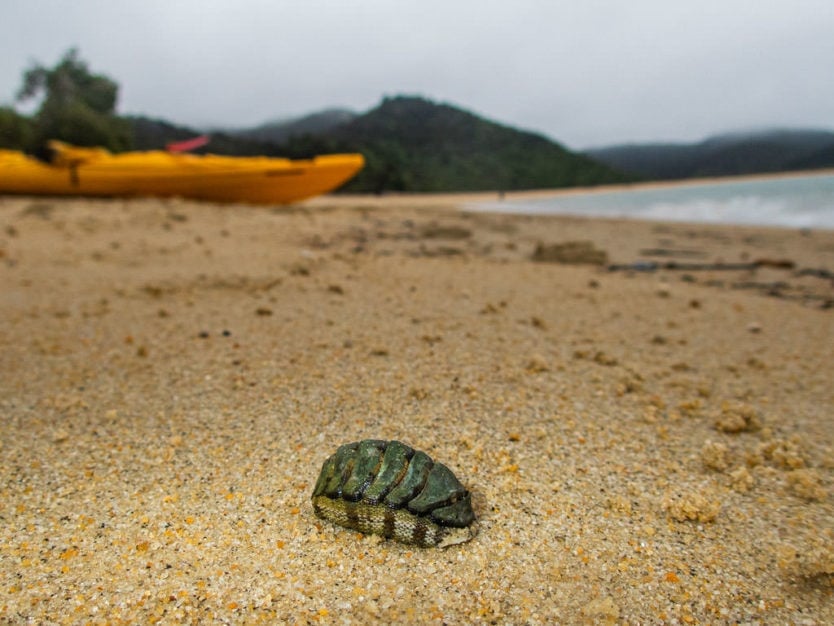 Tonga Bay, Tonga Island & Tonga Arches
Once our bodies were done resting and we were full from the amazing lunch, it was time to hop back in the kayaks and continue our tour down to Bark Bay. However, unlike the first time we got in the kayaks over at Awaroa Bay, the water was much calmer this time as the weather had let up a bit, which made it so much easier to board our kayaks.
The first stop on the next leg of our kayak tour in Abel Tasman was to Tonga Arches – one of the most scenic spots. While tide was a bit lower here than we had hoped, it was still such a beautiful area. During higher tides, you are actually able to kayak through the arch. (May be a good idea to plan your trip around the tides for optimal viewing, if possible).
Mosquito Bay
The remainder of the kayak from Tonga Bay to Mosquito Bay was very relaxing, and we had caught up on time, so there was no need to rush it. As we approached Mosquito Bay, we realized that the tide was actually too low to go a bit further back into the area, but it was still a beautiful and peaceful area to explore. Just being out on the water with such great views was truly a treat – anything else we saw was just a bonus!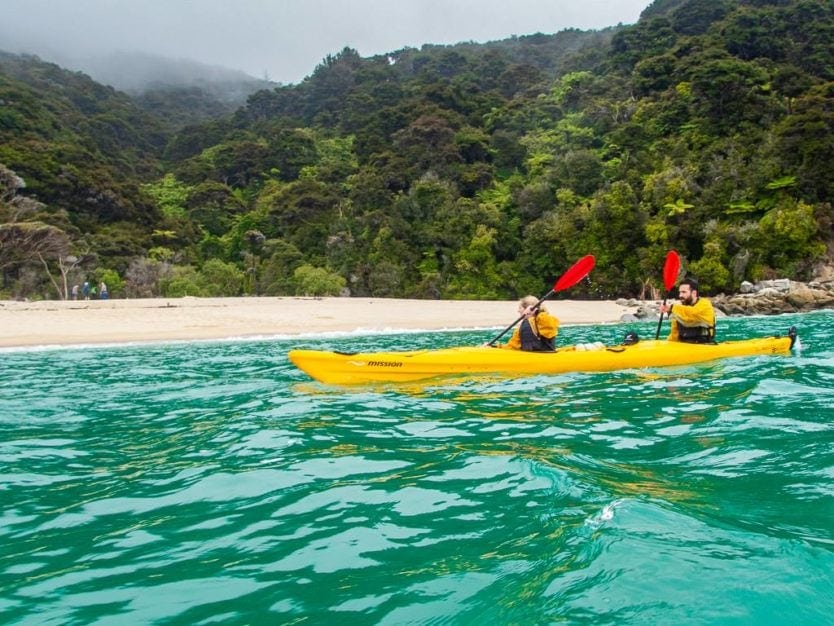 Kayak Sailing
We knew our trip was coming to an end, but a bit after Mosquito Bay, Daz had us follow him. We thought for a bit that maybe we were just going to paddle over to the north island, as we seemed to just be going straight out to sea. However, once we got a ways out, Daz told us to 'make a raft' again, and pulled out his sail … it was time for kayak sailing!
We knew this was an option – and one we really wanted to give a go. But it is very weather dependent, and it seemed like the windy weather was actually working for us for this. The plan was to kayak sail all the way back to Bark Bay. Sadly, after a few minutes of smooth(ish) sailing, the wind died down a bit and it was back to paddling. But, it was fun while it lasted and I could see it being a blast when you have a good strong wind for sure.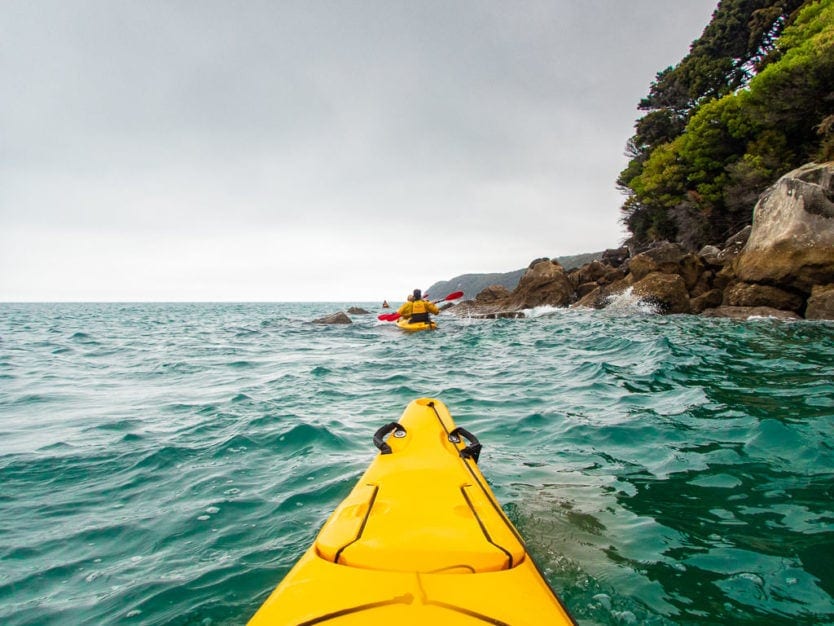 Stingray Spotting in Bark Bay
Before Bark Bay, Dax stopped and pulled a long hose out of the water which – to everyone's surprise – had freshwater flowing from it! This is an intuitive way for boaters to fill up while out for the day and uses a fresh spring.
With time to spare when reaching Bark Bay, we explored some of the shallow bays near the shoreline where we saw multiple stingrays swimming about. This was also a perfect time for Daz to tell us some more historical facts, and really great stingray jokes, while we floated around the calm waters. We even learned the Māori story of why the New Zealanders are called Kiwis! It's a fun one, but you'll have to ask Daz.
Before we knew it, it was time to paddle over to the beach to meet up with our water taxi and to say our good-byes to two of our fellow kayakers as they were camping there for the night and would get picked up in the morning.
Water Taxi Back to Marahau
The ride back was much calmer and almost nap-inducing. The perfect time to reflect on an amazing day. There was also a large group of individuals on our boat, who had done a five-night tour that involved kayaking and camping – which just seemed like a real fun family adventure and another reminder to plan a return trip asap.
After a few more stops, and grabbing a few more kayaks, we were on our way back to Marahau to be loaded back onto the tractor and towed back to the Abel Tasman Kayaks HQ.
Saying Our Good-Byes
Abel Tasman Kayaks really has a perfect setup. After an amazing time out on the water exploring the beautiful coast of Abel Tasman National Park, it was really nice to take a warm shower, and they even had towels you could use. The Pie Cart is also still open, so you are able to grab a snack or some coffee if needed. They think of everything!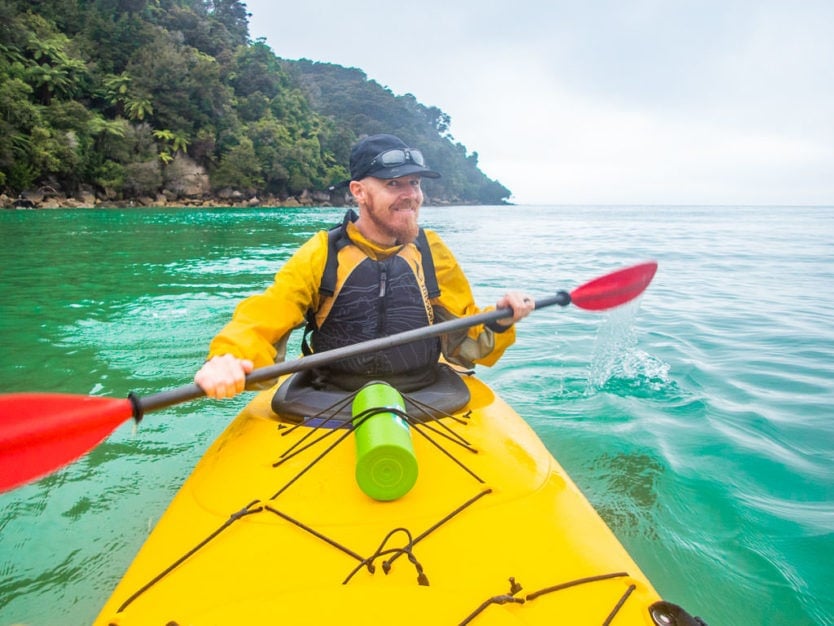 Daz was even nice enough before we left to write us a list of things we should do in the Takaka area, as that was where we were off to next. However, it would be difficult to beat such an unforgettable day exploring one of the most beautiful areas of New Zealand!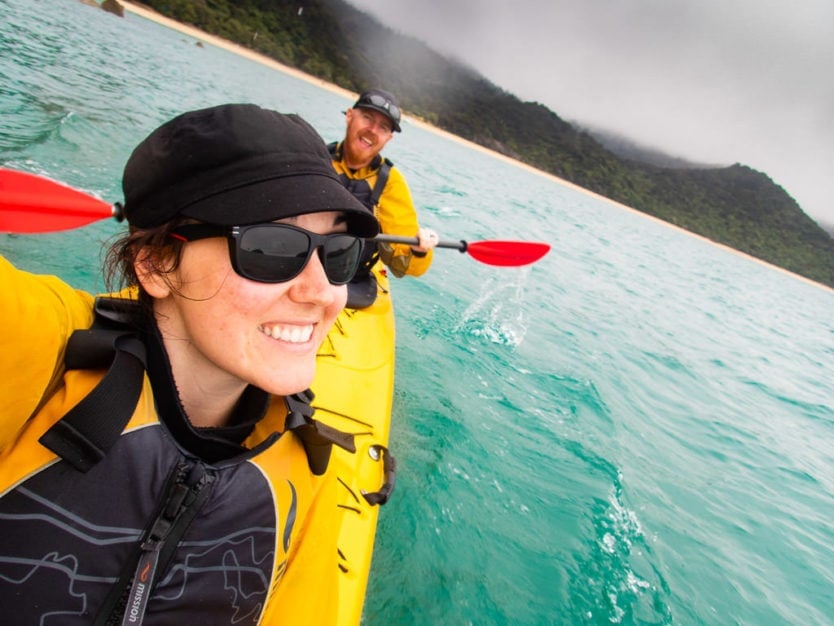 Special thanks to Abel Tasman Kayaks for hosting us on this amazing trip. As always, all opinions are our own and we pursued this collaboration out of genuine interest.