Trying to decide on a first destination in a place with hundreds of amazing options is a challenge. Luckily, we were celebrating my birthday a few days after landing in Auckland and I only wanted one thing: sunshine. GLORIOUS SUNSHINE! After six weeks of winter in Iceland, I wanted beaches to lounge on and hammocks to lay in and water to float atop – basically, various beautiful places to work on my tan. Known as the 'winterless North,' Northland New Zealand offered all this as well as great hikes, fun activities, and more. Which made it a great place for an epic New Zealand road trip!
With many people we met heading south as soon as possible, we wondered if going north was a bad idea. But, in reality, the bad idea is skipping this stunning area filled with the most amazing beaches you may ever see, dense forests with beautiful waterfalls, rich local culture and history, chill towns to forget your worries in, and long winding roads perfect for a drive. We loved our Northland road trip and highly recommend it – especially in the summer (we went in early February)! It was the perfect intro to New Zealand, a great birthday destination, and an awesome place to relax away our jet lag.
Northland New Zealand Overview
If you aren't familiar with the regions of New Zealand quite yet, the 'Northland' area is pretty much everything above Auckland in the North Island of the country. It stretches all the way to Cape Reinga – the northernmost point of New Zealand. And includes the popular Bay of Islands area, which is home to Old Russell (Okiato) – New Zealand's first capital.
Our trip was spread out over about a week, but you could easily cut out portions or make it faster. For example, we like to do at least two nights in each place to not feel rushed. But one would be fine!
Here is what our Northland road trip plan ended up looking like:
Day 1: Auckland to Ahipara for the night (8 hours driving, with stops)
Day 2: Day Trip to Cape Reinga, then back to Ahipara (5 hours driving)
Day 3: Ahipara to Paihia for overnight cruise (2 hours driving)
Day 4: End of cruise, stay in Paihia (no driving!!! Yay!)
Day 5: Paihia for the day and night, with side trip to Russell (2.5 hours driving)
Day 6: Paihia to Whangarei for the night (2.5 hours driving)
Day 7: Whangarei explorations (1.5 hours driving)
Day 8: Whangarei back toward Auckland (3 hours driving to Auckland CBD)
Also, before you even start driving, put on sunscreen! Trust us, we were both pretty burnt and had no idea it was happening until it was too late. New Zealand has no ozone layer, so the sun is strong and it is also often windy, making it easy to not feel its effects!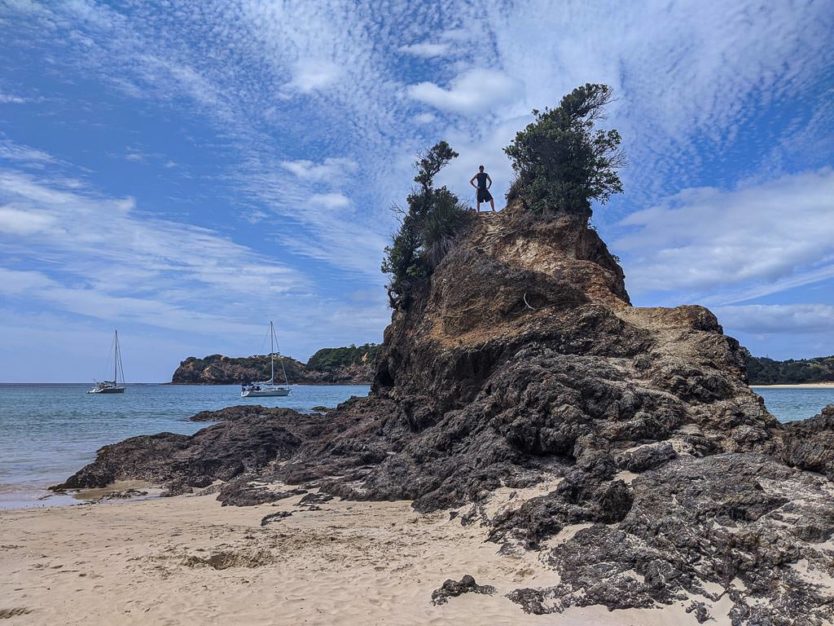 West Coast Stops
Although we knew it was more popular to stay east, we decided we wanted to do the entire Northland loop, so we headed west after leaving Auckland.
We knocked this drive out in one day because we like to be able to base out of one place for multiple nights. But, you could plan to stop near Waipoua Forest to split it up more. It is a LONG drive! From the RaD Car office near Auckland International Airport to our backpackers accommodations off 90-mile beach, it was 405 km and 8 hours. A few gravel roads and slower speeds made the Google Maps estimate a little bit off!
Truth be told, unless you enjoy farmlands as far as the eye can see or just realllly want to see the Kauri trees, you can totally just take the east coast route. It is more scenic and about 2-3 hours shorter.
But, if you just need to see for yourself, here are the places we enjoyed along the way…
Waipoua Forest
We love a good forest walk, so a trip to Waipoua Forest to see the iconic big Kauri trees was a must for us. These trees are native to New Zealand, can grow to over 50m (164 feet), and live for more than 2,000 years. However, Kauri dieback disease is a new threat to them as well as damage to their shallow root system – often from people not being careful enough around them. The Maori people use Kauri for boat building and the gum was used as a fire starter. Later, the gum was also used as a varnish.
After what seemed like all day to get there then a lot of driving on the twisty-turny forest road, I started to wonder where the hell the big trees were. Luckily, shortly after, there was a giant sign encouraging us. Phew. Must not be the only inpatient jerk out here.
However, we made a stop before the 'big tree' because that's where everyone else stopped – only to find once we got to the end of the trail, that this wasn't quite the right stop. Seeing the second biggest tree is well worth it though and makes for a lovely walk.
Te Matua Ngahere is known as the 'father of the forest' with a girth of more than 16m and height of almost 30m (98 feet), and is the second-largest living Kauri tree in New Zealand.
It is also worth noting that the sign said it would take us about 45 minutes round-trip and we did it in half. Apparently, it is common for trails to be marked for those who walk slowly and leisurely – nice, but something to get used to when planning!
While hiking, you must stay on trails because the roots of the Kauri tree are delicate and shallow. You must also clean your shoes at the convenient stations before and after entering the trail areas.
Before leaving the area, we did find the main-event tree. Tāne Mahuta ('Lord of the Forest') is 51m (167 feet) tall and only a short walk from the parking area. However, be sure to loop around to the further viewing area for better views and less crowds. For some reason, no one else thought to take those extra 15 steps! Score for us!
Arai te Uru Nature Reserve – Overlook & Beach
While the forest was nice, the surprise stand-out of this part of our Northland New Zealand road trip was the overlook at Arai te Uru Nature Reserve. It is a great stop for a picnic lunch or just to take in the views, but there are also longer trails that lead from here.
One GENIUS couple was lounging in a natural pool of sorts in one of the giant beach rocks! If we weren't already pushing it to get to our accommodations for check-in time, we'd have joined in a heartbeat.
Overnight at Endless Summer Lodge in Ahipara
Staying at Endless Summer was worth the trip alone. Honestly. What a gem! However, we've had pretty great luck with everywhere we've stayed so far in New Zealand. But, this gorgeous hostel-style home in Ahipara was extra special. The vibe is very chill, it is right across from the beach – with surfboards to rent, a full kitchen and grill to use, cozy rooms, and just the most beautiful outdoor areas.
We loved chatting with other travelers on the back porch under the grapevines or napping in the hammocks in the front yard. In the mornings and evenings, we'd wander along 90-mile beach and enjoy the views. As they will note when booking, be sure to buy groceries at the PAK'nSAVE in nearby Kaitaia since that is the closest option. We recommend doing so on your way, because you aren't going to want to leave!
For NZ$90 per night for a private room with shared bathroom, we were very happy with this place! And it also made for a great base for a day trip to Cape Reinga since that area doesn't have many accommodation options available. We stayed for two nights and wish we had planned more. There was actually a guy there that comes every summer for months because he loves it so much. We see why!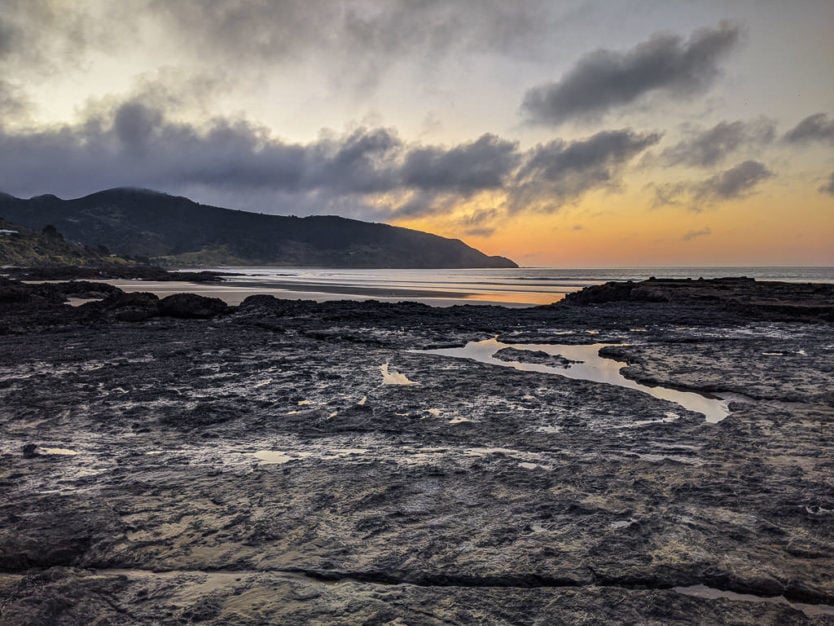 Cape Reinga – Northernmost Point!
If you Google 'things to do in the North Island of New Zealand,' every list will include Cape Reinga. What they often won't share is that this area isn't just a quick stop to snap a photo of the lighthouse at the northernmost point, maybe ride down a sand dune, then drive all the way back. It is definitely worth a day or more of your time and even has some camping options, if you want to stay overnight!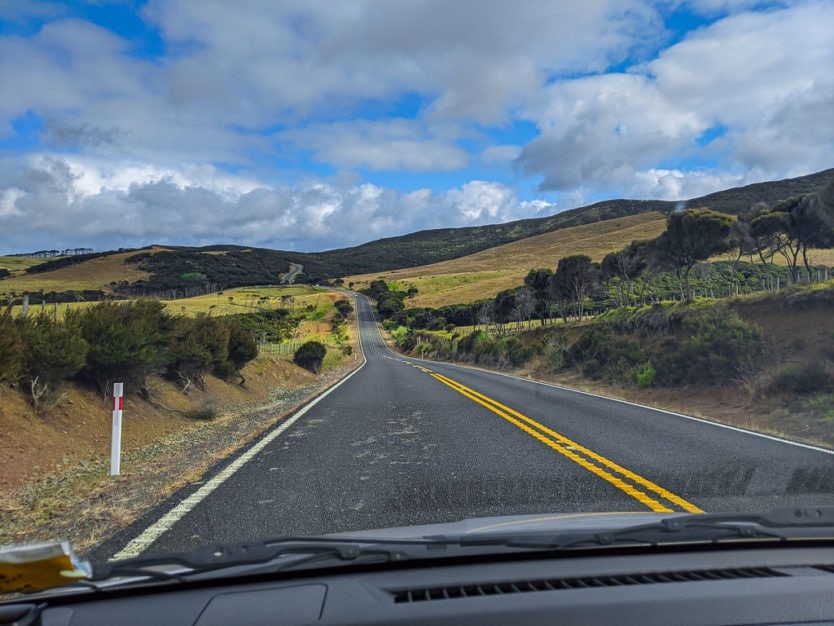 Cape Reinga Lighthouse
This place was absolutely stunning. We had no idea from the rolling farm landscape we drove up the peninsula through that we were in store for such mesmerizing, sweeping views. Turning that first corner on the short trail to Cape Reinga Lighthouse about takes your breath away.
For an even better experience, go early to avoid the crowds and heat of the day. It was perfect around 9:30 a.m. when we visited in early February.
Just remember, you will need to do about 20 minutes of walking to and from the lighthouse on a concrete trail with a decent incline on the way back. But, if up for more of a challenge, there are about half a dozen other trails in this area that range in length and difficulty and often lead to a secluded beach!
If time allows, it would make for a lovely day of walking. Some top ones are Sandy Bay, Te Werahi Beach, and the 38km one-way, two-day, Cape Reinga Coastal Walk.
Tapotupotu Beach, Trails & Campground
We absolutely loved this area and wished we had a campervan at the time to just hang out for days, soaking up all the beauty and solitude.
After walking down to the beach onTapotupotu Bay, we followed the water's edge down to a stream. Then we followed that into a nature area with lots of birds, a boardwalk, and marsh area. This is how we got sunburned though … so much for a quick stroll!
Giant Te Paki Sand Dunes
The Te Paki Sand Dunes were super impressive and worth even a short stop and stroll along the base of them. However, you can slide down using your own board or renting one from the pop-up shop there, or a few cheaper options on the drive there from the main road.
A friend of mine always says, 'Do the thing in the place!' Okay, I get it … and usually agree. Unless it is too expensive or just looks miserable. Sliding down scolding hot sand on a NZ$15 piece of plastic kind of hit both for me. Apparently, everyone who does it raves about it and the little river was nice to rinse your hot feet in.
But I was tired, sunburned, and realllly couldn't get past the idea of sand going in my mouth and up my shorts – and God knows where else – for the sake of being a good tourist. Maybe next time….
90-Mile Beach
Another popular stop in the Cape Reinga area is 90-mile beach (but, they rounded up from 88. Shhh!). Apparently, it is known for its left-hand surf breaks and sunsets, as well as being allowed to drive on it. Although, four-wheel drive is highly recommended as people often get stuck.
While likely worth an entire extra day to explore, we were fortunate to be staying on the far end of it, so skipped the more touristy spots in exchange for our more relaxed area. But, there is a more popular entry area up near Cape Reinga as well.
East Coast Stops from Kaitaia to Paihia
After another relaxing night at Endless Summer Lodge, we excitedly headed out for Paihia for our much-anticipated overnight cruise through the Bay of Islands. On the way, we stopped at a few places, as well as just took in the awesome beach views along Route 10. The east coast side of the Northland is so much more scenic!
The Stone Store in Kerikeri
The Stone Store is of historical significance because it is New Zealand's oldest store dating back to 1832, which has now been converted to a gift shop.
While a bit too hot to walk around as much as we had planned, the covered pavilion near the parking area made for a great picnic spot.
Rainbow Falls
Thankfully, the Rainbow Falls area was a bit more shaded, so we could take our time enjoying the views. The falls are a short and easy 400m walk from the parking lot. The trail to the falls is stroller and wheelchair accessible and includes three viewing platforms. There is also a very popular swimming hole at the base of the falls, making it a great place to hang out during a warm day.
Bay of Islands Near Paihia
By the time we got to Paihia, we still had a few hours before we were due to meet our cruise crew at the harbor. So, we did a little exploring, then dropped our bags and car off at the hostel we'd be staying at the next night and took the short walk over. (VERY thankful they let us do this!)
Haruru Falls
This is a nice waterfall with easy access from a parking area nearby. You are able to access the top of the falls from the parking area, or kayak up to the base of the falls through many tour operators. While we enjoyed the waterfall, it didn't look like it would be worth it to kayak to – although you do supposedly go through a mangrove area. There is also a longer 8.5km (5.3-mile) hike to the falls from nearby Waitangi.
There is also the Waitangi Treaty Grounds nearby that everyone says is a must, but at NZ$50 each, and after blowing our budget a bit on the overnight cruise, we had to skip it. They offer guided tours of the Waitangi Treaty Grounds, Maori Cultural Performances, a carving studio, museum, and the treaty house. They also offer a Hangi & Concert Evening (NZ$120) that allows you to experience authentic Māori culture with live performances and a traditional hāngi dinner cooked in an earth oven.
The Rock Overnight Cruise
If you've been following along, you've already read my rave reviews of The Rock Overnight Cruise out of Paihia.
In case you haven't read all about it yet – this almost 24-hour cruise includes meals, fishing, a fun version of target practice, swimming in the bay, night kayaking with chance to see phosphorescent water, stargazing, fun social time with other travelers, snorkeling, and paddling to an island for amazing you-can-only-get-there-by-boat views!
They have really perfected the ability to give you a taste of everything that makes the Bay of Islands and boat life wonderful – it was the perfect choice to celebrate my 30th birthday. Waking up on the water to watch the sunrise before an epic day of adventures in NEW ZEALAND(!!!) was out of 20-something me's dreams!
If you are short on time when visiting the Northland, this is a great option to feel like you got a taste of this very beachy area of New Zealand. However, I'd highly recommend adding it on to any trip! I'm sure it will be a standout highlight even once our three months in this gorgeous country are finished.
Overnight at Base Backpackers Paihia
Since we would be staying in Paihia on my birthday night, we wanted to pick something with a fun vibe. Being a Monday, our options were limited, but Base has something going on EVERY NIGHT of the week, so it got our vote. Little did we know, this is the top choice for many of the youth-focused tour groups – which meant 90% of the people there were about 18.
But, it really didn't get very crazy, the rooms and shared spaces were clean, and it was a blast to get to dance like I was a decade younger on my birthday night to old-school jams the DJ played just for me (just kidding, everyone loves 2000s hip hop). However, having a private room (NZ$94) really helped keep us sane and is highly recommended if you won't be up late partying.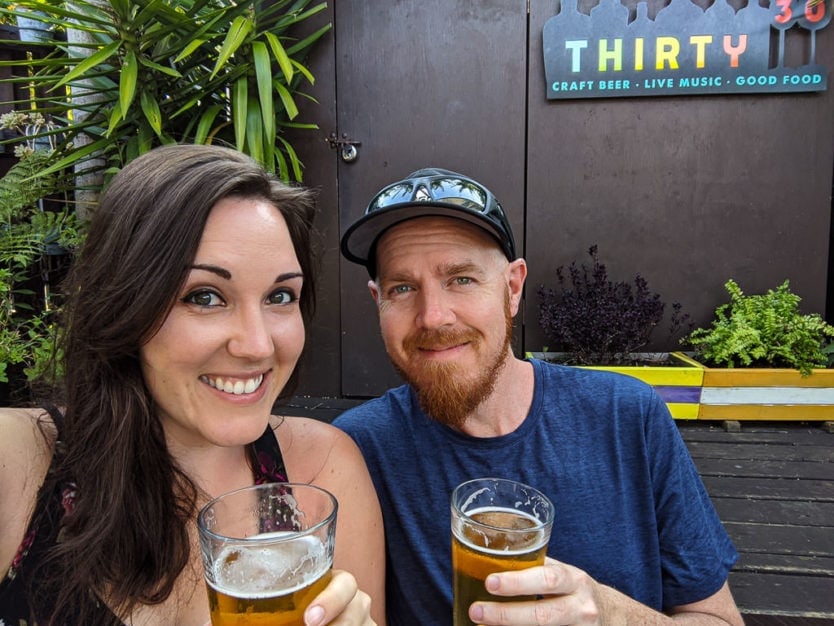 Nearby is a great long beach to lounge on and a brewery we liked. Thirty30 Brewery had a much more mixed crowd and a great happy hour offering, so we spent a lot of our time there. And we basically had to check it out since it was my 30th!
Day Trip to Russell
Always wanting to do things differently than everyone else, we opted to drive to Russell. The car ferry only seemed to cut off about 15 minutes and we were in no rush. So, off we went to find the longest, windiest gravel road ever! The speed is marked as 100, but 60 was about as high as we did comfortably. So, it took wayyy longer and didn't provide any additional views worth noting. Just take the ferry – it is so much easier! There is a passenger-only option as well leaving directly from Paihia.
Downtown Russell
Down by the port, where the passenger ferry and other boats dock, there is a great walking area. Plus, lots of restaurants and shops. While a popular place and some hipster-esque options, you can still find some budget food if you try!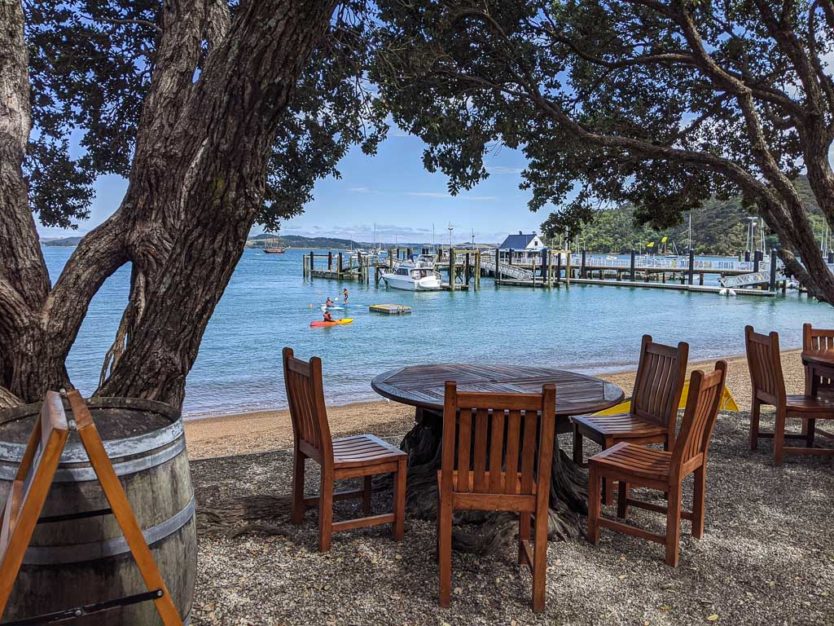 Flagstaff Hill Historic Reserve Overlook
Of course, if there is a scenic overlook nearby, we won't miss it! We drove over to Flagstaff Hill after lunch and enjoyed taking in the views. However, the turn onto the one-way road up to the overlook was a bit precarious – definitely not good for campervans or big vehicles. Plus, you kind of just have to hope no one is coming out when you turn in. There is a walking track nearby, so if time allows, we'd recommend taking the short walk from town – about 20 minutes one way.
Tapeka Point Beach
If you have a car, it is worth going to Tapeka Point Beach. This is one of our favorite beaches that we went to in the Northland area. It barely had anyone there when we visited and is a gorgeous area.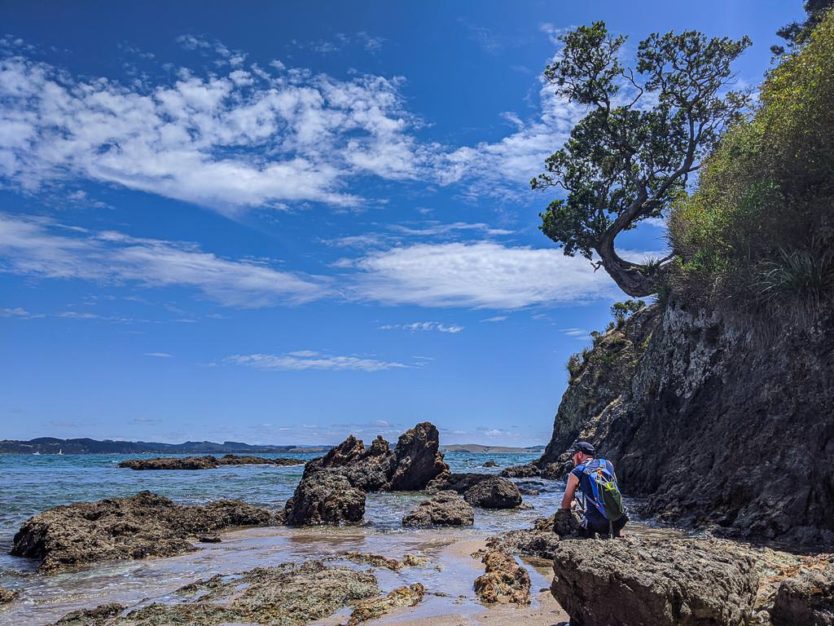 Ferry from Okiato to Opua
At only NZ$13.50 for a car and NZ$1 per foot passenger, the ferry really is a much better option than the long, bumpy drive. Plus, you get a few minutes of nice water views! No car? The passenger ferry directly to Russell from Paihia is only NZ$13 for a return ticket!
Whangarei
For a bigger town, Whangarei has a very sleepy vibe – even on Friday night, no one seemed to be out. Which is kind of refreshing in a surprising kind of way.
Otuihau Whangarei Falls
At over 26m over basalt cliffs, Otuihau Whangarei Falls is very picturesque. There are three separate viewing platforms around the falls that you can access from the circular walk, which also takes you to the base of the falls.
The mostly shaded Otuihau Whangarei Falls Loop is only 1km long and will take about 30 minutes – and is worth it. The carpark for the falls is pretty small and can fill up quickly, so be sure to get there early, or just park along the road.
Whangarei Heads & Ocean Beach
On one of our exploration days in Whangarei, we drove over to the iconic Whangarei Heads. The area is really beautiful and it is a fun, windy drive.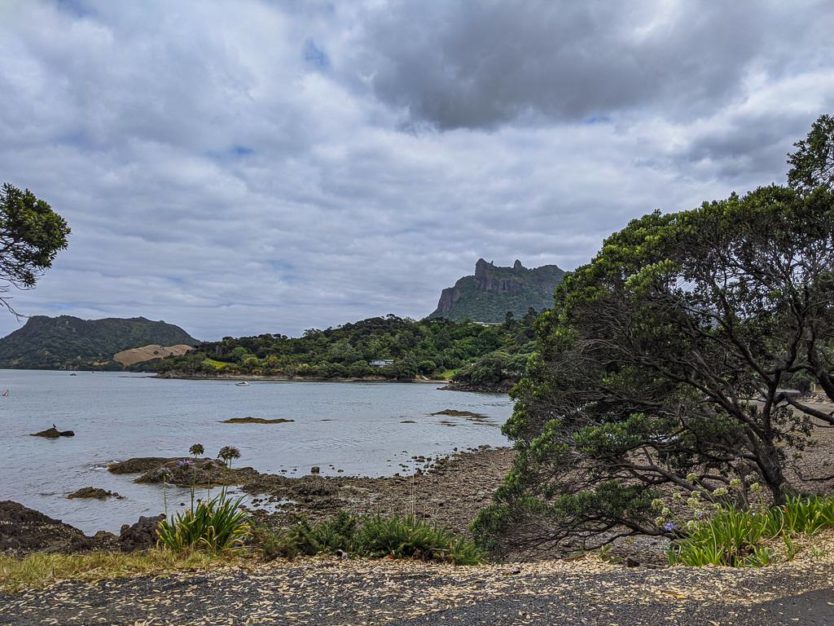 But, it is definitely worth going even further over to Ocean Beach for a relaxing walk along the water at the best beach in Whangarei.
Overnight at Cell Block Backpackers
This place! Usually, themed accommodations are a let down and the owners often lean too heavily on the catchy décor and don't provide a good experience otherwise. But that is so not true at Cell Block Backpackers! This place was so unique and strangely comfortable (for literally staying in a jail cell). However, the little touches that really brought the theme to life were very appreciated. They left the buzz buttons to open doors, like in a real prison. The heavy metal doors were the same, bars were on windows, and they even had a camera setup in the hallway showing some different rooms – like you see in the prison movies (also, probably real jail…)
But, the best part of it all was that it never felt like a harsh, cold prison. There were bright colors on the walls and the textiles used were fun. Plants were everywhere – with a full garden on the roof. It is just a really special and unique place. We absolutely loved it (especially for NZ$70 per night for a private room with toilet) and could have easily just kept extending our stay had we not felt the itch to explore more.
We also liked that there was a great mix of different travelers and we had plenty of places to hang out and chat with each other – even an awesome roof-top deck that was also a great spot to get some sun (I WILL get a tan!) The owner is wonderful and really takes pride in Cell Block.
Beaches North of Auckland
We really wish we had spent more time exploring the beautiful beaches north of Auckland, but when it was time for us to make our way south it was a Saturday over a holiday weekend and traffic was crazy in the beachy towns. However, we'll be back up near Auckland in a few months and hope to scope these areas out further – even if the weather probably won't be ideal for a beach day.
Northland Road Trip Logistics & Money-Saving Tips
Conversion Rates: Right now, the U.S. Dollar is worth 1.55 New Zealand dollars. YESSSS!!! Be sure to take this into account when planning, if on a tight budget. We also recently started using an app called, AndroMoney that helps us track purchases in multiple currencies.
Transportation: We went with RaD Cars because they were basic and cheap – about NZ$180 for one week! Easy enough. They even let us call and extend our rental with no hassle. So, now we love them. However, you could get to most of these places by bus as well, it would just take a little more planning. Of course, campervans and motorhomes are another popular option, but often much more expensive than a rental car, so the accommodation discount has to really be worth it!
Discounts: If you do the Rock Overnight Cruise, you can save 10% with a YHA membership!
Cheap Food: You may be surprised that McDonald's (Maccas, as the Kiwis call it) is prevalent here in New Zealand and it also really isn't that cheap. We were in a bind near the airport and got it. While notably fresher and less greasy, it was also about double what we'd pay normally – even after conversion. However, Dominos is fresher and still cheap in a bind – maybe even more so! But, especially if staying at accommodations with kitchens (the case with most backpackers places), just go to a grocery store for healthy, cheap options you can feel like an adult eating.
Accommodations: Staying in a hotel in New Zealand is just silly and usually much more costly. If you want privacy, you can get a private room in a hostel for not much more than you'd pay for two beds. Sharing a bathroom with strangers really isn't all that bad and the added perks make it extra worth it – like a real kitchen, games, great common areas, and plenty of opportunities to socialize with interesting people. Renting a van to live in is also a great option, especially with some beautiful beach spots to camp at in the Northland!
Have you done a Northland New Zealand Road Trip and have recommendations to add? Let us know in the comments!