Some of our favorite hiking memories were poorly planned, last-minute adventures that went nothing as we expected. And the Wilkies Pools Hike in the Mount Taranaki (aka Egmont National Park) area was a prime example of the magic of spontaneity. When we looked up and finally saw a clear view of the iconic Mount Taranaki, we had given up on ever getting to explore this area while in New Plymouth – the weather just didn't seem to want to cooperate and the thick gloom lingered each day we were there.
So, it didn't matter that the clear skies came after 5 p.m., we still had a few hours before it would be completely dark, so we headed out for the hike I had been drooling over on all the tourism sites – through the 'Goblin Forest' to the beautiful Wilkies Pools.
Goblin Forest in Mount Taranaki
Oh my! I had ideas of how beautiful the Goblin Forest would be, but it really surpassed our expectations. Magical, to say the least. The varying plant life and overall lushness of it all was amazing.
Wilkies Pools Hike
After winding through the lush Goblin Forest and admiring all the greenery, we crossed a bridge to enjoy the Wilkies Pools waterfall and catch an up-close peek at the snow-covered mountain in the distance.
A Wet Return
As we made our way back down to the parking area on this 1.5-hour hike, we quickly realized that all the rain that was preventing us from visiting before had affected the trail as well. The trail was very wet. With some areas completely gone to small waterfalls we had to forge to continue.
And when we thought we had gotten through the worst of it, we heard the river and knew our biggest challenge was ahead. It was too late to go back without having to return in the dark, so we channeled our best inner eco-adventurers and scoped out a route across where the river wasn't very deep.
With wet feet and feeling like true explorers, we laughed our way down to Dawson Falls for another quick much-quicker trail.
Dawson Falls
Since it was only listed as a 10-minute hike and we still had a little bit of daylight, we decided to use our time to check out Dawson Falls before leaving. While beautiful, it was definitely not an easy hike since the trail went straight down and back up wet steps. Probably closer to 20 minutes for those with similar fitness levels to ours. But, well worth the effort!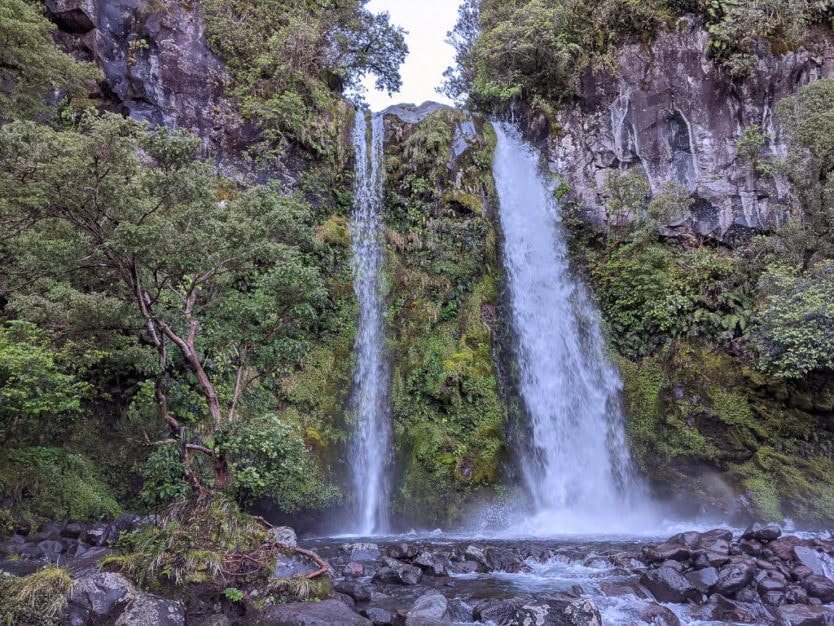 We are so happy we had the chance to explore this stunning area of New Zealand. It was unlike any other place we explored in the country and the Wilkies Pools Hike is one of our absolute favorites from our entire (almost) year in the country!