One of the most interesting areas in all of New Zealand is Oamaru. We had driven right by on our initial trip to the South Island, but upon our return, we heard about the Victorian architecture and overall Steampunk theme there and we knew we had to check it out. Plus, we had nearby Waimate on our must-stop list after finding out we could feed rescued wallabies there!
Meeting Wallabies in Waimate
On our way down to Oamaru, we made it a point to stop at the locally famous wallaby park. We knew we would love our time with the wallabies of Waimate, but had no idea just how special it would be due to their sweet caretaker Gwen – who has been rescuing them since the 70s. She also introduced us to her cheeky bird who she affectionately tells "I love you, rat bag." And the bird replies the same (to our endless enjoyment).
She shared so much about the nature of the wallabies and how to best interact with them. And she even let us hold a baby!
Getting to walk around the wallaby park and meet the dozens of residents was an absolute joy! Some are more timid than others, but most come right up for their snack. Since they have always lived in this sanctuary space (wallabies are seen as pests in NZ and usually hunted), they are used to being fed by humans and are mostly tame. (Note: She will have shoes for you to change into before going inside the area – hence my pink crocs in these pics. haha).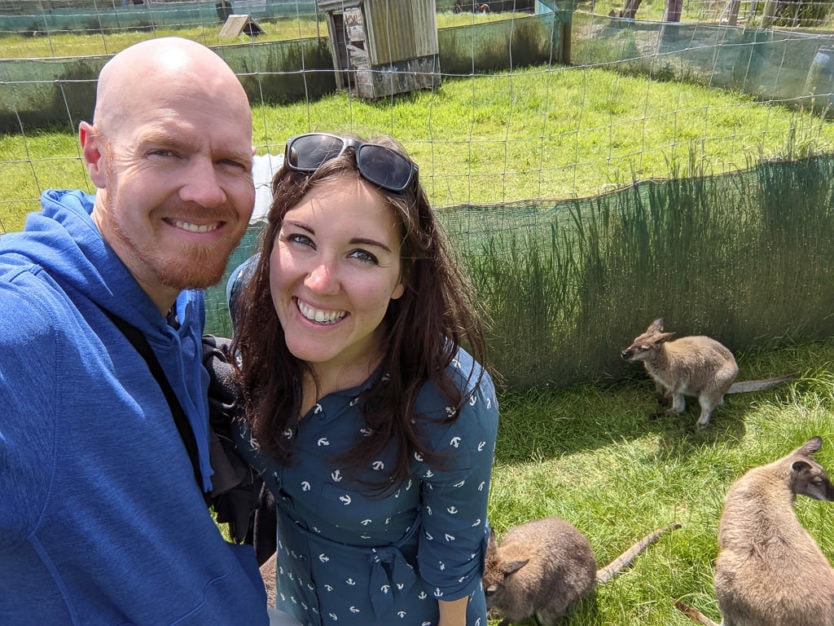 Some even hold onto your hand as you feed them, which is the cutest dang thing in the world. Buddy and I were both absolutely smitten with these little kangaroo-like creatures. Definitely worth the stop and small admission fee.
Victorian Architecture & Steampunk in Oamaru
Nearby Oamaru is known as the Steampunk capital of New Zealand. The local park is Steampunk-themed, as well as multiple shops, and there is even an extremely unique Steampunk Museum and an annual festival where everyone dresses up! The Victorian architecture in this wonderful little town makes it the perfect pick for this designation.
Plus, its coastal location makes it a gorgeous place for a stroll. It's very walkable and we usually left our car at the local YHA we were staying at and just wandered around.
We highly recommend a stop in the Belgian-style beer hall as well. So many yummy options and delightful owners! We spent an entire afternoon there, reminiscing on the yummy beer memories we made in Bruges and tasting their great options.
Steampunk HQ Museum Experience
We aren't the type to visit museums unless they offer something unique or a specific exhibit we are especially interested in, the Steampunk HQ Museum offered both! It houses art made from repurposed metal items and other trippy exhibits, like the mirrored galaxy room. The Steampunk train out back was especially cool.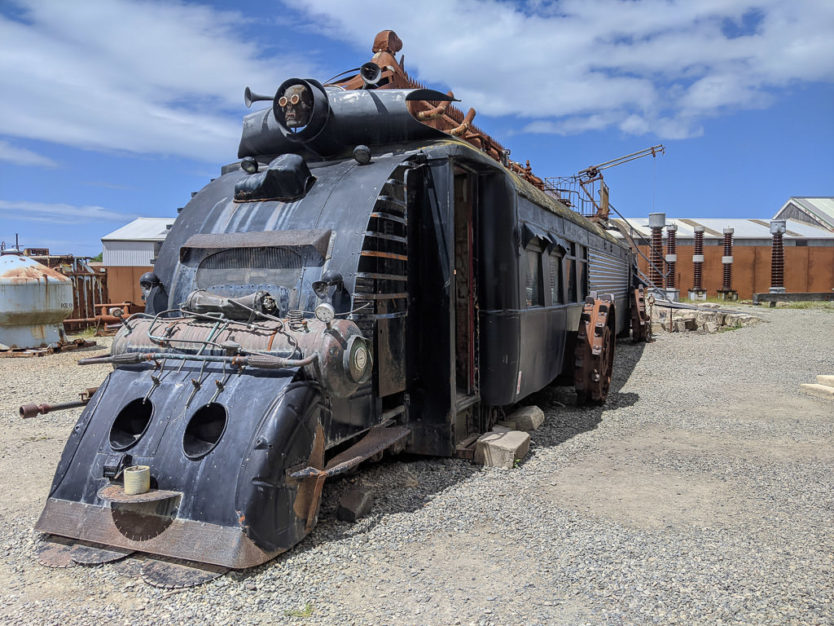 This was definitely one of the most memorable, fun museums we've ever been to. It kind of reminded us of a smaller scale Meow Wolf with a Steampunk theme. So rad!
Bonus: Yellow-Eyed Penguin Spotting
While in the area, definitely don't miss the chance to see the rare yellow-eyed penguins at Bushy Beach. There is a viewing area where you can hang out around sunset to spot these majestic creatures. There are paid viewing options in town also, but we loved this for a free option! But, be quiet. Even up above, you can scare them off. (For closer penguin encounters, don't miss this tour!)
Check out our other New Zealand stories and tips!