Sometimes you have to go back to the beginning to see how far you've been. For us, Triple Falls in North Carolina was that place. It was where our journey started, or at least where it got the most exciting. And it served as a time capsule of sorts – taking a snapshot of who we were almost a decade ago and saving it, so we could appreciate the changes years later. Although we don't look like we've changed much on the outside (especially style-wise), our life couldn't be more different!
When we ended up near Triple Falls on our long journey north to Canada, we knew we had to stop. And it wasn't long before the memories started flooding in like it was yesterday as we drove along the Blue Ridge Parkway.
A Look Back in Time
Almost eight years ago, Buddy and I embarked on our first real vacation. We took five days off work and drove eight hours to North Carolina from our home in Florida. Our plan was to go hunting for waterfalls – another first for us flat-landers.
I can remember exactly how it felt to ride in Buddy's little sports car. We held hands next to the shifter, in between changing gears, as we weaved through traffic on our way up 95. We sang along to Linkin Park and talked about our dreams while we eagerly waited for Blue Ridge Mountain views. I knew that was all I'd ever need. Even though I was barely an adult, I knew. Love, adventure and an open road – that's what my heart desired most.
Dreams Come True
This time around, our ride is much bigger and so are our dreams. Those two road-trip loving kids never would have guessed they would be on the road full-time. We knew we wanted a life filled with adventure, but no one would have thought we would take it this far.
More than eight years later, we were back, exploring the parkway in our home. Although, not quite as fast as Buddy's old Tiburon, it is just as sexy – if not more so.
Our 26-foot rig rarely goes faster than 70 mph and definitely is not the type of vehicle you could weave in and out of traffic in, but we love it. Although, as we barely squeezed into the last parking spot at the Dupont State Forest visitor center, I had to laugh at the contrast. The man I had lovingly called "Speed Racer" for how he drove when we were dating, now drives like a grandpa – and he oddly enjoys the slow pace.
Visiting an Old Friend at Dupont State Forest for North Carolina Waterfall Hikes
When we first visited years ago, we basically sprinted to the falls after parking. But this time, we walked leisurely – just as excited about the fresh air as the magnificent views. We've seen hundreds of waterfalls now; a few favorites include Gulfoss in Iceland, Multnomah Falls in Oregon, and Yosemite Falls in California. So, they've lost their novelty to us a bit since that first sighting.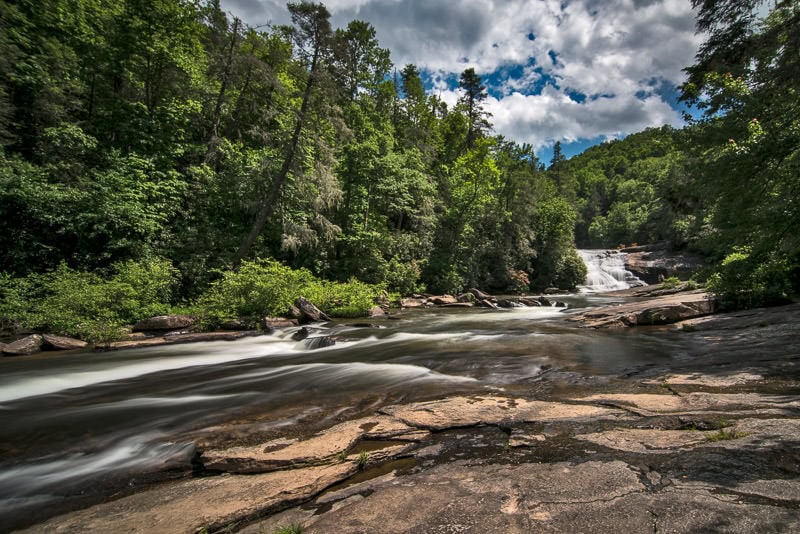 But, when we came around the corner to the base of Triple Falls, it took our breath away all over again. We always wondered if it was the memories or the beauty that kept it high on our favorites list all these years. This second visit confirmed it was both.
Standing below the triumphant falls, we felt that same magic, power, and inspiration. But this time, we had brand new eyes. This wasn't a vacation, it was home to us now. We belonged in natural, beautiful places like this. It wasn't a taste of some life we dreamt of, it was our life.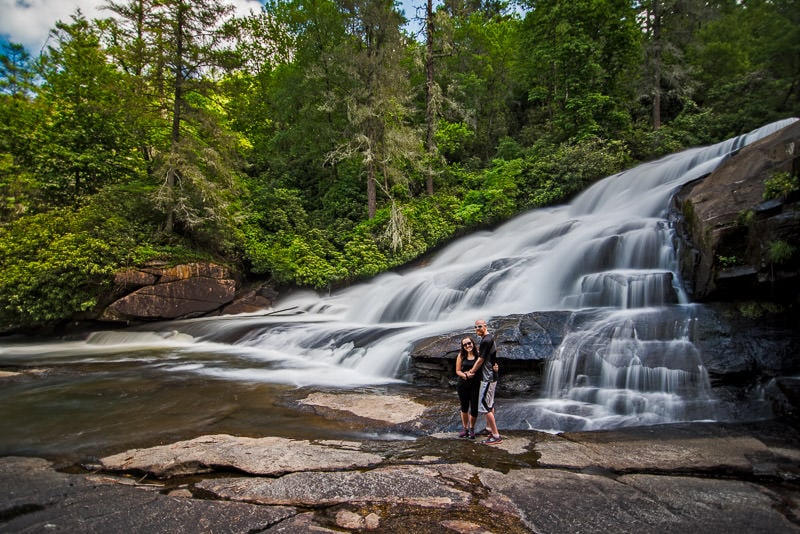 Making Comparisons of Our 2nd Trip to Triple Falls
Of course, with all the nostalgia being stirred up, we had to recreate the photos we took last time. We tried not to laugh as we kissed for 10 seconds for the photo. And then Buddy climbed and crawled around to get some more gorgeous shots.
He had just gotten his first Nikon before our first trip to North Carolina. And now his skills as a photographer have improved ten-fold, and most importantly, so has his confidence. I never would have been able to talk him into being a full-time photographer back then. But now he is ecstatic to pursue his passion.
After Triple Falls, we finished the loop to Hooker Falls and back by High Falls. And when we got back to the RV, I realized it was much easier than I remembered. I was almost in tears as we climbed the steep hills last time because my Florida-girl legs were weak and I was really out of shape.
But this time was much different. My lungs didn't burn and my legs didn't shake. I had hiked mountains since I'd been there last. My muscles had been used and abused living in Colorado and I was stronger for it.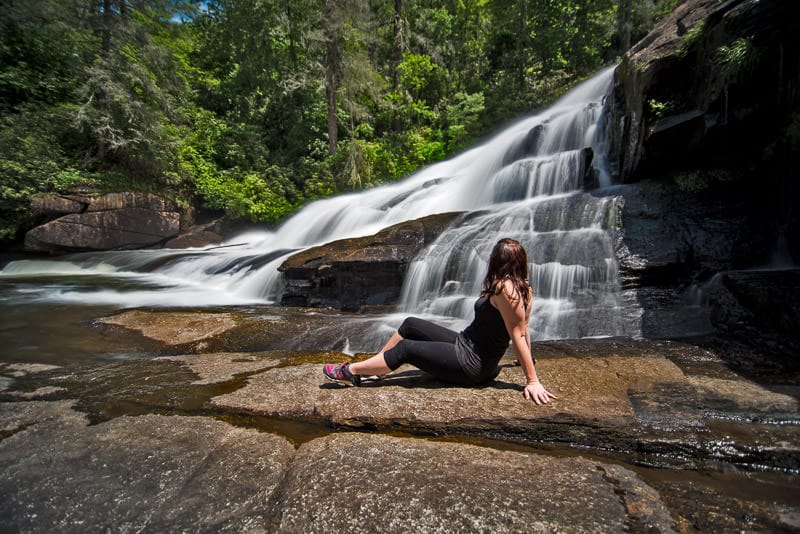 It's strange to compare ourselves to those people we were back then. So much of us has remained the same, yet everything seems to have changed. But, it feels right to have gone back now – at the beginning of this new journey.
A few days after completing this hike in 2009, Buddy proposed and we were jettisoned off on a new path of marriage and starting a life together in Colorado. Now, we have taken a drastic turn and are headed on a new, unknown route. Yet, the excitement feels the same.
Those younger versions of us would be so proud to see us now. And, although our dreams never quite looked like our current reality, I can't help but think we wouldn't have been too surprised to know we ended up here. After all, we've always loved a good road trip!
---
Know Before You Go: Dupont State Forest Waterfall Hike Loop
Triple Falls is part of a three-waterfall loop, with options for seeing even more of this area. It is about three miles long and also goes to High Falls and Hooker Falls. There are steep hills and it is a moderate workout. You can also go to each individual parking area to see the three falls. But some hiking will still be involved.
Location: Dupont State Forest, North Carolina
Things to do: Swim, picnic, take lots of photos. This is the perfect place go on a date, take a family walk or get some exercise.
What's Nearby?: Blue Ridge Parkway, North Carolina Arboretum, Biltmore Estates, and countless other beautiful places – this is the "Land of Waterfalls"!