We are roamers, travelers, nomads. Our defining characteristic is our desire to wander. We feel a strong pull to explore new places. And it usually doesn't take long for us to feel the itch to keep moving. So, when we find a place we would be willing to stay forever – a place that brings us so much peace and happiness that it feels like it could be home – that stands out to us. Chattooga Belle Farm in South Carolina is one of those places.
Getting to Chattooga Belle Farm
The views were first to pull us in. When we made our way through the winding South Carolina roads and to the top of the hill the farm sits on, we were met with amazing mountain and vineyard scenery. Straight out of a postcard – the one you never actually send, because it is too pretty to give away.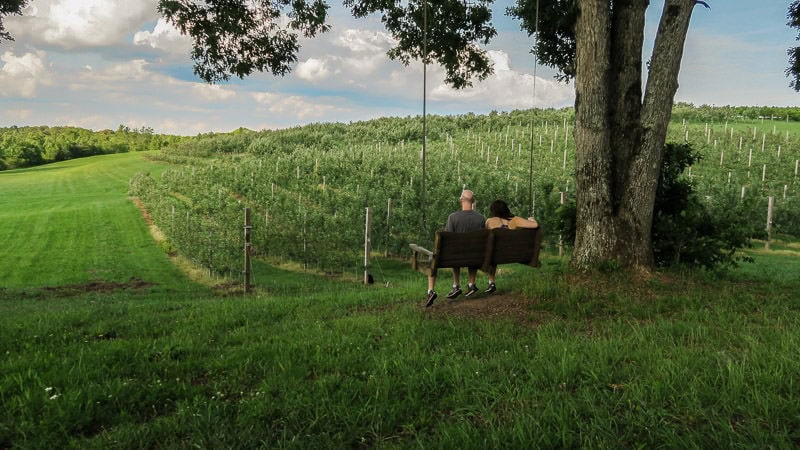 This was exactly what we were craving after being in the heat of the south for far too long. We had driven many hours and miles in less than a week's time to be right here – with Blue Ridge Mountain views and cool air. Even so, we had no idea it would be this heavenly.
Overflowing with Southern Hospitality
Chattooga Belle Farm South Carolina Distillery
Then we went down to this South Carolina distillery and met Ed – Chattooga Belle Farm's proud and gracious owner who welcomed us like we were special guests. He smiled at us from behind the bar, excited to have us try the delicious farm-made liquor. Everything is grown, fermented and bottled right on site – extremely impressive!
After explaining the difference between how brandy, whiskey and vodka are made, he grabbed an apple out of a basket for each of us and told us to take a bite between tasters. Neither of us are big drinkers, so we braced ourselves before taking our first mini-shot.
We didn't want to make those sour, "I hate how this feels in my mouth" faces when we tasted what Ed had created with so much love and intention. But, to our surprise, it went down smooth. And when we bit into the apple afterwards, the flavor exploded.
"I'll never drink whiskey without an apple again," I exclaimed as I tried not to act too excited about this magic drinking trick he just revealed to us. "Just make sure it is one grown here," he cleverly responded.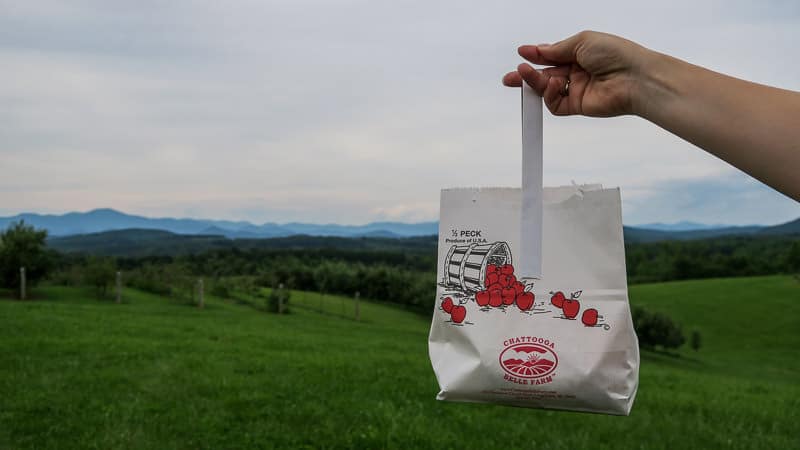 There is something about people with passion that can make you excited about anything. We never would have imagined we would have so much fun at a distillery. But we appreciated what he was making and the love he put into it.
Everything was grown right there on the farm. It wasn't the result of some assembly line. It was created by the hard work of a group of talented, passionate people.
A Very Special Happy Hour
A few equally smooth tasters later, the alcohol was making us quite chatty. Luckily, Ed seemed to enjoy our company and invited us to join him on the porch for some special after-hours, not-available-for-purchase wine.
Sit in the cool mountain air in rocking chairs and sip wine with one of the nicest people we've met, while enjoying gorgeous views? It wasn't even possible to say no.
As the resident hens clucked and rustled nearby, he told us about the rooster looking over them – Elvis. This confident and handsome guy came to the farm quite by surprise from an unknown address in Nashville (hence the name). One day Ed got a call from the post office that there was a stinky, loud box there for him. And that's how Elvis got added to the family!
We shared more funny stories and talked about hard work, life and dreams. Ed shared how him and his wife (who has another full-time job, in addition to helping with the farm) have grown this passion project to the amazing place it is today.
They produce fruits, vegetables, eggs and beef, in addition to insanely delicious wine and liquor. Plus, there is an on-site restaurant, gift shop and it all doubles as a wedding venue.
This is one busy man. And he chose to spend some of his sacred down time hanging out with us. We were humbled that he was not only willing to share his wine, but also his time. He would not have been in the wrong to kick us out as soon as they closed so he could rush home and get some rest. But we are so glad that wasn't the case. Because we really enjoyed getting to know him.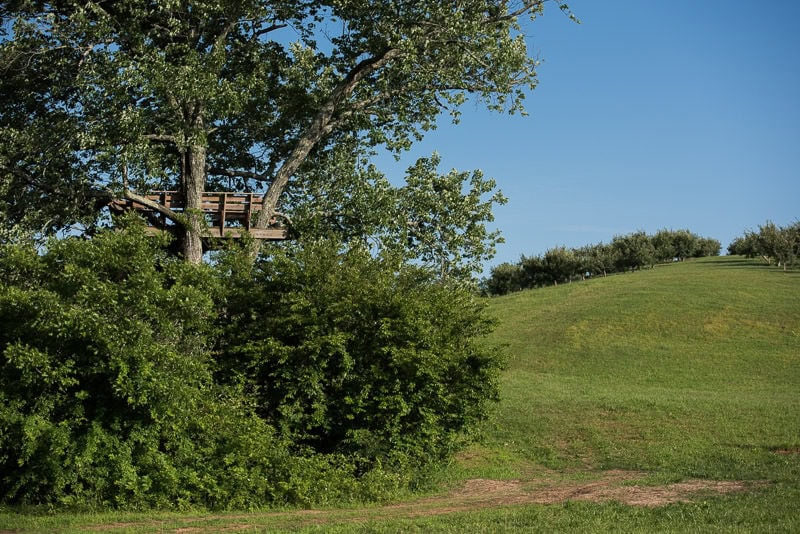 Tipsy Tree House Adventure
Eventually, it was time for Ed to go home for dinner. And Buddy and I went on a mission to find the tree house he had casually mentioned. In true lightweight fashion, we stumbled and giggled our way down the trail. After walking hand-in-hand for a few minutes, we spotted it. Then we raced over to it like kids who were just let out for recess.
I climbed to the top as Buddy enjoyed the swing below. He didn't trust the sideways ladders or his balance enough to climb up. And he stuck to his decision even as I egged him on from up above. I was feeling very sure of myself until I crawled over to get into the hanging hammock.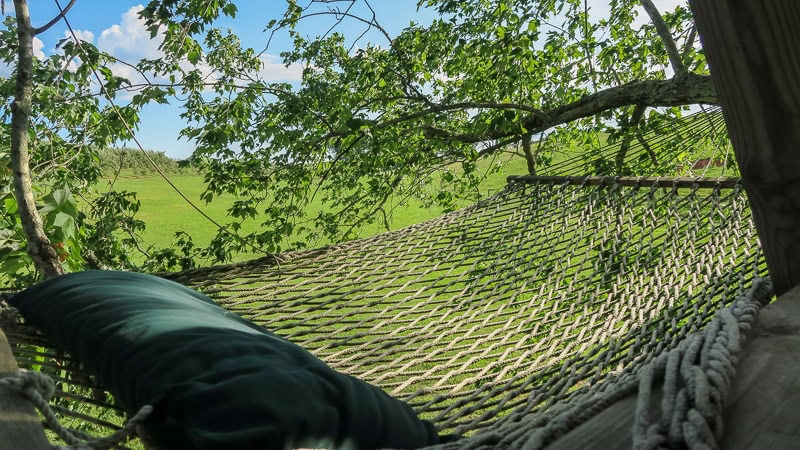 As I looked down through the holes, Buddy yelled up "What if it flips?" I quickly remembered I too have a slight fear of heights and carefully climbed down. No amount of liquid courage could convince me that was a safe place to lounge… although I'm sure it probably is.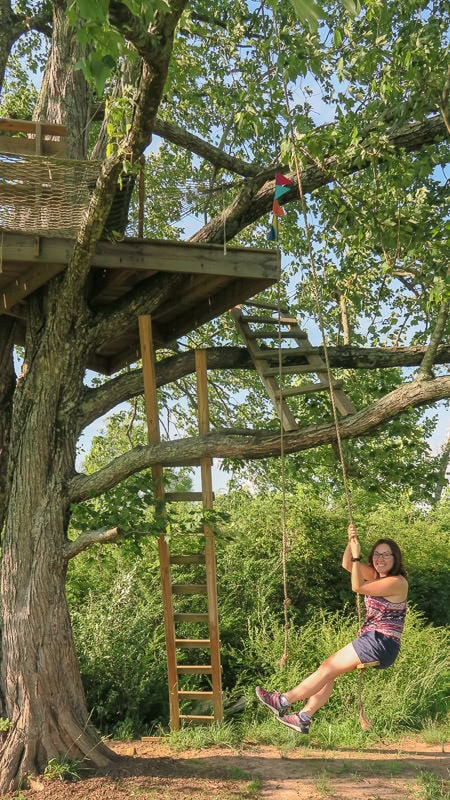 After tiring ourselves out from swinging and playing at the tree house, we went back to our RV to make some food. Soon after, we strolled up the hill to enjoy the sunset over the farm and far-off mountains. (Note: We were able to stay on the property due to our Harvest Hosts membership. There is not an RV park on site.)
Views for Days
Everything had closed hours before, so we were surprised to see multiple other people wandering around the Chattooga Belle Farm. One girl we talked to worked at the local rafting company and comes over every night after work with her team. "I don't think I'll ever get tired of this view," she said as she lounged in the grass. We wouldn't either.
We stood close together as the sky turned pink and the sun slowly hid behind the soft mountains. Then we made our way back through the rows of apple trees in the almost-darkness to our RV. It wasn't long before the peace we had soaked up took over and sent us off to dreamland – a place not far from Chattooga Belle Farm.
Joys of Farm Life
The next day, Elvis woke us with what must have been his tenth crow of the morning (since it was about 9). And we watched out the window as him and his hens scratched around in the gravel. Our cat didn't know what to make of them. But we all agreed we should stay on farms more often.
After we got moving, we headed up to the main building for an early lunch. We couldn't wait to take advantage of the fresh ingredients Ed had told us about the night before. Luckily, it was just cool enough to sit outside in the shade, so we got to enjoy more perfect views as well.
The food was amazing and our waitress made the experience even better – she must have gotten straight As in southern charm school! And we loved getting to listen to her adorable accent as she told us about the local hiking trails. She was great!
Friendly Competition
After lunch, we decided to challenge each other to a game of disc golf. We were surprised there was an 18-hole course hidden throughout the enormous property and couldn't wait to play. We even had a few discs of our own back at the rig to use!
Buddy went first and I immediately fell on the ground laughing when his disc zinged 100 feet in the wrong direction. Then mine didn't even make it 10 feet. Oh yea… we were never very good at this!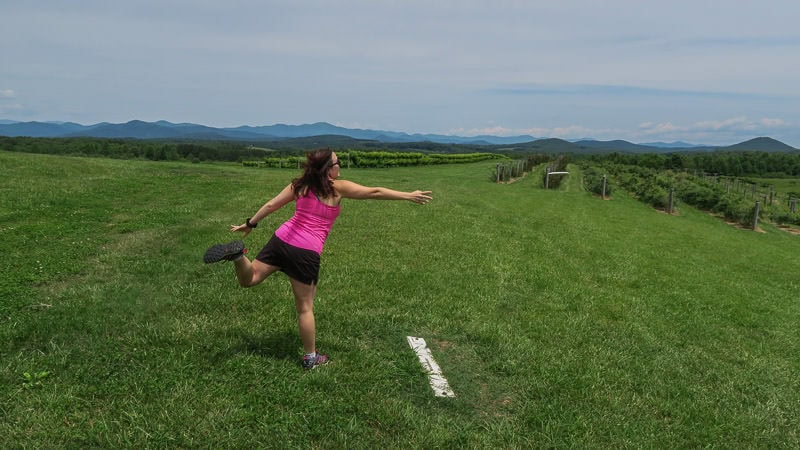 Deciding to ditch the scorecard, we continued to play just for fun. But after an hour or so of trampling up and down the grassy hills in the heat of the day, we called it a quits and went back for more wine at this amazing South Carolina winery. We also bought some apples and sweet potatoes at the farm store to take on the road with us. (Full disclosure: The apples barely made it out of the parking lot, they were too good!)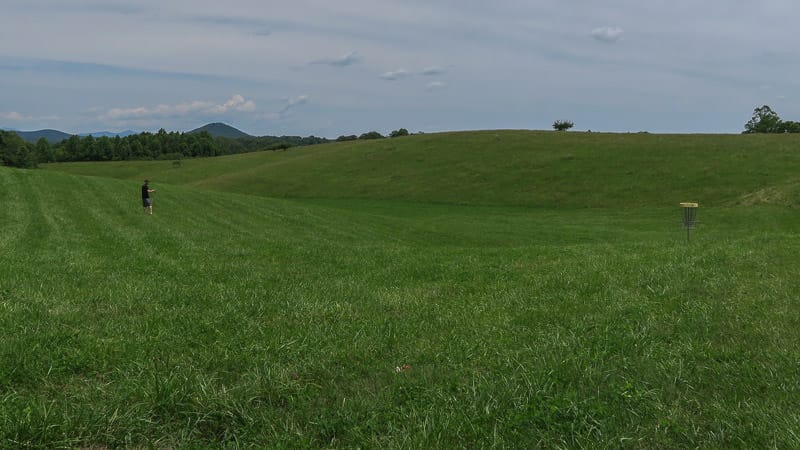 Surprise Smiles
Before calling it a night, we sat and talked to Ed and his wife, Kitty, for a few hours. It was no surprise that she was just as nice and easy to talk to as he was. And as we chatted, their son and his friend brought over a fluffy surprise. Just as we thought we had experienced all the awesomeness of Chattooga Belle Farm… KITTENS!
The resident farm cat had recently had a litter of adorable little fluffs. We, of course, were more than happy to share in the snuggle duties. This was probably a well-planned ploy to try to get us to take a few off their hands, but that's okay. We totally would have, if our princess cat wasn't so anti-social!
I also had the honor of collecting eggs during our last afternoon. We had mentioned wanting to come back to volunteer on the farm, so this must have been my test. I didn't break any, so I think that means I passed!
So Long for Now
When it was time to say goodbye, we got our final parting gift – a nice big hug! This is always a sure sign that we've made a friend. It's strange how that word has changed for us since we've been on the road. It's no longer someone we hang out with regularly – because that's impossible now. And it often isn't even someone we keep in touch with. For us, it is someone who we are sending well wishes to and who we know is sending some back. It is someone we would go out of our way to see again if given the chance and who we are sad to leave.
We were reluctant to say goodbye to our new friends at Chattooga Belle Farm and we really had to peel ourselves away from this special place. But it will always be etched into our memory and top of our list of places to visit when we are in the area. And, next time, we'll make sure to bring some work boots to help repay them for spoiling us so much during our visit.
---
Know Before You Go to Chatooga Belle Farm in South Carolina
First off, you'll want to spend a full day at Chattooga Belle Farm. And don't be surprised if you want to go back regularly!
Address: 454 Damascus Church Rd, Long Creek, SC 29658
Offerings:
Distillery: Open year round, 9am-5pm, 6 days a week. Closed on Sundays. They have a great variety of options – definitely stop in for a tasting!
Belle's Bistro: Open for lunch from 11-2 Tuesday through Sunday from April through October. They have affordable, fresh and healthy options with great views.
Farm Store: Open 9am-5pm every day from May 1 through the holidays. (By appointment after that). They sell fresh produce, meat and offer tastings, glasses and bottles of the delicious farm-made wine here as well.
Disc Golf Course: This challenging course costs $3 per game – which can be paid at the farm store when open, or with the pay box when closed.
U-Pick Fruits: The farm has a variety of options. Inquire in the farm store for prices and availability.
Venue Rental: This place is also a popular wedding and event venue! If we ever do a vow renewal, I know where we are going!
Nearby Activities: There are limitless options for activities nearby – from cute towns to outdoor adventures, including whitewater rafting. We took advantage of one of the many waterfall trails, although we probably shouldn't have taken the RV down the road to it! Although Brasstown Falls was pretty, we wouldn't suggest anyone with rigs as big as ours trying to squeeze down the narrow, bumpy roads. However, we did some decent bushwhacking of the low-hanging trees with the top of Vik!