Sometimes we have an epic, well-thought out and researched weekend adventure. And sometimes (most of the time) we just wing it. Over the weekend we happened upon an amazing hike in Roosevelt National Forest called Round Mountain.
We spontaneously decided to hike along Devil's Backbone in Ft.Collins since it was such a nice day. Except when we got there the trailhead was closed for construction. The nice police officer patrolling the area felt bad for us and suggested we check out Round Mountain near Estes Park instead. So we set off to find it!
Getting to Round Mountain
Our spontaneous adventure was delayed when Google Maps took us to a dead end on Idlewild Lane. Luckily, a friendly couple took it upon themselves to flag us down to give us directions. Apparently, people get lost looking for Round Mountain in Roosevelt National Forest quite often… silly Google.
(Note: If you are going up US-34 from Ft. Collins, Round Mountain is on the left around mile marker 79. Look for the sign, the parking lot is on a hill above it).
Round Mountain National Recreation Trail
After finally arriving at Round Mountain in Roosevelt National Forest, we checked out the helpful hand-drawn map. We decided to take the shorter "Foothills Nature Trail." The 2-mile round trip out-and-back trail led to a stone shelter overlooking Big Thompson Canyon and a beautiful overlook of the Roosevelt National Forest.
The longer "Summit Adventure Trail" leads to the summit of Sheep Mountain if you are up for a more moderate hike.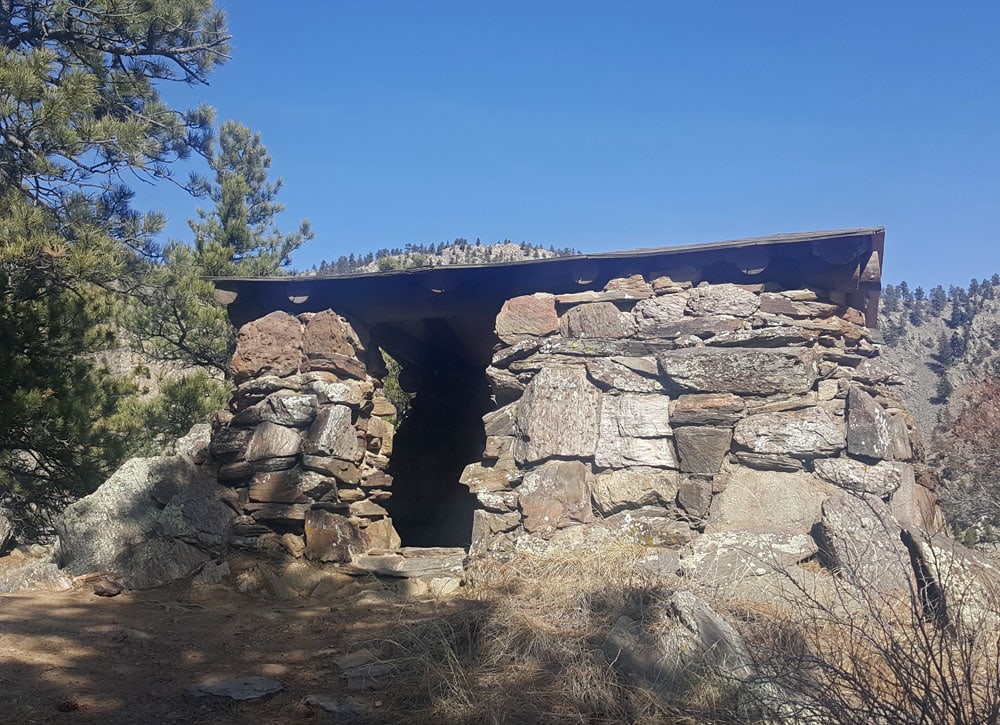 Aside from a slight incline and having to navigate over a few ice patches, the Round Mountain National Recreation Trail was fairly easy and more importantly – not too packed with people! My only complaint is that it was mostly in the shade, so I didn't get to enjoy the awesome sunshine I was looking forward to the entire time, but having the trail basically to ourselves helped make up for it.

This trail isn't anything amazing when compared to nearby RMNP trails, but it is a nice hike if you are looking for something new near Ft. Collins or Estes Park. And it also seemed to be popular with the pups, probably since you can't bring them into the nearby Rocky Mountain National Park.
I'm always happy to try a new trail, and luckily our obsession with just winging it usually leads us to new, unexpected places like this. But next time, we will probably at least check if our trail is open before heading out!
Read more Colorado hiking ideas and adventure tips.