If it is a warm weekend in Colorado, the North Table Mountain Hike in Golden (just a short drive from Denver) is the perfect way to soak up some rays! Don't get me wrong, I love winter – snow, comfy sweaters, Christmas lights that get left up way too long. But I can't help feeling downright joyous when the weather takes a turn for the warmth. There is something so therapeutic about getting to feel the sun on your skin on a warm, spring-like day after bundling up all winter.
Best Time To Hike North Table Mountain Loop
The North Table Mountain Hike is a sun-lovers dream! You are in full sunlight pretty much the entire time as you make your way to the top. All while taking in amazing views of the surrounding cities and mountains.
While this may not be ideal in the middle of summer, it is perfect in spring and fall. You may even need a jacket if a cool breeze blows through (especially at the top). You also benefit from not having to worry about summer lightning storms, as you do when hiking a 14er, so if you get a late start hiking no biggie!
Getting to the North Table Mountain Hike
Even though it isn't super hot yet, this hike is still a bit strenuous due to the consistent incline. Make sure you bring plenty of water, even if you are only planning a short trek! And wear sunscreen, even on cloudy days you are still at risk. Ok, PSA over now. 😉
There are multiple access points and parking areas around the perimeter of North Table Mountain. This includes a parking lot off Highway 93, two in Golden at the Golden Cliffs trailhead and another at Tony Grampsas Memorial Sports Complex.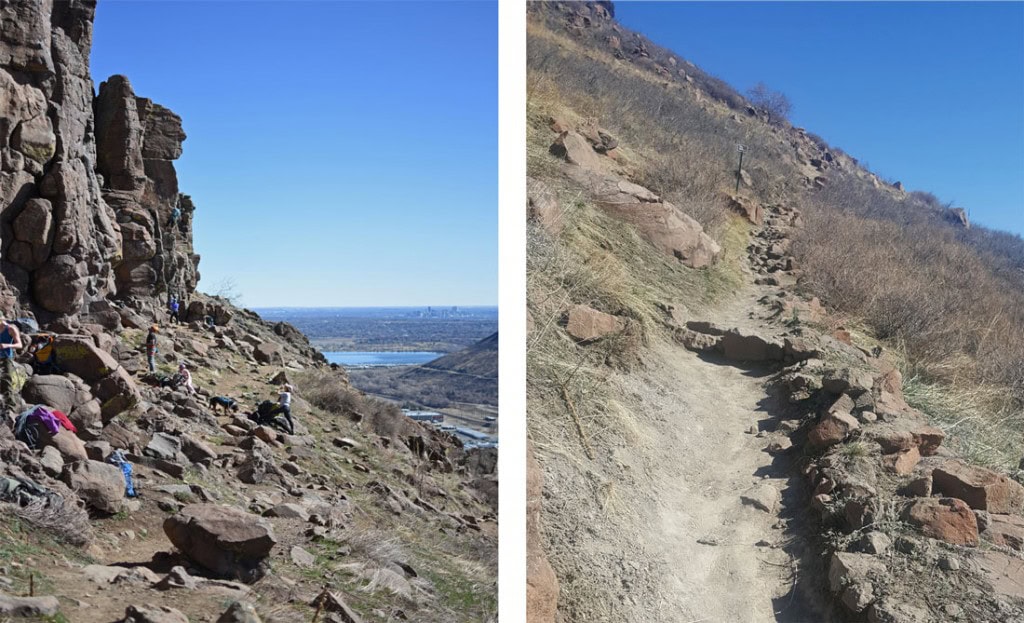 What to See & Do
We chose to park at Golden Cliffs and take the 0.4-mile Climbing Access Trail so we could admire the bravery (or craziness?) of the many climbers taking advantage of the perfect weather. Although I haven't quite worked up the courage to give that a go, watching these skilled adventure-seekers is pretty entertaining in and of itself.
As you make your way up the trail you can admire the city of Golden from a whole new angle, as well as the Flatirons and Rocky Mountains. At the top the views go on and on for miles, including a perfect view of Downtown Denver on the east side of the mesa!
There are 17.2 miles of trails at North Table Mountain Park, so you can take as much or as little time as you'd like checking out this area. There is a quarry, many great spots to enjoy the views and we were told that once all the snow melts there is even a waterfall! And if you would rather explore on a bike, this seems to be a popular area for that too!
Whether hiking, biking or climbing, the North Table Mountain Hike is a great place to explore on a beautiful day and I'm sure we will be back to check out more of it this summer.
Want more to do? Check out our other Colorado insights and favorite places!