Cumberland Island was one of the most unique places I've ever had the pleasure of exploring. My husband and I stumbled upon it when we were living in Jacksonville, FL, and had no idea what to expect when we boarded the ferry to Cumberland Island. But we were definitely not disappointed, and we still suggest that friends visit Cumberland Island if they are in the area.
Cumberland Island is Georgia's largest and Southernmost barrier island, located seven miles east of St. Marys and only accessible by boat. It is the perfect place to truly get away from it all and is great for a day trip or a weekend of camping. Here are my top 4 reasons why this is a must-visit destination if you are in the North Florida or South Georgia area!
1. Thomas Carnegie and the Dungeness Ruins
The Dungeness Ruins were originally the home of Thomas Carnegie and his wife Lucy, who owned 90% of Cumberland Island. The Carnegie family moved out of the large 59-room mansion in 1925. In 1959 the Dungeness Mansion ended up being burned down, allegedly by arson. However, the mansion ruins make for interesting and beautiful photos.
2. Unspoiled Beaches of Cumberland Island
These days, it is rare to find a beach that is undeveloped and unaltered by man, but here you can walk for miles on unspoiled beaches covered in shells and starfish. You may even have it all to yourself if you are lucky! When we arrived by ferry to Cumberland Island, we knew we needed to go straight for a beach walk. It was so wonderful to be all alone on this stunning serene beach getting to see a beach this untouched is very hard to come by.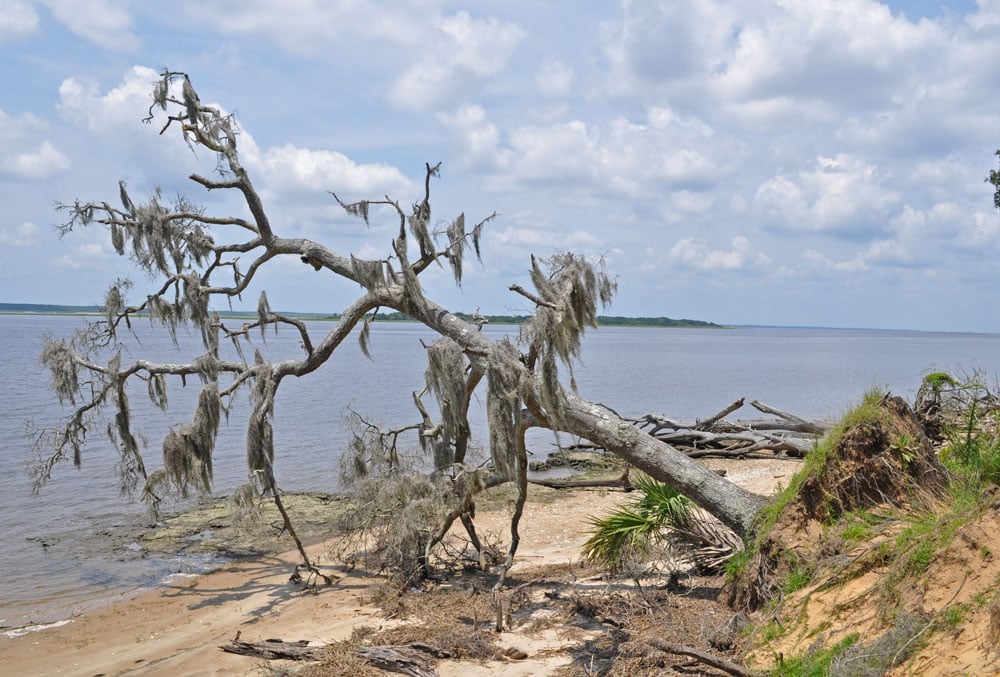 3. Plenty of Trails on Cumberland Island
With more than 50 miles of hiking trails that take you through maritime forests, wetlands and along beaches, you will never get bored on Cumberland Island. Just make sure to bring plenty of water! While you can only get to Cumberland Island by boat you don't need to make it a day trip as you can actually camp here. I couldn't think of a more relaxing and peaceful place for a short camping weekend.
4. The Cumberland Island Wild Horses
This has got to be the coolest aspect of the entire island. Getting to see the Cumberland Island wild horses in their natural habitat is breathtaking. These beautiful wild horses are able to just freely roam the whole island. They estimate that over 120 wild horses consider Cumberland their home. And if you go in spring, you may even see babies! Seeing animals in their natural environment is really the only way to see them!
A few things to know about Cumberland Island before you go:
Bring food and water! There is no place on the island to buy food or water, so make sure to pack a picnic along with anything else you may need while you are exploring Cumberland Island.
The passenger-only ferry to and from the island only runs a few times a day and picks up in St. Marys. The Cumberland Island Ferry costs $15 each way per adult, and you must book your return ticket when you purchase you ticket there.
My dad also had a great experience visiting a few years after us on a jet ski adventure! So, be sure to look for other tours.
Permitted camping is allowed and reservations are suggested. Apparently, the star gazing is superb!
If you prefer to stay in a hotel, Amelia Island, FL, and Jekyll Island, GA, are both less than an hour away and have some nice options.
I lived in Jacksonville (less than an hour away) for more than 20 years before I heard about this amazing place! It just goes to show that great adventures are out there, you just have to go looking for them!
Have you ever stumbled upon a surprisingly awesome spot near you?