Spending time around animals – whether wild or domesticated – is a definite mood booster and can even be therapeutic. Luckily, there are some truly amazing places in and around Denver where you can spend an afternoon watching all the hilarious and unique traits of these animals in Colorado while supporting great causes and learning lots of fun facts!
Want to see more things to do in and around Denver? Read this massive list!
Our Favorite Animal Encounters Near Denver – Places to See Wildlife!
1. The Wild Animal Sanctuary
If you are like me and get bummed out by traditional zoos, you have to check out the The Wild Animal Sanctuary. The animals here have been rescued from miserable lives in circuses, as household pets or other cruel situations. They are given wide open areas to live out their lives closer to how they were meant to.
Better yet, there is a mile-long wooden walkway above these open areas so humans do not frighten or disturb the wildlife, which makes me ecstatic! And while you are there, you are given so much valuable information about the Wild Animal Sanctuary, its mission and how you can help. I love this organization and all they do for animals in need.
The sanctuary is located less than an hour from Denver, in Keenesburg, CO. If you want to visit this great place, it is a bit pricey. But well worth it, in my opinion.
Recently, the sanctuary decided to only allow active or prospective supporters to visit. Active supporters have made a substantial donation or have signed up to give regularly within the last 12 months which allows unlimited visits with up to 5 guests. And prospective supporters must pay a fee of $30, plus an additional donation of their choosing in order to visit.
These fees help cover the costs of having visitors at the sanctuary and also go to making sure all of the animals get top-notch care.
2. Rocky Mountain National Park
We've seen moose, elk, mule deer, foxes, bighorn sheep, and marmots while visiting Rocky Mountain National Park! You can even see wildlife in the national park gateway towns of Estes Park and Grand Lake!
Just be sure you give wildlife plenty of space when encountering wildlife since animals like moose and bighorn sheep can be dangerous. Most wildlife is especially unpredictable if they have babies with them.
3. Broken Shovels Farm
Broken Shovels Farm is just 15 a minute drive outside of Denver, this awesome little urban farm is sure to make you smile! Of all 5 animal encounters near Denver we have listed, this is by far the most interactive. With goats, pigs, chickens and even cows, there is nonstop fun and hilarity over at Broken Shovels. And in the spring there are so many baby goats you may pass out from cuteness overload!

Plus, they sell humanely-made, super-delicious goat cheese! Check out their Facebook Page for info about upcoming events (including concerts) and free open farm days.
Also, make sure to reach out if you are compelled to help this amazing place. They can always use the support. And the goats are sure to snuggle you for it. We always love a visit here!
4. Butterfly Pavilion
The Butterfly Pavilion is just a short drive North of Denver and is an awesome little place that makes learning about creepy crawlies fun for all ages! You can get lost in the beautiful butterfly rainforest and have hands-on experience with underwater invertebrates. And for the brave ones, you can even hold Rosie the tarantula!
Admission is only $12 when purchased in advance online! Plus, they host lots of fun events throughout the year – including rainforest yoga and a special Living Lights event that takes place nightly around Christmas.
5. Rocky Mountain Arsenal
This drive-through area gives you the opportunity to get up close to bison, prairie dogs, and more! We love a drive through Rocky Mountain Arsenal on our way to or from the airport. We have seen many types of birds and plenty of bison – including babies!
You even get a great view of the Denver skyline from out there!
6. Denver Cat Company
If you love cats, stop what you are doing and go to the Denver Cat Company. Where else can you sip coffee and read a book or play a game with a cat in your lap or kittens playing by your feet? Plus, all of the cats here are adoptable. And, whether you are looking for a new family member or not, it is great for them to socialize with loving humans. We actually found out about this great place because the Denver Animal Rescue Organization we volunteered with (PawsCo) partners with them!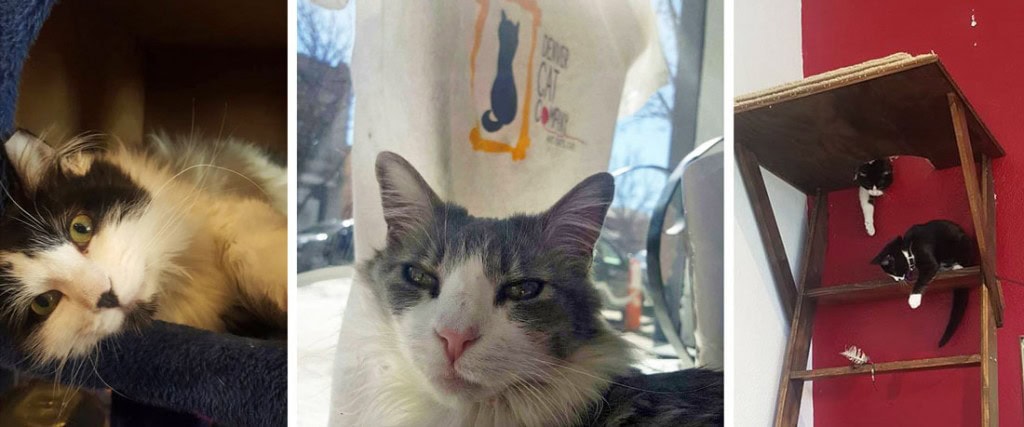 For a small feem you get to hang with these cool cats as long as you'd like. And after a few hours at this wonderful cat lovers oasis, you are sure to feel much more relaxed. And you will definitely leave with a smile on your face… and maybe a cat in your arms! They also have fun on-site painting events.
7. Colorado Wolf & Wildlife Center
Now, if for some reason cats aren't your thing and you prefer canines… then a visit to the Colorado Wolf & Wildlife Center is a must. It is a bit of a trek from Denver (about 2 hours), but well worth a day trip to the Colorado Springs area. This rescue is home to wolves, coyotes and foxes. And a visit will make you feel like an expert when it comes to these beautiful animals.
One-hour guided walking tours of the sanctuary take place 3-4 times a day, six days a week and cost $20. There are also feeding tours, night tours and opportunities to get up-close to the majestic canines if you are looking for something a little more exciting!
---
Clearly, there are plenty of ways to get some animal therapy in while supporting great, local organizations! I encourage you to please do your research before supporting places that offer animal encounters or up-close viewings, especially in other countries.
Unfortunately, many people take advantage of our love for and interest in animals and use it to make a quick buck while exploiting the poor animals in the process. (Hence the need for the Wild Animal Sanctuary listed above). Just a quick reminder to make sure your love and money are going to good causes! 🙂