On one of the last days of our honeymoon back in 2017, we decided to go white water rafting in Winter Park Colorado on Clear Creek. This area was only a short drive from downtown Denver and allowed us to enjoy a nice meal in the nearby historic mining town of Idaho Springs after.
It's funny that we were so nervous, now that we know these are very easy rapids compared to the level of difficulty of some others we have experienced. But, it was the perfect way to get our first taste of whitewater rafting and we were absolutely in love. Plus, it didn't hurt to have the majestic Rocky Mountains above on this scenic river rafting trip meant for all skill levels.
It has been a while since we went on this adventure, but as our anniversary nears it has popped in my mind and made me want to revisit it – just for some nostalgic fun! If you are going to be in Colorado this summer, I'd highly recommend adding this to your list! However, check the weather and water levels before for the best experience possible.
About White Water Rafting in Winter Park Colorado on Clear Creek
Winter Park is a popular place for whitewater rafting in Colorado. (This area also has a lot of gold mining history and Idaho Springs has natural hot springs to soak in!) Most tours will take you down Clear Creek – the second most rafted river in Colorado. This area is ideal because of its easy access to the river and there are routes ranging in difficulty from easy to more extreme Class V options for those adrenaline junkies.
This works great for family whitewater raft trips or for beginners. We had a friend even do this for a bachelor party!
The main tour providers are Clear Creek Rafting Company (who we went with), Mad Adventures, and Colorado Adventure Center. Just make sure you read reviews and have a professional guide who will keep you safe.
Our Winter Park Whitewater Trip in May
We booked our Winter Park white water rafting trip on a beautiful day, so of course there was some light snow coming down for our trip in mid-May by the time we pulled up early in the morning. We knew the wet suits, jackets, and gloves would only help so much as we shivered our way down the river.
Luckily, our adrenaline warmed us up pretty fast as we got going and we had a great time on our whitewater adventure. It was a truly unforgettable experience to paddle through rapids and over rocks. It also made us feel super cool to take on something we were both so scared to do and were really happy we did it.
This Winter Park rafting experience actually started a life-long love for whitewater rafting, and while we aren't experts, we have gone over two of the tallest commercially raftable waterfalls in the world – Husum Falls in Washington and Tutea Falls in New Zealand.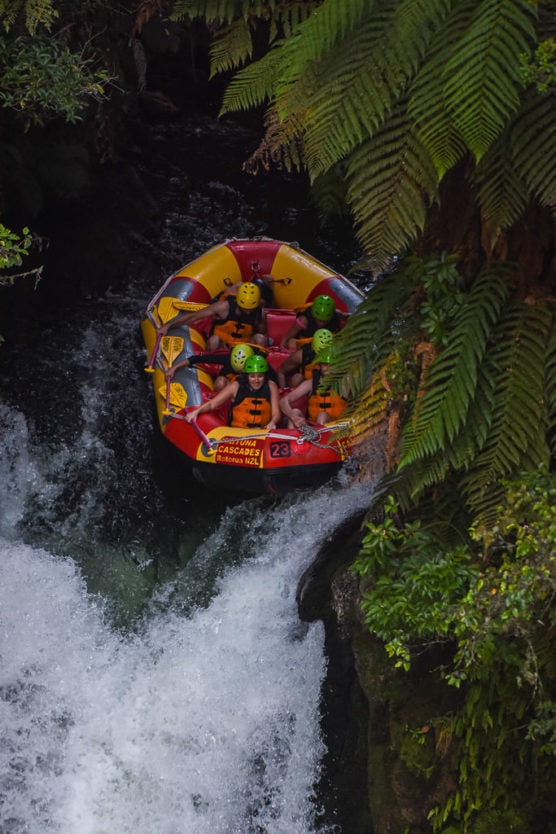 Other Colorado Whitewater Rafting Spots
With multiple different rivers, it is no surprise that Colorado has plenty of places to go rafting. Here are some of the top options from easy half-day to full-day trips:
​Arkansas River near the Royal Gorge (or other areas from Leadville all the way past Pueblo)
Poudre River near Fort Collins – one of Colorado's most popular rivers
Yampa River near Steamboat Springs
Lower Animas River and Durango Whitewater Park
Colorado River near Glenwood Canyon (stick to the family-friendly upper Colorado River or try the Gore Canyon for a more extreme adventure)
See more whitewater rapids to raft in Colorado here.
Other Places for the Best Whitewater Rafting in North America
Grand Canyon – of course, this notorious option is top of the list! You have to get a special permit and be ready for a fierce multi-day challenge though.
Salmon River in Idaho
Chatooga River in South Carolina
Visiting Colorado? Be sure to read our tips for Estes Park, Boulder, Rocky Mountain National Park, and more Colorado fun!