There are a few things we always try to prioritize when we are visiting a new place: hiking in nature, trying local cuisine, and watching an epic sunset or sunrise (or both). Since we had time, we enjoyed a few places known for the best sunset in Santorini, and none of them disappointed. I'd really be hard-pressed to pick a favorite, but here are our recommendations. (Plus a few we didn't get to but heard great things about!)
How to See the Best Sunset in Santorini: First Things First
Before picking where to watch the best sunset in Santorini, you should decide what "best" means to you. Does that mean little to no crowds, watching while in a romantic or exciting atmosphere, having a drink in hand and a chair to relax in, or getting the absolute best photo possible? You won't be able to get all of those things at each sunset spot in Santorini, so you'll have to choose what is most important!
Hordes of tourists do usually mean a great vantage point, but spectacular sunsets do exist even when there isn't a huge crowd to watch. So, maybe spend less time worrying about finding the perfect spot and just take in the beautiful island sunset wherever you happen to be in the late afternoon! Maybe you will find unexpected panoramic views all to yourself!
However, be sure to know when the sun will actually be setting. If you Google "sunset time in Santorini" and your date, this will be a good start. (This is also a good website to check sunset times.) BUT you should also account for getting there early since many of the go-to sunset spots get quite busy.
In late June and early July the sun set is at its latest – around 8:45 p.m. In early December the sun set is at its earliest – around 5:00 p.m. That's obviously quite a range, so make sure you know what time to be looking out at the ocean waiting for the big show!
If planning to watch the sunset from a restaurant or bar, you should make a reservation about an hour before the sun will be setting. If planning to watch the sunset in the famous spots around Oia. Go super early, especially if you need to find parking before. It takes a little while to wind your way through the white-washed buildings to get to the spot as well.
10 Top Places for the Best Sunset in Santorini
Santorini island is probably the most famous place in the world for watching the sunset – or close to it. The good news is, there are plenty of places to watch the sunset – from the iconic white houses in Oia Village to boat tours to the lesser-known Village of Pyrgos.
1. Santo Winery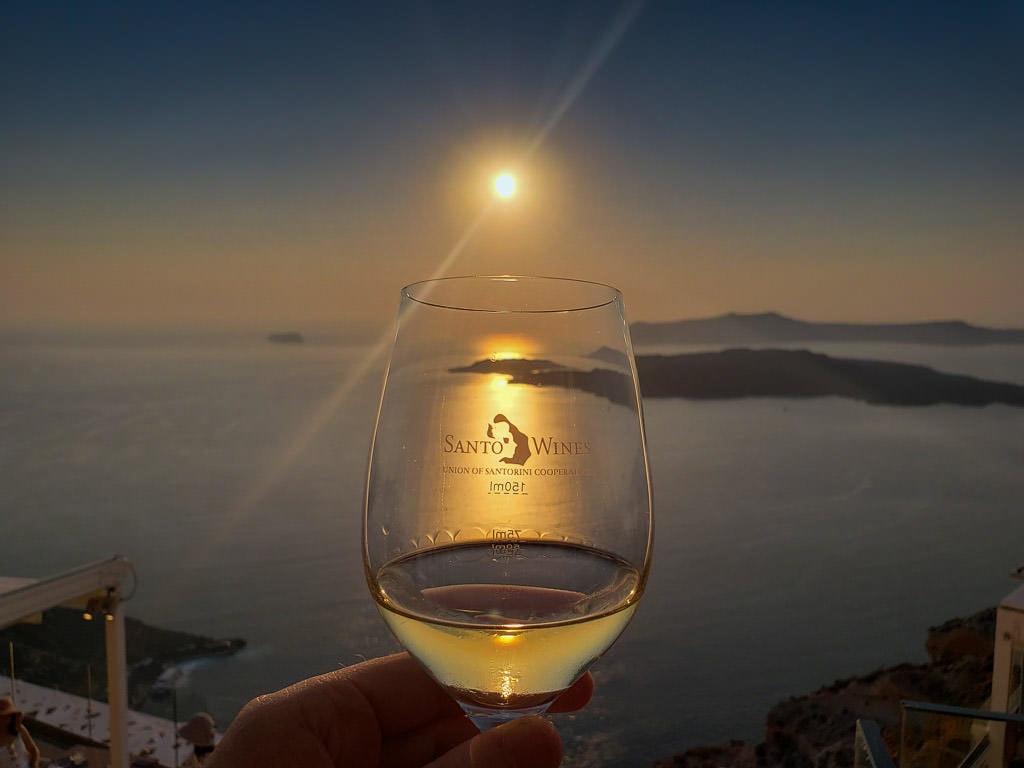 For an epic and relaxing sunset viewing place, Santo Winery in Pyrgos Village is a must-visit. While this list of the best places to watch the sunset in Santorini is not in order, Santo Winery is the first that comes to mind. Clearly, I'm the type to like a drink in hand and my own chair for watching a gorgeous sunset!
You also get a great caldera view as you wait for the magnificent Santorini sunset. We loved the Santo Winery wine tasting, and believe this is one of the top things to do on this volcanic island, no matter what time of day!
2. Strolling Along the Coast
One of our best sunsets was found while just strolling along the coast in Fira. We stumbled upon this old boat and it is one of our favorite photos we've ever taken. I can not even begin to tell you where this was, and that's all part of the fun! I highly recommend going out to find your own photo inspiration.
3. Santorini Sunset Cruise Sailing Tour
We chose to go sailing out of Ammoudi Bay during the day to help beat the hot hot late August weather with some time in the ocean. However, the company we went with Sunset Oia Sailing has its name for a reason. You may just find the best sunset in Santorini while out on the water! We'll definitely be checking it out next time.
4. Prophet Elias Monastery
We didn't have a chance to get up to this spot, but it is supposed to be a great place for sunset since it is at the highest point of Santorini and allows you to look down at the beautiful walkways and buildings below.
5. From a Rooftop Restaurant in Fira/Thera
On the first night of our trip, we were exhausted from a full day of flights that landed us on the island around 3:30 a.m. But we are never ones to miss out on an epic sunset, so we took naps and then walked over to a restaurant in Thera to enjoy our first (of about five) authentic Greek salads and watch the sunset.
Argo Restaurant, Mama Thira Taverna, and PK Cocktail Bar are all highly-rated options for food and are noted as the best places for sunset viewing in Fira Santorini.
6. Akrotiri Lighthouse
You can find this lighthouse on the southernmost part of Santorini's western coast. It's not the prettiest lighthouse, but it is a nice little foreground option for your sunset photos if you want to beat the crowds further north.
7. Catch Sunset During Your Ferry
If you time your ferry to or from Santorini right, you may get to enjoy a unique view of the sunset while cruising to your destination. We didn't do this, but with so many ferries, it wouldn't be too difficult!
8. Go to the Heart of Santorini in Megalachori
This hidden gem on the island is a bit out of the way, but the Heart of Santorini in Megalochori has sweeping views over the cliff edge of the ocean and coast. We went during the day, but I'd bet it is a great spot for a more private, relaxing sunset experience.
9. At THE Spot in Oia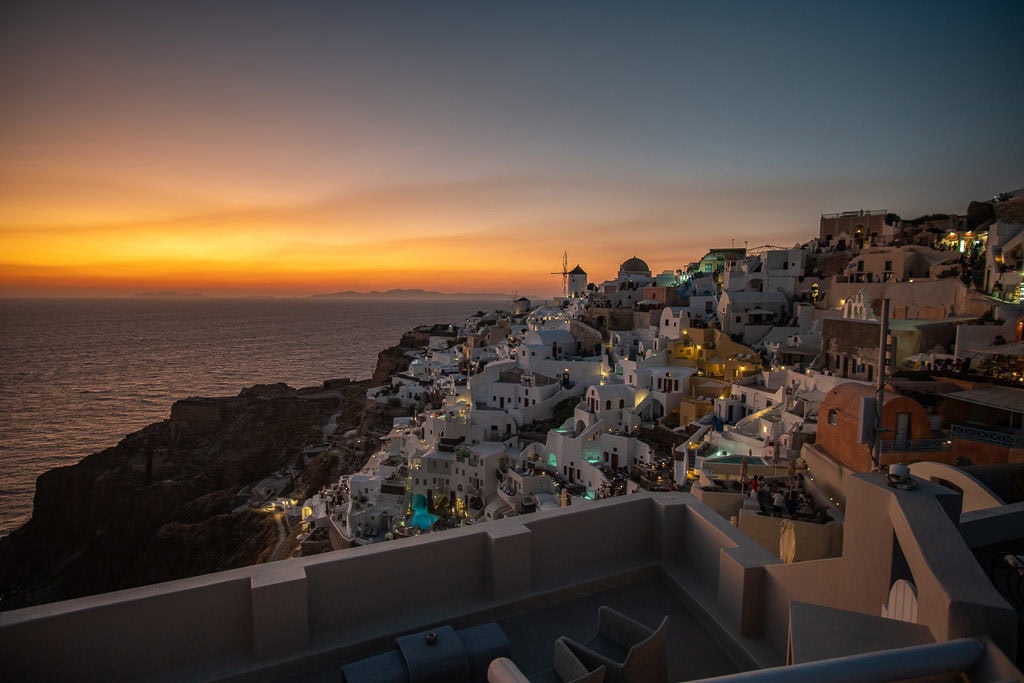 You may already know that watching the sun set near the old Oia castle is the most popular place to watch the sunset in Santorini – and in the world! Seeing the sun light up the white-washed buildings in hues of orange and gold before dipping into the Aegean Sea is exceptionally magical. It is a top contender for the best location to watch a sunset on this iconic isle.
However, just know you will not be alone if you go to one of the well-known places that boast the best views – especially during peak season. It can be very overwhelming and frustrating, depending on the size and noise level of the crowd.
I may be weird, but I loved watching the sunset with a large group. It almost felt like when you go to a concert and sing along the words to your favorite song with everyone around you. Cheering as the sun set into the ocean with a few hundred strangers just made me feel really connected to my fellow humans. However, we were there in the shoulder season, so it wasn't as packed as it could be. That's why we find spring and autumn to be the best time to visit many locations!
10. Find Your Own Spot!
We saw some people watching the sun set off of their private porches in the picturesque village of Oia. (Santorini Dave has a great list of hotels with sunset views.) Maybe you will even find one with a small pool or hot tub – swoon! For a cheaper option, you could also seek out a small little nook to enjoy the breathtaking views at sunset and the iconic blue domes of the buildings in a more peaceful way. We actually got a pretty nice sunset from our AirBnB in Thera! Just be sure to be respectful of other people, religious and other sacred places, and local laws.
Have we missed any of the best sunset spots in Santorini? Please let us know if you have a good spot you'd like to share in the comments.
And be sure to check out our other tips for visiting Greece on this page!
Want to save this list to refer to later? Simply save this image to your travel inspiration board on Pinterest: