If you live in or are planning to visit Hawaii, not getting out onto the water is such a shame. Not only is the water temperature perfectly refreshing the majority of the year, there is also a world of gorgeous creatures living below the clear blue surface. Paddling to or taking a boat out for Kaneohe Sandbar snorkeling is our favorite Oahu adventure so far.
Kayaking out is a magical, yet challenging option since the waves are not to be taken lightly here in Hawaii. However, there are also boat trips available for a less strenuous and more fun-focused day on the sandbar. With the boat, you can choose a guided tour or rent your own! Both are really fun options, but we'll compare our Kaneohe Sandbar tour experiences below …
Why You Should Plan for Kaneohe Sandbar Snorkeling
Visiting the world's largest sandbar in Oahu's stunning Kaneohe Bay offers amazing views of the Ko'olau Mountain Range, including Kualoa Ranch, plus the iconic Mokoli'i island (which you can also kayak to on another adventure!). Along with the beautiful scenery, it is also pretty dang cool to get to walk around, play water volleyball, or just relax out on a giant sandbar!
However, Kaneohe sandbar snorkeling is top-notch. My husband saw a Hawaiian green sea turtle the size of a small car on one of our visits! He was just swimming along the edge of the sandbar's barrier reef and happened upon a bunch of very large turtles.
In addition to massive sea turtles, you can also see coral reefs, many fish, and a host of other exotic marine life. We've also personally seen an eel and a seahorse (the ONLY one we've ever seen in the wild). Friends have seen hammerhead sharks and manta rays also. (Note: if afraid of sharks, just snorkel in the shallow area on and around the sandbar).
On the weekends, this area tends to be a bit of a party locale, so week days are ideal for a calmer experience.
Want MORE ideas for your trip to Hawaii? Click here for suggestions across all the islands!
How to Get Out to the Oahu Sandbar: Three Options!
No matter what option you choose, you will have amazing views of beautiful Kaneohe Bay, the mountains, and a chance to see local wildlife! This is an amazing option for your trip to Hawaii, but it is also a great day for locals living on Oahu or wanting to island hop over! Note: If you are a local always ask if there is a Kama'aina discount. This has saved us a ton over the years!
1. Rent a Kayak for a DIY Kaneohe Sandbar Snorkeling Tour
Kama'aina Kids offers a great kayak rental option right out of the nearby He'eia State Park. You simply park in the large lot, check in, and go down to the little on-site dock. You'll need to paddle over a mile in an open ocean bay to get to the sandbar, which will take 30 to 45 minutes usually. You'll likely pass by some turtles and lots of boats on the way out!
A tandem kayak is only $89, but we'd recommend spending a little more to get the anchor so you can anchor at the sandbar and go exploring. They also have snorkel gear available to rent. (Note: they are closed on Sundays.)
Try to go on a day when there are calm waters for the best experience. We went in May a few years back, and it was a little choppy going out and much more so going in. It was still a ton of fun, but we were definitely absolutely exhausted. Some people have had to get rescued if the conditions get too difficult.
If you have enough time and stamina, you can also paddle over to some of the other small islands – like Coconut Island which was used to film the show Gilligan's Island. I'd make this your first stop, so you can have a chance to relax on the sandbar for a while before paddling back in.
I'd only recommend doing this in good weather and only for people without major health problems since it is strenuous and you do have a chance of getting stuck if weather turns or something goes wrong. However, if you are up for it, it is an amazingly unique experience! Unfortunately, I don't believe there is a tour option for this, so you are on your own if you go for it!
2. Take a Tour by Boat to the Kaneohe Bay Sandbar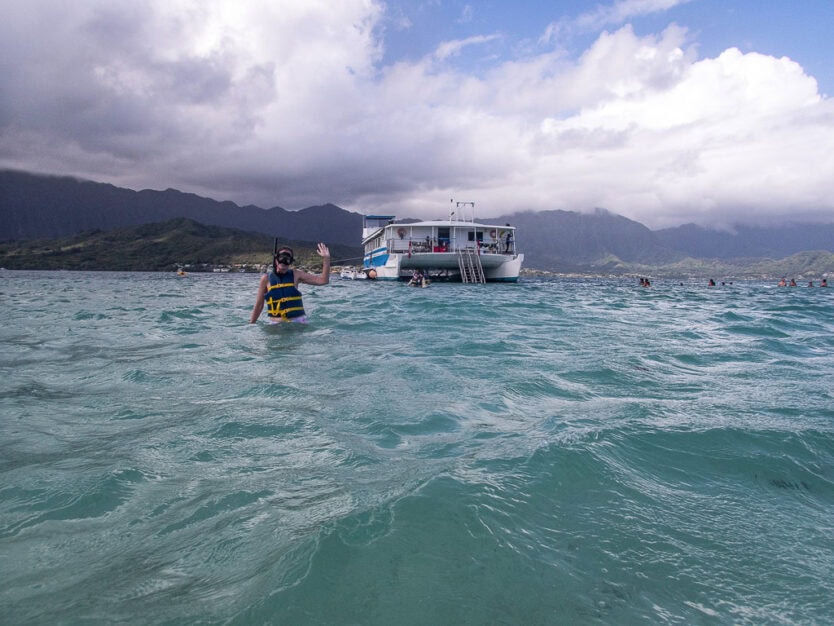 If you aren't up for a long, strenuous paddle to the middle of Kaneohe Bay, we highly recommend a Kaneohe Sandbar snorkeling tour. This is the easiest way to see the Kaneohe sand bar, and most tours should provide snorkel gear and other water activities. You just have to show up and wear sunscreen!
We went with Kaneohe Bay Ocean Sports, which provided an outstanding experience! They included snorkeling equipment as well as paddleboards and kayaks, a volleyball setup, a sun lounging platform, and an optional banana boat ride add-on. (Note: A life jacket must be worn for all activities.)
They also provided complimentary donuts, soft drinks, and tea or coffee on the ride out. You could also bring your own food and alcoholic beverages, which is a great perk. Plus, they had great musicians singing while en route and on our way back.
You could also cancel for a full refund within 72 hours of the tour, which is always a relief in case something comes up. They offer morning and afternoon departure options. You can also request a pickup in Waikiki or self-park at the He'eia Kea Harbor.
Other popular tour companies include Captain Bobs and Captain Bruce Private Yacht Charters,
3. Rent a Boat to Take Out (Great Active Military Option!)
One of the best things about having local friends is getting in the loop on some really cool offerings and options. Our military friends looped us in on a great perk that active duty military members have on Oahu – you can rent a boat for a very low price from the nearby military base.
Last I heard, it was under $200, and the boat fits about 8-10 people. You do have to have a boat captain's license to do this. But, if you are a local military member, it seems like that would be totally worth it to take advantage of this for some Kaneohe Sandbar snorkeling.
We are lucky to have a local friend who has been able to take us out on a boat he was allowed to use through work. I will say getting to have your own boat is awesome! However, it does involve having to have a responsible captain to avoid issues and you have less fun gear to play with since it is a smaller boat.
One of the best things about renting a boat is getting away from the typical tourist spots for snorkeling in Kaneohe Bay. That's how we've gotten to see some really amazing underwater scenes. However, I do love just lounging in the shallow waters, too.
Our Romantic Oahu Kayaking Adventure to the Sandbar
When it came time to celebrate our wedding anniversary after our move to Oahu, we knew we wanted to do something epic. Somehow in my obsessive "things to do near me" Googling, I saw that you could take kayak rentals out to the pristine waters of a sandbar on Oahu! It was the perfect way to spend the day.
After a short safety briefing with Kama'aina Kids at He'eia State Park, we diligently paddled over a sunken island and stayed clear of boats on our way out to the sandbar. We anchored and walked around the ankle-deep water while we admired the reefs and tropical fish.
It was a Saturday, so we watched the people who had come out on various boats dancing on the decks and playing beach volleyball on the sandbar. It was warm and absolutely lovely.
Our trip was in mid-May, but we ended up with some rainy weather rolling in. As is our tradition, we were re-reading our handwritten notes and vows to each other as we watched the clouds roll in. A dog that had been racing around the sandbar took interest in us and kept bringing pieces of coral she found and dropping them in our kayak as we tried to stay focused.
As it started to drizzle, we teared up at the sweetness of the moment in between chuckles at our growing collection of coral. We waited for the storm to pass, emptied the coral back into the ocean, and paddled back on a much more exhausting journey since the wind was working against us.
Even with the weather, it was truly the perfect place to spend our first wedding anniversary as Hawaiian residents.
A Fun-Filled Boat Tour to the Kaneohe Sandbar with Kaneohe Bay Ocean Sports
When Buddy's sister came to visit in November of our second year on Oahu, I knew we needed a girl's trip out to the sandbar. Since it was colder and windier that time of year, kayaking was completely out so we found a great boat tour with Kaneohe Bay Ocean Sports.
I will say, this is 100% a much more relaxing day than paddling out and back in yourself. It was nice to have the option to paddle around for a little while but then stop when the wind picked up too much or we wanted a snack. Plus, having other water toys like snorkeling gear made it a lovely day out on the water.
After enjoying live music and delicious donuts on the way out, we waded over to the lounging platform to warm up in the sun for a bit before snorkeling. As someone who is not a particularly strong swimmer, I appreciated them looking out for us while we snorkeled around and making sure we didn't drift too far away.
You could also borrow gear as well as get kayak and stand-up paddleboard guidance if needed. We loved floating in the shallow water in our life vests between snorkeling sessions while taking in the views. It was such a special day that would be even more fun in warmer, less windy conditions!
Boating Around Oahu's Sandbar with Friends
We have been lucky enough to go out with a few friends who have access to a boat for occasional use. On our multiple trips out, we usually anchored further away from the main sandbar area to focus on the best snorkeling spots. Usually, these were much deeper than around the sandbar and led to seeing much more underwater life.
While always a good time, I do prefer having professionals around to look out for me. If going out on a boat, make sure no one gets too out of hand if people are in a partying mood because it can get dangerous fast out on the water. Also, be sure you are aware of where the reefs are to not damage the important corals or endangered wildlife. The captain should be ready to take their role very seriously and that should make for a great day!
FAQ for Kaneohe Sandbar Snorkeling on Oahu
What is the best month to go on a Kaneohe Sandbar snorkeling adventure?
Tours go out to the sandbar all year, as long as the weather cooperates. Summer out on the sandbar is amazing and my favorite time due to the warm water and clear skies. But I also went on a Kaneohe Sandbar snorkeling trip in November and had a nice – albeit much chillier – time. That area of Oahu tends to rain more, so if you visit in rainy season, it is highly likely you'll get rained on on the sandbar.
Should I go to the sandbar in Kaneohe Bay at high tide or low tide?
The best time to go to the sandbar for snorkeling is when the tide is between low and high tide. You don't want it so low that you can't swim in the water, but it is nice when it isn't too high because you can wander around on foot between Kaneohe Sandbar snorkeling. Check the ocean conditions and tides before planning your trip, especially if kayaking out!
Is a Kaneohe Sandbar tour worth it?
Yes! Going out to the Kaneohe Bay Sandbar is one of the most unique activities you can do in the Hawaiian Islands and it is an absolute blast on a warm day. The live music just really puts it all over the top! We love this is a day trip and it can be done solo, as a couple, or as a family.
Any other tips for a day trip out to Oahu's sandbar?
Our biggest recommendation is just don't miss out on the amazing snorkeling at the sandbar. A Kaneohe Sandbar snorkeling day is a memory that will be hard to beat! Definitely prioritize this when planning your trip.
What else is there to do near Kaneohe Bay?
Kaneohe town is very small with limited dining options. However, Haleiwa Joe's Haiku Gardens is a gorgeous option for a special occasion. Before or after your K-Bay tour, visit Hoʻomaluhia Botanical Garden and The Byodo-In Temple. If you have more time, a movie site tour at Kualoa Ranch is always fun! For an especially unique tour, there is also the Hawaii Institute of Biology tour of their research facility on Coconut Island.
We hope you have a wonderful visit to beautiful Hawaii! For more activity ideas on Oahu, read this article!