The cliff-side city of Oia is known to be the best place to watch the famous Santorini sunset – known around the world for its epic display. But, if you do more than two minutes of research about this place, you'll find out that it is a madhouse at sunset.
During the summer months, hundreds of people pack into the narrow streets of Oia to watch the iconic white buildings turn pink and purple as the sun dips into the seemingly endless ocean. It is STUNNING. But it is far from relaxing. However, sitting at an ocean-facing table, sipping wine, and enjoying a Santorini sunset at Santo Winery is divine. AND you can still see those cliff-side white buildings from afar.
Tips for Visiting Santo Winery for a Memorable Santorini Sunset
1. Getting to Santo Winery
If you have a car or ATV rental, it is easy to drive to Santo Winery which is located in Pyrgos village (about 20 minutes from Fira/Thera and 30 minutes from famous Oia).
You can also walk it in less than an hour from Fira or get dropped off there via the bus – just check the schedule at the main Fira bus station earlier in the day to see when it leaves. And, if walking, keep in mind you'll be on the side of the road, which may get more dangerous after dark.
2. Booking a Table
It's recommended to make a reservation – especially if you want a table with prime viewing of the sunset. However, we showed up about an hour before sunset and were able to get squeezed in at one of the last tables available.
We weren't in a prime sunset viewing spot, but we could still enjoy it and walk over to take photos without other people in them.
3. Budget Option for Tasting the DELICIOUS Santo Winery Wine
Since we visited Santo Winery around dinner time (for us anyway … locals eat closer to 10 p.m.), we opted for the snack and wine tasting option. This included six wines and some great snacks – crackers, tomato dip, olives, and cheese. This was about €30.
The wines we tasted included one sparkling, three whites, one red, and a fantastic dessert wine (Vinsanto made with sun-dried grapes). I loved that they brought them all out on a tray to sip at our leisure!
We enjoyed everything we tried. Usually, the dry whites aren't our favorites, but these were so light and flavorful!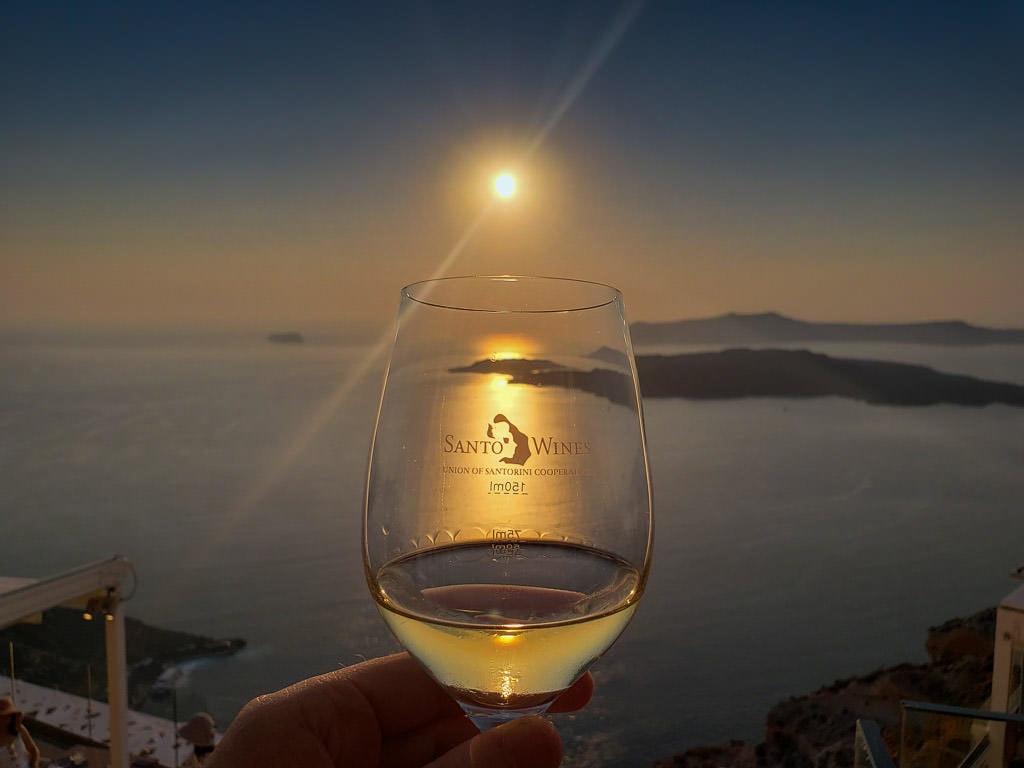 However, they also have many more wine options as well as a full menu of food, if you want to spend more time there.
4. Enjoying the Santorini Sunset at Santo Winery
From Santo Winery, you have a wonderful view of the caldera. The sun sets right next to it and into the vast ocean.
Be sure to keep an eye out for sunset, because it sets quickly! You'll know it's time when everyone gets up for photos.
If you look to the right, you'll see gorgeous Thira and, further-off, Oia. It is a unique perspective that really showcases the cliffs these cities are built on.
Wait around until dark, and don't miss this scene when it lights up! Such a magical place.
Planning a trip to Greece, don't miss our other tips for a great Greek adventure! And if you have other tips for our next visit, please share them in the comments!