Touring a Greek island (or a few!) is a dream trip for many people. It's just so romantic and iconic and offers all the wonderful experiences you could want on a vacation. Although we usually like to travel slowly, we found ourselves with less than a week before needing to be at a pet sitting gig outside of Athens, Greece, and immediately started Googling, "What to do in Santorini for 3 days?"
I had wanted to visit Santorini ever since I saw a photo of it as a child, but I was worried three days in Santorini wouldn't do it justice. It would also have to be on a weekend at the end of the busy summer season. And, even though we were already headed to Greece, adding on this famous island was not cheap. Was visiting Santorini going to be worth it for such a short trip?
I also read so many blog posts that told us to just skip Santorini altogether for a less touristy island. WHAT?!?! As much as I would have loved to visit more islands. Skip Santorini? Heck no! This place had been on my mind for decades and I wasn't going to miss my chance to finally see those white-washed walls and the stunning sunsets in person when we'd already be so close.
So, we booked a very last-minute trip to Santorini on our way to Athens! And I'm so glad we did! Looking back years later, it is still one of the best vacations we've ever taken – packed with gorgeous views, wine tasting, delicious food, and (of course) taking in the sunset at some of the best places in the world to do so. If you are considering a visit, definitely don't let the haters stop you!
What to Know Before Visiting Santorini
Santorini is a stunning Greek island in the Aegean Sea that came into existence due to volcanic activity. The most heavily visited areas of Santorini (Oia and Fira) are actually located on the caldera cliffs opposite Nea Kameni island and the dormant volcano that last erupted in the 1950s. Yes, dormant – not extinct. This means it is still considered an active volcano and is expected to erupt again at some point.
The village of Oia is known around the world for its houses built into the lava rock cliffs, and its areas of Imerovigli and Firostefani are most popular for sunset. However, the capital of the island is Fira which is another gorgeous village worth exploring. There are also archeological sites, hiking trails, and great beaches!
We would have loved to spend an entire week or more exploring Santorini, but three days was just enough time to hit up most of the highlights and check out some of the best things to do!
What to Do in Santorini: 3 Days Itinerary Example
If you only have limited time, here are our best recommendations of what to do in Santorini for 3 days. If you have more time, be sure to add another tour and more activities to your list! I'd personally have loved more time for beach lounging and enjoying outdoor dining in the gorgeous villages.
Day 1: Arrive Early & Tour the Island
While realistic in our expectations that other people would indeed be around us while on vacation to a tourist destination. We also realize going to some of the busiest places as early as possible can help avoid horrendous crowds and lack of parking. So we often wake with the sun. Since we arrived at 3:30 a.m. after a half-day layover in Barcelona that wasn't too difficult to achieve!
Catch the Sunrise on the East Side
We were wide awake waiting for our rental car when the sun began to rise on our first day in Santorini. Luckily, we got the car just in time to go check out the sunrise. While known for sunsets, a Santorini sunrise is well worth getting up for as well.
To make this easier, opt for a hotel room with views facing the east side of the island. We loved (—) for this and many other reasons! (More on where we stayed below.)
Red Beach, White Beach & Akrotiri Lighthouse
With so many great beach options, you really don't have an excuse to miss out on some time on the sand. But, if you have a car or ATV rental, be sure to at least stop by the scenic white beach and red beach. Stay a while, if time allows. You may even find a place to pick up some food and drinks on the way. These beaches are a great place to nap off some of your jet lag! Just be sure not to leave any valuables out since any tourist-heavy spot is also going to have some opportunistic thefts.
Also, while in this area, it's a good time to pop by the Akrotiri Lighthouse at the westernmost tip of the island, if you would like!
Go to Santo Winery for Sunset, Snacks & Delicious Wine
After napping for a few hours after we were able to check into our hotel, we hurried over to Santo Winery. We really lucked out by getting a table just before sunset and would recommend making a reservation – especially to get prime seating. However, our view of the caldera and sunset did not disappoint and I couldn't imagine a better way to unwind after a long travel day.
The wine is wonderful, but the views were much more intoxicating!
Read more about visiting Santo Winery for sunset here.
Day 2: Greek Cooking Class in Megalochori, Hiking, & Exploring Fira
Stop by the Heart of Santorini in Megalochori
On our second day, we woke up feeling well-rested and ready for more explorations! After taking a morning walk around the neighborhood we were staying in, we headed to Megalochori where we'd be having a mid-day cooking class! We also saw something called "the heart of Santorini" on the map nearby and had to see what it was!
What a treat this was! If you find yourself in the Megalochori area, don't miss a quick hike down to the Heart of Santorini for great views and a unique little chapel below – Agios Nikolaos.
Find out how to get to the Heart of Santorini here.
Petra Kouzina Greek Cooking Class in Megalochori
Of course, no trip to Greece is complete without sampling the fantastic Mediterranean food and drinks. You won't have to look far to find some of the Greek classics you are craving. However, learning to make these delicious creations yourself is an amazing experience you'll never forget!
We love seeking out cooking classes when we are in a country with cuisine we really enjoy! The husband and wife team at Petra Kouzina is absolutely amazing and not only taught us how to make some outstanding authentic dishes, but also gave us a glimpse into what real life in Santorini is like (beyond the tour buses!). It was a highlight of our trip, hands down!
Check out our full review and experience here.
Lounge at One of the Beaches
After our very filling and satisfying lunch, we were on the lookout for a place to doze off in the sun. We were surprised to find an entire row of palm-leaf umbrellas and chairs setup up along the black sand of Perissa Beach. There is no fee to use most of them, just sit down and order a drink or snack. It's really a fantastic way to spend an afternoon – sipping a frappe or cold beer in the shade!
This area also has lots of restaurants, bars, shops, and even an open-air movie viewing area during the summer. Plus, it is really cool to visit black sand beaches like this with volcanic ash mixed in with the sand.
Other popular beaches include Kamari Beach, Perivolos Beach, Monolithos Beach, Vlychada Beach, and Caldera Beach! There is more information about each and a fantastic map of the beaches on this blog post by SantoriniDave!
Sunset & Dinner in Fira
Just before getting dinner in Fira (where we were staying), we wandered over to take in the sunset views from this area of the island. It was beautiful seeing all the houses change from white to shades of purple and pink as the lights came on and the sky darkened. It's a magical place, my friends.
While dinner had a lovely atmosphere, it really just couldn't compare to the amazing culinary masterpiece Chef George had helped us create earlier in the day. None of the food we ate tasted even close to that good for months!
Day 3: Morning Sailing Trip & Sunset in Oia
Santorini Sailing Tour
We have learned from experience how exhausting it is to just drive around exploring every day of a vacation. That's why we were so happy we booked a day trip with Sunset Oia for our last day. The tour included pickup nearby our hotel to transport us down to the dock at Ammoudi Bay.
We got to see a lot of the island while putting forth minimal effort, drinking as much wine as we wanted, occasionally hopping in the ocean, eating great food, and lounging in the sun. (If visiting in the winter months, being out on the water may not be ideal or available).
It was lovely to get to see the beaches, Fira, and Oia from the ocean. The entire experience just exuded holiday vibes and it really set the tone for a relaxing rest of our trip. We even got to stop at some natural hot springs we couldn't have gotten to without a boat tour. However, visiting in the summer months meant we were all way more eager to swim in the chilly sea!
Read more about sailing around Santorini here.
Sunset at Oia Castle
While our first two nights were spent in relaxing sunset places, we couldn't bring ourselves to leave Santorini without one Oia sunset. So, we got there by bus from Fira, wandered through the narrow streets, and found a place to wait at the busiest sunset spot in the city – Oia Castle. I mean, if you are going to do it, might as well really go for it?
It was a madhouse there! I can't imagine what it looks like in full-blown tourist season, but it was packed where we were and everywhere we looked. yet, it was also kind of beautiful to gather with all these strangers to watch the sun dip below the horizon.
Of course, as the sun finally disappeared, everyone cheered before snapping a few last photos and leaving. I love being part of those moments. It makes me feel so connected to humanity. The year prior, I watched the sun set from Haleakala on Maui and cheered along with those strangers as well.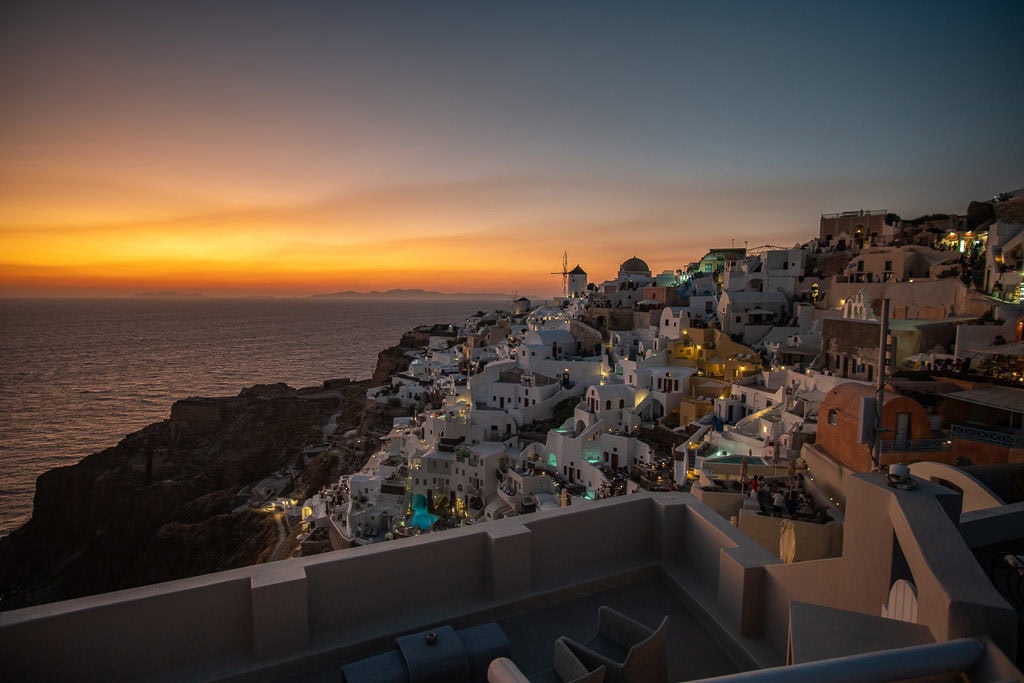 I also had to laugh, because once the sun was gone, so was the crowd. We basically had the place to ourselves with what was still a stunning scene. We were really happy we didn't miss that iconic Santorini experience.
Bars in Fira
For those wanting to go out drinking and dancing, there are plenty of bars in Fira. We went out with four other people we had met on the sailing cruise and had a blast. Definitely don't settle for the first bar you pop into. Our first was quiet, had overly priced drinks, and slow service.
But, when we went around the corner to Two Brothers we found out it was a great spot with drink deals, fast service, and an absolutely packed house with a fantastic DJ. They also did this ridiculous "head shot" thing where you put on a helmet, took a shot, and then the bartender hit you in the head with a bat. We didn't partake, but happily laughed at the people wild enough to do it!
Then we danced until 3 a.m. A very successful night out considering we rarely make it past midnight.
Have More Time? Here are Some Other Things to Do in Santorini
Wine Tours or Winery Hopping
As mentioned, we loved Santo Winery for sunset. But, there are many other wineries on the island. Other options include Venetsanas Winery, Estate Argyros, Domaine Sigalas, and Boutari.
The white wine in this area is fantastic and definitely worth tasting! You can also take a tour, which is a good idea to safely get to each if planning to sample a lot. This Santorini wine tour looks like a nice option!
Take a Boat Tour to the Volcano
For those who aren't afraid of an eminent volcanic eruption, you can actually take a tour to Santorini's active volcano. Most tours allow for some time to walk around, a trip to the hot spring and time out on the water.
Visit Ancient Thera
You can wander around the archaeological site of ancient Thera or take a tour to learn more about this historic area. You can learn more about visiting in this blog post.
Museum of Prehistoric Thera
This unique cultural museum in Santorini houses archaeological finds from the excavations at Akrotiri, It's a very interesting place to visit for history lovers and those wanting to learn more about the ancient history of Thira!
When is the Best Time to Visit Santorini?
Typically, June through August are the busiest times to visit Santorini. The summer is also very hot! Our advice is just don't go during the middle of high season if you can help it. May and September can be a nice time to visit with less crowds!
However, expect things to be crowded in the popular Oia area no matter when you go. We went in the middle of August on a weekend. It was hot, crowded, and took some patience. But, the delicious white wine helped with that and the stunning views made it all worth it.
There are so many great things to do in Santorini, not all of them will be busy all day, but a lot of the most popular places will be. Embrace it. You are on one of the Greek islands, it can't be all that bad! Waking up early can really help with beating the crowds also!
How Do You Travel to Santorini?
The two options for getting to the island are plane or ferry boat. We opted to fly in from Barcelona (after taking a flight there from the U.S.). And we left by ferry. So, we have insights into the challenges of both.
Getting to Santorini by Plane
There are no direct flights from North America to Santorini. So, if coming from the U.S. you'll have to go through another city for at least one layover. Since we had never gone to Barcelona, and the layover would be long enough to explore a few highlights, we chose flights that went through Barcelona.
For whatever reason, most flights get in between 1 and 3 a.m. So, what do you do at that time? Well, it seems like most people arrange to get to their hotel at a strange time or maybe just sleep at the airport on one of the outdoor benches until the buses start running or the rental car companies open.
We decided to get a rental car, but that meant waiting until they opened at 6 a.m. It still makes the most sense, looking back. But, we were pretty dang exhausted after a full day in Barcelona and very little sleep over 48 hours.
Also, note that this airport is tiny. There are some outdoor seating areas and a few convenience and souvenir shops that hold weird hours to accommodate the flights. But that's about it. We were thankful to get some pastries and a coffee (for me) while we waited in the cool early morning air.
Take the Ferry To or From Santorini
Taking a ferry between the Greek Islands and mainland Greece is very popular. It is also a relaxing way to enjoy the area, although it is more time-consuming than a flight. It is also likely less expensive.
The Athinios port in Santorini is very with lots of ferries coming and going. There is a lot going on there, so be sure to arrive early to make sure you don't miss your boat! You'll also want to get ferry tickets ahead of time, FerryHopper is a good site to use for booking.
Important: Be sure to go to the ferry port NOT the cruise ship port closer to Fira which has a cable car. We got confused and thought the ferry port had the cable car and got dropped off at the top of the hill, then had to walk down the road and down a very winding and narrow road to the bottom of the cliff where the ferry was. Not the best time! Also, keep an eye out for transportation strikes. Apparently, May 1 is a common day for these.
We also recommend getting a cabin for extra cost since the ferries were very cramped and it would have been nice to spread out or be able to leave our bags unattended in a room. If going to Athens and getting in late, we suggest you stay in Pireaus then get going the next day.
Overall, the ferry is nice because you get to enjoy glimpses of other nearby islands as you cruise on to your destination. If you are one to want to watch movies on your phone to pass the time, note there is no free wifi on the boats.
Getting Around Santorini
Santorini Bus System
The bus system on Santorini is really great and we had no issues using it. Driving isn't difficult, but parking is what becomes challenging – especially in busy Oia. The bus took a bunch of hassle away!
Being based in Fira definitely helped since every bus route stops there. Just make sure you are waiting in the correct line to board and have payment ready. Learn more about the bus system here.
Walking
Since it is a fairly tiny island, many things are close by and within walking distance. However, it is brutally hot mid-day during the summer, so keep that in mind. If using the bus, you'll likely walk some. Ideally, you don't get off at the wrong stop and have to walk two miles along the side of the road with heavy backpacks in the heat of the day to the correct ferry terminal. But if you do, try to laugh at the situation, it helps!
ATV or Car Rental in Santorini
Since we knew we'd be getting into Santorini at an ungodly early hour and check-in wasn't until late afternoon, we wanted a way to explore that could also hold our heavy bags. So, we rented a car for the first day. Unfortunately, we are used to U.S. airports and had thought the car rental companies would be open 24/7, and that way we could nap in the car for a few hours before the sun came up.
Instead, we arrived at 3:30 a.m. and tried to sleep on benches until the rental company opened at 6 a.m. Oops! It still worked out though and we were able to see much more of the island much quicker with the car. If we didn't need to store bags, an ATV would have been way more fun – I can see why that is a popular option!
Where We Stayed in Santorini
There are tons of overnight options in Santorini from a very fancy luxury hotel to very basic accommodations. Usually, the closer to Oia you are, the more expensive and booked up the options will be. We found that staying in Fira was actually more convenient since the bus location hub is there as well as plenty of great restaurants and bars.
We stayed at Nectarios in a cute, clean room close to town with great views. Our hostess was wonderful to work with also and it turned out to be the perfect place to base our explorations for a couple of days.
Have you ever been to Santorini? We'd love to read your tips for when we go back! Or if you use any of our suggestions, please let us know if you enjoyed them as much as we did!