We loved Athens. We loved Athens without going up to the Acropolis or taking a tour or buying souvenirs. We just loved getting to wander around and take in the city. The people are kind, the city is electric, and there are some amazing views – for free. It is absolutely possible to do Athens on a budget and still enjoy it!
Now, when I say budget, I don't mean as cheap as possible. I mean not going crazy spending money. We aren't hostel hoppers. It's our preference to have our own space that is comfortable, clean, and even a little hip, if possible. And we like to eat good food – not fancy food, just not sketchy food.
We're fine using public transport over a private taxi if it saves some money, but are known to grab an Uber if the price is comparable. Our tips aren't extreme, they're just practical.
Staying at The Artist Athens Hotel
We've been using Booking.com for a bit now and find some great deals – especially now that we've used it enough to get their bonus "genius discount." While traveling we do prefer more traditional hotels for one-night or short stays – especially if they have perks like 24-hour check-in, luggage storage, and free breakfast.
The Artist Athens Hotel was a winner in all these aspects, PLUS it had a gorgeous rooftop restaurant and bar, the rooms were beautiful and secure (bonus locked door on each hallway). And, as we'll describe later, the breakfast was the best we've had so far. For about US$80, we felt like this hotel stay was a steal!
What We Did in Athens on a Budget
In short, A LOT OF WALKING.
We walked from our hotel through the cute Plaka area to the Arch of Hadrian, around the National and Zappeion Gardens, over to the Panathinaiko Olympic Stadium, and back. About 10 km (more than 6 miles) of walking total during our short visit! Plus, sooo many pictures.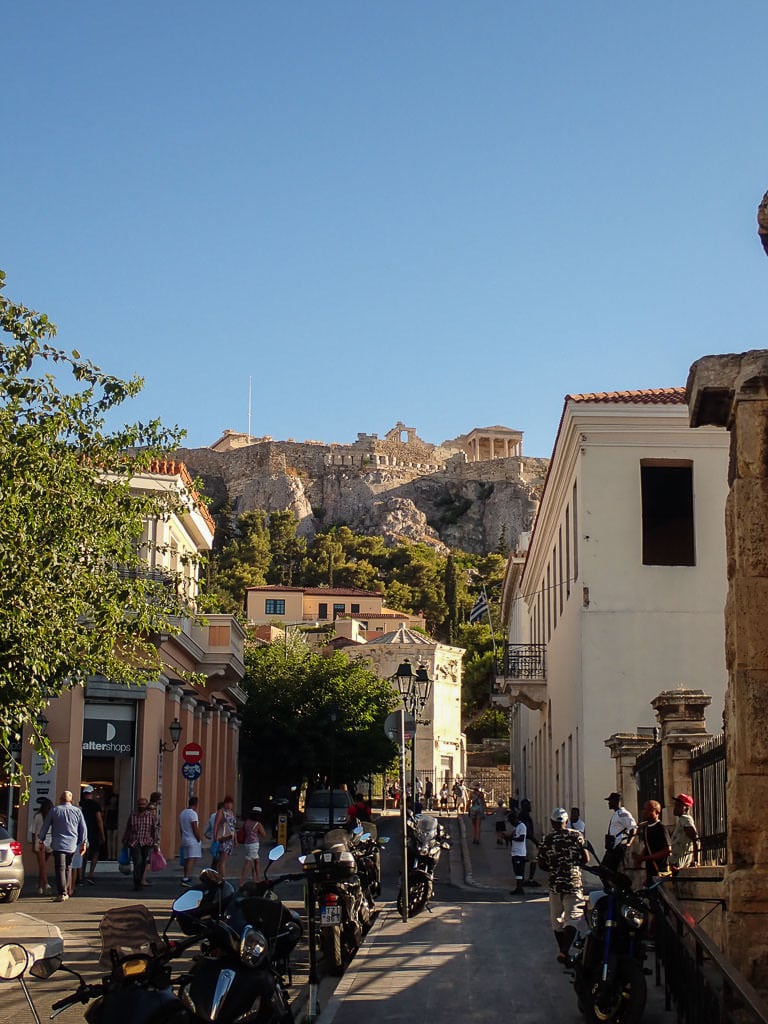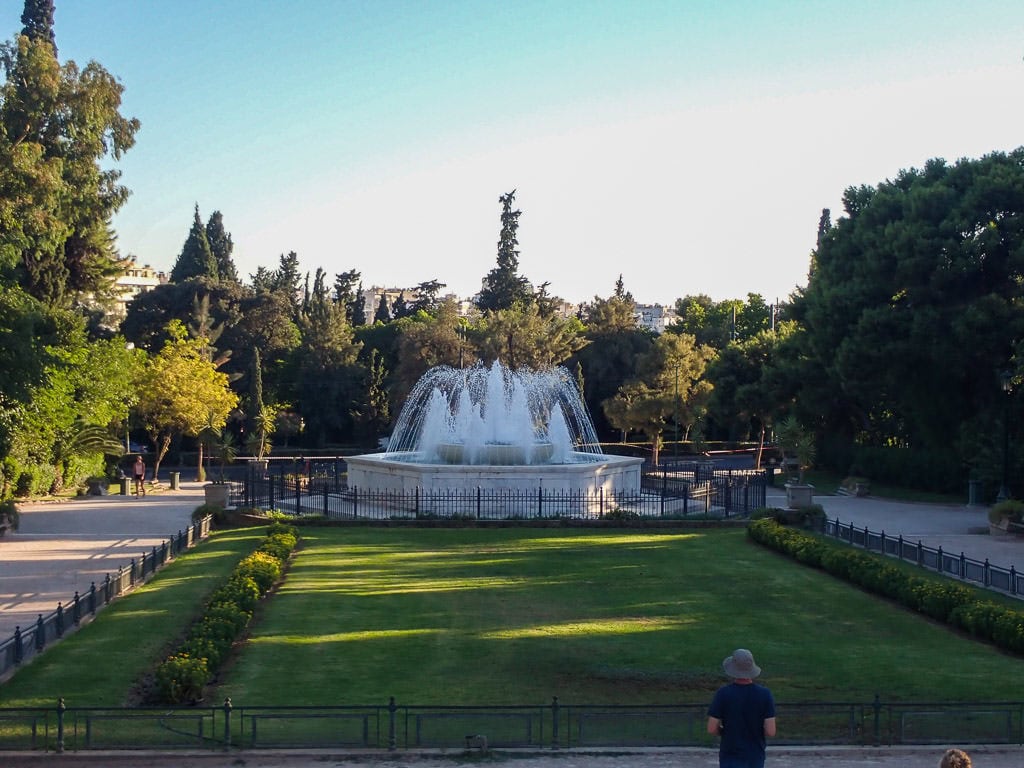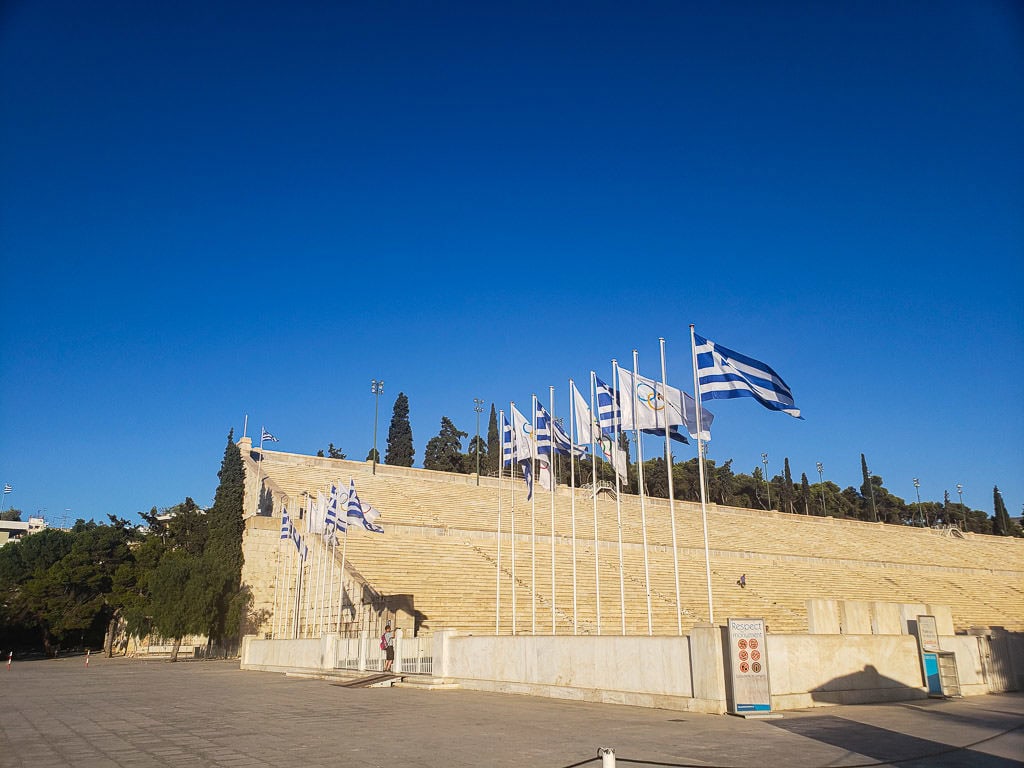 At first, we struggled a bit with the graffiti and general roughness of the city (not the people – just the look since it is a little unkept in parts). But, the thing is, it's not Rome. It's not Amsterdam or Paris. It's Athens. We've learned not to compare, just to take a place in for what it is – observe its people, appreciate its beauty, and just let it work its magic on us. We don't always connect to the vibe of a city, but we did with Athens and we're so glad we took the time to see it – even if it was a short visit!
This article by Culture Trip has more tips we didn't have time for – like visiting free museums.
Acropolis Sunrise at Filopappou Hill
While we didn't feel like shelling out €20 each to go up to the Acropolis and see it up close, we did want to take in this historic monument. So, we did some research and found a park that promised good views.
Of course, sunrise made the most sense to avoid the crowds and the heat. So we woke up 45 minutes before the sun to have time to get there. And it was totally worth it once we made it to the top of Filopappou Hill near the Monument of Philopappos.
One of the best parts was just walking around the city with no one else around. The streets were so calm and beautiful lit by streetlights. And watching the light cover this iconic place was amazing.
This was absolutely the highlight of our trip. Seeing the city from above, with the imposing Acropolis on its hill, was stunning. We stayed there for more than an hour, taking it all in – alone! I'm sure people will tell us we missed out by not paying to get a closer look, but I have a feeling we'll cherish our solitary sunrise so much more.
We've given ourselves permission to just scrap things while we travel – if it just doesn't seem enjoyable, why do it just because the guidebook says it is a must? Unless it is on your personal bucket list, will it really be that big of a deal to skip it for something more your style? You know our answer …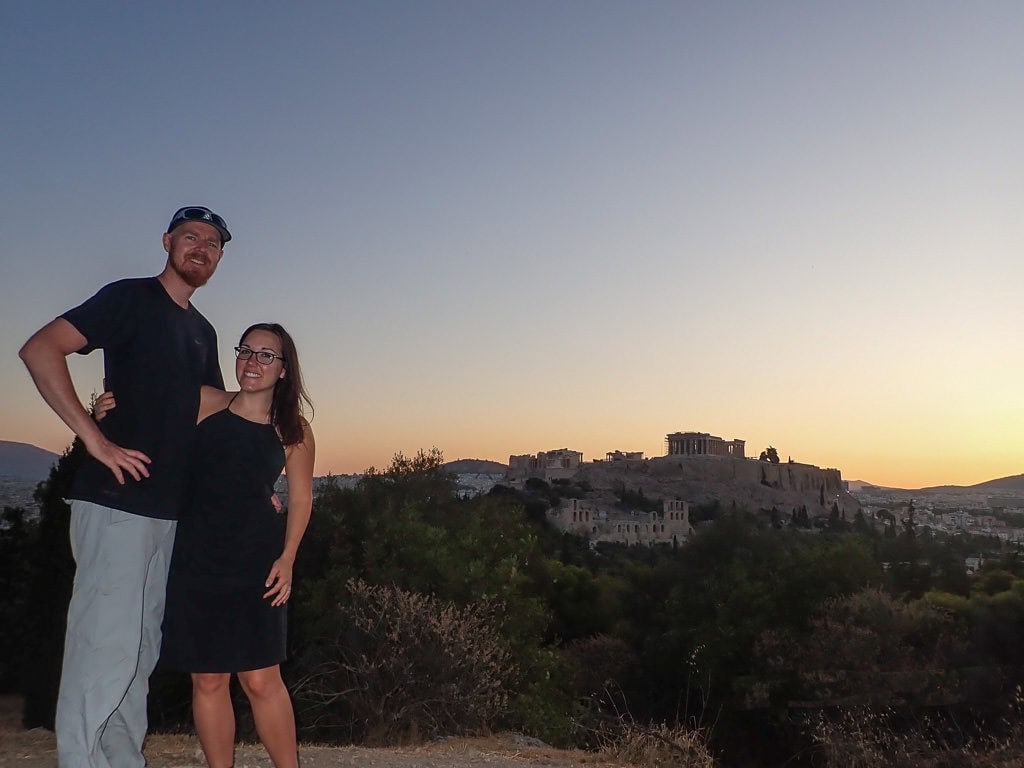 What We Ate in Athens
With all this walking, we had to refuel. So, we looked up falafel and gyro places with good reviews. We learned in Santorini that these were both cheap, filling, and fast! I got an enormous falafel burrito from Falafellas for about US$5 and Buddy got a gyro with fries from Just Pita for slightly more. We didn't have time to enjoy it, but we also passed a popular dessert spot with adorable decor called Little Kook.
For dinner, we opted for the rooftop bar area of The Artist Athens hotel where we were staying. I got a drink and dessert while Buddy got a beer and a burger. All at very reasonable prices.
As mentioned, our breakfast was included in the price of our stay – win!!! And it was fantastic. It wasn't the typical buffet-style deal we're used to, we got an actual menu to choose from. In addition to coffee or juice and a generous bread, jam, and fruit spread, we got to have our choice of egg dishes. Love this!
For lunch, we had hoped we could use our free lounge pass in the Athens airport. But, apparently taking a budget airline means getting bumped to the budget no-lounge area of the airport. So, we spent about US$40 eating cheese sticks and French fries and drinking beer at a lackluster airport restaurant. Granted, the beer was a luxury item we may have gone without – but our check-in with Ryanair was a nightmare, so we decided we deserved it!
How We Got Around Athens
We trained into Athens from where we were house sitting in Patras – all pretty easy. Then we hopped the metro into town. For some reason, we couldn't buy single passes at the kiosk, but the nice lady in the booth got us set up.
While in the city, we just walked and walked and walked. Then to leave, we took the more expensive Metro M3 for €10 each straight to the airport where we tried our best not to lose our minds at the absolute uncoordinated lunacy of our Ryanair check-in. (Yes, we'll still fly with them because … savings, but holy moly was it a mess that day!)
If flying out, definitely get there early – especially if using a budget airline. Athens is a huge airport and can get crazy!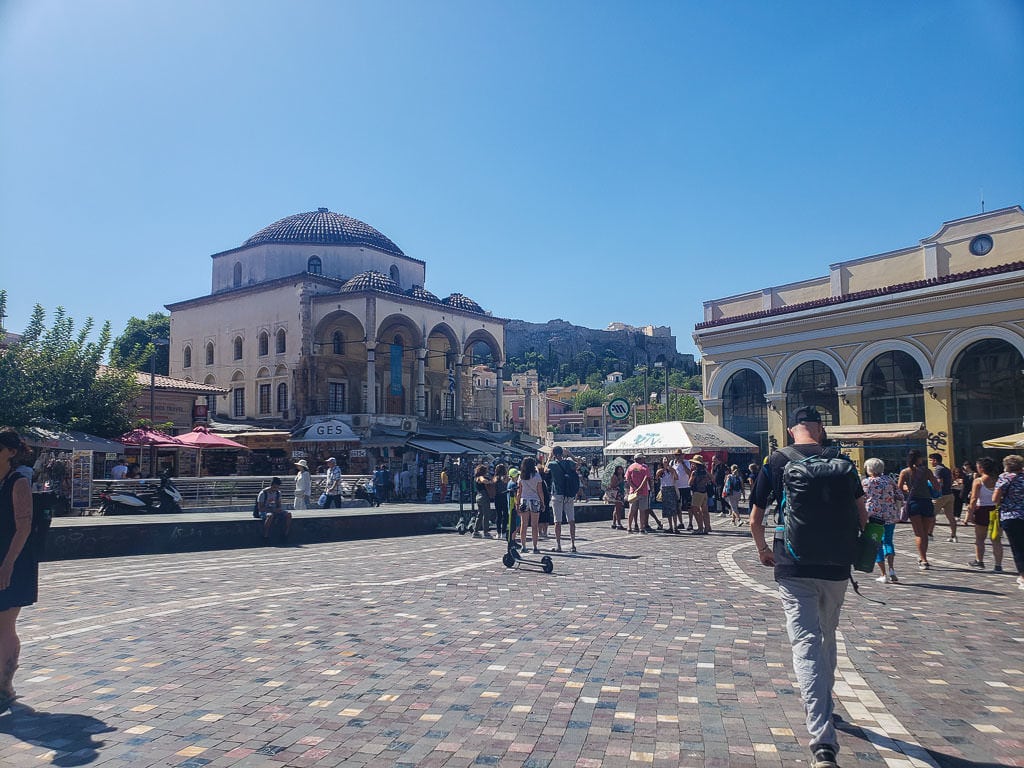 And that's that – our tips for 24-hours in Athens. If you are planning a trip to one of the Greek islands, you'll likely fly or ferry through this interesting city and it is definitely worth your time. And it can definitely be done on a budget – all in we estimate we spent less than $200 for a great trip!
For a longer trip, we'd recommend looking into which tours and entry fees would be worth it to you to pay. If you are a big history lover, you may want to blow the budget for this destination!
What are your tips for Athens? Did we screw up royally by not paying to go in the Acropolis? haha