We were never much into drinking in public settings before we started traveling. But, it has become very apparent that places with alcohol are often the same places where we can learn the most, have the best conversations, and find awesome food as well. Our experience wine tasting in Budapest, as well as some bar hopping, once again confirmed this for us with experiences that really made the trip special. Plus, lots of wandering and exploring this unique city in between.
First Impressions of Budapest
Initially, Budapest feels very rough – at least to us. While the Castle Hill area is pristine, the apartment we were renting was in the Jewish Quarter – which was once the ghetto where Jewish people were held during German occupation (and where many would eventually die or have their final days).
There is still a somberness there, knowing its past and seeing the state of the buildings – all still standing, but not in the best shape. Although it was left in shambles after the war, this area has gone from abandoned to one of the more popular areas of the city due to a desire for it to be used once again.
It is a unique place to spend time with locals who seem to frequent many of the same places as tourists – especially the younger crowd.
This is mostly because it is now known for being a cultural and nightlife center. Due in large part to its hip Ruin Bars, which include some great places to eat and drink – at much cheaper rates than many of the options along the Danube. And while the apartment we rented through Booking wasn't the best place we've stayed, it was surprisingly modern and nice inside and put us central to everything we wanted to do.
Getting out to Explore Budapest at Night
But, to be quite honest, after getting in later than expected on our long train from Romania and having to wait for our key for an hour later than agreed, we were pretty over it. Luckily, we needed food or we may have just called it a night around 5 p.m.
Like magic, our excitement to explore returned after enjoying a delicious meal at Mazel Tov – a beautiful ruin bar and restaurant showcasing wonderful Israeli dishes. And we're so happy we trekked over to the Danube to take in some of the iconic sights of the city.
From walking over the Széchenyi Chain Bridge to admiring Matthias Church, we walked until dark taking in as much as we could until our sleep caught up with us.
Wine Tasting in Budapest with Taste Hungary
Our second day in Hungary ended up being a bit of a wash. With it being a Monday, many of the museums and other attractions were closed (pretty standard in Europe, but easy to forget when you aren't sure what day it is). It was also raining – not just drizzling, but really coming down!
So, we were very much looking forward to the highlight of our day – and trip in general – our wine tasting at the Tasting Table by Taste Hungary which included eight wines to taste (one bubbly, three white, three red, and one sweet).
The tasting takes place in an old cellar in the Palace District, which is actually older than the famous Parliament! Now, it is the perfect place to store wine and hold tastings. However, if you are interested in more of an active exploration of Hungarian gastronomy, Taste Hungary also has many wonderful tours showcasing the food and drinks in the area – as well as wine tours further afield.
Learning all the Wine Lingo & History
While we've tasted many wines from all over the world, we have never done an actual class to learn the basics. For example, we learned that non-vintage means the wine is from a mix of harvest years, not one specific year. And that chilling red wines isn't advised because it brings out the metallic taste.
We were also excited to learn about the wines specific to Hungary and the history behind the winemaking – especially because the oldest wine region on the planet is there.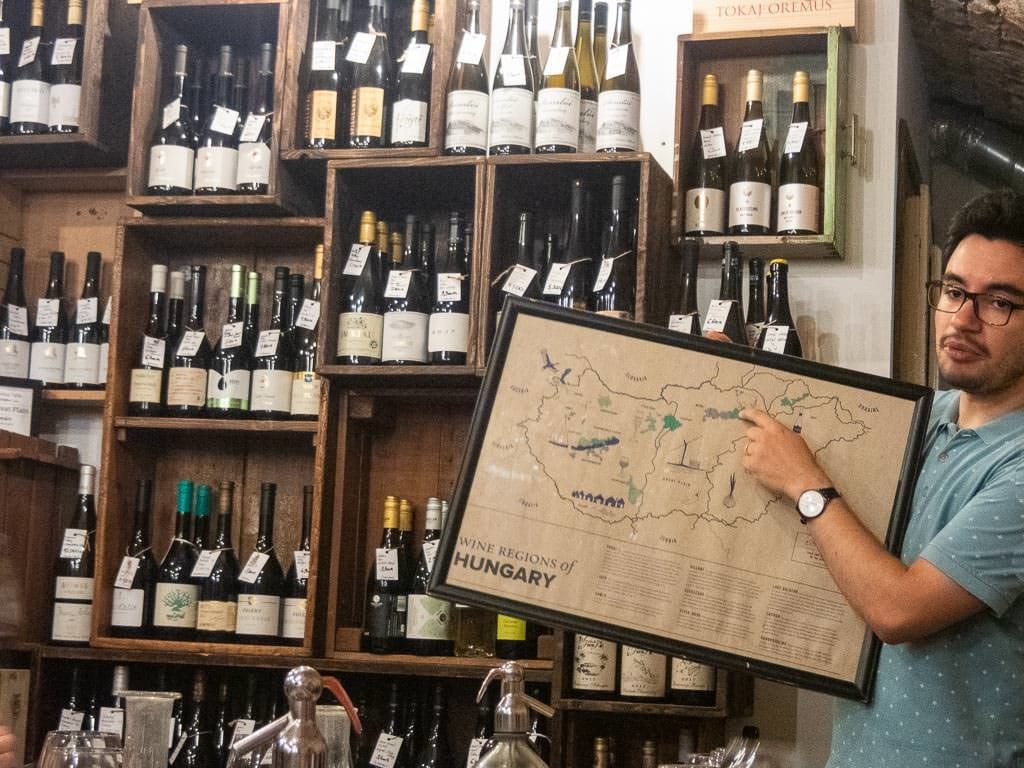 As it turns out, the wine and history is very varied and interesting. Our sommelier Sebastian shared all about how the Tokaj region was making wine long before other areas and how when Hungary was under communist leadership it meant the wine was overproduced in many areas.
Luckily, the wine industry has bounced back since then and creates wine with loving care now from all reaches of the country.
Of all the wines, our favorite had to be the Aszu from the Royal Tokaj Winery. We are just suckers for a good sweet wine. This one is made of "Frankenstein grapes" which are rotten and shriveled and apparently perfect for this sweet wine! The grapes have to be hand-picked in a tedious and time-consuming process.
But, it was a real treat to get to experience all of the wines as they aren't widely available elsewhere. Apparently, Hungary makes more wine than New Zealand, but the locals love it so much, they produce about 80% of it for their homeland! They even sing of wine in their national anthem.
Social Sipping
While excited to have our curiosity quenched, another great part of this experience was having a chance to interact with other travelers. At our table, we had a Norwegian family of six, as well as a woman from Sweden. During the class, I chatted with the 20-something girl from Norway about everything from wine to travel to politics. It was exciting and refreshing for both of us to chat so openly and find out we had so much in common.
Between chatter and tastings, we were also given a lovely platter of bites to pair with our wine – cheeses, meats, and other delicacies from the area were added to the bread with pumpkin and poppy seed dips already on the table. I loved that this was very informal and we were not looked down upon if we sipped our wine before the explanation was over, or paired the cheese with the wrong wine. It was all very friendly and fun!
After the class, we ended up standing outside and talking for a while about similar things with the Swedish woman who had been at the far end of the table from us. We laughed and joked and really enjoyed our chat.
It's wonderful what can happen when you gather around good wine.
Egészségére (cheers!) to that!
If short on time, you can also visit the Tasting Table and talk to the helpful sommeliers there who can help you find a wonderful bottle of wine to go.
Other Budapest Highlights
Originally, we had planned to see much more of this iconic city. We had kindly been given a Budapest Card to review and planned to run all over going into all of the museums and other interesting places included. But, with getting in much later than expected Sunday, the museums being closed on Monday along with the non-stop rain, and an early departure Tuesday – it just wasn't meant to be on this trip!
However, we did get to have a small taste of the city by wandering on foot around dusk our first night, and we'll also share ALL the places we plan to check out next time.
Széchenyi Chain Bridge
The Széchenyi Chain Bridge is very iconic in Budapest and it is gorgeous during the day or at night, and from far away or up close. When crossing from Pest to Buda (these two areas were once separate cities), this is one of the most common routes since it is near both the Buda Castle and the Parliament Building.
If exploring the city by foot, it's unlikely you'll miss the opportunity to walk over it and see it from both sides. But, make sure you don't miss it!
Fisherman's Bastian
This is probably one of the most popular and iconic places on the Buda side of the Danube – with tourists flocking there for photos. It is very fairy-tale-esque and reminded me of a sandcastle with its light-colored stone and pointed lookout towers.
For an additional small fee, you can walk the upper walls of the fortress to get to some of the best views of the city below.
Matthias Church
Just behind the Fisherman's Bastian, this unique Baroque-style church is hard to miss with its colorful roof and interesting architecture. Matthias Church is HUF 1,800 to enter (or free with Budapest Plus Card).
Parliament Building
This building is one of the most recognized in Budapest. Across the Danube from it, you can really admire it at all hours of the day and night.
Street Food Karavan
The Street Food Karavan food truck area was definitely our favorite place to eat. Plenty of options for everyone – vegetarian, burgers, pizzas, even Mexican! And, of course, beer. Plus, some fun street art to pass on the way.
Ruin Bars & Breweries
We started our night with some brewery hopping and great chats with locals over a few pints, then moved onto the Ruin Bars where we fell in love with this unique hipster scene. Of course, we went to the first-ever ruin bar, Szimpla Kert. And, as these photos show, it did not disappoint. It's like if Meow Wolf made a bar – with unique things everywhere (like bathtubs to sit in) and hidden rooms and staircases around every corner.
Chimney Cake Tastings
Apparently, this is the thing to do in Budapest – especially after a night of bar hopping. While the Chimney Cake was delicious (and 20% off with our Budapest Card), we REALLY didn't need to order one each. It was the perfect mix of crunchy and soft with how it is baked on a spit, so it was hard to stop once you started.
So, we finished ours, but regretted it with stomach aches later. Trust us, just split one!
Museums, Baths & Other Activities in Budapest, Hungary
If our trip had gone more as planned (or if we had been smart and just planned a few more days!), here are a few other things we'd do that were included or discounted with our card:
Tour history museums, including the Budapest History Museum (located in Buda Castle) and Hungarian National Museum.
Take in the views at Buda Tower and in the Buda Hills (using the Zugligeti chairlift).
Learn all the things on the walking tours through Buda and Pest held each day by Cityrama. They are two hours each, and I'm sure filled with fascinating details.
Visit some top art galleries, including the enormous Hungarian National Gallery (located in Buda Castle) and Museum of Fine Arts.
Soak in the iconic baths at St. Lukacs Thermal Bath (included with card) and the most-famous Szechenyi Bath (20% off with card).
Take a Danube cruise to enjoy the sights from the water (there are various options depending on what card you get from a percentage off to fully included). Some can even drop you off at the picturesque Margaret Island for a little while.
Tips for Visiting Budapest
Beware of Mondays. As mentioned, many of the activities are closed.
Plan more time. Two days wasn't enough. Three probably wouldn't have been. We really think this is a week-long destination.
Keep an open mind. It looks a little rough in places (especially on the Pest side), but we found that there was beauty at every turn once you got past the rough exterior of some areas and focused on the architecture and overall vibe. And don't forget to wander around at night as well!
Consider the Budapest Card. If you love to go museum hopping and just soak up all the education you can about a city, these cards can offer some savings with the included and discounted admissions. Luggage storage is even included! But, just check to make sure you'll use it enough to make it worth it. Cards range from 24 to 72 hours, with 'plus' options for more deals on local activities.
Take the public transport. This is a big city with a lot to see! Hopping on a bus or shuttle can really save your feet and help you hold onto some energy for a night out. Definitely take advantage of this if you opt for the card, since public transport is free – including the Budapest Castle Bus shuttle.
Eat and drink often. Budapest had some of the best food of anywhere we've been – so much variety and quality ingredients. Plus, fantastic drinks to pair with it – from local wine and beer to hipster cocktails!
We know there is a ton more to Budapest! What are your best tips for our return trip?
Special thanks to Taste Hungary for having us as their guests at the Tasting Table. As always, all opinions are our own. As noted above, we were also given the Budapest Card to review and, while disappointed we didn't get to use it as much as planned due to situations out of our control, we appreciate the help we received by the Budapest Festival and Tourism Center.