As I look back on many years of travel, the quiet and remote island of Newfoundland always stands out as one of the most unexpectedly amazing places we've ever visited. If you are planning to visit, congrats – it is truly one of the best places for outdoor lovers in the world. Here are our top things to do in Newfoundland, Canada, to make the most of your visit!
About Newfoundland, Canada
Located in the stunning Atlantic Canada area of North America, the province of Newfoundland & Labrador is very remote and wild. While Labrador is attached to mainland Canada, Newfoundland is a large island that can only be visited by boat or plane.
This beautiful area off the Eastern Coast of Canada is very cold and a bit extreme over winter, but summer is ideal for hiking and exploring.
In the 1940s Newfoundland and Labrador was actually allowed to choose whether to be part of Canada, Britain, or become its own country. While they chose to be part of Canada, it does still feel a lot like its own country with the very obvious influences from Ireland, Britain, aboriginals, and the Vikings. It's a unique mix of cultures, history, and landscape – which makes it ideal for a long visit!
Newfoundland is also part of the Titanic's story because the famous tragedy took place off the coast. Cape Race actually received messages from the ship that it was sinking. Similar-sized icebergs as the one the Titanic hit can still be seen floating alongside Newfoundland's coast.
The capital city, St. John's, is also the oldest English-founded city in North America, so it has a ton of historic buildings and places to learn more about the stories of this culturally rich province. Plus, it is a great place for anyone who likes to go out and party!
38+ Awesome Things to Do in Newfoundland
We spent about six weeks exploring Newfoundland and wish we could have had the entire summer there. It is just so amazing! Here is our list of everything we enjoyed, as well as a few on our list for our next visit.
1. Get "Screeched In"
This is one of the most unique things you can do in Newfoundland. It is the very silly and unique experience of becoming an official honorary Newfie! If you sign up, you will have to recite a silly speech, take a shot of Screech Rum, kiss a cod fish, sing a song, dance a jig, and a short recitation agreeing to be a good honorary citizen.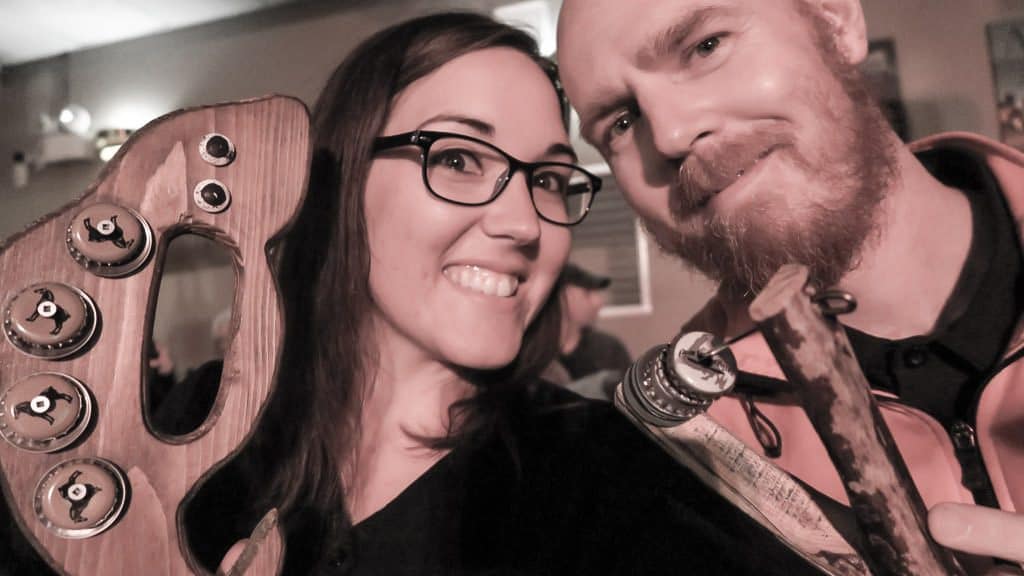 While in Rocky Harbor near Gros Morne National Park, we signed up for the ceremony at Anchor Pub during their Kitchen Party (another Newfie tradition with lots of great music and dancing). It was absolutely hilarious, and one of our favorite travel memories of all time.
Read more about our people-focused Newfoundland experiences.
2. Take an ATV Tour Along the Coast
The first friends we met in Newfoundland were the folks at Pirate's Haven who own an RV park, chalets, and adventure tour company. They are located in Robinsons, Newfoundland, not too far from where the ferry drops off at Port aux Basques. This was an absolute highlight of our trip and such a unique way to see this gorgeous area!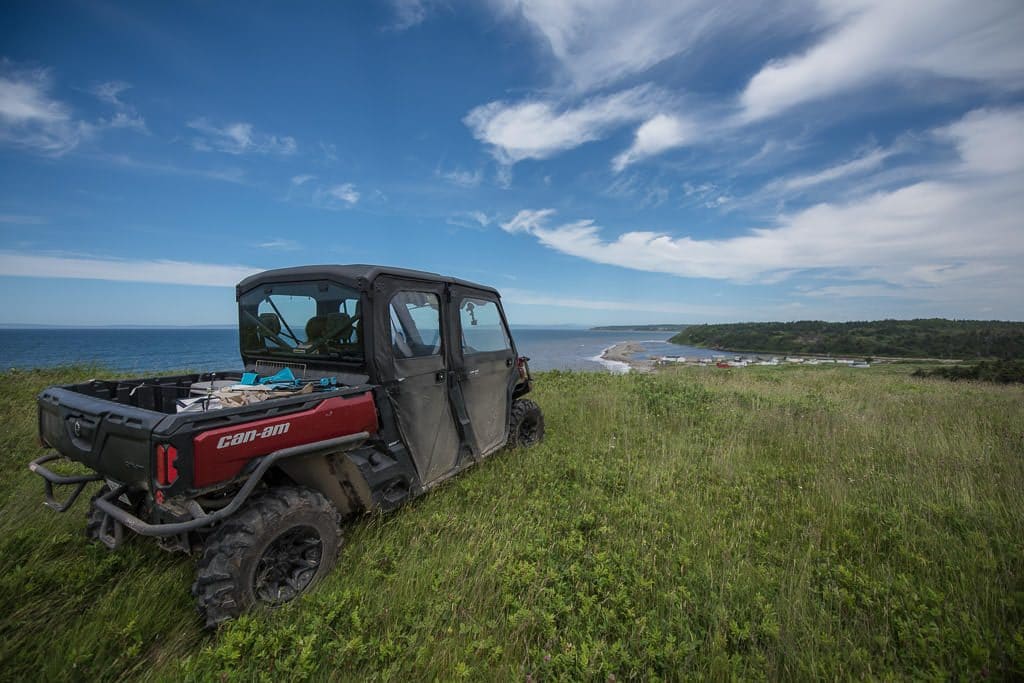 See more about this epic Newfoundland ATV tour.
3. Go to the UNESCO World Heritage Site L'Anse aux Meadows
If you have a keen interest in Viking history, L'Anse aux Meadows is a must-see. It was a Norse settlement more than 1,000 years ago, and you can tour the archaeological remains and a recreated camp. There are multiple opportunities to learn about this interesting historical place, even from costumed interpreters!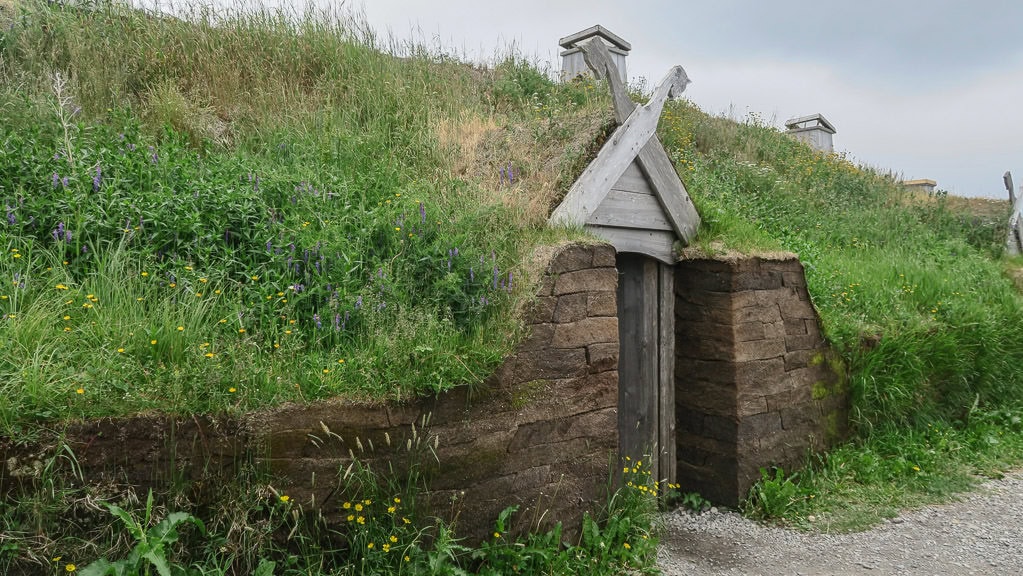 4. Port au Choix National Historic Site
Nearby L'Anse aux Meadows is Port au Choix National Historic Site where you can dig deep into the aboriginal history of this area. For more than 6,000 years, multiple cultures lived off of the sea in this area with a rugged cliff coastline to stroll along.
5. Enjoy Views of the Atlantic Ocean at Point Riche Lighthouse
This is a great spot for taking in a sunset while admiring the majesty of the ocean. We even saw caribou wandering through this area, so keep an eye out for wildlife.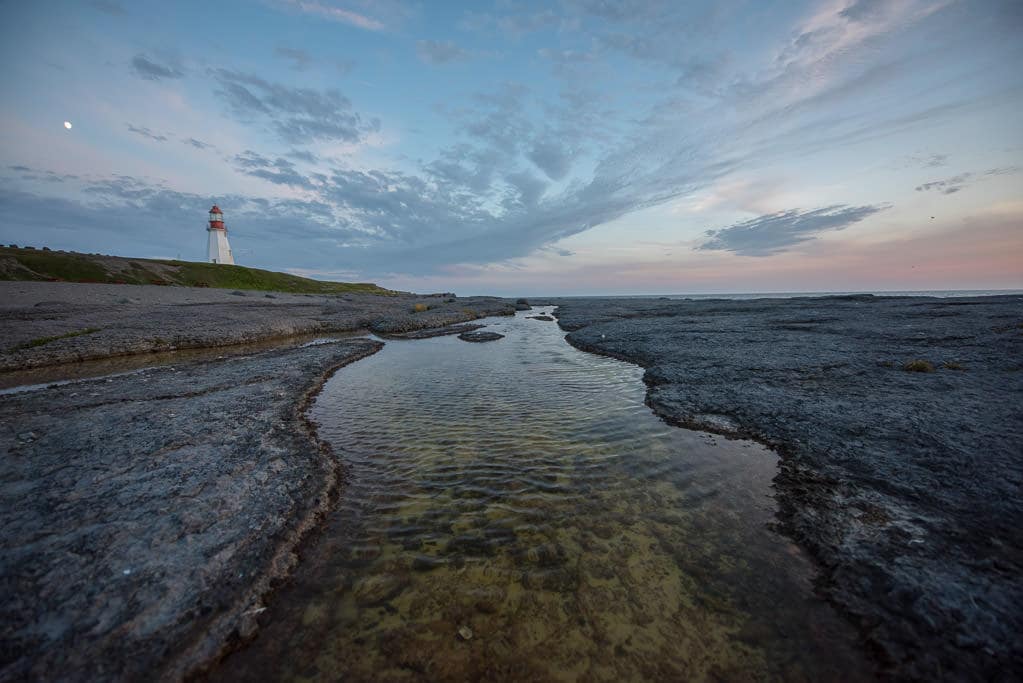 6. Hike Around Gros Morne National Park
On the west coast of the island, Gros Morne is one of the multiple wonderful national parks in this area of Canada. There is tons of great hiking and views! It is also a UNESCO World Heritage Site and Parks Canada does a great job making this area very easy to explore.
Visit Baker's Brook Falls
This trail is a bit more than 6 miles round trip (10km). It goes through bogs, wildflower fields, boreal forests, and ends at a large waterfall!
Hike Up Gros Morne Mountain
If you are up for a challenge, the beautiful scenery along the way to the summit of Gros Morne Mountain are spectacular. The total length is about 10 miles (16km) and it is a rough hike. At one point, you have to scramble up a rocky gully and it is just a struggle from there on. But it is stunning!
Read our entire story about hiking up Gros Morne Mountain.
7. Go to Lobster Cove Lighthouse
A great place for whale watching and sunsets within Gros Morne.
8. Take a Short Walk on the Eastern Point Trail in Gros Morne
The little town of Trout River in the Gros Morne area is the perfect place to grab lunch (the Seaside Restaurant was a nice choice), and take a short stroll up the Eastern Point Trail to get a great view.
9. See the Earth's Mantle at the Tablelands
The Tablelands portion of Gros Morne National Park has a wide array of natural beauty, but this area is popular because you can see the Earth's mantle! It is one of very few places on Earth where you can see it. You can go out on a hike or take a guided tour.
There is a particularly great trail that starts in the barren Tablelands and goes all the way to the Atlantic Ocean. The Green Gardens Trail is only 5.6 miles (9km) round-trip, and we highly recommend it!
Read more about our time exploring Tablelands and Gros Morne.
10. Catch a Show at the Gros Morne Theatre Festival
In Cow Head, you can enjoy a great night of local live music at the summertime Gros Morne Theatre Festival. It is funny and entertaining and gives you a unique look into the Newfie culture.
11. Go to the Insectarium
This is one of those places we thought we'd just pop into but ended up spending hours. It is near the Deer Lake area of Gros Morne and a must-stop. There are thousands of insects preserved as well as some live ones, even some you can hold!
12. Go on the Western Brook Pond Boat Tour
Weather didn't cooperate for us to do this activity, but everyone we me told us it is amazing to cruise along this landlocked fjord. We'll definitely be going on our next visit. Read more from Bontours.
13. Take a Night Walk at Berry Hill Campground
The stargazing in this area of Gros Morne Park is amazing. We went on a fun night walk while staying at the campground to learn more about the nocturnal wildlife and best stargazing spots!
14. Stroll Along Shallow Bay's Sandy Beach
Newfoundland just keeps on coming through with the surprises – Shallow Bay is a stunning, long sandy beach. It's a great place to swim in the warm summer water, lounge, and enjoy the sunset.
15. See Corner Brook's Captain James Cook Historic Site
This area offers a great view alongside a statue of the famous explorer, Captain James Cook.
16. Paddle the Exploits River
Near Grand Falls-Windsor, this whitewater rafting trip with Riverfront Chalets is a relaxing way to enjoy a warm summer day. Read more here.
17. Take a Trip to Off-Shore Fogo Island
If you can swing it, staying overnight at Fogo Island would be even more magical. But even just a day trip to this peaceful, quiet island town seems to be worth the investment from what we've heard.
18. See Humpback Whales on a Boat Tour or by the Coast
Whale watching is a fantastic way to spend a day of your Newfoundland visit. We went on a fantastic tour with Molly Bawn into the Witless Bay Ecological Reserve that also included seeing puffins flying over us! See more of our experience.
If you are on a budget, you can also go to St. Vincent's to look for whales swimming alongside the beach!
19. Look at the Murals in the Small town of Botwood
If you find yourself wanting to stretch your legs when mid-way across Newfoundland, definitely stop in Botwood to admire the murals. Everyone there is so friendly and immensely proud of the local art gracing the buildings.
20. Explore Terra Nova National Park
We loved Terra Nova for hiking and wildlife viewing (including bald eagles, whales, puffins, and more). It's very different than Gros Morne – more lush and water-focused.
Go Ocean Kayaking into the Fjord
This was a highlight of our visit and also much more of a challenge than we expected since we didn't realize how much extra effort ocean kayaking took!
Take the Boat Shuttle to Hike Up Mt. Stamford
A hike up Mt. Stamford is challenging, but the views are worth it! It also feels like an extra fun little adventure to get to take the boat shuttle there and back.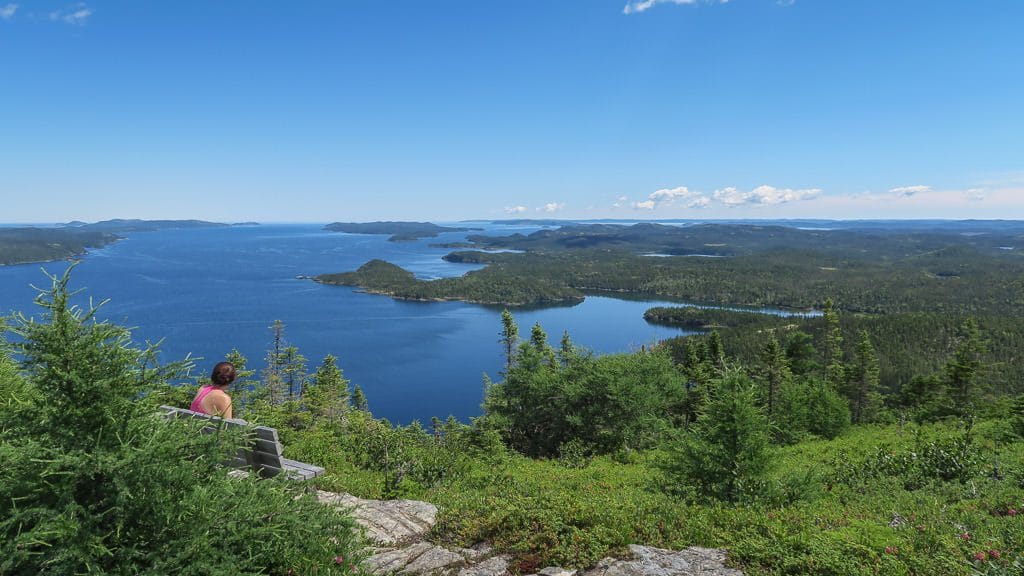 Hike the 5km Coastal Trail
For a trail without elevation gain, the Coastal Trail is a beautiful place to go for a stroll and enjoy the scenery and look for wildlife.
Go on a Whale & Puffin Watching Tour
To really get a close-up look at the amazing wildlife in this area, the whale and puffin tour leaving the Terra Nova dock is a great time. We also got to fish and go into a few caves on the tour!
Read more about visiting Terra Nova in Newfoundland.
21. Visit Cape Bonavista Lighthouse
This lighthouse is now a museum, but even if you don't go inside it is a stunning coastal area! It's also a great place to spot puffins. However, the light is one of the few in the world that you can climb up to see the same apparatus used in the 1800s!
22. Dungeon Provincial Park
Near Bonavista, you can see a collapsed sea cave with a natural archway at this coastal park.
23. Enjoy Live Music at a Kitchen Party!
If you like lively music and dancing, don't miss a kitchen party while in Newfoundland. While the bars in St. John's can get extra rowdy and crowded, most pubs across the island host some kind of kitchen party on the weekends – just call around to see what's happening during your visit.
24. Visit Iceberg Alley & Look for Polar Bears
One of the most exciting things to do on a Newfoundland road trip is try to spot icebergs! These break off larger glaciers further north and will float by the coast in late spring and early summer. Twillingate, St. Anthony, Bonavista, and St. John's are all popular cities to look for icebergs. Read more.
Sometimes, on a rare occasion, a polar bear may even float in on an iceberg! Even if you don't see an iceberg, driving around this area is lovely – with lots of small fishing villages and great views. However, if you want to get up close, they even have iceberg-viewing boat trips!
25. Take on Part (or all) of the East Coast Trail
At almost 168 miles (270 km) of coastal hiking paths, taking on the entire East Coast Trail could take quite a long time. However, there are plenty of sections to enjoy along the eastern coast of Newfoundland.
Some of the best hikes that are shorter portions of the East Coast Trail include: Cobbler's Path, Bay Bull's Lighthouse, La Manche Village Path, and Stiles Cove Path. Read more in the blog post.
26. Visit the North Atlantic Aviation Museum in Gander
This museum is especially significant for WWII history enthusiasts since it shares how Newfoundland had a part in the war.
27. Go to Cape Spear Lighthouse National Historic Site
This lighthouse is located on the most easterly point of Newfoundland and North America. Cape Spear Lighthouse is the oldest surviving lighthouse in the province and has a rich history.
28. Visit the Elliston Puffin Site (and See Root Cellars!)
This is the closest you can get to viewing puffins from land and it is a really great place to visit! You can also explore some root cellars the locals historically used to store items through winter.
29. Wander George Street in Downtown St. John
The hopping city of St. John is the capital of Newfoundland and is a stark contrast to the quaint fishing towns in the rest of the province. George Street is two blocks of bars, pubs, and restaurants with a reputation of being the spot to go on a night out in Newfoundland.
30. Go Up Signal Hill National Historic Site
Within St. John's, NL, is the iconic Signal Hill where you can get great views of the city along with a history lesson. Cabot Tower built on the hill is a symbol of Canada's military and communications history.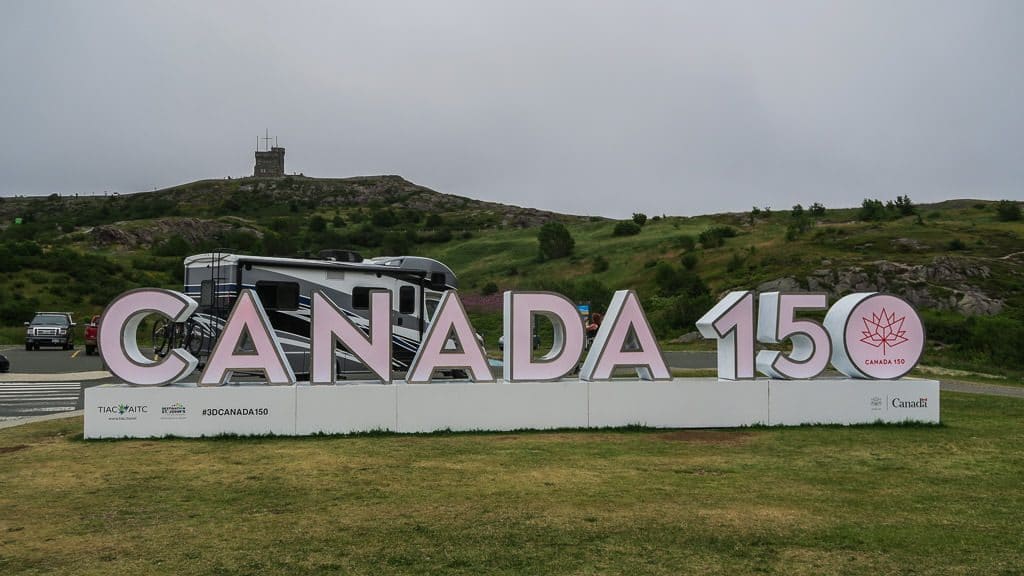 31. Go to the Johnson GEO Centre
Located under Signal Hill, the interactive exhibits dive into the history of the earth and Newfoundland.
32. Go to The Rooms Museum with Views
The Rooms is Newfoundland & Labrador's largest public cultural space. It is filled with exhibits showcasing the stories and history of the province. It also offers great views, a café, and a gift shop.
33. Go into the Iconic Quidi Vidi Village
This is just one of those quaint places to enjoy the scenery and have the chance to go back to a simpler time. There is a brewery that makes beer out of icebergs, as well as multiple hiking trails.
34. Go See the Iconic Jellybean Row of St. John's
These iconic colorful houses are a popular photo opp for visitors to the capital city.
35. Keep an Eye Out for Moose
Newfoundland is very safe, the only real danger is hitting a moose on the road. This is a big concern at night, especially. However, seeing a moose in the wild can be a great experience, just keep your distance.
36. Cape St. Mary's Ecological Reserve
This is one of the most accessible places in the world to see nesting seabirds. A short 45-minute walk from where you park takes you to a great viewing area.
37. Take a Really Long Ferry Ride to Mainland Canada
While long ferry rides aren't for everyone, if you are wanting to drive your own vehicle over to Newfoundland this is your only option. We actually really enjoyed it and felt like it added to the adventure! However, the cost is pretty high, so you may want to compare to flights first.
38. Go to France with a Trip to Saint-Pierre and Miquelon
You can take a one-hour ferry over to the small French-owned islands of Saint-Pierre and Miquelon. We couldn't make this work on our trip, but apparently, it is like visiting France! Read more in this blog post.
How to Get to Newfoundland
Take the Ferry
From Nova Scotia, you can take a six-hour ferry from North Sydney to Port aux Basques. Note that this is on the western side of the island, about a 10-hour drive from the capital city of St. John's. There is no way to loop, so you would drive the same road back if taking the ferry round-trip.
We loved this option because it allowed us to go to anything we weren't sure we would have time for on our trip over to St. John's. See our RVing logistics.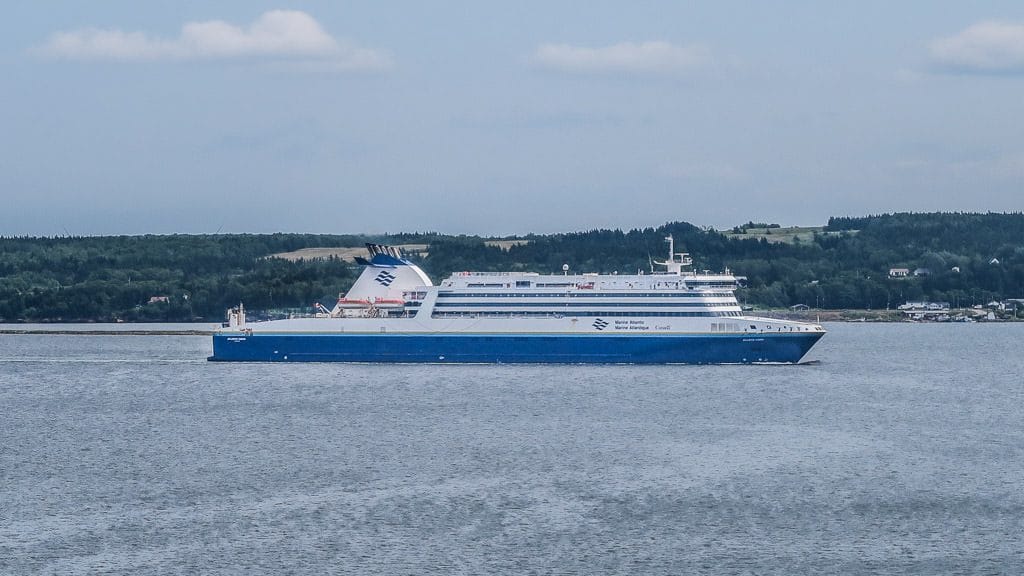 Fly into St. John's
If you fly into Newfoundland, you'll likely fly into St. John's since it is the capital and has an international airport.
While we spent the least amount of time in St. John's, many people love spending a chunk of their trip based here, so you may want to hang out for a few days before hitting the road!
What is the Best Time to Visit Newfoundland?
The summer months are the most popular for visiting Newfoundland because the weather is lovely – even still a bit cool in the evenings in early summer (but summer weather does mean bugs!). However, planning for spring can allow you to see the iconic icebergs.
We went in early July and still saw a couple of small icebergs, and it also was great whale-watching season then! Of course, similar to places like Maine and Vermont in the U.S., the eastern coast of Canada also has lovely fall colors starting in September.
The province tends to close down tourism for the most part in winter – not as many accommodation options will be available and most outdoor tours will not be able to run.
Where to Stay in Newfoundland
When we visited, we were traveling in a motorhome so we spent our nights camped out at a local campground or boondocking in nature. There are a few luxury hotels, but most accommodations are more quaint cottage-style B&Bs.
Here are our accommodation recommendations going west to east in Newfoundland –
For campers and RVers, here are some of the great campgrounds in Newfoundland:
Pirate's Haven in Robinson's, NL also offers ATV adventures!
Berry Hill Campground, Shallow Bay Campground, and Trout River Campground in Gros Morne were all nice for being close to activities.
King's Point RV Park in King's Point, NL for a peaceful, less busy option.
Newman Sound in Terra Nova NP is near a lot of the popular trails.
Celtic Rendezvous by the Sea RV Park in Tors Cove, NL, for great views.
For those wanting to stay in a hotel, here are some of the top-rated options:
Cape Anguille Lighthouse Inn near Port aux Basques port
Glenmill Inn and Marble Inn Resort in Corner Brook, NL
Quirpon Lighthouse Inn, near L'Anse aux Meadows
Riverfront Chalets in Grand Falls-Windsor
Fogo Island Inn for a unique island off an island experience
JAG Hotel, Alt Hotel, or Sheraton in St. John's
The Wilds Resort at Salmonier River, Holyrood, NL
How Long Should I Visit Newfoundland?
For two weeks or more, you could plan a pretty epic road trip through Newfoundland, but you definitely wouldn't be able to see all the main sights.
We were there for six weeks and were constantly having to skip things to stay on track. If you only have a week, I'd definitely recommend just picking one place, like Gros Morne or St. John's, and seeing as much as you can there.
In our ideal world, our next visit will last months! There is just so much to do and see there.
If you like what Newfoundland has to offer, Iceland and New Zealand are two other nature-lover destinations we always recommend – especially for extended visits!
Have you ever visited Newfoundland? What was your favorite activity in this incredible place?