Looking for things to do in Kauai? When we told our friends Kelley & Rob that we were headed to Hawaii for two months for some house sitting gigs and island hopping in between, their first question was "Can we meet you there?" Just another reason why we adore these two!
So, the planning began for a one-week Kauai vacation with our travel besties. Eventually, we narrowed down our time frame to meet up after Buddy and I were done with our last house sit. And a laid-back, but beautiful island was our top pick – so we decided on a Kauai vacation.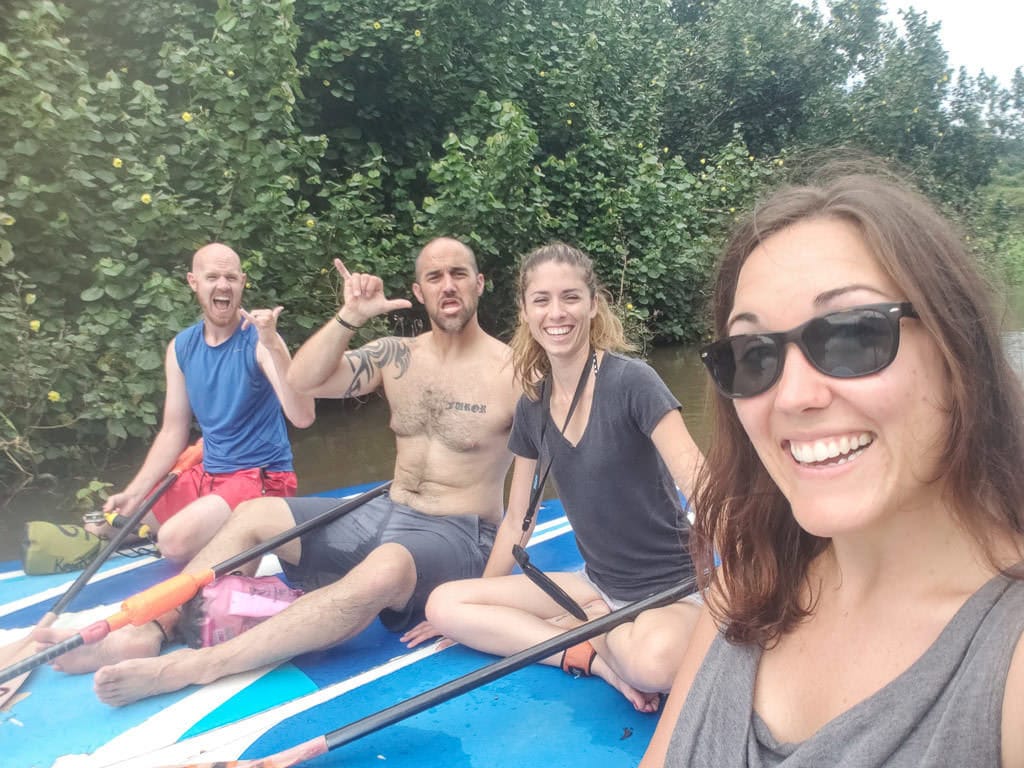 Why These Friends for a Kauai Friendcation
Aside from a few friends who came to visit us when we lived in Colorado and a few weekends away here and there, we've never gone on a vacation with friends. And we've certainly never planned a week-long trip to a new destination with another couple.
Honestly, the idea of it really freaked us out, so we never really pursued it. We didn't want to spend a bunch of money just to be annoyed for a week when we have different ideas of what vacation means.
But then we met Kelley & Rob – fellow nomads who full-time RV. We only knew them from a brief interaction at an RVing event, but had kept in touch during our first (and only) year of RVing and stalked each other on The Gram. At multiple times during that year, we made the decision to take a slight detour to see them or vice versa – and the long chats we had with them during those visits (in our RVs, parking lots, etc.) solidified our friendship.
We just have too much in common not to be besties. But, enough differences to have some really great conversations. The more we learn about them, the more we like them and realize how similar we are.
So, although we were a little bit nervous about putting one of our favorite friendships to this kind of test, we were psyched for them to come meet us in Kauai for our epic friendcation. We always craved more than our few hours together, and couldn't wait to finally have some dedicated time to just hang with them.
We even made a friendcation hashtag using a combo of our last names – #waumpthereitis. If that's not the perfect way to get pumped for a trip, I don't know what is.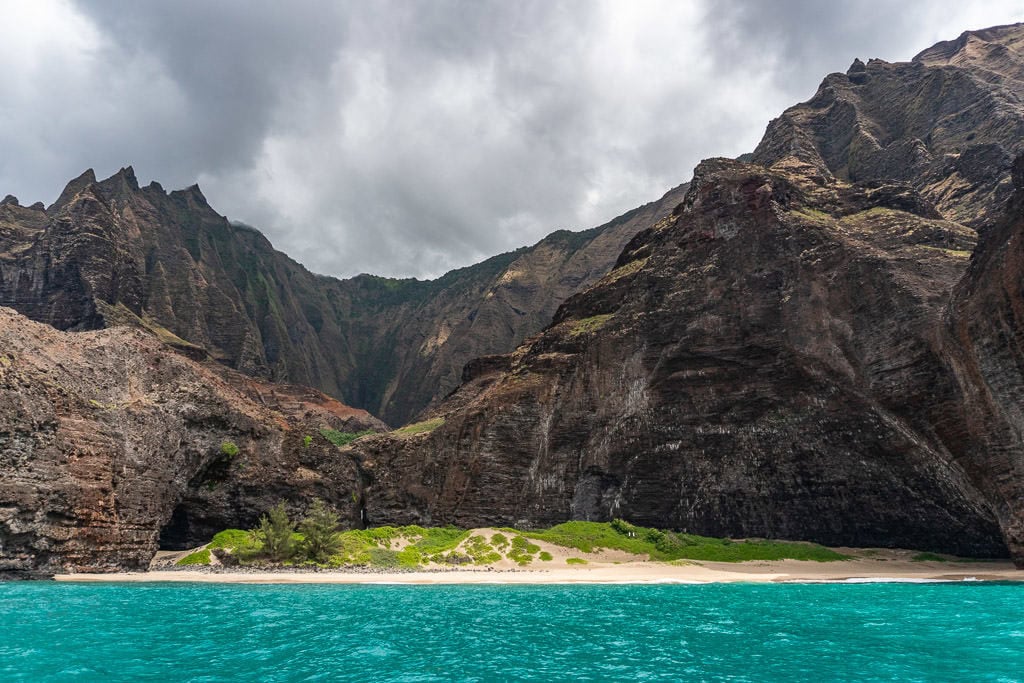 Our 9 Favorite Things to Do in Kauai on a Friendcation
We all agreed that we could have gone anywhere and had a great time, but there was something really special and exciting about visiting a place none of us had been. And the fact that it was paradise didn't hurt either. Plus, there were plenty of things to do in Kauai!
We – not surprisingly – were on the same page with our friends during the entire planning process of our Kauai vacation, down to starring the same AirBnB properties and pinning the same activities. So, we knew we were in for a great trip!
However, the weather wasn't on our side those first couple of days, and we were basically forced to sit around our awesome rental and catch up – while we watched the hens and roosters run around outside. But, it actually worked out great, because once we got some sunshine, we were ready to get out and explore!
1. River SUPing on the Hanalei River
Kelley had never been on a stand-up paddleboard, so when we found that the nearby Hanalei River offered SUP rentals, we knew we had to give it a try! After some trial and error, she eventually got the hang of it and we all laughed as we got a great arm workout paddling upstream on the scenic Hanalei River.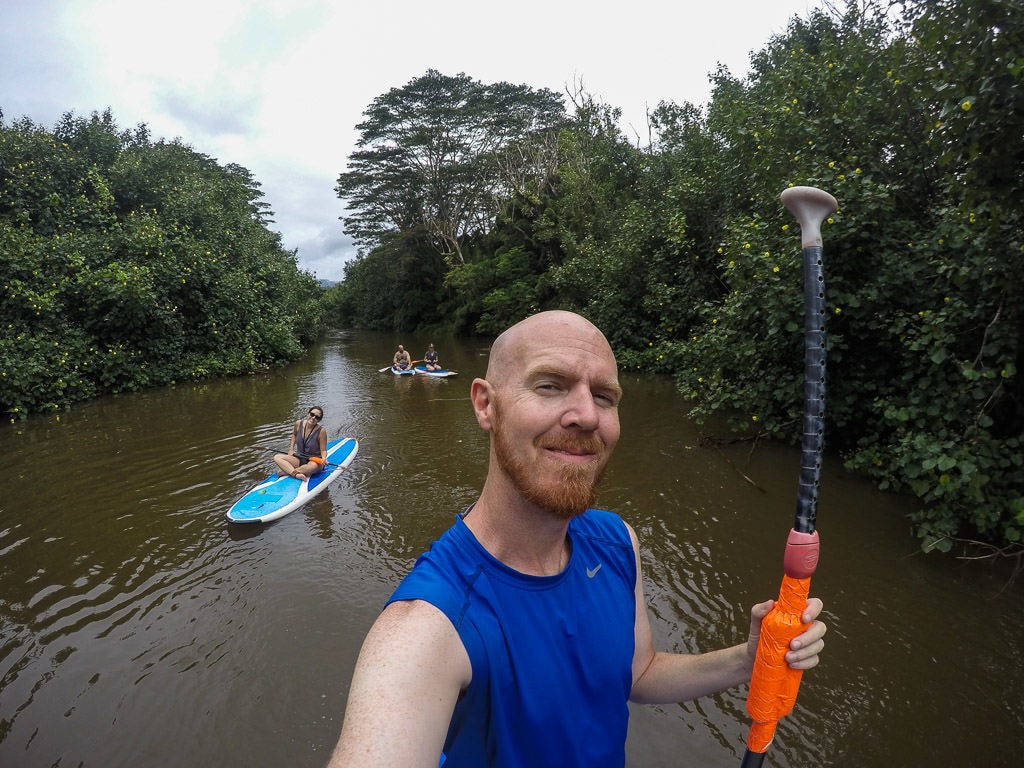 The absolute best moment of this Kauai vacation was when we were paddling back and the current pushed Kelley into some overhanging branches. She held on to one to try to stop herself and it fell onto her board. I was right behind her and laughed so hard I went straight into a river-side bush.
Needless to say, the boys weren't any help either, as they yelled tips from a yard or so away. I so wish I had a photo of her face, the moment that branch snapped off. However, I shouldn't have trouble remembering it. This is for sure a contender for favorite moment of the trip, but there are a lot more that give this some strong competition.
2. Eating & Shopping Together
As silly as it sounds, some of our best times during our Kauai vacation were just living life together – especially making meals or trying a new local place. For most of the trip, Kelley and I would actually throw something together as a team. We'd usually chop up some veggies for salads, a stir fry or egg scramble. We'd chat and laugh as we got everything ready. Then the four of us sat down to eat together, like those idyllic family dinners on tv – but with more beer.
Funny enough, for four different people, we all have very similar eating habits – which made for a much easier time choosing food. Even grocery shopping was a blast! It was surprising how fun it could be to just do normal every day things with friends along for the ride.
And when we did splurge on a meal out, we never really had a hard time picking a place. Tacos were a common love across the board. And if none of us could decide – Rob was our trusty "let's go here" guy. Which is a sanity-saving must on any group trip!
3. Beach Days: A Must-Do on a Kauai Vacation
Of course, we had to chill on the sand for a few days of the trip. Kelley and I loved to bask in the sun as the boys tried to body surf. Looking out and seeing my hubby with a pal to do those things I'm not a big fan of, made me so happy. And he knew how much my soul craved a girlfriend to ponder the inner-workings of my brain and the world with – or just laugh together at how cute the boys looked playing in the water.
I think it was a welcome change of pace for all of us full-time travelers who are with our spouses often. But, still love to steal a sweet moment a few times a day.
4. Driving Tours of the Island
While we had some bigger things to do in Kauai planned for most of the days, for the most part, we just wanted to explore. We drove over and sampled coffee at Kauai Coffee, stopped at overlooks, waked on the beach, and stopped for shave ice or other snacks.
At one point, I remembered I had mini dinos in my purse and Kelley was more excited than I can even explain. She giggled like a little kid as she took pictures of the little triceratops I gave her with the lush mountain backdrop. I didn't think I could love her more, but this moment proved that wrong.
5. Friendcation Game Night
On one of our last nights on the island, we hung out, had a few drinks and played 20 questions – a game our decider Rob geniously suggested. It was a hilarious couple of hours of trying to guess what movies each other was thinking of. What a wonderful feeling to have found your people. (Also, super thankful Kelley came to the rescue with her magic oils when those of us who overdid it had headaches the next day! Ha! She shares her holistic health tips here, if you need some magic help of your own!)
6. Obligatory Kauai Vacation Dinner at Smith's Family Luau
Another night, we got dressed up (for Hawaii, at least), and went to the Smith's Family Luau. While this wasn't really any of our 'thing,' we decided it was one of the top things to do in Kauai – and Hawaii in general, so we needed to check one out before we all left. We wandered around the property, ate the not-really-our-style food, and watched the awesome show.
Truly, the show was fantastic! And we all just ignored the rambunctious kids and drunk people we seemed to sit right between. Funny enough, the best part of this night was just realizing we'd probably all be okay skipping some must-dos on future trips together if we aren't feeling it. Although it wasn't a bad time, we all had the same looks of, "yea, not so much for us," which was surprisingly, a relief!
7. Sunsets by the Ocean
While we couldn't afford a beach-front property in such an expensive destination, we had an awesome sunset spot at our second and final rental condo. There was a trail that led out to some stunning volcanic rocks where we could sit or stand while we admired the crashing waves, swimming turtles and setting sun.
We went out there pretty much daily while we stayed there, and took so many great photos. It was a time to be quiet, be a little romantic with our couple, and just take in why Hawaii is such a very beloved place. Paradise with friends? Can it get much better?
8. Na Pali Coast Boat Tour
Going on a Kauai vacation without seeing the Na Pali Coast is kind of silly since it is THE top of any list of best things to do in Kauai. And for good reason. Our tour with Makana Charters of this epic, iconic coastline was a highlight of our trip – the touristy side of it anyway. And we all loved admiring the rugged mountains, waterfalls, caves and sea life.
Plus, it was Kelley's first-ever time snorkeling which turned out to be a fun adventure for all of us! It was great getting to share something we had fallen so in love with during our prior weeks in Hawaii with one of our besties. After a few minutes with her face in the water, she definitely understood – especially when a sea turtle swam by!
9. Waimea Canyon
Unfortunately, the rain made a lot of the hiking trails too slippery to try out. And the mudslides earlier this year, made some trails completely unavailable. But, we did get to see a lot of the island just by driving around and doing some less-extensive wanderings. Wiamea Canyon was one of those must-see places that we really enjoyed. Although, it was a short visit, we were all in awe of this large canyon in the middle of such a lush island. Hawaii's landscape never ceases to amaze me!
Since it was our last day, we were all a bit sad to go. But, also in really great moods having had such a wonderful time together. We joked around and tried to make each other laugh as we took turns taking pictures of each other at the canyon. Those genuine smiles are a telltale sign that a week with friends does the heart good.
Friendcation Recap of our Kauai Vacation
Everything didn't go perfectly – the rental car company jacked us around a bit, I lost my prescription sunglasses to the ocean, Kelley busted her butt on a muddy trail, Buddy had a wicked bad hangover after indulging in too many of Rob's amazing alcoholic concoctions the night before, and Rob somehow managed to attract the most obnoxious people to us at the luau (a talent he forgot to share before! haha). But that's just life.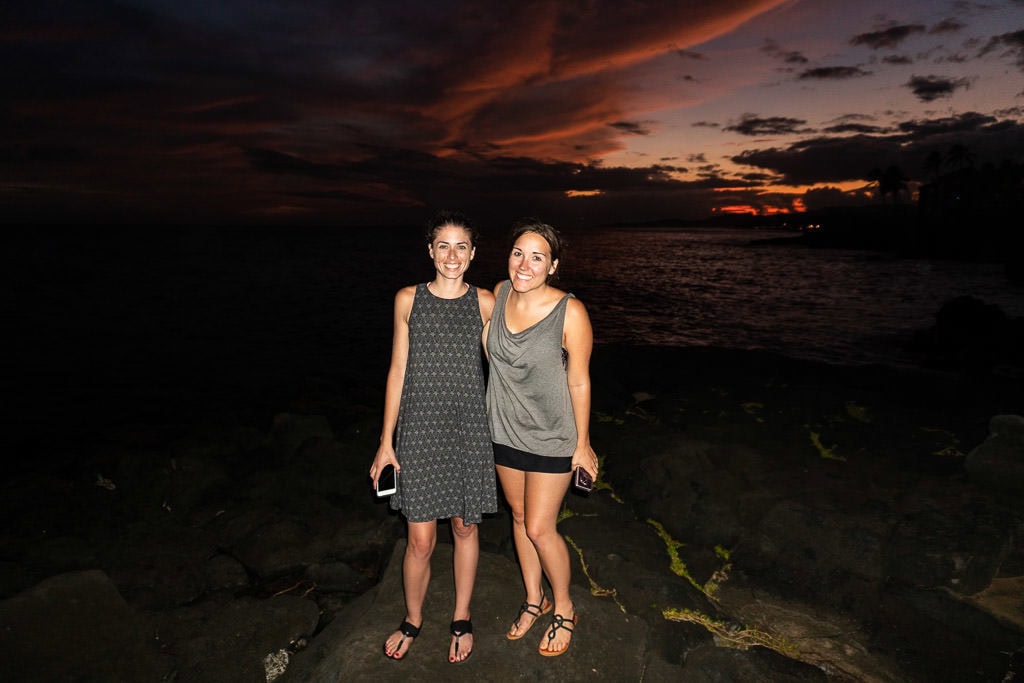 Getting to be together for an extended time and share in our struggles as well as all the joy, it was an amazingly special thing. It allowed for long, heart-felt talks. Some frame-worthy group photos. And SO MUCH laughter – uncontrollable, child-like laughter. All with the gorgeous background of Kauai that just elevated this trip to the next level.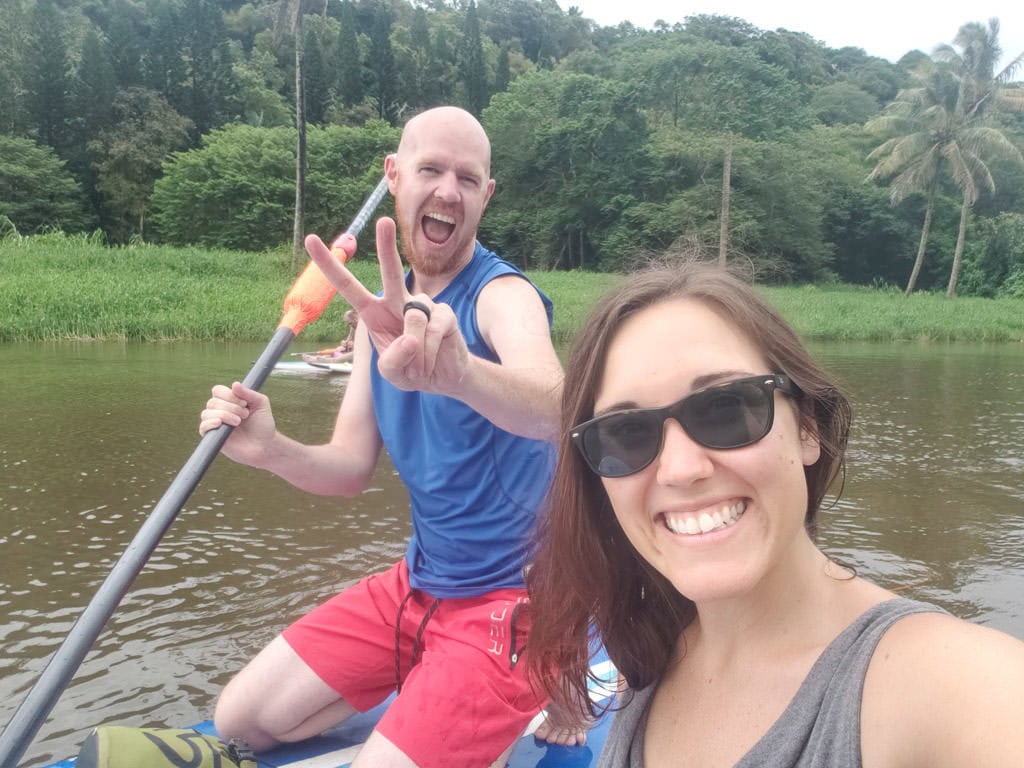 We already loved these two before, but this trip made us family. And like any close-knit family, we'll have many annual or maybe even bi-annual reunions in our future. Until then, we'll just have to deal with withdrawals from not seeing our travel besties.
Do you have a Kelley & Rob in your life? What's your favorite friendcation memory?
Read more about our two-month Hawaii trip here. And if you want to know more about how we made this vacation happen, check out our guide to pet and housesitting!