While planning our epic friendcation Hawaii trip to Kauai with our travel besties, a Na Pali Coast boat tour was high on our must-do list. Although a helicopter ride looked epic, a boat tour was a little more budget-friendly. Plus, we loved that it would also allow us to do some snorkeling!
We were psyched when we called Makana Charters and they had room for a trip that left on our very last afternoon of our Kauai adventure. Turns out, the Na Pali Coast boat tour totally lives up to its hype!
Getting to the Na Pali Cliffs with Makana Charters
After a relaxing day at our B&B, we loaded into the car and set off to meet Makana Charters. Luckily, we left early and had plenty of time … because someone thought we were going to the boat harbor around the corner, not the one 40 minutes away. But, we got there with plenty of time to spare and felt our anticipation rising as we waited to board.
Once on the boat, we made our way out to the cliffs. It took about an hour and wasn't a completely smooth ride – but not bad. We all had taken two Dramamine each in anticipation of possibly rough seas, so we bobbed along in a bit of a haze until the action started.
However, we really appreciated the sociable staff who told us stories and pointed out areas as we made our way to the main attraction. While the wind whipping through our hair (and over the guy's heads) was a delight, the conversation helped us not to get lulled to sleep in our drowsy state.
Exploring Hawaii's Jurassic Side on our Na Pali Coast Boat Tour
However, sleep wasn't a worry once we reached those cliffs! Wow!

They just seem to overcome you out of nowhere. Words can't even describe how absolutely stunning and unreal the scenery on our Na Pali Coast boat tour was. No wonder this place was used to set the scene for Jurassic Park – it feels like you are going back in time to another untouched version of our world. What an epic view!
As we cruised along, we saw caves and waterfalls. And we even went into a few!
Snorkeling Stop on our Na Pali Coast Boat Tour
Another highlight for our little group was our break for snorkeling. Buddy and I had fallen in love with exploring under the surface of that iconic crystal blue water in Hawaii, and we were psyched to share that with some of our favorite people.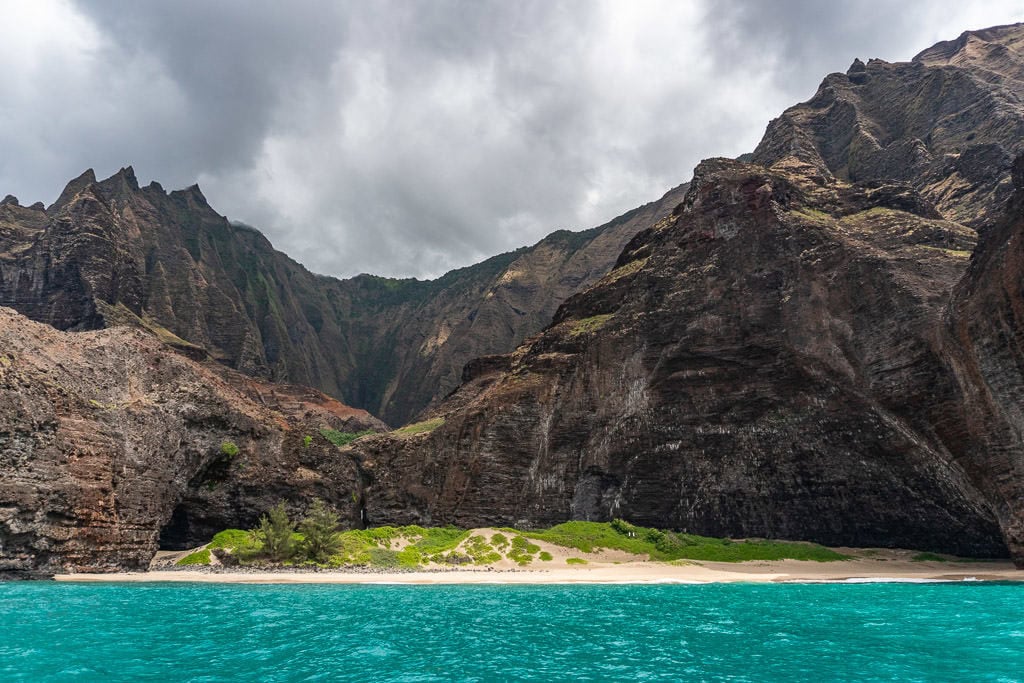 However, it was Kelley's first time – and snorkeling is a bit strange until you get used to it. But, we were all impressed with how patient and kind one of the boat mates were for taking the time to show her how to use her mask and snorkel. He got her in the water and made sure she was comfortable, and even came over to check on her a few times.
She admitted she was a little scared at first and his help really allowed her to calm down, learn this new way of exploring the area, and actual enjoy it!
We swam and floated around for about an hour – spotting many colorful fish and even a sea turtle, before eventually returning to the boat to eat some of the lunch they had packed for us. While the sandwiches were okay, the homemade brownies were amazing after a long day out on the water!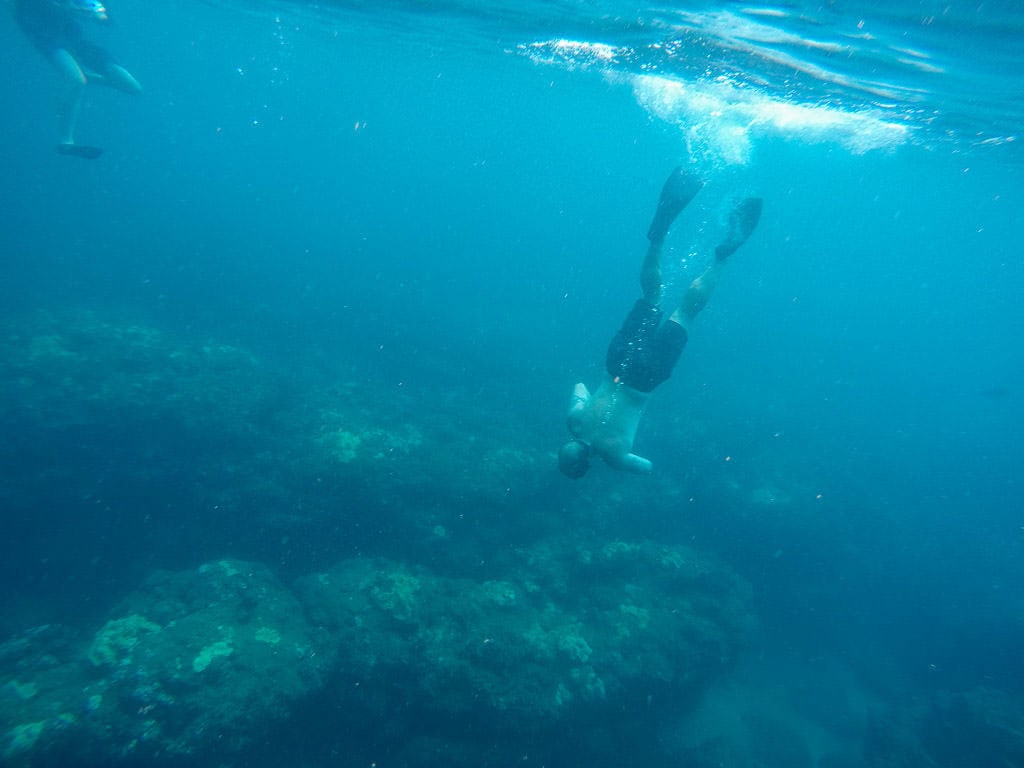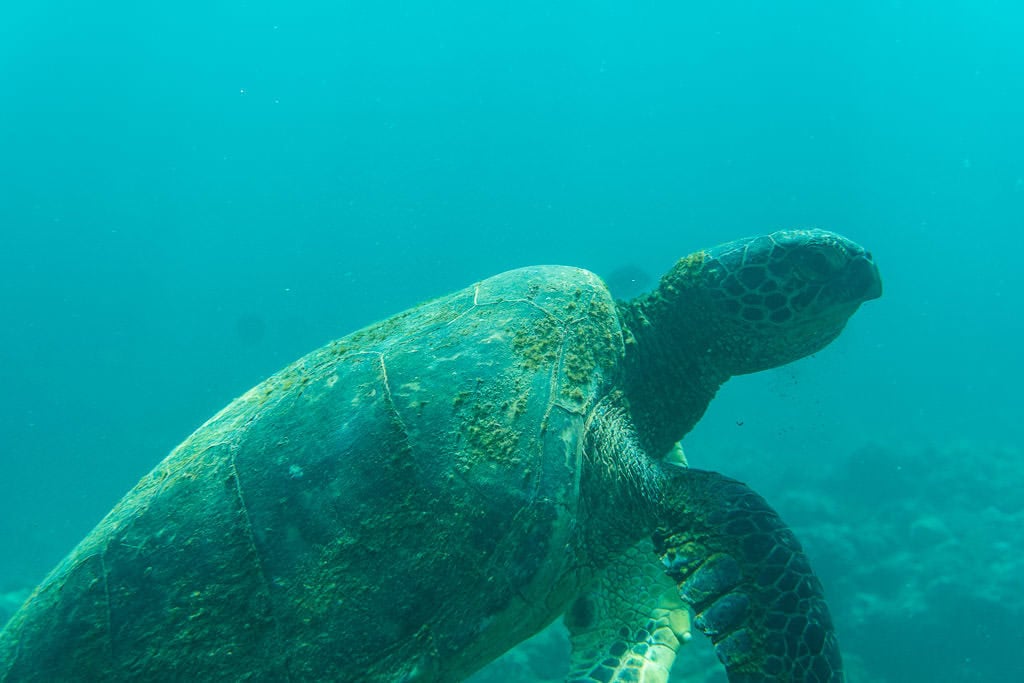 Somehow, they even arranged for a few dolphins to put on a show on the way back! What a fantastic way to spend our last day in Kauai. If you are planning a trip, don't miss this opportunity to see why Kauai is such a magical and inspiring place.
Read more about our two-month Hawaii trip here. And if you want to know more about how we made this vacation happen, check out our guide to pet and housesitting!
Special thanks to Makana Charters for providing us with a discounted rate for this adventure. As always, all opinions are our own.