After living in Hawaii for a few years now, we can confidently say there really isn't a bad time to visit. However, some seasons do have more rain or crowds than others. As locals, we love to island hop often, and one of our favorite trips so far was going to Maui in February. Although rain is more likely that time of year, going after peak season has so many perks! Plus, February is also the best time for whale watching in Maui, so that's a huge bonus as well.
Tips for Visiting Maui in February
Here is some of our best advice for going to Maui in February or late winter for your Hawaii vacation. Plus, the most popular activities that we recommend! This list of things to do and insights should help you get a good head start on your trip planning.
1. Take Advantage of Lower Prices & Fewer People
We love traveling in the winter season and other non-peak months because it is such a great time to enjoy major attractions with fewer crowds. The summer months and winter holidays get chaotic with so many visitors!
While February may not be the cheapest time to travel to Maui, it is definitely less expensive than the peak seasons. Visitor numbers are highest in June, July, August, and December (according to statistics from the Hawaii Tourism Authority). After the new year, people tend to take a break from traveling so February is a good time to plan a trip and one of the cheapest months to get flights to Maui according to historical data collected by Skyscanner.
2. Enjoy Sunny Weather in Maui in February
Are you wondering if February is a good time to visit Maui? Good news … Maui weather is generally lovely all year round, like the rest of Hawaii. They call it paradise for a reason!
February is still technically one of the winter months, but in Hawaii that term is used very loosely, and Maui winters are very, very mild. It will be cooler than summer, but still very sunny, warm, and comfortable most days. The average daytime highs in Maui in February are around 81F. The lows are around 65F. Just check the weather forecast to check the average high temperatures during your trip, but it is safe to expect warmer weather. No need to worry about winter storms like you do on the mainland! Maybe just some heavy rain and wind. Or … maybe just some brilliant sunny days!
This time of year is really beautiful, you just have to keep in mind that the water might be a little cooler for swimming and there is more cloud cover as well as the likelihood of more rainy days. However, February has less rain on average than December and January. Maui also tends to see more sun than the other Hawaiian Islands over winter. Although, they are all very comfortable and generally sunny.
The sunrise is around 7:00 a.m. with sunset around 6:30 p.m., so you end up with just under twelve daylight hours to enjoy as well as comfortable evening weather for having a drink or dinner on a lanai!
3. It's the Best Time for Whale Watching in Maui
Whale season in Maui runs from November to May, with peak time around mid-January to March. If you are visiting Maui in February, we'd highly recommend booking a tour to go see the whales. It is one of the best opportunities to see them up close! We took a tour with Trilogy on February 3, 2022, and had an amazing time. However, there are many boat tours that will take you out whale watching.
February and March truly is the best time for whale watching in Maui since you can see dozens of humpback whales on one trip – some may even have babies! Maui is also the best of the Hawaiian islands for whale watching (although the Big Island does also see a lot), so if this is on your bucket list, you are in for a treat. The Pacific Whale Foundation even hosts a Maui Whale Festival with special events you can join in on during the month of February!
The best part of Maui for whale watching is known as Maui Nui Basin which has a huge percentage of the humpback whale population migrating through there each year for breeding. This area includes the waters between Maui and Lanai – so any tours leaving from the western side of Maui should be a safe bet! You can also sometimes see whales from the shore from McGregor Point lookout and some beaches like Kāʻanapali, Wailea, and Kīhei.
3. Plan to Snorkel
One of the best things to do in Maui (or Hawaii in general) is snorkeling! Maui has some amazing snorkeling spots – some you can get to on your own and others that require a tour guide. Papalaua Wayside Park was listed as one of the best snorkeling sites in the United States by Thrillist. If the weather conditions are right, you could enjoy some fantastic snorkeling and maybe even see sea turtles!
Some of the best snorkel spots you can get to without a boat are Honolua Bay, Napili Bay, Kapalua Bay, Ulua Beach, and Ahihi Kinau. Plus, many others in South Maui! You can also go out with tour companies to places like Molokini Crater (a really popular option!).
4. Watch the Weather if Hiking
While water sports are always a huge hit in Hawaii any time of year, February is a good time for hiking in Maui as well. Just keep an eye on the weather because trails can become dangerous if muddy. Avoid hiking on dirt mountain trails if it has rained recently and it never hurts to have some rain gear on you.
Some top day hikes in Maui include: Waihee Ridge Trail, Twin Falls, Kapalua Coastal Trail, and Pipiwai Trail (among MANY others!).
5. Do a Self-Driving Tour of Beaches & More!
There is so much to see and do in Maui, it is definitely worth getting out in a rental car to be able to explore at your own place. Just be very careful on the Road to Hana and Kahekili Highway because they both have many narrow, one-lane sections where you may have to reverse back up a winding road to let traffic through. Accidents here can be very dangerous, so use extra caution.
Here are some top stops on a self-drive tour of Maui:
Road to Hana to the Seven Sacred Pools and Pipiwai Trail (with lots of waterfall stops on the way!)
Haleakalā National Park (extra special to watch sunrise or sunset from the top)
Wailea Beach
Honolua Bay (you can walk through the forest to go snorkel there!)
Ali'i Kila Lavendar Farm
Makena Beach State Park
Kapalua Coastal Trail
Lahaina Town and Banyan Park
Iao Valley State Park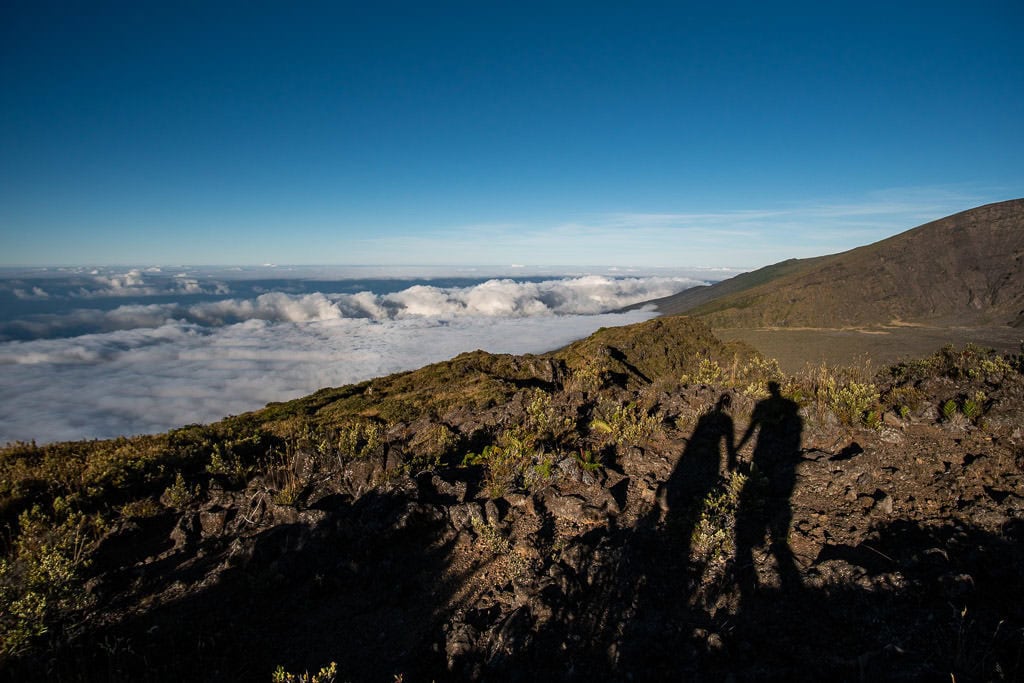 6. Road to Hana Waterfalls Should Be Even Better!
Driving the Road to Hana during the month of February is going to be a much more enjoyable experience than the more busy times of year – such as spring, summer, and winter school breaks. PLUS the extra rain that time of year will make the waterfalls even more stunning.
We drove this road in summer one year and basically stopped every five minutes to take waterfall pictures. It is truly one of the most stunning drives you may ever do. BUT it is really dangerous and stressful since it is an old, narrow road with (understandably) impatient locals driving around the slow tourist … sometimes on blind corners. We left as soon as the sun was up on a weekday morning and still had some scary moments; however, we made it all the way to the beautiful Pipiwai Trail lined with bamboo after seeing dozens of waterfalls and enjoying banana bread from one of the iconic side of the road stalls.
7. Book Ahead for Highly Rated Maui Restaurants
Maui has some world-renowned restaurants (looking at you Mama's Fish House) as well as go-to local favorites. It can take a while to get food at the most popular spots, even at off-times. Making a reservation or getting a to-go order and eating on the beach can save a ton of time and hassle.
BONUS: Budget Tips for Visiting Maui
If you are visiting Maui in February or another non-peak time, you'll already save a lot on your flights, lodging, and rental car. If not set on a resort, you can look at some of the other options like Bed and Breakfasts, hostels, and even camping. Many people have also found big savings by renting a car through the peer-to-peer rental platform Truro.
Luckily, Hawaii can be enjoyed without spending loads of money. You can see whales off the west coast at various beaches and lookouts also if you prefer not to shell out for a tour. You can save on food by hitting up a local grocery store or Costco at the beginning of your trip to get supplies for sandwiches and other cheap meal options. Eating and drinking at your hotel or vacation rental can offer massive savings since going out to eat really is the budget breaker in Hawaii.
FAQS About Visiting Maui
Why is Maui so popular?
Maui island (known as the Valley Isle) is a popular destination because there are many direct flights from California and the west coast.
What is the Best Time to go to Maui?
While the holiday season in December and early January is popular, it is also the most expensive time to visit Hawaii. As we noted late winter is the best time for whale watching in Maui, so be sure to keep that in mind if you are wanting to see whales during your trip.
How Many Days Should I Spend on Maui?
You should plan for at least three days on Maui, in our opinion. However, if you live on another Hawaii Island, a day trip can also be really fun! Just make sure you have enough time to do the main activities you want to with some buffer time to relax and recover from your flight.
Read about some of our recommended explorations in Maui.
Is February Rainy in Maui?
Yes, it is likely to rain in Maui in February. But that doesn't mean you won't also have some beautiful sunny days. Often, it will just be more overcast but still warm with a few scattered showers.
Which Hawaiian Island is Warmest in February?
All Hawaiian Islands have very mild winters, especially on the leeward side. However, Maui actually sees the most sun during winter while the Big Island gets the hottest (but often has more rain).
Is it Worth Going to Hawaii in February?
A trip to Hawaii in February (aside from Valentine's Day) can offer savings and fewer crowds with the same wonderful activities and weather. There is a higher chance of rain, but any rain usually doesn't last long!
Is February Hurricane Season in Hawaii?
No. Hurricane season in Hawaii is from June to November, but storms are very rare.
Where Should I Stay on Maui?
Maui has many options with a hotel room for every type of traveler, plus AirBnBs, and even camping. Like most places in Hawaii, lodging and vacation rentals can be pretty pricey so planning around your budget is key.
Are there Key Events Going on in Maui in February?
The Maui Whale Festival happens every February with various events throughout the month. There is also plenty of live music going on, so be sure to check the most recent events calendar before your trip to get tickets or plan where to go.
What is the Best Time for Whale Watching in Maui?
Peak season for whale watching on Maui is late January through March.
What Part of Maui is Best for Whale Watching?
Most tours leave from Lahaina or along the western coast of Maui since that is closest to the Maui Nui Basin where the humpback whales migrate through.
Is it Warm Enough to Swim in Maui in February?
Yes! The ocean temperature is about 75F in Maui in February. While a little chilly for those of us who live in warmer climates, it is still a comfortable temperature that will be easy to adapt to quickly while enjoying the beach or snorkeling.
What to Pack for a Trip to Maui in February?
Any trip to Hawaii necessitates a swimsuit and some reef-safe sunscreen (be sure to check it actually meets the requirements!). A few light jackets are key also, especially if planning to go out on a boat or if you'll be out before or after the sun is up. If hiking or going out to a nice meal, be sure to account for that also. But, luckily, Hawaii is a place you can pack super light for if you want to!
We hope this helps with your trip planning! For more tips for visiting Hawaii, check out our dozens of other in-depth Hawaii articles.