When our flights to our friends' NYE wedding in Denver got canceled last minute (thanks to Southwest's poor planning), we were determined to salvage the night and still get to wear the fancy clothes we had bought for a special occasion. Thankfully, we stumbled upon a fun soiree for our Hawaii New Year's Eve at Turtle Bay and quickly booked a reservation. And it was way better than we imagined!
Intro to Turtle Bay on Oahu's North Shore
If you are planning to be in Hawaii over the winter holidays, we'd highly recommend planning to go to Turtle Bays' Hawaii New Year's Eve Soiree. If you haven't heard of it, Turtle Bay is a gorgeous, fancy resort up on the North Shore of Oahu. They have amazing restaurants on-site, a stunning bar atmosphere, large pool area, and beautiful sprawling ocean views – perfect for enjoying with a drink at sunset.
Staying at Turtle Bay can be very expensive; however, they open up reservations for non-guests for certain events, including the NYE Soiree! Tickets were $45 plus tax for non-guests (included for anyone staying at the resort). This was perfect for people like us who live locally and can't shell out hundreds for an overnight. We were thrilled to get all dressed up and make the 1.5-hour scenic drive from our place out to Turtle Bay for a lovely night. It was the ideal Hawaii New Year's Eve event for us and we were thrilled!
Since it was such a trek to get out there, we decided to go early for dinner at Alaia before the event kicked off, and are so glad we did! As someone who eats mostly plant-based, I was extra impressed by their delicious vegan option: a creamy cauliflower risotto with asparagus and almonds. So yummy! But everything we had (including the complimentary rosemary bread) was really good. Since our reservation was at 5:30 p.m. we also got a lovely view of the sunset while we enjoyed our meal.
After dinner, we wandered around the property and took in the fresh ocean air as we waited for the event to begin at 8:30 p.m. The Turtle Bay property is stunning, and it is especially serene after dark. You can still watch the waves crash with the light of the resort behind you and enjoy some stargazing as well. It is very romantic and relaxing, with torches lining the walkway and fire pits to sit by.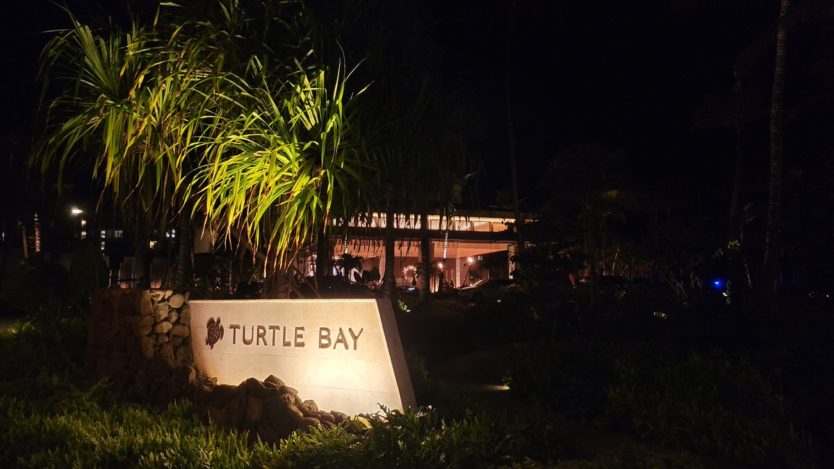 Our Amazing Hawaii New Year's Eve at Turtle Bay
When we made our way back inside, the entire lobby and bar area had been decorated for the New Year celebration, with a stage for the band and hats on all the tables. (If attending with a group, you can book a table – recommended if you are not keen to stand most of the night).
Servers brought around menus with special drink concoctions for the holiday and appetizers to snack on while enjoying the entertainment. (They also brought around a round of complimentary NYE bubbly for the countdown!) While the band played upbeat hits, multiple acrobats performed around the venue which was a huge hit with everyone. They were so much fun and even danced with some of the kids and other guests. Everyone in attendance was friendly and happy, and we all just had the best time. I loved that most people were on their feet dancing and singing!
As a family-friendly event, no one got too wild despite most of the adults drinking and having a good time. Oh, and you definitely don't have to dress up if you aren't feeling it! We were actually the most dressed up there in our fancy wedding guest outfits, and most other people were dressed casually.
There wasn't a fireworks show, but we didn't care because we just loved that we were far away from the chaos over in Honolulu. We knew as soon as we started looking for a fun Hawaii New Year's Eve celebration to attend that we wanted to go elsewhere on the island because it gets notoriously wild down there with locals creating their own fireworks shows (something that always puts me on edge). And it is always SO BUSY on normal weekend nights, it is just way too much for us on a holiday! (Is this just the perspective you start to have when you are no longer in your twenties? Haha)
We're so thankful to Turtle Bay for putting on an event that checked all our boxes for a fun New Year's Eve – delicious food, a great atmosphere, dancing, laughing, a not-too-crazy crowd, and an excuse to get a little extra dressy. We know this will be our top choice whenever we are on-island for New Year's in the future!
(Note: this was not a sponsored visit, we just loved it so much we wanted to share!)
P.S. Check Out Our Tips for Having a Great Night…