Few places really give you a taste of local culture. Often, it is a show put on for tourists and nothing like what the real experience would be like. But, a visit to Uncle Robert's Night Market in Pahoa is an exception to the rule.
Yes, you'll see tourists scattered throughout, sipping their drinks, and often looking a bit overwhelmed. But, you'll also see a ton of locals – hanging out with friends, drinking, dancing to the great Hawaiian music, and 'talking story.' They look forward to these Wednesday nights, too. It is the best party on the Big Island, after all!
Only a few minutes into our first visit, we knew this would be a weekly tradition for us whenever we were nearby! It was easily one of our favorite things to do on the Big Island. Don't miss this amazing Hawaii night market!
Note: We visited pre-pandemic. We've asked local friends who have gone since and, while the market is back on, it hasn't gone back to the original level of wonderment it once was at. They report that there are less vendors and the vibe isn't quite the same. You can read other more recent reviews here.
About Uncle Robert's Night Market in Pahoa
Located in the Kalapana area of Pahoa – a short drive from one of the newest black sand beaches at Isaac Hale State Park and a local nude beach (Kehena Black Sand Beach) – this sleepy area turns into something much like a bazaar on Wednesday nights! (Get exact location via Google Maps here).
There are dozens of food vendors, unique drink options like kava ('awa'), interesting goods for sale, and great local entertainment. Usually, you can even catch a show by a couple of very talented fire dancers!
It has a definite hippie vibe that you'll either love or hate. There are all sorts of natural remedies for what ails your body, mind, or spirit, as well as unique artwork. People are selling pipes (from cheapo versions to ones that are made out of crystals and look like works of art). And yes, those pipes are for marijuana.
You'll also likely smell tons of weed being smoked on the road to the market. It isn't allowed inside, but it is unlikely you'll leave without getting a whiff of it.
However, other than possibly having to explain an odd smell, I'd definitely call this place family-friendly. The music can be – and 100% is – enjoyed by all ages. There are food options from brick oven pizza to seared ahi nachos (my new addiction!), and everything in between – like vegan ice cream and gluten-free lumpia.
Our Best Tips for Visiting Uncle Robert's Night Market
Bring cash.
While some of the vendors accept cards, it is always a good idea to have some cash on you at places like this. Good to have – at least to tip the awesome fire dancers! Prices were pretty affordable ($4 for a beer, $10 for a pizza, etc.) and a lot of the portions were really large. So, you'll get your money's worth in most cases.
Park in the paid lot for more security.
On one of our visits, the car in front of us got broken into because they left a cell phone out. We had parked about a five-minute walk away on the main road and once it got dark, it made it all too easy to target the cars in that area.
If you are worried about theft, paying a couple of dollars to park in the paid lot next to the market may be a good idea.
Get there early for less of a wait for food.
There are tons of options for food at Uncle Robert's, but lines and waits can be common as the night goes on. Usually, most of the vendors are ready by 5 p.m. to begin serving. If you have kiddos, going early will help you avoid the rowdier crowd as well.
Research kava before you try it.
It's always fun to enjoy a new type of food or drink while you are enjoying a new culture. Drinking the traditional 'awa' (kava) drink of the islands is a fun way to dive into the Hawaiian way of life. It is made from a local plant and known for its medicinal purposes. It can also make you feel relaxed, somewhat like alcohol.
However, be sure to do your own research into this drink before ordering it. It is also thought to cause liver issues and there are additional warnings about drinking it with alcohol.
Don't miss the fantastic ocean-side Big Island sunset spot!
There are great views just on the other side of the paid parking lot at Kaimu Beach Park. Buy a couple beers and take the ¼-mile walk out to the ocean. You'll be walking through sand initially, then over volcanic rocks – so just be careful.
Then, just find yourself a spot away from the crowds to sip your beers while watching the waves and sunset. We spent at least an hour out here each time we visited. And once the sun went down, it was the perfect time to enjoy some dancing back at the market – since it cooled down significantly.
Dance to the Awesome Hawaiian Music!
On our second visit, the band was on fire! They were playing some classic reggae tunes and Hawaiian music, as well as more main-stream songs – like a phenomenal version of 'Don't Go Chasing Waterfalls' that had everyone singing along.
Do yourself a favor and get off your ass and groove to the music! Even if just for a few songs … you shouldn't leave without letting go for a few minutes and letting the music take hold. It is island life, after all!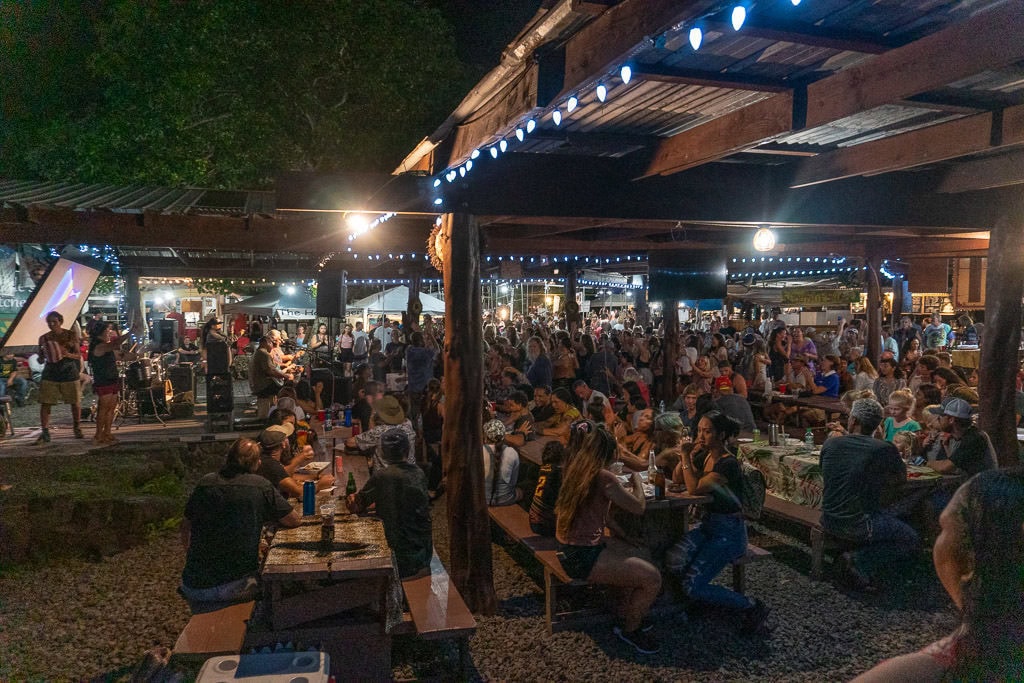 Plan to be completely out of touch.
Uncle Robert's is way out in the middle of nowhere. This really adds to the experience and atmosphere as well as the chances for good stargazing. However, don't plan to be able to be in touch with the outside world. You probably aren't going to be able to use your phone at all. So, be prepared for that.
Side Story: On the same visit where the other people had their car broken into (mentioned above), we also happened to get locked out of our car – the key fob fully stopped working and there was no actual key to unlock the door! We were stranded for hours there since we couldn't get online to book an Uber or call AAA.
Our best option was looking like it would be hitchhiking if we didn't find an answer soon. Luckily for us, the group who got robbed were able to get through to the police and those nice officers were able to help us get into the car. We felt bad benefiting from the other visitors' bad luck, but were very thankful we were able to drive home on our own. And we didn't have too terrible of a time waiting, since we had an excuse to go back to enjoy the tunes.
Just keep in mind that you'll be going into a dead zone – a wonderful, unforgettable, magical, hippie-filled dead zone. And this unique place may just be the best memory from your trip! Don't miss it.
Check out our other suggestions and tips for visiting all six Hawaiian Islands! And if you want to know more about how we made this vacation happen, read our guide to pet and housesitting!