On a sunny day, we set out with a well-researched plan to hike to the stunning Green Sand Beach on Hawaii's Big Island. Just kidding. We left on a whim in crappy weather with no idea how far we would have to drive or walk to get to the scenic beach we had seen in a photo. But, just winging it hasn't failed us yet (I mean, we're still alive at least) – and it was no different on this trip.
However, it may benefit you to know a few things before heading to the Papakolea Green Sand Beach – especially if time is limited. So, we've outlined everything we learned – and why it is a must-see on the Big Island!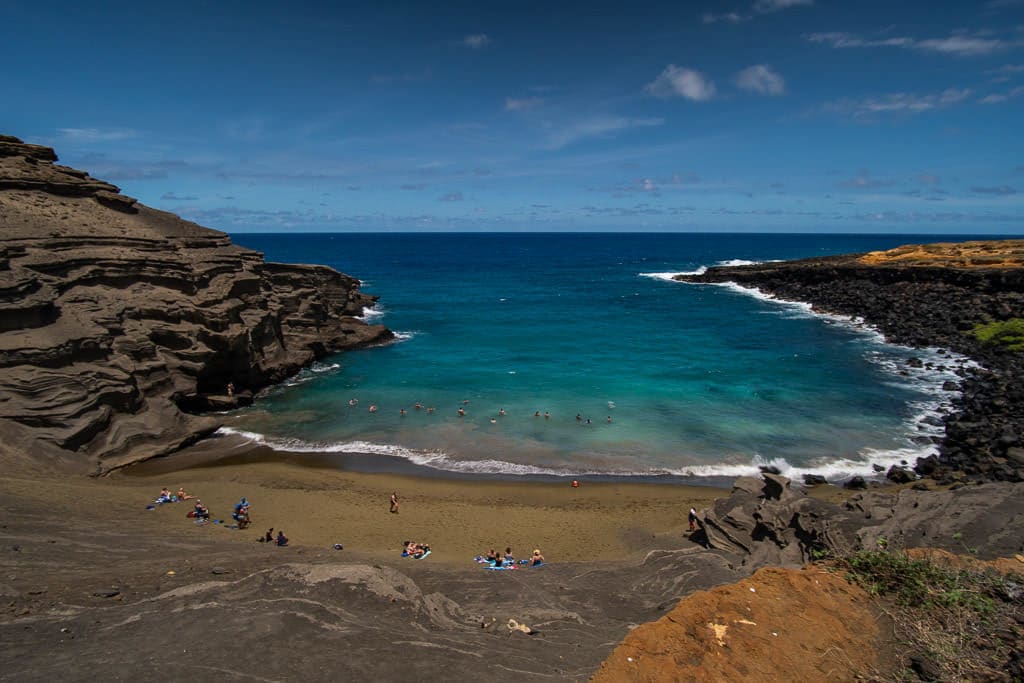 Basics of Visiting the Big Island's Green Sand Beach
First of all, this isn't just a stop you make while wandering the Big Island – it's a half-day commitment. From Kona or Hilo, it will take about two hours just to drive to the parking lot.
Once at the main parking area, it's a 2.5-mile hike each way to get to the beach. Some people also drive to the beach using a four-wheel-drive vehicle or pay about $20 round trip to have a local transport them. However, according to my research, driving is technically illegal.
Regardless of whether it's legal or not, we'd highly recommend just hiking. The road is extremely rutted and we saw multiple people get stuck – one with a smashed windshield. This can be an extra bad idea, especially if you have a rental car! Plus, the hike is beautiful. Just leave early to beat some of the heat!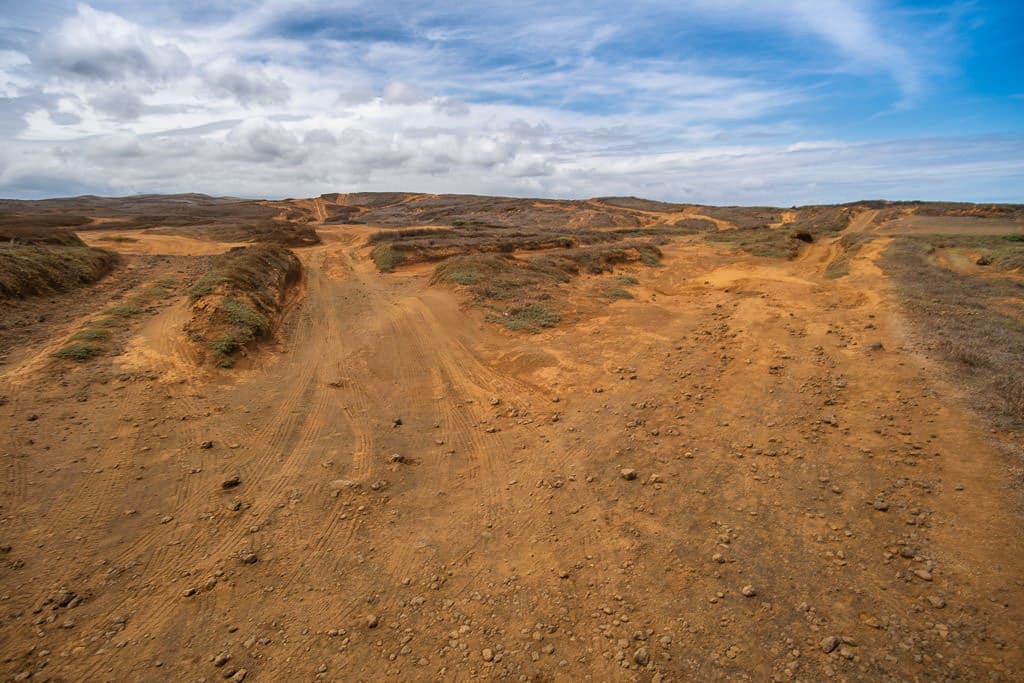 Scenery Along the Hike to Papakolea Beach
As you make your way along the coastal trail to Papakolea Beach, you'll be graced with some gorgeous views! From waves crashing on the black-rock cliffs to the bright orange sand that looks very desert-esque in areas. Plus, great beachy areas to lounge on and tidepools to peak in.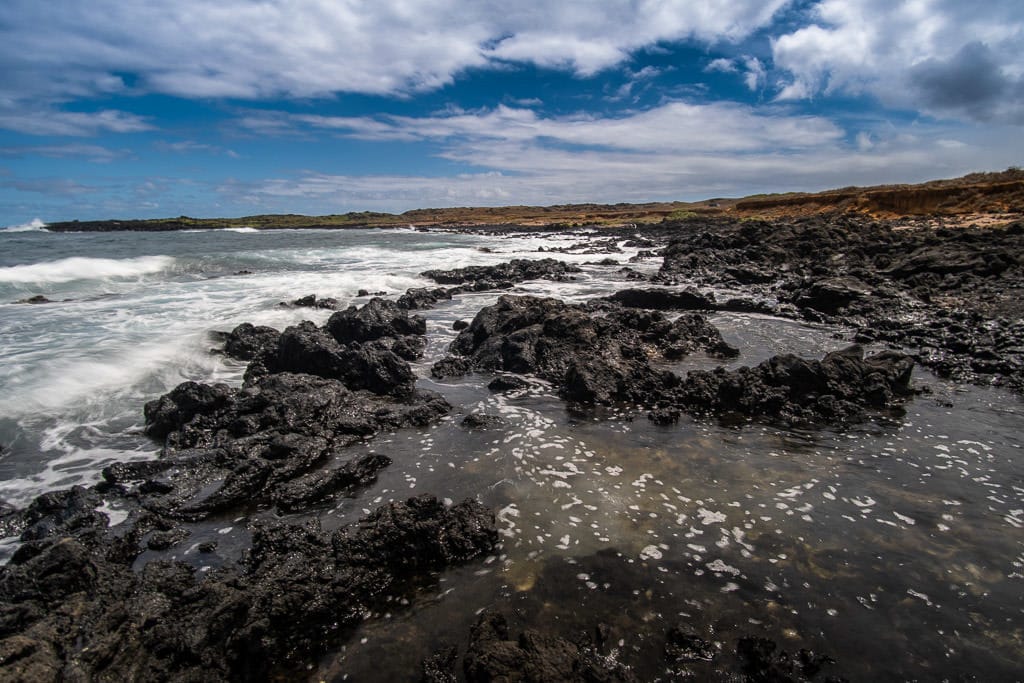 Unfortunately, you'll also see a lot of trash washed up along the coast in certain areas. Wish we had brought some bags with us! If you go, please bring some along, so you can help clean up on your walk back. This area is too beautiful to have trash along the trail.
As you hike, you'll gradually make your way up and eventually you'll be looking down at the Green Sand Beach! It's quite beautiful from this view. But, don't try to make your way down from there!
Instead, walk around to the staircase that leads down to the sand. There is also a little slot-canyon style descent through the rock in the final portion. Such an adventurous beach day!
So, What Makes it a Green Beach?
There are supposedly only four green sand beaches in the whole world! So, seeing one in person is a special treat. And yes, the sand is actually green!
Apparently, the green color comes from olivine in the sand – a glassy green crystal that is a result of volcanic activity. The Green Sand Beach is actually in an ancient cinder cone of the Mauna Loa volcano which spewed olivine-rich lava many years ago. (This blog post does a great job explaining it).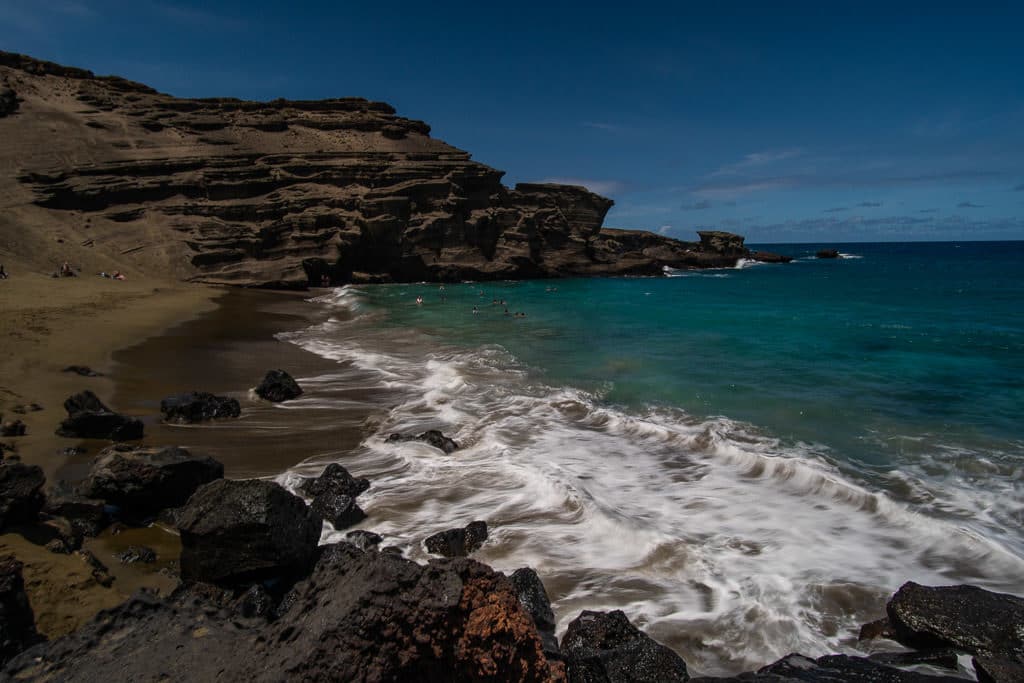 Swimming at the Papakolea Green Sand Beach (BE SAFE!)
The waves here are intense. Just a few weeks ago a man was found dead on a nearby beach after going out to swim here. When we were there, the waves were brutalizing us and we only went in waist-high.
At one point, I got pummeled by a huge wave which knocked me into a teenager. In the commotion, my top fell and my bare boob smacked him in the arm. While funny after the fact, being rocked by that wave freaked me out a bit.
I'm telling you, those waves are no joke (even if they seem to be aiding in my hilarious embarrassment).
A Few Final Tips for Visiting Hawaii's Green Sand Beach
Plan Plenty of Time
As mentioned, this is a half to full-day adventure. Expect to spend at least four hours hiking to the beach and back, not including drive time. You could potentially add on a short trip to Hawaii Volcanoes National Park after if headed to Hilo. But you probably won't have a ton of daylight or energy left after this adventure. Plus, that's worth a few days on its own!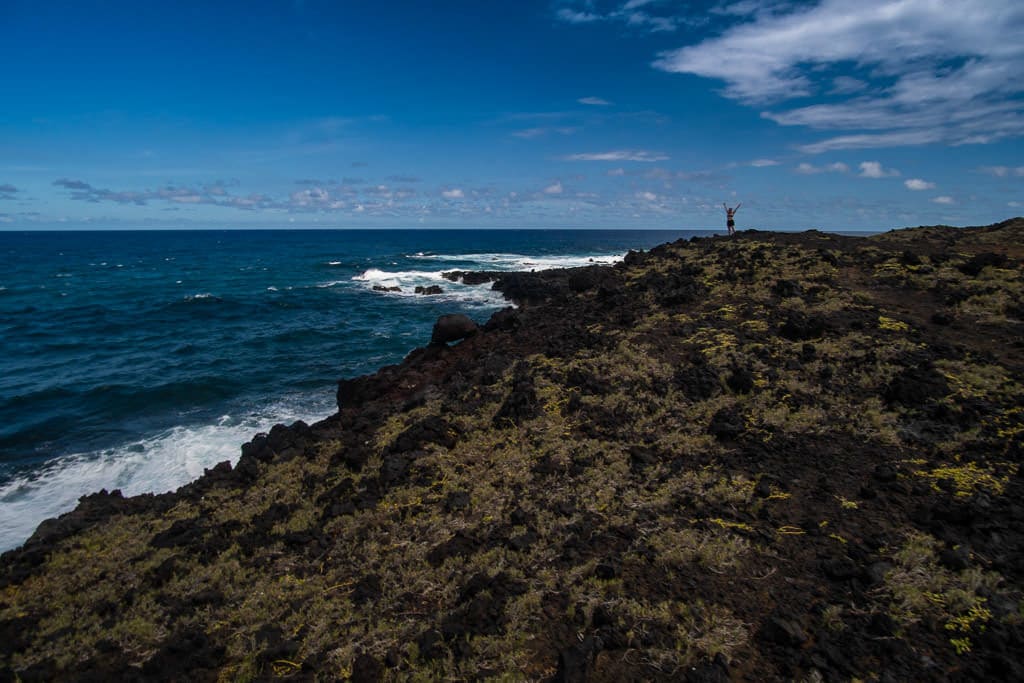 Think Before You Drive
Yes, everyone seems to be doing it. But, from what I've read, it is illegal to drive here in order to protect this area – so why not hop on the conservation train and just walk? Plus, what the hell do you plan to do when you get stuck? A very real possibility!
Leave Early & Wear Sun Protection
This area has NO SHADE! You definitely want to leave early to try to be done hiking before the heat of the day. This will help you avoid the crowds as well, since it can get busy. Regardless, you'll still want to be doused in sunscreen, just be sure to get the reef safe stuff (it's actually on its way to being a Hawaiian law!). And a hat won't hurt!
Pack Water & Food
Assuming you eat before you leave Hilo or Kona, you're talking 6-8 hours before you are close to dining options again. Pack a lunch, snacks, and a whole lotta water! You're going to need it! Don't worry, there are plenty of great picnic spots along the way.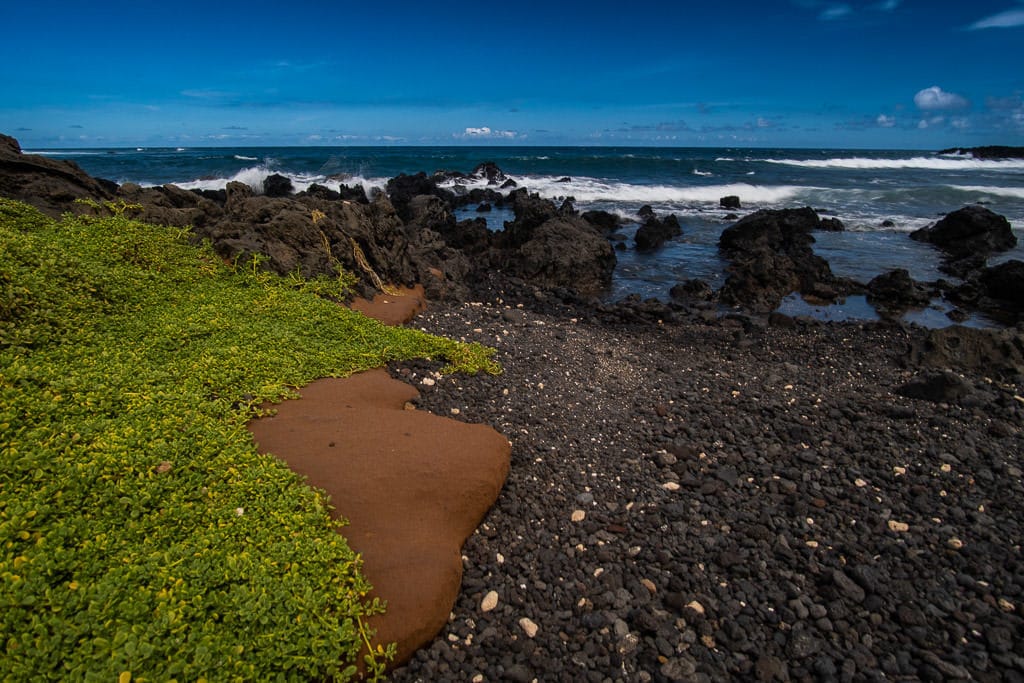 Check Out the Southernmost Point in the U.S.
You may have thought you saw this in Key West, but nope! That's just for the continental U.S. This is the real deal. For some reason, I got it in my head that this place was called the "End of the World," which does make it sound more badass, but it is still cool none-the-less. Definitely worth a stop.
People are known to cliff dive from here, although there are warning signs everywhere – they seem to have left the ladders as a just-in-case.
Hope you enjoy your trip to this area as much as we did! For more tips for visiting the Big Island and the rest of Hawaii, click here. And read more about how we go to epic places like this by visiting places long-term through house sitting.