You go to Yosemite for the views, the hiking, and the peaceful majesty of the outdoors. Why wouldn't you stay in the middle of all the action? Luckily, staying in Yosemite Valley Lodge puts you right in the middle of all the top attractions in Yosemite National Park. It is one of the best places to base your adventures from and can even be reasonably affordable in off season!
This is where we chose to stay, however, other popular options include Curry Village inside the park and Yosemite View Lodge, ten miles from the park in the closest town of El Portal overlooking the Merced River.
Staying in Yosemite Valley Lodge
Inside the park entrance and just a short walk from the awe-inspiring Yosemite Falls, Yosemite Valley Lodge is a convenient and comfortable option. I was super psyched when I stumbled upon this gem while doing my trip research, and got really lucky with a last-minute reservation. A five-minute walk definitely beats a one-hour drive in and out of the park every day!
Since there weren't many pictures available online, I wasn't sure what to expect. However, I was pleasantly surprised by the property and our hotel room! Here's what historic hotel looked like (that view!):
A few things to know before you go
Ask if you can have a view of Yosemite Falls! We lucked out with one and it was awesome!
The complimentary "mountain wi-fi" may not work very well all the time, hence the name.
You do not have a reserved parking spot, so you may have to struggle to find one during peak hours. However, you do have an overnight parking pass that non-guests can not receive.
There are two dining options on-site, a cafeteria as well as an upscale restaurant. And the cafeteria, surprisingly, had many options! (But you may want to take advantage of the grocery store instead if you are on a budget).
There is a complimentary shuttle that picks up at the hotel and drops off throughout the park, just ask for a schedule.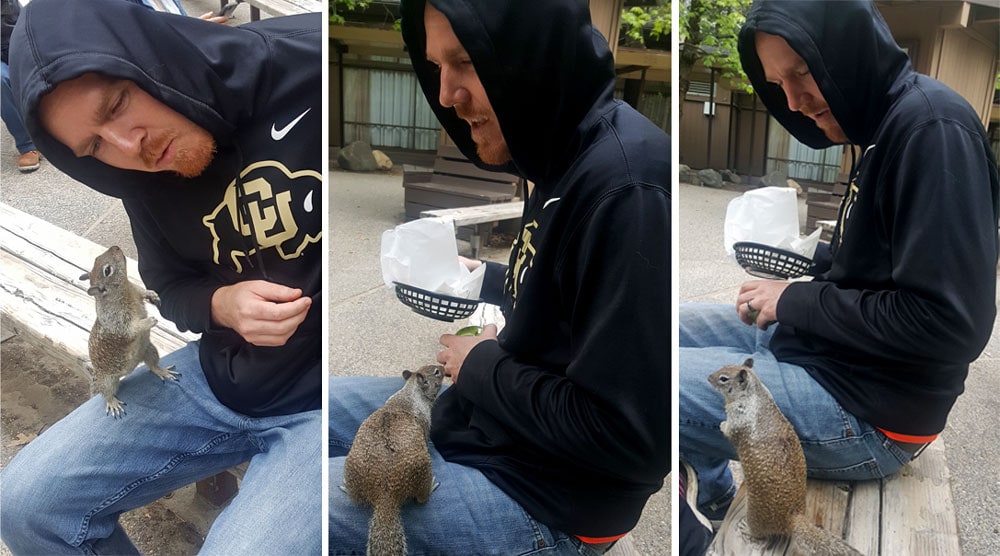 We will definitely be staying here again on our next trip to this gorgeous national park! Although, in the summer we may have to try camping… it was just a little too chilly for us to give that a try during spring! (P.S.- read more about why spring in Yosemite is a great time to go!)
Other Yosemite lodging includes: The Ahwahnee, Yosemite Gateway Horse Ranch Cottage, and White Wolf Lodge. Camping in offered at Tuolumne Meadows Lodge, Housekeeping Camp, Upper Pines Campground, Tamarack Flat Campground, and some backcountry locations.