The Texas Hill Country is filled with gorgeous, unexpected gems and interesting places – especially if you love being on the water! And the San Marcos glass bottom boat tour of Spring Lake is a unique combination of both natural beauty and educational opportunity.
This historic Texas activity was the highlight of our weekend. And it is an easy day trip from San Antonio or Austin. After spending all day RV shopping on Saturday, we were craving some relaxing time outdoors. Plus, we totally lucked out with our own private tour!
A Little History of Spring Lake in San Marcos Texas
Spring Lake is the headwaters of the San Marcos river. It is formed by more than 200 artesian springs, which have been active for millions of years! And humans have been living in the area since before the end of the last ice age.
The San Marcos Glass Bottom Boat Tour also has some nostalgic meaning to many Texans. This attraction is the only remaining part of the Aquarena Springs Theme Park. The park included mermaids and swimming pigs, in addition to the San Marcos glass bottom boats. It opened in the 1950s and closed in the 90s.
Luckily, the nearby Texas State University purchased and restored this important area from closed-down amusement park to a place of natural beauty. And the glass bottom boat tour was brought back as part of the Meadows Center for Water and the Environment. The main goal is now research, conservation and education, rather than quirky entertainment.
And protecting this area is an important endeavor! The pristine water is home to a diverse ecosystem including a few endangered species: the Fountain Darter, Texas Blind Salamander, San Marcos Salamander and Texas Wild Rice.
What to Expect on Your San Marcos Glass Bottom Boat Tour
From outside the boat, the lake may not look like much more than a relaxing spot to float or paddle. However, there is an entire world under the water of Spring Lake waiting to be explored.
Your guide will make sure you learn all about this diverse ecosystem as he or she points out the many species. The glass bottom even magnifies what you can see in the crystal clear water – making it a fun spot for photography. Our favorite sights were the turtles swimming awkwardly by and the hypnotic bubbling springs.
San Marcos Glass Bottom Boat Tour Prices & Times
The San Marcos Glass Bottom Boat Tours run every day from 10:30a.m. to 3:30p.m., except for some holiday closures. The 30-minute tour is $9.75 per adult. While the 45-minute tour is $13.25 and takes you to additional springs. Kayak and stand-up paddleboard tours are also offered on Spring Lake. They even have a few glass-bottom kayaks!
We chose the extended version because we wanted to see more of beautiful Spring Lake. And we hoped it would have less people on it. I'm not sure if it will work out for everyone, but this logic led to a boat all to ourselves!
Interesting Stories of Spring Lake
Our awesome guide told us so much about this area and multiple funny stories. We couldn't possibly relay them all. But here are some of our favorites:
The rich history of the area has made it great for archaeologists. Hundreds of artifacts from long-ago residents have been found, some of which can be seen in the Discovery Hall.
Johnny Weissmuller, an Olympic swimmer and Tarzan actor, is said to have drank from one of the springs at the bottom of the lake after being dared. Apparently it was so deep he almost died trying. And he said it was like drinking out of a fire hydrant!
According to a professor that helps with the conservation of Spring Lake, the best way to return a turtle to the water is to lightly skip it like a stone. If you just plop them in at the edge they will likely fall to the bottom, but skipping them lets them get to the open water where they will swim away. I can't find anywhere that confirms this, but it was definitely intriguing!
Other Activities at the Meadows Center
Roof-Top Deck: During your visit make sure to head to the top of the Discovery Hall building to get a view from above. It is a great place to get a sneak-peek of what lives below the surface of Spring Lake.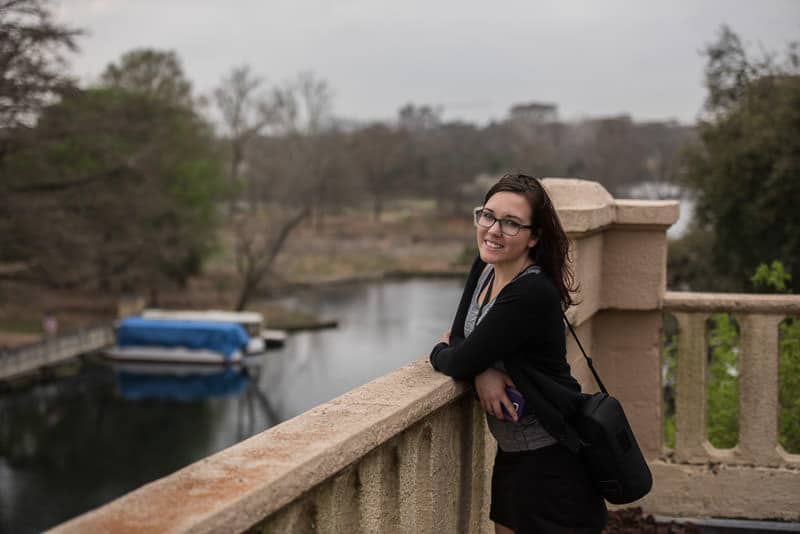 Discovery Hall: Interested in more facts about this area and a look at a few harder-to-spot species? Wander through this educational area to check out the 1,000-gallon aquarium, interactive exhibits and archaeological findings. Plus, the endangered San Marcos Salamander and Texas Blind Salamander.
Scuba Diving: Divers in training can get their final certification in the pristine 72-degree waters of Spring Lake. And qualified divers can volunteer to help manage and monitor the area. What a unique and beautiful way to help the environment!
Wetlands Walk: This short boardwalk stroll helps provide a better understanding of this habitat and the species it supports. It is also a great place to look for birds!

---
We can't wait to get back to the gorgeous Hill Country! Next on our list is Fredericksburg Wine Country (for the RV Entrepreneur Summit) and a hike to Enchanted Rock! Read more of our Texas adventures here.