Since our temporary move to San Antonio, we have been itching to get out and see what adventures are nearby. Unsure of where to start our Texas explorations, we set out toward the Texas Hill Country to see what we could find. Little did we know, our travels would begin with a wild goose chase down dirt roads and end with a frantic search for lost keys.
Although the day had many unexpected twists, nothing surprised us quite as much as how uniquely gorgeous Pedernales Falls State Park was. Honestly, this has to be the best Texas waterfall.
Searching for the Texas Narrows
When we set out for the day, our initial plan was to get to the Texas Narrows in Blanco. This pretty spot kept popping up on Pinterest when I was looking for ideas nearby. Being overly optimistic, I typed in "Texas Narrows" into my Google Maps app and we hit the road.
About an hour later, we were driving around on a dirt road trying to avoid turning into the many "No Trespassing" areas. And after an hour of persistently trying to find this elusive place, we gave up and looked at the map to see what else was nearby.
(NOTE: I did a little research after the fact on this hidden gem. It appears that the Texas Narrows are surrounded by private property. And the goal is to keep this area private. Although I'd still love the chance to see this spot, I totally respect the desire to keep such a gorgeous place safe. I don't plan to go searching again and don't suggest it to others, since you may get arrested for trespassing).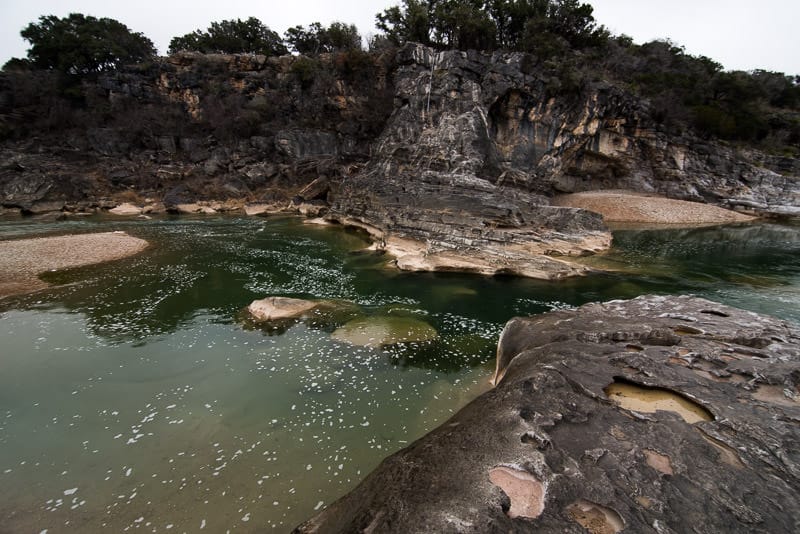 All of our aimless driving put us about 20 minutes from Pedernales Falls State Park. I was impressed with what I saw after a quick image search. So, we set plan B into motion. And, we were extremely excited when we realized what a superb choice we had made! (How did we ever survive without Google?!?!)
Pedernales Falls State Park: Quick Facts
Address: 2585 Park Road 6026, Johnson City, TX 78636 (About 1.5 hours from Austin, and 2 hours from San Antonio)
Entry Fee: $6 per adult. Or a Texas State Parks Pass, which is $70 for annual admission to all 90 state parks.
Activities: Swimming (only in designated areas), camping, fishing, bird and/or butterfly watching, biking (there's a 10-mile technical trail called Juniper Ridge), hiking, canoeing or kayaking, horseback riding, picnicking.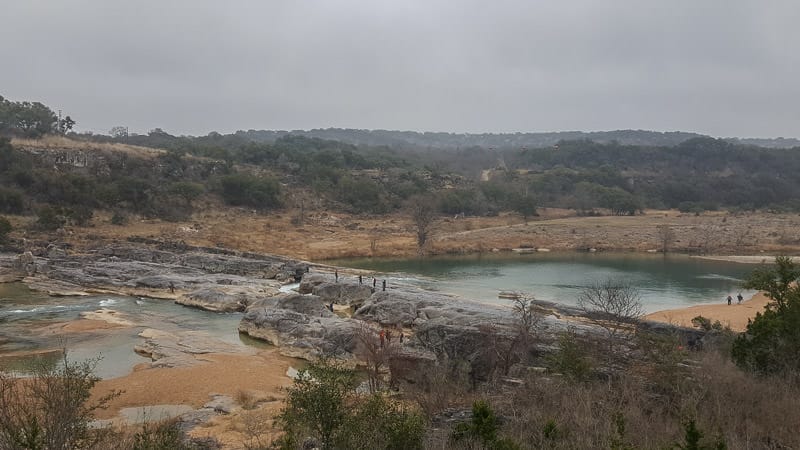 Popular Hiking Trails: The Twin Falls Nature Trail is only 0.5 miles with an overlook of the falls. Or Wolf Mountain Trail is 6-miles with many gorgeous views. See the Pedernales Falls State Park hiking map.
Warnings: Flash floods are common in the Hill Country – if the river begins to rise, get out quickly. Also be careful on the slippery limestone!
Wandering Around Pedernales Falls
After getting our day pass, we headed straight for the falls. There is an overlook just a short walk from the parking lot. But, to really experience this spectacular place, you have to venture down to Pedernales River.
This usually calm, yet persistent river flows over huge slabs of limestone more than 300 million years old. The tilted, layered limestone and rocks make this a great place to wander around. Climbing, jumping and occasionally sliding, makes it really feel like an adventure!
Millions of years of erosion has led to a truly unique landscape. There are many interesting pockets and crevices within the rocks as well as multiple waterfalls and bigger pools of water great for fishing.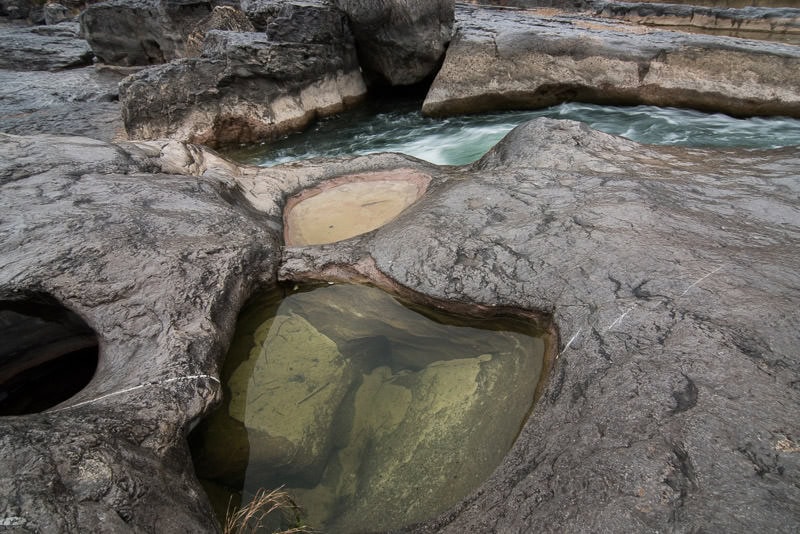 We started along a sandy beach and ventured over the rocks to get closer to the river. Then we walked on the limestone up to the waterfalls. We stopped often to admire the interesting landscape and bright green water of the Pedernales River.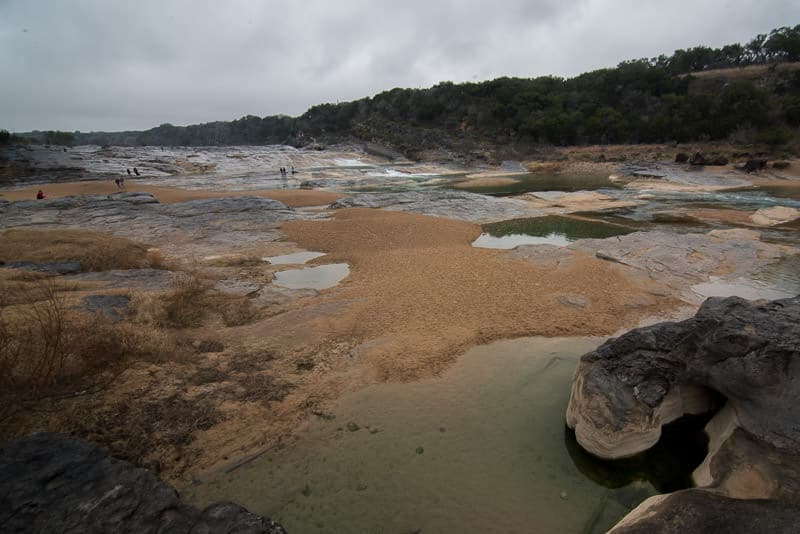 For a gloomy day, there was a surprising number of other visitors to this area. Some were fishing, but many were just explorers like us. There were lots of families and even a few pups!
I'm not sure how far we walked, but we must have covered at least two miles as we wandered back and forth over the rocks. But beware: the limestone is super slippery! We both busted it at least once and saw a few others do the same. Make sure all of your important belongings are in zippered pockets or closed bags, so you don't lose anything (like we did).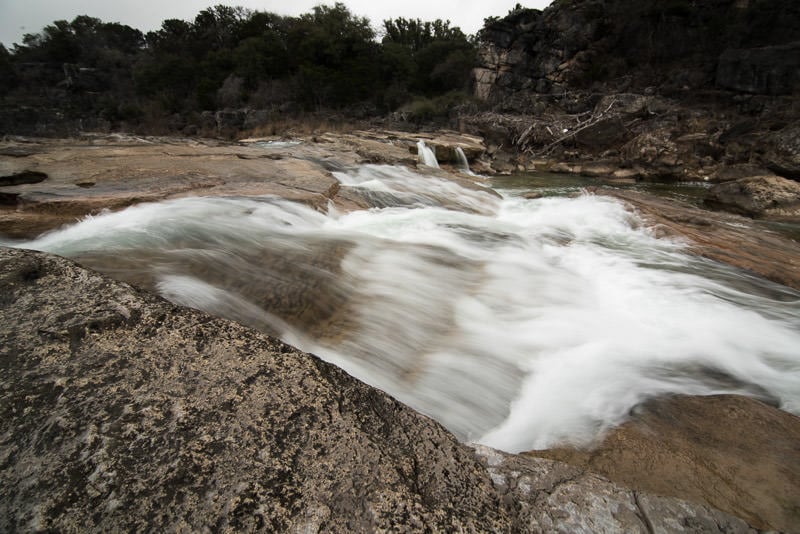 Keys, Keys, Who Has the Keys?
We were all smiles as we walked up the trail from Pedernales Falls back to our car. We had spent more than two hours wandering around, hopping over rocks, peering into crevices, admiring waterfalls and taking dozens of pictures. But now we were getting hungry and it would be dark soon, so it was time to leave.
Then it happened. Buddy looked at me in a panic: "I don't have the keys, do you?"
"No, you never gave them to me," I said (trying not to sound too accusing).
We stared at each other for a moment both thinking the worst: THEY ARE AT THE BOTTOM OF THE DAMN RIVER! Then we both took a deep breath and made a plan. I'd sit at the car with the camera stuff while Buddy ran around like a lunatic looking for the keys. Since he is much quicker and more nimble than me, that made the most sense.
Before he left we said a quick prayer and tried to stay positive even though we both knew the odds weren't in our favor. We were both pretty certain he had lost them during one of the many times he knelt or layed down to take a picture of the river. If they weren't at the bottom, they were most likely very close to the river's edge.
I sat outside our car with some camera gear, a dead phone and a whole lot of anxiety. After about 20 minutes, I heard a familiar Beep-Beep. "Wait… was that my car?" Yes! I looked up to see Buddy running toward me.
He had the keys high in the air as if he had just crossed the finish line at the Olympics. THANK GOD!!!!
After checking the first place we stopped, Buddy passed a couple and asked if they by chance found our keys. Miraculously they did! They had been asking around but we never passed close enough by them. And… the girl also happened to be a blogger. NO. FREAKING. WAY. So, luckily the Pedernales River and Pedernales Falls didn't eat our keys!
De-Stressing at the Bird Blinds
After our great day almost took a turn for the majorly sucky, we stopped at the bird blinds to give our hearts a chance to slow down before driving home. We had such a wonderful day exploring Pedernales Falls State Park and were so thankful we could still end the day with smiles. However, it did take a little while for our bodies to realize we were no longer in panic mode.
Luckily, the bird blinds were the perfect place to de-stress. There were two main viewing areas that allowed you to be up close to the different species of birds without disturbing them. We had the area all to ourselves, since it was almost twilight. Buddy snapped a bunch of great photos of Cardinals, Woodpeckers and the adorable little Tufted Titmouse.
And I admired the pretty birdies as I sat in total disbelief that we weren't stranded in the parking lot. I still couldn't believe how quickly we recovered our lost keys!
Although this day will forever be known as "that one time we lost the keys," it was also a great reminder of the power of faith and teamwork. And, a wonderful introduction to the beautiful natural areas of Texas!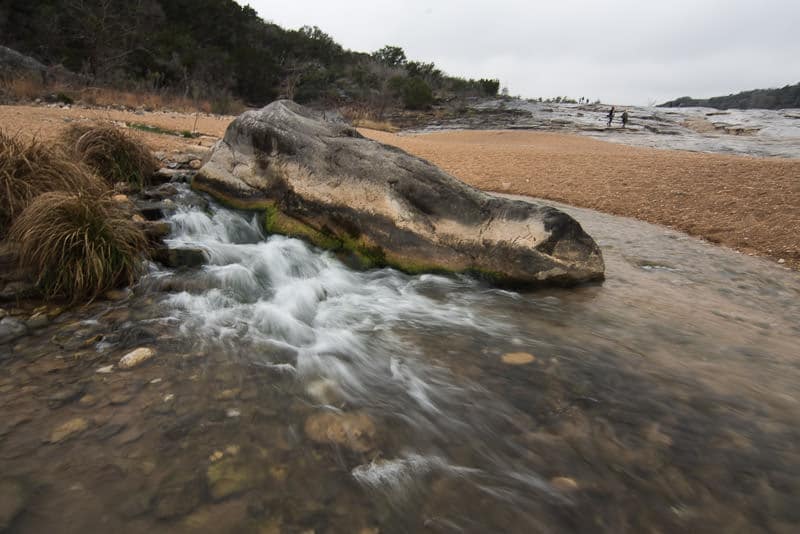 Read our other Texas outdoor adventure tips here.