Well, we've officially been on the road for one month. And, although we are still just winging it route-wise, there are some RV life goals we are working toward while we are getting lost out on the road. Now, these aren't your typical, "see every National Park" or "eat french fries in every state" goals. These are things that we feel will have a direct impact on our happiness. We've wanted to do these for a while, but never felt like we had the time. Well… now we have no excuse!
7 RV Life Goals as Full-time RVers
1. Spend More Quality Time Together
We explained in our post about how we ended up being full-time RVers, that this life was mainly chosen to pull us closer together. Well, now we see each other about 23 hours most days, so you would think this isn't something we have to work at. Oh, but it is.
Being in the same place all the time doesn't necessarily mean we are engaging with each other. We are both guilty of zoning out on our phones or what's on TV (see goal #6). In this new life, we want to really connect. We want to hold hands, play games, learn new skills together, go exploring, chat about our dreams, and laugh as often as possible.
It isn't just about physically being together, it is about emotionally connecting even more than we have had the opportunity to in the past.
2. Learn to Embrace Minimalist Living
For us, this isn't just about becoming minimalists. Of course, I'd love to decrease our already small wardrobes to only a few items. But, really this minimalist living goal is budget-based. We want to live not just within our means, but below them. We want to keep our bills as minimal as possible while remaining reasonably comfortable. I say reasonably because this lifestyle is a weird adjustment.
Our food and extras budget is most affected by this goal. We used to buy a bunch of shit without a second thought. A fancy dinner out because it is Tuesday, why not? New shoes because I don't feel like cleaning my other pair? Sure!
We don't want to sacrifice our health by going on a Ramen-noodle only diet. But we definitely don't have any NEED to go out to eat or buy expensive groceries when there are plenty of inexpensive options. And we definitely have to get out of the habit of buying things without assessing their real value to us first.
3. Grow Our Businesses
One of the main reasons we chose this life as full-time RVers was to follow our passions. Buddy is pursuing photography, while I pursue freelance writing. And we both put a ton of combined love into this blog every week. These are the things we are willing to miss sleep over. We want to better our skills, produce the best content we can, and challenge ourselves to reach further.
But mostly, we want to be able to see these businesses, which were just hobbies until recently, as our careers. We want to see the fruits of our labor and know what that success feels like. And for us, that doesn't mean lots of money. Our main pursuit is to inspire others. We just want to build these passion businesses enough to reliably pay the bills. If it does more than that, it will be exciting to find a way to use that excess income for good!
4. Spend Time Outside Daily / Grow in Our Faith
I put these two together because in our minds they are closely related. We never feel closer to God than when we are enjoying this beautiful world He created. Being in nature brings Buddy and I peace, perspective and a ton of happiness. It is the perfect place to seek God, pray, meditate and read the Bible. Although, we will try to make it to church on occasion, we choose to do our praising in the great outdoors!
We hope to be outside 6 to 8 hours most days, unless it is raining or we are sick. Our plan is to get work done on lunch breaks and after sunset. However, we do plan to take a weekend day to really be productive – we'd rather have the trails to ourselves during the week anyway.
Many people that full-time RV while working stick to normal schedules because of client obligations or out of habit. Not us. We will avoid taking things on that will keep us from our outside time. Definitely a benefit of learning to live on that tight budget I mentioned!
5. (Finally) Get in Good Shape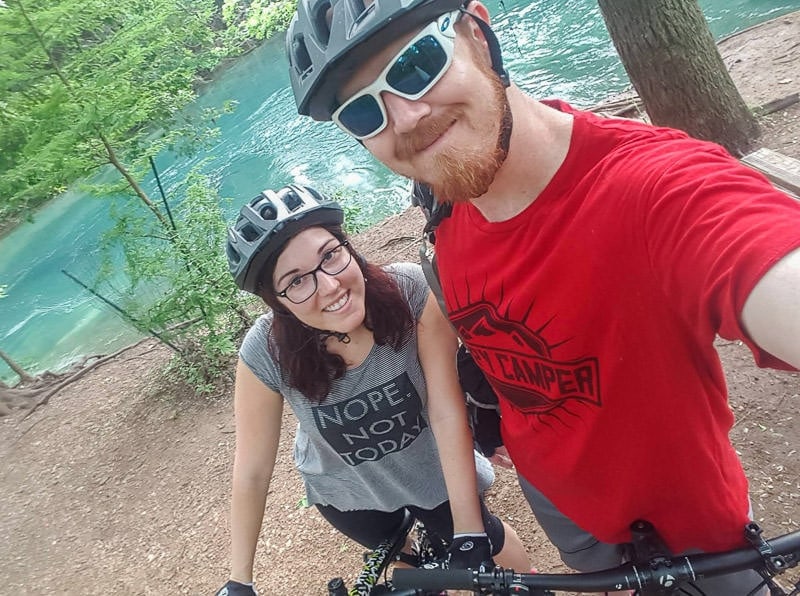 Every year as summer nears, we guilt ourselves into trying to get in good shape. Problem is, neither of us has ever been motivated to go to the gym for long periods of time. We may start amped up, but it always fades. Luckily, we both enjoy outdoor activities and think of them as more fun than exercise.
We are excited to do yoga in the mornings together and go hiking, bike riding or kayaking during the day. Even a really hard hike feels a lot more rewarding than an hour at the gym!
And in order to really enjoy the outdoors like we want to, we will have to be in good shape. Being miserable during our outdoor adventures due to laziness and weak muscles is a bummer. We want to be ready for any awesome activity that we have the opportunity to try!
6. Give Up Time-Wasting Habits
This mainly is pointed at our phones! Have you ever refreshed Facebook multiple times in a row out of boredom? Or have you killed entire days' worth of time scrolling through Pinterest? What about those addictive games that suck up your free time? These habits aren't serving us. Neither of us feels happier after a few hours of aimlessly browsing social media or playing a game. And we certainly have better things to do with our time – like play a board game together or go for a walk.
As a blogger, I know social media is an important way to connect with our readers. BUT we can spend a designated amount of time doing that every day. We don't need to be checking every hour. I know for a fact I can knock out a blog at least twice as quickly if my phone isn't around. That stupid blinking light that tells me I have a notification is a horrible distraction to me!
We are working towards barely having our phones out. They will only be used for a purpose and otherwise they will be on silent or airplane mode so as not to disturb us.
We are also giving up TV! No Netflix or Hulu subscriptions in this mobile house. We will have movie nights once or twice a week. But the days of mindlessly watching an entire season of a show in one sitting are over! No more saying it is just for "background noise" – that's what music or open windows are for now. I know this will be a huge struggle for us. But I know we will be better for it.
7. Make Meaningful Connections
In the last month alone, we have spent a few dozen hours talking with strangers – many of which are fellow full-time RVers. We start chatting at an RV park, winery or on a trail and end up really getting to know each other. And it has been one of my favorite things about RV life so far! Spending five days at the SKP Ranch in New Mexico was a great way to fit in lots of these awesome chats and we thoroughly enjoyed it.
We don't have some tight vacation schedule preventing us from lingering in places. And we certainly can use all of the free advice and well wishes we can get! So we embrace these opportunities and hope we are giving as much as we are getting. Some of these people that started off as strangers are now friends or followers of the blog! It is so awesome to get to keep these special connections going, even if we only talk or meet up on occasion.
Getting to spend more time with our friends and family is also really important to us. Instead of rushed visits where we see 15 people in three days, we can now spend a day with each of them! How wonderful it is to have the opportunity to just live life together – cooking meals, running errands and just hanging out. Not having to rush through these visits allows us to find new reasons to love these special people in our life and create memories to cherish always.
We want to make it a point to value the people we spend time with– both strangers and loved ones – and freely give our time to them. Having the ability to do so is truly a gift and we don't want to forget to use it.
---
I know some of these RV life goals may seem far-fetched, but we are determined to make the most of this life as traveling nomads and full-time RVers. And we know working on these parts of our life will help us to focus on what matters most. We know it will take constant work until they become part of our routine. But I definitely think just publicly announcing these will help us stick to them. And hopefully, it will inspire others to take on some big goals too!
So, how about it? What big goal are you going to commit to conquering in the coming months?