Sometimes we just don't want to adult anymore. Luckily, our trip to Natural Bridge Caverns in Texas was the perfect excuse to act like kids again and forget our grown-up stresses. We had an amazing day packed with Texas-sized fun! From exploring the magical world below our feet to flying through the sky on our first zip line ride, we spent the entire day laughing together and doing our favorite thing: spending time outside.
Overview of Natural Bridge Caverns in Texas
Natural Bridge Caverns is a unique destination north of downtown San Antonio is one of the largest caverns in Texas. And it is by far the largest and most extensive cavern we have ever been to.
How did it get there?
The cavern was created long ago by water slowly flowing through the cracks and pores of the limestone. The water moved deeper into the ground, forming passageways and multiple layers. Some of those layers also collapsed to form the large "break-out domes" we are able to walk through today.
Who discovered Natural Bridge Caverns?
Four college students found the cavern system in 1960. After seeing the natural bridge above ground (a rock formation 60 feet above a natural sinkhole), they got permission to see if there were any more wonders hiding below the surface. They bravely squeezed through small passageways on multiple expeditions. Finally, on the fourth trip they found a large and impressive cave. The landowner decided to start development soon after.
If you want to know what those original discoverers felt like, check out the adventure tours! This unique option allows you to crawl, climb and repel into the caves. However, it is quite physically demanding. So if you want a less intense (but still amazing) option, we suggest going on the Discovery Tour or Hidden Passages Tour. Or you can opt for the combo, like we did.
Top Things to Do at Natural Bridge Caverns in Texas
1. Discovery Tour into the Cavern
After meeting our guide, she took us to the cave entrance – just below the iconic natural bridge that piqued the original explorers' curiosity. She went over the rules: no touching (it is illegal!), no eating or drinking, etc.
Rubber-soled shoes are also advised to prevent slipping. Luckily, photography is allowed and encouraged!
However, as we ventured 180 feet below the ground, we soon realized that no photo would even come close to the real thing. Nature never ceases to amaze us! We also soon realized that we did not need jackets!
We thought 70 degrees may be chilly. But the 99% humidity and multiple uphill walkways made us warm up fast.
The caverns grow about one cubic inch per 100 years – and they are still growing! Thinking of how long this amazing underground world was forming before anyone even knew it existed makes it all the more impressive. And if we don't touch it or otherwise damage it, the growth continues.
Our guide pointed out the different types of formations as we walked through the 1/2-mile of passageways and larger rooms. Many had funny or creative names (they were discovered by college students, after all). My favorite was the "Mount of the Landlord" – it got it's name for looking like an angry landlord.
A much-needed geology refresher was included with the 70-minute tour too! Now we know stalactites "cling tight to the ceiling," while stalagmites "might reach the ceiling one day." Plus, so much more!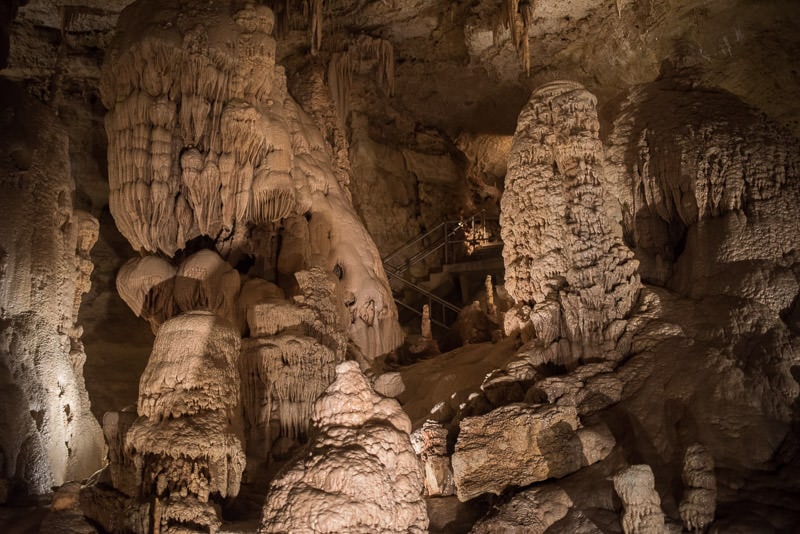 We left the cave a little sweaty (so humid!), but filled to the brim with child-like wonder. Every turn had a new beautiful piece of natural art, and we were so surprised by how much there was to see.
Since we opted for the combo, we had about 40 minutes to kill before our next tour. Luckily, there are some fun above-ground options at Natural Bridge Caverns as well!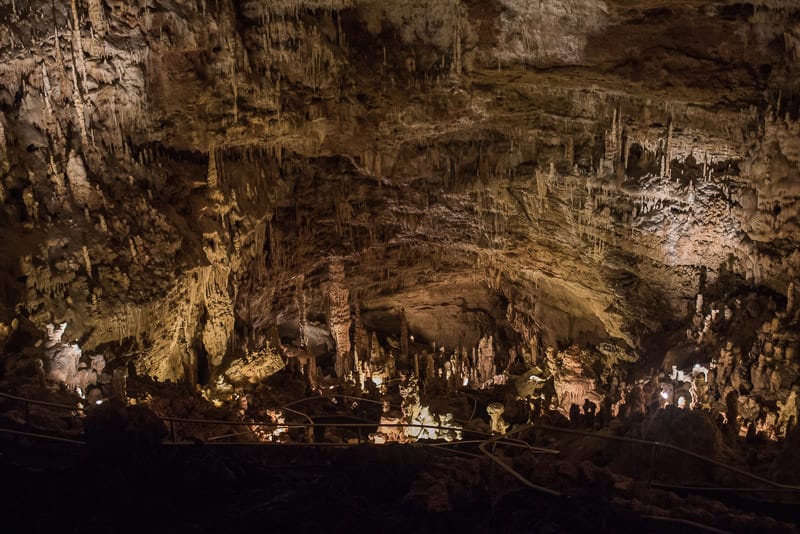 2. Mining for Gemstones
I really wished our younger nephews were with us for this part! They would have loved getting to pan for treasures to take home as souvenirs. (But of course we'll be sharing ours with them… we're awesome like that).
You can purchase a bag of dirt in the Discovery Village Trading Post. There are options with gem stones, arrowheads, seashells and more. Then you simply take the bag to the sluice and shake out the dirt to reveal your treasure!
3. Maze at Natural Bridge Caverns
Although the mining is best suited for younger kids, the maze is for everyone! We had so much fun competing to see who could get out of the maze in the least amount of time.
We took turns watching each other from the lookout point and laughed hysterically as the other hit dead ends. Buddy finished in about 9 minutes, beating me by a minute!
4. Hidden Passages Tour into the Cavern
After grabbing a quick bite and exploring a few of the other activities Natural Bridge Caverns had to offer, we went back to the meeting area to start our next tour. This one would take us to another portion of the cavern system which was developed many years after the Discovery Tour.
I really loved how the guide dramatically displayed the first main room we entered. She slowly turned on the lights one-by-one to show the different formations before explaining the area in more detail.
Although this tour was only 1/3 of a mile, it did involve many, many stairs -which were steeper than the first tour. It wasn't a problem for us, but some others struggled a bit. And it definitely isn't a good idea to bring a stroller along!

Buddy had a blast taking photos of all the various textures, shapes and arrangements. However, the humidity will fog up your camera when you get back above ground. And you will probably get dripped on, so make sure to protect your equipment when you visit.
We also got to sit in total darkness for about 5 minutes during this tour. A cave is one of only two places to experience this – the other being in the depths of the ocean! Although I don't usually love the dark, it is one of my favorite parts of cave tours. This happened in a mini-auditorium area where bench seats were provided.
We loved both tours. And we also really liked that many of the guides and other team members are high school or college students. Not only were they very knowledgeable and excited to be there, it was fun to think that a couple of kids around their age discovered this wonderful place!
5. Ziplining (My First Time!)
This may come as a surprise, but neither of us do really well with heights. We usually push through it – we are adventurers after all. However, it does freak us out quite a bit! So when we committed to doing the zip line and "Canopy Challenge" ropes course, we were a little nervous.
This is another combo deal, which allows you to fly through the air before putting your balancing skills to the test.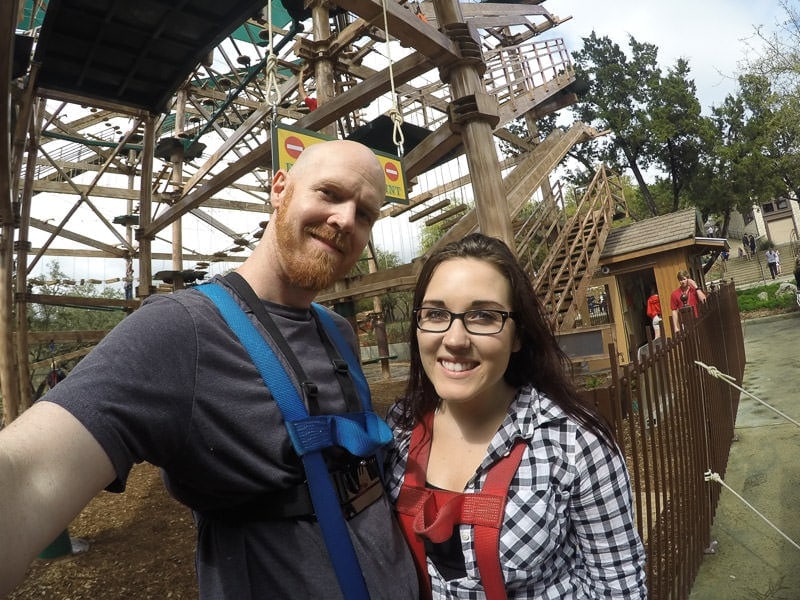 After getting strapped into our harnesses, we made our way up the stairs to the zip line. I tugged on everything I could on the way up to make sure I wasn't going to fall out (although the staff checked me about 4 times already).
Buddy went across first, so I was feeling more confident. Then, before I knew it, I was wizzing through the air with great views of the Texas Hill Country. Just as I was thinking "This isn't too bad!", I began to slow down and ended up stuck in the middle of the zip line! Apparently I wasn't aerodynamic enough.
Luckily, they have a smart process to retrieve you – they sling a rope down the line and you hold it while they pull you in. And if you are too far for them to reach you (ME!), someone on the ground grabs the rope and runs it to you manually. For a second I thought they were going to have to get me down with a ladder! Glad to know they had a better idea.
The next portion of the zip line that led back to the canopy went much smoother. I also balled up like a cannon ball for this one to help with my speed! 🙂 Buddy and I laughed like school kids when we were reunited. Definitely a memorable check on our bucket list.
6. Canopy Challenge Ropes Course
The laughter only continued during the Canopy Challenge! There is probably a good reason we don't like heights. Both of us have horrible coordination. We tried to walk without holding on to our harness as we took on the various challenges, but with no luck.
We expected to have trouble with the tight rope, but we couldn't even balance on the wobbly bridge!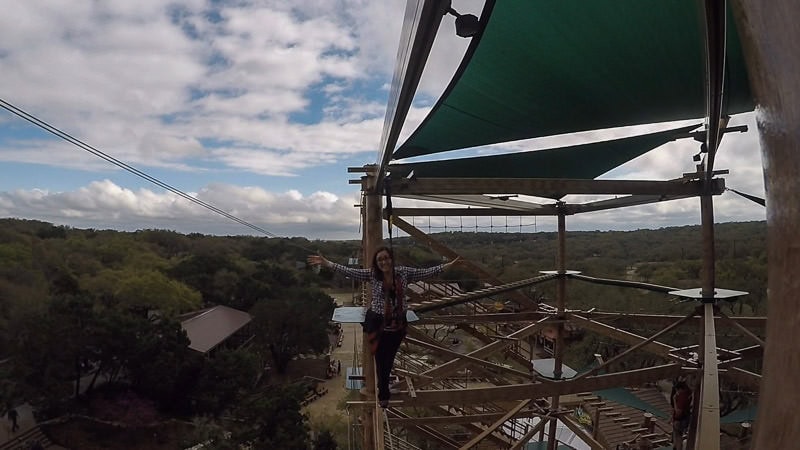 Maybe our collective fear of heights is self-preservation (or maybe we just need more practice), either way it made for a hilarious activity. And it was even funnier to compare our poor agility to the kiddos running across everything with no issues.
7. The Perfect Ending to a Fun Day: Happy Hour
What was the reward for conquering our fears? A relaxing happy hour. Buddy got ice cream (he basically had to after smelling the waffle cones). And I opted for a glass of wine! Yes, they have beer and wine here. Plus, some food options, sweet treats and snacks.
After our well-deserved break, we looked at all of the unique souvenirs before heading home for the day. We love to try on silly hats and goof off. Once our childish side is revealed, it is hard to shove it back inside – and we are okay with that.
Although Natural Bridge is a popular destination for families with kids, it made for the perfect unique date day for us! We left with huge smiles, some fun souvenirs and lots of great memories.
Natural Bridge Caverns was kind enough to host us on this fun-filled day after we inquired about a visit, but all opinions are our own.
Traveling through Texas? See our other top destinations and activities here.